WordPress Twitter Bootstrap Themes, Best Quality Framework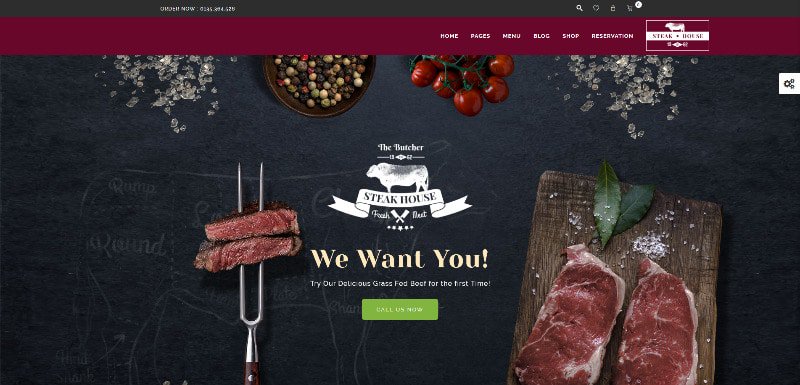 This selection of themes is all about Twitter Bootstrap.  No matter what kind of site you're setting up, magazines and blogs, eCommerce sites and personal pages, a great looking Bootstrap theme will help your site load fast, look great and offer all the features your visitors want.
Bootstrap is a smart way to build a website, since the code is flawless, Bootstrap themes load up fast and there are tons of people out there working hard every day to ensure that Bootstrap continues to improve.  It's kind of the perfect fit with WordPress.
Underwood
Underwood is based on the latest Bootstrap code and it's a modern, classic and highly functional WordPress theme for bloggers, eCommerce enthusiasts and businesses who want a professional, fast loading and attractive website.  Working perfectly with all kinds of plugins, not just WooCommerce, Underwood is an SEO's dream come true.  Underwood supports Yoast SEO, All-In-One SEO, WP Rocket, Super Cache and more.  That means when you start to attract an audience, they're going to have a wonderful user experience, since the website will load up fast and look great on all devices.  Right now, that's incredibly important since no matter what your niche, there are a ton of people competing for the same readership, the same viewers and more.  Priced at $39, this theme is a massive bargain too.
---
Architekt
If you're really into highly optimized websites, then you may want to check out a great looking theme built using Twitter's Bootstrap code.  The Unyson framework is a powerful one, giving you a built in page builder, analytics support, great SEO options, backups, translations and much more.  The combo of those two powerful tools make Architekt a great theme for many kinds of websites.  While Architekt is made to be a corporate styled website, it can be altered to fit your site's style with ease.  With a Bootstrap theme, you're always going to find it straightforward to customize and add new features to your website.
Want to change the background image?  Colors?  Text settings?  It's all easily done from the admin panel.  Even choose from multiple basic layouts using the drag and drop page builder from Unyson.  Architekt is a retina display ready theme, it's perfectly responsive too, so it will look great on all devices.  Crisp text, bold icons, high quality images on all screen sizes, that makes your site have a great user experience even on HD displays.  There's even a great contact form module to help you build your business.
---
Tapptastic
This is Tapptastic and you wouldn't know it to look, but it's a powerful, feature filled WordPress bootstrap theme that can really help your business take off.  With Bootstrap, you get a rock solid platform for your content.  Bootstrap themes load up fast, they look great on all devices, since they're perfectly responsive, and with a theme like Tapptastic, your business will look very professional and trustworthy.  That's important.  Tapptastic is highly functional and highly adaptable, not just because it's completely responsive.  Tapptastic offers image and video sliders for presenting your content, there are icon fonts included, multiple page layouts are included for various types of pages and Tapptastic is like all ThemeFuse themes, super simple to use and incredibly easy to customize.
---
October
This theme is called October, it's a one page theme that was created using the Twitter Bootstrap framework.  With October, you get a theme that offers a wonderful canvas for freelancers, artists, graphic designers, agencies of all kinds and more.  The clean design is a great way to make a good first impression and with October, everything is arranged in a way that makes navigation easy and accessing the content you want a breeze.  I love the overall simplicity of October and it should be the kind of theme that sticks around for quite a while.
---
News Grid
Powered by Twitter Bootstrap, NewsGrid is a great solution for anybody that wants a truly premium WordPress news magazine theme with an amazingly simple and well organized grid layout.  NewsGrid doesn't stop there, it's got bold typography and over half a dozen premade layouts to choose from, so you're going to have the flexibility to create a site that will look and behave just like you had in mind.  News Grid is totally responsive too, which is critical these days.  This theme is also optimized for fast loading times and SEO performance and just about everything in this high quality theme can be customized.
---
Phoenix
Built on Twitter Bootstrap v3, Phoenix is a delightfully powerful, flexible and easy to use parallax or multipage theme for WordPress.  That's a mouthful, but it only goes so far in describing this theme.  Phoenix is simple to look at, but boasts a lot of features under the hood.  With Visual Composer, you can add a lot of functionality to any site, making the layout exactly what you want it to be.  The multipage option is great for folks who want to have a nice looking portfolio that doesn't just pop up on the standard parallax homepage.  There's an attractive blog layout, tons of documentation, easy to use theme options and a lot more.
---
Wrap
Wrap is a Bootstrap 3 powered video blogging theme with loads of great features that make it an ideal theme for a wide variety of sites, video magazines, portfolios, blogs and much more.  Wrap allows users to submit their own video clips too, so you can allow users to help you create content.  That's a pretty neat feature and one I think could be very valuable.  With Wrap, you can create a massively popular viral video magazine theme and you'll never need to learn a bit of code, since everything is easily customized from the back end.  With Wrap, you get a theme that's well documented and well supported, since Tesla Themes is one of the best around at supporting their themes.
---
Stack
Stack, which is powered by Bootstrap for a bloat free platform that works great for any sort of website, is a drag and drop page builder theme that's a whole lot different than a lot of other themes out there.  That's because this is the first theme for WordPress to incorporate the Variant page builder plugin.  Why didn't anybody think of this before?  Well, it's because it used to be only for HTML sites but now, this plugin that's loved by over 20,000 folks, is available for WordPress for the first time.  So, we give you Stack, a multipurpose WordPress theme that's ideal for blogs, portfolios, corporate business sites, landing pages, squeeze pages and tons more.  If you can envision it, you can create it with Stack and Variant.  (Though if you prefer, Visual Composer is also supported!)
---
Grace Under Pressure
Grace Under Pressure is a mobile-friendly blogging theme with a clean and crisp minimalist style.  Built with the freshest Bootstrap code, Grace Under Pressure has what it takes to be a reliable place for you to accomplish all of your blogging goals.  Grace Under Pressure is feminine in style as it comes, but you can always change the look and style to fit your website's desired brand.  With this theme, you can customize typography, create amazing author profiles that show your avatar, biographical information and your posts, showcasing your writing in a fun, graphic way.  Responsive Bootstrap themes are legendary for their load times and Grace Under Pressure is no exception.
---
Lambda
Lambda calls itself the ultimate WordPress theme.  To be honest, that's a claim that plenty of developers use to describe their themes, so I don't always believe what I read.  That said, this is a very high quality WordPress template that'd be perfect for any business that wants a wide ranging, flexible theme based on Twitter Bootstrap code.  Lambda offers over 65 pre-made demo sites, showing what this theme could look like in a wide range of genres.  Corporate or creative, restaurant or magazine, personal or professional blog, hotels, non profits, yoga studios and plenty more to boot.  You get the idea.  This theme has racked up 20k sales already and it's just getting started.
---
Stratus
This is Stratus, a delightful WordPress Twitter Bootstrap powered WordPress theme with all the design chops, the features, the ease of use and the great benefits of Bootstrap Code – and it's all that you'll need to create a memorable and long lasting website.  You can add parallax background pictures for dynamic effect, switch up the complete color palette, and select from hundreds of Google Fonts.  What's more, Stratus' custom drag-and-drop page builder lets you create nearly every page layout, whether it's a landing page or an internal page for tha matter.  Among the ultimate measures for any landing page theme (and any business really) is convincing your visitors to purchase your product using a landing page that is solidly built, well designed and attractive to look at.  With Stratus, you'll find a theme that has a great layout and design, though that's not exclusively what Stratus is all about.  This theme really helps convert leads, which is what it's all about.
---
WordPress Jewelry Shop Themes, Watch Shops, Jewelers, Diamond Sellers
WordPress, it's not just about blogging.  You can actually create a pretty amazing website to sell all kinds of products.  Today, we've decided to highlight jewelry store themes, high end watch shops and other purveyors of shiny, precious stuff.  With one of these incredible themes, you can have a really great website quickly and efficiently, selling your products with WooCommerce or the eCommerce solution of your choice.
This collection of the very best WordPress jewelry shop themes is guaranteed to please.
With WooCommerce and WordPress, both of which happen to be completely free, and one of these premium themes, you'll have everything you need for a successful online store.  That sure beats the way it used to be to set up an online jewelry store.  You could pay tons of money for a custom design and it might take weeks to accomplish.  Now, you can install WordPress in just a few clicks and it's completely simple to install a theme and have it looking great in just a couple of hours.
Want to build an online store to compete with the massive online retailers?  You will need a theme that looks professional, has tons of great features and one that's easy to use.  We've got all of that right here in this collection.
So let's get at it, the very best jewelry store WordPress themes, also suitable for watch shops, diamond sellers, jewelers and watch repair websites.
Hoki
Hoki is a lovely, multipurpose, very easy to use, well made and new and innovative WooCommerce theme allows you to supervise delivery and product stock, launch new items, contact customers, market existing goods and develop your business and much more.  The elegant style of this theme lends itself perfectly to a jewelry store, watch shop or similar eCommerce application where stately design and classic images create a sense of strength and stability to your business.  WooCommerce provides all of the tools you need to launch a small business swiftly and efficiently and this exquisite, smartly designed and contemporary eCommerce theme is the 1st step on a path to setting up your own online business. Whether you're advertising boots and shoes, clothes, electronic components, downloadable items like films, video clips, tunes or software, this WordPress theme is an ideal option since it's so versatile.
---
Mr. Bara
Mr. Bara is a comprehensive online shopping theme, with dozens of pre-made demo sites to show what's possibly with this dynamic theme.  We've highlighted one of the jewelry shop theme layouts, but there are a couple others specifically made for jewelry stores and a few for watch shops that might also fit the bill.  Mr. Bara is elegant, it's easy to use, it's powerful and feature filled and it's got all the tools you need to brand your site, to keep your customers happy with easy navigation and to keep things easy to run on the back end.  For a wide variety of uses, Mr. Bara is an attractive option.  Check out the demos for selling sunglasses, furniture, shoes, sporting goods…you name it.  This theme is flexible, that's for sure.
WooCommerce is incredibly simple to use, it's a great option if you don't want to spend money every month on a premium, paid shopping cart license.  WooCommerce requires very little setup and the out of the box, vanilla version has plenty of features to make running your store simple.  But there are also tons of add-ons that can increase the amount of features your site has.  Mr. Bara is user friendly on both front and back end.  This theme is easy to customize and the search features are really cool, using live Ajaz search to show products quickly and efficiently.  That helps with user experience and helps convert clicks to sales too!
---
iOne
This user friendly, attractive, well-built, new and innovative and multipurpose WooCommerce ready theme will allow you to sell watches, jewelry and more, all while you expand your small business and manage shipping and inventory.  It's just what you need.  iOne is an amazing WooCommerce theme, it's positively filled with features.  iOne is simple to use, it's carefully built, lovely to look at and highly modifiable.  iOne is an incredibly versatile, SEO-friendly and responsive WordPress theme, one that's ideal for jewelry stores, jewelry designers, watch shops and other related businesses.  Using a beautiful WooCommerce WordPress theme like iOne can really help you create a fantastic first impression that helps to win customers.
The Visual Composer plugin is the top drag-and-drop page builder theme for WordPress, because it's amazing and functional attributes make it quite easy to create any kind of website you wish to produce. And why do I mention that?  Well, not surprisingly, iOne uses Visual Composer to make for a highly flexible and effective template.  The Visual Composer plugin works with the big premium plugins such as Essential Grid, Contact Form 7, WooCommerce, both Gravity Forms or Ninja Forms and sliders like Layer or Revolution Sliders. You'll love the low cost, that it's simple to use, the versatility to craft any type of site, the fact that it's compatible with everything and the variety of powerful features. Features include the wide ranging template library, purely responsive design, detailed documentation, wide variety of content elements and popular front end editor, and a bunch more.  Ideal for any jewelry shop.
WordPress Events Themes, Conferences, Meetings and Event Promotion
We've created another new list, this time it's WordPress events themes, so if you're planning an event, whether it's a birthday bash, album release party, bachelor or bachelorette soiree, you need a theme that has the features and functionality you're looking for.  These themes in this list are also great for concerts, sporting events, business conferences and more.  With business conferences gaining popularity every day, more and more folks find themselves working to promote and organize those conferences from the ground up.
That means you need a website, but if your expertise is in planning the event, managing the day to day process, creating a website can be a time consuming process.
That's why a premium WordPress event theme cal help save you time and money.  If you're an event planner or you need a site to promote events, you may need a theme that's perfectly designed for promoting events.  That's what this collection is all about.
e-Event
If you've got an event coming up and you need that perfect WordPress theme to promote it, this theme could be just what you've been looking for.  E-Events is a theme that was built for all sorts of events sites, with an upcoming events carousel, filterable events, a handy counter displaying time until the next event, several different pricing layouts, a responsive SEO optimized design and premium support.
E-event WordPress theme is the perfect design choice for individuals or groups who want to spread the news about their personal or professional events. This is highly recommended for those who wish to conduct e-seminars, book debuts and even online parties. Whether your event will be held in the virtual world or in the real world, you'll love the huge counter, which reminds participants how many days, hours, minutes and seconds the next big event is due. This way, no one will miss their chance to join in. The events are filterable so virtual guests can easily sort through them and find specific activities that interest them. This theme also includes an upcoming events carousel so subscribers will know in advance which dates they should mark on their calendars. If that isn't enough, E-event also provides you with an events schedule in table form. You get to choose between two great table designs. This comes complete with pertinent info like the name of the event, the date, the time, the host, and the venue. E-event also includes a section where you can introduce the facilitators. For this section, you have four different designs to choose from.
One of this theme's most outstanding features is the online RSVP form. This way, you can easily anticipate the number of participants for each event. E-event enables you to create informative pricing tables while letting you choose from three excellent designs. Another super cool feature is that E-event lets virtual visitors buy event tickets directly from your website. To avoid wasting your time and theirs, it's instantly indicated whether tickets are already sold out. Show potential participants just how fun your events can be by using the Gallery and the Blog. The eye-catching layout is extremely responsive so you have an assurance that your site is accessible through multiple gadgets and the quality of the images and videos of your events are preserved.
---
Eveny
Eveny is an awesome events theme for WordPress and it's a really great value at just $49 for a license.  For music festivals, event spaces and more, music lovers are going to find precisely what they need on your website because the layout is crystal clear, the options are plentiful and it's ultra-flexible.  For bands too, this theme is a great fit.  Play individual songs through your Sound Cloud account.  Events have never been similar, you can clearly present upcoming shows at your venue, even show where you're located on Google Maps.  Eveny looks great on smartphones and other handheld devices too since it's perfectly responsive.  Display photos, videos, publish the latest news and notes and more.  Definitely worth considering for any events portal.
---
Keynote
Keynote is a theme that makes it easy to market and organize any sort of event, because that's exactly why Theme Fuse built this theme.  Theme Fuse made Keynote as a part of their Core multipurpose theme, it makes marketing an event, conference, concert, assembly, fundraising event or other gathering a snap.  With dedicated events pages, agenda pages, contact forms and even a ticket sales page, Keynote has the tools you need to put on an incredible event without spending thousands of dollars on a custom page.  Keynote is easy to edit, offers a whole lot of great options to make your site unique and stand out from a crowd.  There's also an SEO plugin included, proprietary and made by Theme Fuse, which allows you to save time and money, since you won't have to purchase Yoast or All in One SEO or any other premium solution for SEO optimization.
---
Aspire Pro
I never really considered Aspire Pro to be an events theme, until I ran across a site using Aspire Pro as a full featured events theme.  The site is spotlightforpurpose.com and I think it shows off what's possible with the Aspire Pro theme.  Up front, a very simple contact form with first name and email address to start building a simple list for marketing and keeping people up to date with the latest news.  There's a video to help get people informed about what this event is all about, a portfolio and a sort of 'about me' page about this event.  I think it's a well made site and since it's based on Aspire Pro, I guess I'll have to recommend it as an events theme now too, not just a great WordPress business theme.
---
Meeting
Need a single page WordPress theme to promote an event, conference, corporate meeting or other event?  Meeting is the perfect blend of crisp, modern corporate style and features that make promoting your event easy.  Meeting is perfectly responsive, it looks incredible on all screen sizes, it's powered by Visual Composer for ultimate flexibility in terms of design and layout.  With a drag and drop page builder like Meeting, you've got everything it takes to set up your site exactly like you want to.  So many features!  Built in 404 page, news page, registration on the front page, blog built in.  Lots more too!  Check it out.
Best WordPress Visual Composer Themes
Visual Composer is the absolute most popular drag and drop page builder on the market.  It's so widely used because it's simple to use, it's got more useful functions than some folks will ever know what do do with and it's reasonably priced to boot.  All that means it's got quite a following.  With this collection, we're highlighting the best Visual Composer themes around.
Eram
You can create a big first impression with a stylish portfolio theme for WordPress. It is possible to set up an internet artistic, creative portfolio quickly and effortlessly through the use of a first-class WordPress theme. This incredible portfolio theme is well made, easy to use, spectacular, functional and filled with creative features, it's solidly coded, dynamic and flexible, ideal for wedding photographers, ad companies, boutique design firms, online marketing firms or designers. You need a theme that's well designed with an amazing style, one that delivers a lot of helpful, popular abilities, responsive so that it looks amazing on virtually any device, user friendly with lots of wonderful documentation and help and extremely modifiable so it's possible to use it on virtually any web site.
If you need a fantastic drag and drop page builder theme, you should consider Visual Composer, the top plugin for creating drag and drop websites for WordPress, because it offers such a wide range of tools, it's adaptable enough to use on every webpage. Visual Composer supports all the major third party plugins such as Contact Form 7, WooCommerce, Revolution or Layer Sliders, Essential Grid and both Gravity Forms or Ninja Forms. Which makes this beautiful theme super flexible. Folks really seem to enjoy the fact that it's compatible with everything, the user friendly setup, the low cost, the many time saving tools and the versatility to produce any variety of highly functional site. Popular features include the well appointed front end editor, responsive, professional design, incredible support, gigantic template library and tons of content elements, and tons more.