WordPress Video Themes, Multimedia, vLog, Embedded or Self Hosted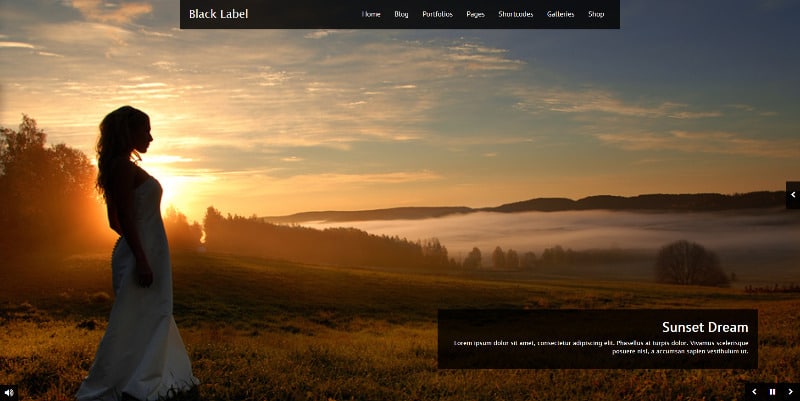 No matter whether you're embedding videos in your site or self hosting them, WordPress is the ideal solution for creating a website with engaging video content.  That's what we've kept in mind when looking for video WordPress themes.  Multimedia is incredibly big these days, it's a powerful and fun way to engage with your readers, turning them into viewers.  From video magazines to video blogs, news sites and more, these video themes help you create a memorable website.
If you want to show off videos on your website, you're in the absolute right place.
There are so many options for creating video these days, nearly every handheld device is practically a little movie studio in your pocket.  With cheap data plans, high quality built in cameras and more, more and more people are making and viewing multimedia content every day.  Why not get in on the action?
Video is King!
So, okay, here we go, a list of the absolute best WordPress video themes we could find.
Divi
Divi is one of the most impressive themes to come along in the last few months.  Divi is a true multipurpose theme, with tons of layouts and features included.  Personal blogs will look great with this dynamic theme from Elegant Themes.  We think you're going to love just about everything about this one, from the functionality to the slick and modern design, the incredible level of support offered by Elegant Themes and, frankly, the price which is really reasonable.  For just $89 a year, you get access to all of Elegant Themes offerings.  That's great if you're a developer but even if you aren't, it's a pretty solid deal for the amount of flexibility you get, the help if you run into troubles and the documentation.
Divi is a real powerhouse and maybe the only theme you ever need to buy.  Truly Multipurpose, truly flexible, truly powerful.
This theme is simple to use, flexible, dynamic, powerful and modern for any variety of entertainment blog, video tutorial site, magazine, video blog or video sharing page. You can totally embed your clips from place like Daily Motion, Vimeo, Hulu or Youtube or self host your videos. This theme has many remarkable advantages you'll enjoy, like great support and documentation, powerful theme customization options, premium plugin support, front end video submission and multiple beautiful, responsive layouts.  Love it!
---
Wrap
Wrap is a video blog or vlog, it's a pretty strong option for any sort of video blogging enterprise.  Tesla Themes made Wrap to be a perfect solution for a video magazine or video blog, whether you're showing upcoming movie trailers, funny and viral videos, video journalism and any other video content.  With Wrap, there are three different homepage layouts, a multitude of content delivery features.  You can even allow for submissions from your readers and viewers, which can really help your content grow and grow.  This theme offers full screen and boxed layouts, it's responsive and retina ready, supports Google fonts, HTML5 videos and it was built with the latest version of Bootstrap for fast loading and incredible stability.
---
Reel Story
This is Reel Story, a premium WordPress video theme that was created for videographers, cinematographers and other video makers who want to publish their content in an attractive and stylish way.  Reel Story is perfectly responsive, so your posts and pages look amazing on each and every device.  Reel Story allows for a wide range of customization too, with almost infinite color and font choices, making your site very appealing for your visitors, whether you're embedding videos or self hosting them.  Themefuse is great in terms of support, so you should feel pretty confident about this theme, even if you're new to WordPress or have customization issues that go beyond the routine changes that most folks make.
---
Benson
This is Benson, from CSS Igniter, it's a fantastic theme for highlighting your video content.  Whether you want to promote video, multimedia or images, the layout and design of Benson makes it possible, full screen 'hero' areas make a great way to add videos that really can engage your viewers, giving a highly polished and professional appearance.  Benson allows for complete color and font control, there are loads of custom widgets to help add more functionality for social networking, among other things and Benson's drag and drop page builder means your home page can look precisely the way you want it to look, since you simply drag and drop content modules where you want them to be.  No coding skills required.  Page options, header styles, extensions and plugins, it's all there and CSS Igniter is known for amazing support, so you'll never have issues customizing your site and getting it up and running with little effort.1
---
Materialism
Materialism is from Tesla Themes and it's a great looking theme for showcasing your videos, particularly tutorials and videos promoting apps, services and more.  Materialism offers a responsive template, great on all devices.  Whether you're an agency or a freelancer, a small or large company, that's important.  The more time goes by, the more folks are using handheld devices to access websites.  A fluid design helps make sure that experience is consistent from user to user on all devices.  With Visual Composer, you get the mots popular drag and drop page builder plugin around, though you don't need to use it to operate this theme and set it up to load fast and look great.  Materialism is cleanly coded and that's part of why I think it's a great theme for all your video tutorial website needs.
---
Underwood
Underwood, by ThemeShift, is a great looking WordPress theme for video bloggers.  I could see this theme working very well for anybody who wants a simple, straightforward platform for displaying video posts about travel, cooking and more.  The simple design is what makes it work so well for such a wide variety of uses and with a fast loading theme like Underwood, especially one that works perfectly with all the major SEO plugins, you're going to see a real difference in the SERPs.   That means you can rank better that your competition, since page load speed is a ranking factor now.  With Underwood, you also get a really nice set of documentation as well as support from ThemeShift, should you need it.  This is a great ll around blogging theme that's well worth considering for your next project.
---
Adventure
This theme is called Adventure, and it was created by Organic Themes, one of the best makers of premium quality themes around.  Adventure is a high quality, full featured WordPress travel blog theme, but there's more to it than just that.  Adventure also acts as a showcase for multimedia and video files, making a professional site even better.  Videos are a big deal, they can help with the stickiness of your website, which can be considered a ranking factor by Google.  If you're building a website based around travel videos, this is one you'll absolutely want to consider.  Adventure is responsive, it's simple to customize and it's priced right too.
---
Create
If you'd like to display videos with style, you should consider Theme Trust's Create theme.  This one is really well designed, offers tons of features that help you display your video or other posts, making each one look amazing.  You can embed videos from popular video hosting sites like Daily Motion, Vimeo or YouTube.  Even host clips yourself if you want to take complete control over advertising.  Create has a bunch of features that aren't specific to a video portfolio or video blog site too.  Portfolios, WooCommerce integration, multiple header and blog layouts, unlimited widgets, custom colors, contact forms, Slider Revolution and much, much more.  This is a premium theme for sure.  With Create, you also get a free page builder from Site Origin.  It's really simple to use and allows for maximum flexibility in creating new and different layouts for your site.
---
Wright
Wright is an amazing, simple and clean WordPress minimalist video portfolio from Made by Minimal.  I really love the simple, crystal clear layout and I think you will too.  No matter whether your video and multimedia files are self hosted or embedded from a site like YouTube or Vimeo, Wright is built to make your content look incredible.  With a responsive layout, your site will look great even on a mobile device, which is growing in importance every day.  Creative sites like Wright really help to accentuate your multimedia and make it look as good as it can.  As always with Made by Minimal, the documentation and support are first rate.  Buy with confidence!
---
Viseo
Viseo is different from some of the other video themes on this list, because it's specifically made for podcasts and other news and informational videos.  Viseo is really made for creating and promoting serial podcasts, no matter what the subject matter.  Want to sell subscriptions for serial podcasts with a built in eCommerce system for subscribers?  That's what Viseo is all about.  Host your video locally and it'll look amazing on any sort of device, thanks to Viseo's responsive design.  Viseo has a drag and drop page builder for the ultimate in design flexibility, a premium slider for slideshows on any page, responsive design so it looks outstanding on all sorts of devices, there are mega menus, sticky headers, contact form support, unlimited colors and typography, and of course there's a premium audio and video player included and plenty more.
---
The Motion
To build a great site for a video blog, for giving away or selling tutorials, for online video lessons and learning systems and other multimedia uses, you will want a theme that can really make your videos look great.  That's what Themotion is all about, showcasing your video work.  It's simple, it's elegant and it does an amazing job of highlighting your videos.  For any video portfolio or vLog site, you will want a responsive design, which is definitely the case for TheMotion.  This theme is also WooCommerce ready, so if you'd like to set up a shop selling any kinds of products, whether it's tutorials or merchandise, TheMotion can handle the job with style and grace.  TheMotion is well reviewed too and a large part of that is that Theme Isle is so good at supporting their products.  If you run into problems, they're fast and friendly in my experience.
---
Wall Street
This is Wall Street and it's a responsive WordPress business theme with the capability to showcase your video content with a modern style and it's got plenty of features to to make your site really shine.  Wall Street is simple to customize, whether it's the custom background, text, logo, headers and text, you can add slideshows with unlimited images or videos, add custom widget areas for subscription forms, text blocks and more and with the post format types, you can easily add images, galleries, quotes, links, audio and, most importantly, video content.  Graph Paper press has you covered with automatic, lifetime updates, detailed help files and more.  I think Wall Street is a really high quality theme that you should absolutely consider.
---
Vignette
For a dynamic presentation of video or images, Vignette is a great choice.  Thanks to it's powerful, user friendly design and long features list, Vignette was designed with video and multimedia in mind, yet it can work perfectly well as a blog and portfolio for written content and still photos too.  There are several widgetized areas on the front page to allow for custom page designs too, as well as a generally flexible layout for all your posts and pages.  Speaking of posts, Vignette offers multiple custom post types for even more specific design possibilities.
Vignette is simple to use and customize, it gives a great user experience.  I really like themes with a live customizer option and Vignette offers that.  It's great to help you make changes and see what your site will look like before you commit to any change.  You have complete control over the look features and feel of your site and this totally responsive, SEO friendly site has great support, thanks to the tireless efforts of CSS Igniter.  They're really all about helping their customers.
---
VLog
This is Vlog and it's one of my favorite new video blog and magazine themes.  Beautifull crafted, Vlog has an almost laser-like focus on videography and cinematography.  This theme is a perfect complement to sites with complex needs, from layout to features.  Basically, Vlog allows you to present your videos in any way you need to.  Video Tutorials?  Viral Video Websites?  Video Blogging?  It's all possible with VLog.  If you want to self host videos, that's no problem.  If you'd like to embed videos from a site like Vimeo, DailyMotion or YouTube, that's absolutely possible too.  There's nothing that's impossible with Vlog.  I absolutely love the YouTube video importer, which automatically transfers videos and playlists to your website.  Fast and easy.  Group videos into playlists, that's going to result in a stickyness factor to your site that's almost unheard of.  Auto detect thumbnails, watch later and cinema mode too.  The features are seemingly limitless.
---
Bramble
Looking for a great WordPress theme that uses the power of background videos to make for the best possible user experience?  Thenm have a look at Bramble, from ThemeTrust.  This theme has it all.
Bramble is a wonderful alternative for a portfolio web template, but additionally an also be used for a vast array of uses, since it uses the Site Origin Page Builder plugin to make for the maximum amount of control over your website's style and feel.  That's what a drag and drop theme is all about. Bramble is amazing, it is easy to use, it's powerful and professional too.
WordPress is all about being user friendly on both the front and back end, and the Bramble theme is true to form, you have the absolute maximum control over layouts, plugins, styles, add-ons and much more. Bramble is perfectly suited as a portfolio template, even though it may also be a fantastic blog site also. With one click demo information import, Slider Revolution, a year of free support and upgrades, pure purely responsive design and multiple optional designs, Bramble is a superb selection for your next website.
---
The Core – Video
This is The Core, by Theme Fuse, a premium quality, multi-purpose WordPress theme with a fantastic looking video portfolio option, great for showcasing and promoting your videos.  The core is sharply designed, great looking and well coded for perfect browsing experience and a great user experience on the back-end too.  With a visual page builder, you'll join the over 150,000 users who find it easy to customize this responsive, WooCommerce ready theme and as always, the support given by Theme Fuse is absolutely top notch.  Quite simply, this is among the most versatile and simple to use of all the themes we've reviewed so far.
---
Struct
Struct is a WordPress Theme that is especially designed to contain multimedia content without sacrificing navigation and page load speeds. Its responsive design helps it adapt to different screen displays and platforms. The theme's clean and professional design further makes it suitable for websites offering software as a service, and similar mobile or tech businesses.
The Struct WordPress Theme also boasts of design flexibility. It has an easy-to-use drag and drop page builder, so creating pages from scratch is not an issue. It is also compatible with several page builders that can be easily synced so data and style updates can be quickly incorporated into the theme. Designers are also given access to a Theme Customizer which allows infinite color schemes, with over 100 settings. Background images and logos may also be uploaded.
Content management is likewise hassle-free with Struct. The theme already has five custom content types to choose from, and also allows the display of client testimonials and slideshows. Further, custom widgets like contact maps, scheduling, and social media are also integrated into the theme.
Other notable features of the Struct WordPress Theme are its retina ready and translation ready settings. It is also optimized for speed and search engine optimization.
---
Webly
Elegant Themes presents Webly, which is a classic video portfolio theme.  These guys are one of the most well trusted and famous of WordPress theme makers for good reason, their themes are well made, highly functional and beautiful too.  The Webly WP theme is like all Elegant Themes, it's constantly being fine tuned and updated each time WordPress comes out with a new version.  The result, a finely crafted, flexible and fast loading theme that looks great on every device and will continue to function properly long into the future, because it's future-proof.
Webly theme gives you an almost unlimited number of remarkable options including multiple layout variations, a great responsive design, fantastic support, powerful theme options and front end user posting. This multimedia theme is modern, flexible, dynamic, simple to use and powerful for any kind of entertainment blog, video blog, video tutorial site, magazine or video sharing page.
---
Circle
Filmmakers, movie studios, film school students, directors and other creative video professionals will love the Circle WordPress theme.  With tons of specialized functions, the Circle WordPress theme was built to help show off your videos.  Whether it's on Vimeo, YouTube or your own self hosted files, Circle can get the job done.  The Circle WordPress theme is an award winning theme and if you've created an award winning short film, feature or documentary, Circle WordPress theme coule be just what you need to help promote your creation.  The Circle WordPress theme has a perfect 5 star rating on ThemeForest, it's that good.  Responsive, packing a bunch of pre-made demo sites, the Circle WordPress theme is a bigtime star!
---
Oscillator
For disc jockeys, bands, nightclubs and others in the music industry, a great website could be the key to running a very successful business.  Oscillator is a theme that is all about music, so you've got a perfect match no matter what aspect of the music business you're into.  Oscillator is also a great theme for showcasing videos, whether they're embedded or self hosted.  I've seen some great examples of sites using oscillator, from night clubs to dance halls, music groups to stage play production companies.  The end result is always a clear, professional website that can't help but get attention from every viewer or reader.
There are six basic custom post types included, a streaming audio player for building a track list so you can create your very own online radio station.  With a unique design, tons of great widgets to add even more content and the flexibility of a drag-and-drop page builder, Oscillator gives you a ton of advantages that can help make your site a great one with incredible user experience all around.
Moview
If you've always wanted a website that's sort of similar to IMDB, the internet movie database, or maybe Rolling Stone magazine, Cinema Blend or even TMDB, you're in luck.  This is the theme you've been waiting for.  Oh yeah, it's also great for movie reviews too, which means Rotten Tomatoes or NDTV Movies are websites you can emulate with Moview.  Celebrity sites can use MovieW too, as well as movie trailer blogs, movie reviews site and a lot more.  With BuddyPress and bbPress, you can add a slick looking forum for memners to discuss any kind of topic, as long as it's film and video related.  Using MovieW theme, you can build a massive database of movies and reviews, whether they're new releases or something from the Classics aisle in the movie store.
Not that there's a classics aisle left, but you get my point.
---
Glider
Glider, a theme developed by the Crumina Team, is a theme that features flat UI designs. This allows the theme to create visually-appealing pages that displays well in retina and other mobile devices. With the Glider Theme, you will have different customizable theme options, an easy-to-use page builder, a built-in visual composer, ready to use icon packs, a menu customizer, translation ready files, and WooCommerce shopping cart compatibility.
The Glider Theme suits different people and companies depending on how the theme is customized. It can work as a corporate website theme, a business website theme, a product specific theme, a personal blog or website theme, and even as a magazine theme. Glider includes built-in layout options to make the theme work for you.
Other features included are: 500+ Google Web Fonts, Cross Browser options, News Slider customization, Mega Menu option, Layer Sliders, unlimited sidebar options, pricing table options, and pre-translated French, Portuguese, Russian, and German .mo and .po files. The Glider theme also includes shortcodes to create buttons, panels, alert boxes, columns, Orbit slider, tooltip, and reveal shortcodes. Other visual shortcodes included in the Glider Theme are FAQ toggle blocks, simple Image galleries, Posts galleries, Video blocks, map blocks, tabs blocks, Flickr content blocks, social media share buttons, tour section blocks, and accordion section blocks.
---
Soledad
Soledad is a one of a kind theme.  This is a dynamic and polished WordPress video template, one of the best we've seen this year.  Carefully crafted, powerfully featured, well coded and easily changed up if something doesn't work for you right out of the box.  The attention to detail is wonderful, a pixel perfect theme if ever there was one.  Hey, this is even the top selling Video Blog and Magazine theme of 2016, which means it's going to be around for a while.  Video backgrounds, video posts and more are why we recommend this theme for those looking for a wonderful solution for displaying a video portfolio or even embedding video clips in blog posts.
Soledad includes 250 home page demos, 250 customization options and 200 slider and blog combos, so there's no limit to what kind of look you can create with this theme.  The page load speeds are incredible, because it's so well coded and not bogged down with junk you don't need.  That helps in the SERPs for sure.  HTML5 and CSS3 are part of the reason for that.  It's simple enough for beginning webmasters to do a lot of custom work to it as well, the visually engaging design really sets off those powerful features.
---
Goodwin
Goodwin is a photography and video portfolio theme that uses full width layout to really make your projects pop.  Goodwin has a custom slider that supports video and photos alike, even mix and match with a slide show incorporating both.  That makes for an eye-catching presentation of your creativity.  There are simple and AJAX albums where, again, you can show off multimedia and photography.  AJAX allows you to preview everything on the same page, or use the standard simple album to display a gallery slideshow.  The popular masonry layout features a vertical scrolling design with impressive impact.  Goodwin is a professional level theme and it's aimed at thos who want to take their videography or photography career to the next level.  Showcase your art, your skills and your career with this powerful theme.
---
VideoGo
VideoGo wants to be your magazine web template.  Specifically, video magazines.  Responsive and based on Bootstrap, VideoGo gives you the choice of five great homepage layouts so you can change up the design according to your whims.  These designs are just the tip of the iceberg though, since you can use any page builder to create more awesome page styles.  Blog and post formats and layouts can also be swapped around so no matter what you envision for your website, it's absolutely possible with VideoGo.
---
Viduze
This is Viduze, a well built, well styled, simple to navigate and easy to customize video magazine theme for WordPress.  Any kind of journal, magazine, newspaper or blog will look great with Viduze.  This theme is really easy to use, well designed, it has clean code, it's modern, engaging and beautiful.  How can one theme do all that?  Well, it's fresh, strong, clean, well made and feature filled, that's how.  Features like iFrame support, WooCommerce and more.  The responsive design of Viduze is very trendy, the features on the back end are simple to use, it's a cool, refreshing and easy way to display any sort of multimedia content.  The navigation is very straightforward and the list of features is comprehensive.
This theme offers you a great deal of fabulous options you'll enjoy, like multiple responsive layouts, SEO optimization, great documentation and fantastic support, featured, popular and recent videos, multiple colors and fonts and powerful, flexible theme options that let you make this site your own, separating it from other sites that might be using the same theme. Viduze theme is sleek, unique, BuddyPress ready, it's flexible and gorgeous for any sort of video blog, magazine, video sharing page, video tutorial site or entertainment blog. You really can build an entire social network around the videos on your site, whether it's gaming, movies, music videos, sports highlights…you name it.  Viduze allows you to embed clips from all of the major sites like Hulu, Vimeo, Youtube or Daily Motion or host your own videos.
---
Superstar
This is Superstar, which is meant to be a theme for musicians, bands, DJs and others in the music industry, though it's just as good for video projects.  There are dedicated video pages, portfolios and the Superstar theme is even WooCommerce ready for creating an online store to sell products.  Easy to set up, easy to configure, this theme also comes equipped with Visual Composer as well as Revolution Slider.  Clean, modern and perfect for musicians of all sorts.  Have a look below.
---
Rydon
Rydon is a pretty slick looking fullscreen video theme for WordPress, it's got tons of features to help you create a really winning website.  Games?  Movies?  Sports?  News?  Entertainment?  It's all fair game with Rydon, even tutorials websites.  There's pretty much nothing you can't make look great, though you do need to start with great video clips to produce great results.  Some say, 'we'll fix it in post' but as a former film and video editor, that's not something I like to hear.
---
SlimVideo
SlimVideo is just what it sounds like, a lightweight, easy to use and powerful video theme.  Aesthetically, SlimVideo is somewhat generic, though a lot of people are looking for that in a WordPress theme. But don't worry if you don't love the design, you can switch it up as much as you want.  SlimVideo is totally flexible in it's design.  Play HD videos that you've hosted yourself, or from a video site like Youtube, like Vimeo or like Daily Motion.
---
Megatron
Megatron sounds a little like a movie monster from a 1950s movie and it's a great video portfolio theme.  Coincidence?  Okay, maybe.  But that doesn't change the fact that Megatron is a well designed theme that helps you make your video look incredible.  Built with the Bootstrap 3 grid system, Megatron offers a ton of features that some other video themes don't.  That's probably because this is really a premium multi purpose theme that just happens to be a video portfolio, rather than attempting to be a YouTube or Vimeo clone theme.
---
Orion Press
The Orion Press Theme, made by WP Galaxy, is a specially designed theme for those who want to build a news and magazine type of website. The theme's main feature is its responsive and retina display ready design. As a magazine theme, the Orion Press Theme also includes .mo and .po translation files. This way, any user can easily translate the theme's headers without having to modify php files.
The Orion Press Theme also includes an automatic page builder called Visual Composer. This allows you to easily create post layouts by just selecting from a list of options found in the Orion Press Theme's dashboard. Other features includes are: seven different built-in shortcodes, drag and drop page builder, footer style options, Taygem Review System Plugin, sticky navigation menus, Google Web Fonts, built-in Related Posts plugin, full screen backgrounds, customized social media widgets, different page and post layouts, different media post formats, different page templates, different drop-down menu options, Google analytics compatibility, layered PSDs, and different color options.
As a premium WordPress magazine theme, Orion Press will help showcase your news and blog updates while maintaining a clean and well-curated site design. This theme is compatible to major web browsers and is updated up to the latest version of WordPress.
---
Pure Photo
Pure is a flexible and user friendly video blog, video portfolio and creative agency theme for WordPress.  If you want a theme with tons of options for layout, a graceful and beautiful style to make your images or videos look the best they can look and a rich user experience, then Pure is a theme to consider.  I really like that their support is said to be among the best around and another thing, Pure is even WooCommerce ready if you need to sell products.
---
Avada
Avada is definitely the most popular WordPress theme on the market and now it supports a video slider, which is the version shown above.  This theme is incredible, the level of detail is amazing and it's so flexible, there's nothing it can't do.  Possibly that is why Avada is incredibly widely used.  Check it out.  Avada provides various features which make it suitable for virtually any internet website. Pick from one of many amazing and helpful sliders, outstanding and functional headers, copious fascinating and properly organized image variations, include a feature packed and impressive eCommerce market as well as other capabilities.  This truly mesmerizing theme does just about everything extremely well and it's stunning and remarkable too.
With the Fusion Builder, one can create any smartly-designed and wonderful configuration imaginable. Fusion Builder is a lot more than a webpage builder, it's a highly effective design program to allow you to create the absolute best webpage you are able to.  Having this amount of assorted options to pick from, you could be puzzled at first, but Avada is conveniently simple to get going.  Great for beginners.  There are plenty of incredible styles and variations you are able to construct, blog post types, portfolio page styles and various other elements are also remarkably modifiable. There are lots of preferences and features that it's not hard to understand exactly why Avada is the most preferred WordPress theme.
Demonstation web sites display Avada's miraculous usefulness as a digital photography portfolio, vintage shop, landing page, new and innovative retail store, gym, tech online community, church, restaurant, travel blog, design blog, artistic shop, law company, webhost, architectural structures company, lodging and resort, life style or another handy, amazing type of site. That's an excellent breakdown that stresses the many captivating ways you can use Avada. Also, you will find these demo websites may be rapidly and without problems installed to enable you to get started off fast and cheap. And, it's a matter of modifying your site's distinct layout.  The theme offers incredible levels of support and documentation to go along with the remarkable design and style, so it's perfect for beginners and WordPress experts too.
[
---
Empire
MoonBear Themes has upped their ante with the creation of the Empire Theme. This theme boasts an elegant yet simple take on the popular portfolio website design for artists, photographers, illustrators, and other individuals in the artistic field. The theme's creators meant the theme for minimal cpanel or WordPress dashboard management. It is their goal for the end user to concentrate more on their craft and let the website do the work when showcasing their art.
Empire Theme is easy to use with a built-in visual composer and page builder. As an end user, all you have to do its type your blog posts and upload your photographs of your art and the theme will automatically create sliders and layout grids to showcase them.
The Empire Theme comes with a minimalist design that may suit most creative individuals since it gives them free reign into the formation of a web page that represents their personal brand or business.  The Empire Theme can also work as WordPress video theme if you wish to display more of your video content. Other features included in the theme are: fully responsive design, retina display ready, built-in Ajax contact forms, prebuilt 404 pages, css3 animations, and FontAwesome icon sets.
---
Video Pro
VideoPro is a feature-rich WordPress theme that's absolutely dedicated to video, this isn't some theme that's been repurposed from a typical portfolio or blog theme, it's been designed from the ground up as a completely responsive video theme for video sites, news & magazine sites or any type of sites that you can imagine that depend on offering high quality video, whether it's self hosted or streaming from Vimeo or Youtube.  What subject matter your site is about, well that's up to you.  The professional design, layout and clean, modern style lends itself to a wide variety of purposes, like news magazines, political videos, games, news, movies and entertainment and plenty more.  VideoPro is now fully integrated with BuddyPress too, so you can craft a solid online community around your videos.  Pretty handy.
---
Primero
Primero wants to be the first thing you think of when you think of a video-centric blog template.  I do like the design, but it's very specific, maybe not to everybody's taste.  Primero is a blog that isn't *just* about videos though, you can use it as a great looking standard blog with photos and a lot of text.  Three featured sliders are included for variety, there are four navigation styles, video documentation is included and with the detailed help file, you should be able to solve any issues you could possibly run into using Primero.
---
Black Label
Black Label offers a fullscreen video or image background for promoting your video content.  Recently Black Label was completely redesigned and it shows.  WooCommerce is now fully supported and you can use the WPML functionality to make Black Label look and work properly in any language.  The design is responsive, multiple portfolios are available.  The reviews have been very positive since the redesign and with over 4000 downloads and counting, this theme has been very popular and looks likely to remain very popular in the future.
---
VideoMag
VideoMag is pretty much exactly what you'd think it might be, a classic video blog or magazine theme.  More and more sites are sharing more and more video, because it's so easy to create a solid looking video with high quality camera phones and simple, cheap editing software.  Video Mag supports all the standard embedded video sources, Vine, Vimeo, Daily Motion, Twitch and YouTube, as well as giving you the option to self host your own videos.  But saving your server may be a good idea, so if I were you, I'd consider embedding videos.  Then again, if your server isn't an issue, self hosting allows you to control whether advertising is shown and if you do show ads, that's a great way to monetize a site.  Anyway, I could see the argument either way.
VideoMag is powered by Orange Themes page builder, which is a visual drag and drop page builder, similar to Visual Composer.  If you're not familiar with it, it's largely similar to Visual Composer, so folks with experience with that plugin should do just fine.  If you don't know either, it's still relatively simple to use just about any drag and drop page builder to create a good looking website.  Orange Themes also adds a custom HTML video player with logo overlay, Orange Themes mega menu, custom post layouts, a unique homepage design, a highly customizable GUI with a very nice control panel, visual shortcodes and a lot more.
---
News Tube
NewsTube is a well organized and modern looking video magazine or blog theme, it's totally responsive and packs in so many features, you're going to get dizzy trying to name them all.  Probably not, but still, it's a lot of features.  NewsTube supports embedded videos from Vimeo, YouTube and DailyMotion and you can even allow for front end submissions, so your users can easily create channels and playlists.  If you want to have a site with tons of user generated content, NewTube is a great choice.
FilmMaker
Filmmaker is aportfolio theme for creative companies, production companies, cinematographers or motion graphic designers who want a great way to highlight their showreel or film and video portfolio.  Filmmaker was created by an elite author on ThemeForest and it's absolutely packed with great design and features.  I love the typography in particular, the responsive design, the one click installation, infinite layouts and looks you can create.  WPML support means you can translate Filmmaker into any language, which is important, since so many of your visitors are likely to come to your site from other places around the world.
Video Touch
This theme is called VideoTouch, it's a premium quality theme that's proven to be wildly popular too. What can you do with VideoTouch?  You can create your own Vimeo or YouTube clone, basically.  Self host videos for greater control over advertising or embed them from your favorite video hosting website.  Infinite layouts, modal video, custom widgets, front end submissions so your users can submit their own clips to your site.  That's pretty cool.
---
VideoTube
With the ability to host your own videos or embed them from a site like YouTube, Hulu, Vimeo, DailyMotion or even SoundCloud for audio.  Videotube makes it all effortless too, you can share your videos on social media, you can invite feedback from peers with Videotube's built in like system and it's user-friendly and simple to customize the front page design as well.  Collect and share videos from all around the world.  Thumbnails are automatically generated for fast uploading.
---
Videofly
VideoFly is a great video theme that includes front end submissions.  Created by touchsize, one of the best theme makers around and all they do is create premium quality themes.  VideoFly is a high quality and aesthetically pleasing theme, it's well supported and highly respected by those who have purchased this theme. As for front end submissions, not every theme does that, so it's a wonderful way to expand the content you have on your website. There are unlimited page layouts, unlimited footer and header layouts and every one of them is gorgeous.
---
This Way
Designed with HTML5 and CSS3 code, This Way is a great theme for promoting your video content.  The fullscreen background can be displayed as a video or a still photo and there's even a video slider to go along with it to show more than one clip on the front page.  There are cool jQuery animation effects, support for audio files, a portfolio filter so you can show only the types of videos you want to show.  Customization is a snap too, with This Way you can control just about everything to make your website completely unique and memorable.
---
No Limits
NoLimits is based on Twitter Bootstrap code, meaning it's fast and flexible, with unique customization options to help make your videos look incredible.  Pro-level SEO, beautiful layouts, this theme is one of the best video landing pages around and it's completely responsive too.  There are even parallax background effects for maximizing your site's creativity.  If you want a fast loading theme that can showcase a single landing page style video, this might be the one for you.
WordPress Food Blog Themes, Recipes, Cookware Reviews and Cooking Articles
Food blogs are all the rage, whether you're a chef or you cook at home, cuisine is a big market.  So having a perfect theme that is built specifically for food blogging is incredibly important.  Whether it's recipes, restaurant reviews, articles about cooking techniques and products, reviews of world cuisine.  No matter what it is, if it's about food, one of these themes can help grow your website.  Recipe blogs are growing more and more popular every day, with tons of new sites popping up, you'll need a website that has the features and design to stand out from the rest of the competition.  That's what this list of themes is all about.  We've found the very best themes around for creating an engaging and professional site for your recipes.
Salt & Pepper
This is Salt & Pepper, created by Tesla Themes, and it's a wonderful food blog theme for WordPress.  With Salt & Pepper, you'll find it simple to set up and maintain a professional and full-featured food blogging site, with plenty of features to keep readers engaged, like a recipe filter, bright and attractive images, a clean layout, simple and clear-cut navigation and more.  Salt & Pepper makes it easy to add to the basic design with all sorts of customizations too, which helps to make for an awesome user experience.  Change up colors, fonts, add your logo and so much more.
Salt & Pepper is a wonderful recipe blog theme from Tesla Themes.  This is the ultimate theme for sharing the secrets to your culinary success.  Considering how popular recipe blog sites are, it's critical to have an attractive and professionally designed theme like this one.  Salt & Pepper has a recipe filter built right in, making it simple to share cooking tips and techniques with your visitors.  With fresh code, responsive design and a lot of SEO optimization, Salt & Pepper could be a real powerhouse for creating an outstanding recipe site.
---
Brunch Pro
Brunch Pro is a popular, delicious and nutritious theme for food bloggers.  With Brunch Pro, you get a simple, cleancut, crystal clear and easy to manage website for food, recipes and more.  Lifestyle blogs like food or cooking blogs are very popular right now.  With Brunch pro, you can easily switch between any of the 8 well designed, well crafted layouts, you can add featured images and custom headers, translate your website into multiple languages, add features, customize colors and fonts.  There's nothing you can't do with this theme.
If you want to check out another great theme that's very similar to Brunch Pro, have a look at Foodie Pro, which is what Brunch Pro is based on.
---
Carbone
This is Carbone, from CSSIgniter, and it's a fantastic WordPress theme for any food related website.  I think that with a simple, elegant theme like Carbone, you can craft incredible sites that perfectly showcase food, drinks, recipes and other hospitality industry content.  For those who may be beginners with WordPress, Carbone is a wonderful theme to get started with.  It's easy to use, easy to customize and it's perfectly adaptable to any situation.  With addons and plugins, you can extend Carbone's functionality in nearly any direction you choose.
---
Olivia
This is Olivia, which is billed as a full-featured 'Daybook' style theme, which means it's all about lifestyle.  One popular type of lifestyle blog is the travel blog and I think Olivia would be an amazing fit as a travel related blogging theme.  Olivia is flexible, with several custom post types, page and post layout designs and the malleability to adjust to nearly any type of content.  With WooCommerce functionality, you can add an online shop to help monetize your content and this mobile, responsive and retina ready theme also looks amazing on all devices, no matter the size of screen
---
Ad-Sense
Ad-Sense is a powerful magazine theme, I think you're going to dig it.  It's got a ton of various options that make it easy to blog about whatever you want and to monetize your site with Ad-Sense or the advertising network of your choice.  This is the recipe blog example, but there are several others that are just as great looking and just as powerful.  Some of the best features about this theme that make it the most powerful Ad-Sense ready theme around, awesome ad management, advanced advertising placement, ad blocker detection and content locking for readers who are using an ad blocker.  That means everyone will see your advertising, no matter what.  For recipe bloggers, that makes a lot of sense.  MyThemeShop offers great support and documentation to all of their themes, so you won't get bogged down trying to solve some minor technical problem.
For those who blog about food, beverages and recipes, AdSense is a great way to monetize your website.  That's what this theme, Ad-Sense, is all about.  With multiple advertising placement areas and a finely tuned, strongly engineered layout, you can maximize the eyes on all of your content and also maximize the click through rate on all of your ads.  Pretty slick set up if you ask me.  Ad-Sense is by MyThemeShop, one of the best makers of great online magazine themes and this one is no exception.  It even detects ad blockers like Adblock Plus, 1Blocker, NoScript, Ghostery and Privacy Badger, which means your site's content can be locked if users try to browse your content with one of those ad blockers enabled.  All that means your content will get more clicks and that means more revenue.  You can hide single post content too and there's a whole lot more that this theme has going for it.  I highly recommend this for any WordPress recipe blog site.
Cuisiner
Cuisiner is a WordPress theme designed with the stylish food lover in mind. Get in touch with people who have the same passion and share recipes with fellow gastronomes all over the world using Cuisiner's recipe gallery. This allows you to create step-by-step information and share events and testimonials. Cuisiner lets you connect your site with various social media pages and thus, helps to increase your site's exposure. Likewise, it enables your followers to rate your recipes. This is great because visitor interaction is essential for the success of any website. This theme's responsive design will make your content visible through a broad variety of devices and screen solutions. This way, your followers can look at your recipes through their mobile phones or tablets with ease even as they cook in their kitchens.
Recipe blogs have become extremely common. But Cuisiner boasts of a load of features which will help you create a highly personalized site that really stands out. This includes custom widgets, posts, videos and effects, as well as a convenient drag-and-drop editor. Cuisiner's terrific display data in all pages will help you catch the eye of more foodies out there, not to mention make their mouths water! As a cooking connoisseur, your website is a reflection of your very own kitchen. You'd hate for it to be messy. This is why Cuisiner provides you with an organized system to manage your blog posts, images, recipe pages, and other home items. You can categorize your recipes according to desserts, salads, drinks, and more. Price tables are perfect if you or the brand/s you represent offer different layers of similar service. It will present packages and prices in a way that people can easily understand. Cuisiner comes with a wide set of shortcodes to manage the creation of price tables, special offers, and buttons. This is especially handy if food is not just your passion but also your livelihood.
---
Social Chef
With Social Chef, you get a two in one package, a perfectly well built food blog theme and a really nice BuddyPress community site, so you can make an online community based around a shared love of food.  I think the combination is a really powerful one, so folks can register, login and submit recipes to your site, helping to build up your site's content.  Social Chef offers lots of ways to customize the look and feel of your site and with WooCommerce, you can seamlessly integrate an online store to help make a little money too.  There's a flexible ratings system for recipes, featured recipes and member profiles, unlimited recipe categories and a whole bunch more.
---
RedChili
RedChili is a delicious looking recipe and food blogging theme from ThemeForest, one of the leading theme makers around.  RedChili works for any type of cuisine with bold, attention getting typography, a professional and easy to navigate layout, some seriously specific tools to help make food blogging easier and more.  RedChili has a beautiful recipe gallery where you can filter recipes by ingredient or style and it's all created with short codes, so no external plugins are required.  With the popular recipes widget, you can even sort by your user's favorites.  RedChili is powered by the King Composer, so it's well supported, well documented and it loads up fast, which means great things for your website.
---
Rosemary
The fully responsive Rosemary WordPress theme provides a bright, elegant, and attractive solution for any blog or static website you need. The structure combines utility with customization options to create a truly bespoke look and style to display your content with ease. Diverse options for each page include such amazing features like multiple slider options and integrated Instagram footer widgets. Five various slideshow designs were added by the developers recently to boost the possibilities even more. Rosemary supports a multitude of widgets like About Me and plugins like Contact Form 7. Intuitive toggle controls let you turn these and other features on and off as easily as turning off a light. The included WordPress Customizer panel helps even non-developers create unique navigation menus, change to any color scheme you prefer, and make other edits that make any website built with the Rosemary WordPress theme.
---
Basil
This stylish premium blog theme works extremely well for any sort of website you require, no matter what kind of recipes or food are what you're into.  This mobile optimized, user friendly WordPress recipe blogging theme has every feature you could possibly want to let you create a high quality recipe site.  Reviews, ratings, nutritional information, those are just a handful of the features you don't see in every recipe theme.
With WooCommerce support, Basil Plus the Cooked plugin, you can set up a fantastic recipe site for any kind of recipes.  There's a drag and drop recipe builder, making it simple to create new recipes for your website.  Add photos, multiple photos even, to add some spice to the mix.  There's also a cool, different recipe slider, which displays your favorite or most popular recipes as a slider.  Boxy page builder is included for powerful flexibility in crafting a custom looking home page.  There's even front end submission so your readers can submit their own recipes, helping you grow your recipe blog. Pending recipe management, responsive design, ten recipe layouts.  It's all there for you.
---
iCook
Whether you're a professional chef, an entrepreneur in the food industry, or simply a food fanatic, you'll love the new iCook WordPress theme. This multi-purpose theme allows you to share your lip-smacking recipes and products to the world with its variety of unique features. These include the responsive design which makes the layout adjust to all types of screen sizes and devices, the custom shortcodes for recipes, the personalized backgrounds, and the custom-made logos and icons. While recipe blogs these days may be a dime a dozen, iCook will help you make sure that yours really stands out. It does that by providing visitors with a visual experience they can almost taste. iCook was fashioned so that upon dropping by your homepage, blog viewers instantly get lured in by the large images of your mouthwatering masterpieces. This theme also displays your most popular recipes according to the number of views.
iCook's recipe gallery includes filter function. This way, you can group your recipes according to breakfast, main meals, appetizers, desserts, etc. iCook allows you to list down ingredients effortlessly as well. Successful bloggers understand that interacting with followers contributes greatly to the popularity of a website. Upon checking your recipes, virtual guests can easily leave comments subject to your approval. At the same time, your followers can conveniently use the share buttons to spread your culinary creations across various social media sites. If you want your blog and your brand to be well-known across the blogosphere, you have to be extra responsive to messages. Likewise, if you're running a brick-and-mortar store, you have to make sure that potential clients can locate it without difficulty. Thankfully, these are what the Google map and the friendly AJAX form in the Contacts page are for. The iCook WordPress theme is all about helping you and your brand carve a name in the food industry.
---
iFoods
Fresh food needs a fresh look and that's what iFoods is all about, an ingenious design to help promote your products.  This unbelievably appetizing looking WordPress theme is a flawless solution for a first class and remarkably practical web page for your venue, no matter whether it's a bar food, pizza parlors, coffee houses, ethnic foods such as Mexican or perhaps Indian or fast casual, limited service restaurants.  This well built, stunning, user friendly, innovative and very flexible WooCommerce ready WordPress theme helps you advertise old products, expand your company, contact customers, launch fresh products and supervise delivery and your stock and more.
If you would like a fantastic drag and drop WordPress theme, you should think about Visual Composer, the most widely user drag and drop site builder plugin for WordPress, since it offers such a wide range of options, it's adaptable enough to create any sort of webpage.  This one is built with a beautiful, graceful style, well coded and responsive so that it looks incredible on virtually any device, one that gives numerous useful, popular abilities, user friendly with a lot of fantastic help and documentation and incredibly adaptive so that you can use it on any type of site.
---
Food Recipes
The Food Recipes WordPress theme is a modern, beautifully crafted WordPress recipes and restauranteur theme.  If you want a great way to showcase your fresh recipes, incredible cooking techniques and newest cookwares, this is a great theme to get started with.  Recipe blogs are big business and they're getting even bigger as it seems everyone is turning into a total foodie.  That's great if you've always wanted to create an amazing site for your cooking tips and tricks.
This is one feature rich template that spares no expense in terms of design quality, typography, support and documentation.  It's a beautifully designed WordPress theme for any sort of a recipe website, food blog, culinary magazine or whatever your heart desires, really.  Professional Chefs, Cooking Experts and even enthusiastic eaters will love this theme, because it loads quickly, is well documented and well supported too, meaning that if you ever get into any trouble installing or setting the theme up, it's a snap to get the issue solved.
SuperFood
This theme is called Superfood, an organic food store and health food web template, exclusively available on ThemeForest.  With Superfood, which was created by Power Elite Author Elated Themes, you get an attractive template that's full of great features, while remaining ultimately flexible.  The possibilities are endless with Superfood.  Bakeries, food blogs, cafés and restaurants could all benefit from this beautiful theme.  WooCommerce is fully supported, there are a dozen premade home pages, the admin panel is well appointed and easy enough for even beginners to use.  There are tons of shortcodes so you can easily add functions like image galleries, framed sliders, animations, masonry layouts, products and plenty more.  So, that's the basics of this vibrant, colorful and modern theme.  How would you use a theme like Superfood?  I think the possibilities are basically endless.
---
Capella
This is Cappella and it has only one thing in mind, to help you create a fantastic website for your restaurant establishment.  To help save energy and time, you might want to pick a WordPress theme which is previously been made, with wonderful features to help save you time and energy, so that you can devote additional effort maintaining your organization.  In the event you don't have the time or capabilities required to generate and take care of your own site, you may want to select a first-class restaurant theme to assist you in saving you precious time.  Sometimes it seems that there is not enough time in the day to grow business for your establishment, which is the reason it can be a great idea to pick a template that's already had the bugs worked out of it.
Cappella does it all, from fast casual, fast food or fine dining, taco stands, regional or ethnic foods such as Hungarian or Indian, coffee houses or noodle shops may all make the most use of a good looking and user friendly WordPress restaurant theme.  A wonderful looking WordPress restaurant theme like Cappella could be perfect for food carts or food trucks, cafes, cultural or ethnic foods such as sushi or Indian, fast food, fine dining or fast casual or pubs are a great way to help your culinary business stay ahead of the competitors.  There's no limit to what you can do with Cappella.
---
Divine Pro
---
Food Blogger
---
Mise en Place
---
---
Foodie Pro
Foodie Pro is all about grubbing out.  With a layout and style that's anything but fancy, Foodie Pro is one of the very best food blog themes out there for the WordPress platform.  Foodie Pro makes it easy to present your content in a stylish, svelte, sleek and attractive way.  Foodie Pro has a minimalist style out of the box but there are loads of customization features that help make it flexible enough for any food and beverage related site.  Recipe blogging themes like Foodie Pro, any kind of blog for that matter, can really benefit from the wide range of features that all Genesis Framework themes offer.  Not just the epic responsiveness, but also the fact that your site will be completely and utterly secure during every update of WordPress and Genesis itself.  That's the power of a great child theme for WordPress.  There's also a ton of documentation and tutorials that come with Genesis, so you'll be able to get started fast.  Foodie Pro also allows you to sell products on your site, which is pretty cool.  Got a cookbook?  Hey, why not try to move some products?  It's fun!
---
Aperitive
Aperitive is here and it's a great recipe blog theme.  I absolutely love the split screen layout, presenting your images on one side with your content, in this case delicious and nutritious recipes, on the right hand side.  Simple and minimal, but stylish and with it's own voice, Aperitive is a great theme for recipe blogs.  You could go with a free plugin like WP Ultimate Recipe, which works well.  I think it looks perfect when paired with a simple theme like Aperitive.  WP Ultimate Recipe is user friendly, attractive and allows you to use short codes to insert recipes anywhere you want them to be inserted, in any post, widgetized area or wherever you'd like.  Add ingredients, a tutorial, photos and more, even add a recipe index to any page or post.  Or, you could opt for a premium recipe plugin like Recipe Box.  With Aperitive, you'll get a theme that's perfectly built for food blogs and recipe sharing, and it's going to be an SEO monster too, Aperitive loads fast and works with all the major SEO plugins.  I really can't recommend this theme enough.
---
WordPress WooCommerce Themes, Online Shops, eCommerce Storefronts
We know, running your own business is a big, big challenge.  That's why you need the perfect WooCommerce WordPress theme to help you sell your products.  WooCommerce WordPress themes come in all shapes and sizes though, so what's the best?
How do you know where to start?  Well, we hope you start with our list, the freshest themes around, updated constantly.  And if you're here, I guess that's exactly what you've done.
If you're looking to get started with eCommerce, we think WooCommerce is a perfect choice.  Why?  Well, first of all it's free.
WooCommerce was forked from Jigoshop and since then, it's come a long way to become the most popular and flexible solution for selling products online.  Whether you're selling digital downloads or tangible products, WooCommerce can help you set up a shop quickly.  The learning curve is really fast with WooCommerce too, so you won't spend weeks or months trying to learn how it works.
That means you'll have more time to fine-tune your website and spend your time running your business, not learning all of the ins and outs of the software itself.  If you're selling jewelry, clothes, electronic products and gadgets, digitally downloadable files, rocket ships, candy and cakes or whatever else you can imagine.  Track your inventory, add sale prices, set up shipping, track clicks and taxes.  WooCommerce is perfect for leveling the playing field so you can go toe-to-toe with the big online stores or big-box brick and mortar places you're competing with.
That's awesome.
Anyway, here we go, the very best WooCommerce themes available for WordPress.
Divi
When choosing between different WordPress WooCommerce themes, one of the top choices is the Divi theme. Created by Elegant Themes, the Divi theme is best known for its WYSIWYG editor. Its main advantage is its built-in visual page builder where you can make changes to your website and see the changes applied in real time.
With the Divi theme, everything is customizable including fonts, spacing, CSS, rows, columns, images etc. The Divi theme also boasts a responsive design. It has more than twenty pre-built layouts and 46+ content elements that you can mix and match to create any webpage design element.  As a WYSIWYG editor, Divi allows you to adjust the heights and widths of any page element; edit and add new text content; change the user interface; add, copy, or delete any page design element; and drag, drop, and rearrange any content.
The Divi theme includes different page elements or short codes that can help enhance your website like audio player, blog, buttons, accordions, counters, comments, additional codes, page dividers, email opt-in forms, filterable portfolios, galleries, headers, shops, pricing tables, sliders, social media buttons, tabs, testimonials, toggle pages, videos, and video sliders.  Check out our full review of Divi here.
---
Underwood
Looking for a simple, stylish blog that's also ready to help you set up a WooCommerce powered online shop?  Well, Underwood may be a great choice for you.  This theme is simple to use, yet incredibly powerful.  Built using the latest Bootstrap code, Underwood is a fine example of a modern, clean and simple multipurpose theme.  With parallax effects, custom color and font selections all powered by a live customizer, you can take Underwood and make it look exactly like you want it to look.  Underwood is optimized for great SEO, it's got tons of widgetized areas for adding functionality and it's incredibly user friendly for webmaster and reader alike.  ThemeShift has been around since 2009, so they're not going anywhere anytime soon and their support is known to be among the best around.
---
Ultra
Looking for an incredible WooCommerce theme? One that's flexible and powerful, allowing you to easily create a layout that perfectly fits the products you're selling, even if you're not an expert at web design or coding?  Have you taken a look at Ultra yet?  If not, please to, I think this is really among the very best eCommerce themes around.  Whether you choose to use WooCommerce or not, Ultra is a perfect fit, though I tend to recommend Woo-Commerce thanks to the wide range of addons and extensions you can use to power up you online shop.  With over five dozen demo sites included, each one eCommerce ready, you're definitely going to find a style and a layout that you love.  But don't worry if it's in need of a few tweaks, Ultra is a drag and drop page builder, meaning you can add functions and content areas where you want them, making your site absolutely customized to be exactly what you want.
---
Shoppe
This is the Shoppe WordPress theme, from Themify.me, and it's another in a long line of great looking WooCommerce themes that these guys have come up with.  What Shoppe offers is a very beautiful and modern style with features to match, all built to help make your online enterprise a smashing success.  Themify have included demo data with your purchase, so you can upload that and then edit the existing pages, which can help you get started quicker than with some other themes.  Shoppe uses the power of Themify's drag and drop page builder to let you craft a site with any feature and any layout you need.
---
Amaryllis
Amaryllis is a nice looking WooCommerce ready WordPress theme that was built with fashion shops in mind, though it's also well designed to sell products in just about any niche.  That's thanks to the simple, clean design that means any products will be highlighted in a professional and beautiful way.  Amyrillis offers a unique design that helps make your business look very professional, no matter your niche.  With WooCommerce, or any of the other major eCommerce plugins, you can quickly and efficiently set up shop to sell your products.
Amaryllis employs a drag and drop page builder to help make your site look precisely like you want it to look.  There are multiple custom widgets to help with growing your social media presence, which is increasingly important these days.  Jetpack is fully supported too and since Amaryllis isvery well coded, it's SEO properties are helpful for ranking.  This theme also works hand in hand with the top SEO plugins like Yoast and All-In-One SEO.  With Amaryllis, you get a very user friendly, incredibly flexible theme that will definitely help your business run as smoothly as possible.
---
Adventure
Answer the call to Adventure!  This theme is a stylish, fun and well organized WooCommerce ready theme that's meant mostly for travel blogs, but as a standalone shop, it's a great choice too.  Nearly any kind of blog will work well with this theme and you can establish your online presence quickly, tailoring each page and post to fit your brand.  Swap out colors, fonts and layouts with ease.  Organic Themes has made sure that every line of code is up to the current WordPress codex standards and since Adventure is perfectly responsive, it looks amazing on all devices, no matter what.  Everything that Adventure does is built to make sure your eCommerce shop is easy to use, flexible and what's most important, your conversion rates are bound to go up.
---
Market Pro
Want a simple WooCommerce theme with a distinctly feminine style to help market your products?  Then consider Market Pro.  The Market Pro WordPress theme is built for Genesis Framework, one of the best, fastest and most powerful theme frameworks around.  Market Pro is great for bloggers who want to sell products, no matter what kind.  Lifestyle or fashion blogs, personal and travel blogs too, every kind of blog could do well to use a theme like Market Pro, combining a stylish presentation with a free WooCommerce shopping cart.  Genesis Framework themes are constantly being updated and upgraded, making sure to stay current with the latest version of WordPress.  This theme is definitely a great choice for a multipurpose template for your online business.
---
Float
With themify.me's powerful, user friendly and feature-rich drag and drop page builder, a thorough and easy to implement customization panel, SEO optimization, fast page load times, tons of user friendly options and a simple interface, all Float needed to do was add WooCommerce support and we'd highly recommend it on this collection.  Well, they went and did it.  Float is a parallax, creative eCommerce theme with multiple pre-created demo sites to help you showcase your products or posts, highlighting your content in a professional and fun way.  Float is SEO friendly, it loads up really quickly, the blog is clean and attractive and Float is completely responsive, which is a key in this day and age.  If you're not completely satisfied with any of the pre-made demo sites, you can always change things up using Themeify's drag and drop page builder, which is included for free.  And best of all, you don't even need to know anything about coding to make use of it.  Nice touch!
---
CoupShop
For your online store, you'll need a great looking theme with tons of features, a theme that's simple to use as it is beautiful.  That could be Coup, a wonderfully clean. crisp, modern, simple to use and powerful theme for online shops.  Coup Shop, from Themes Kingdom, is powerful, it's simple to use and it's filled with options.  Themes Kingdom always does a great job of making their themes easy to operate, powerful enough for experts but simple enough for a beginner to get started with.  With a simple design, Coup Shop can work well for all kinds of products, from electronic gadgets to furniture, clothing and accessories or whatever else you can imagine.
---
Zerif Pro
Zerif Pro is pretty unique when compared to a lot of WooCommerce themes on this list.  Why?  Well, it's a one page theme, for one thing.  That's possible because of the Site Origin Page Builder, which gives Zerif Pro a huge amount of design flexibility, putting products, blog, portfolio, pricing table and more, all on one page.  The net effect is a simple, clean and efficient site that can really help you sell products.  It's probably not ideal for companies that have a ton of products like clothing stores, but if you're selling apps, SEO services, software or something like that, Zerif Pro could be amazing.
---
Hugo
WordPress WooCommerce themes like the Hugo is a premium theme geared towards ecommerce sites owners who want their brands to stand out. The Hugo theme boasts of a customizable elegant design that can support the WooCommerce plugin in your website. The main advantage of the Hugo theme is its page builder options. You can build your site pages by using either Elementor, Divi, and SiteOrigin Page Builders. All these page builders are included in the Hugo Theme.
As a go-to theme for an ecommerce site, Hugo includes all the different page templates that a site owner may need like a shop index, testimonials, blog, multiple types of product pages, contact page, and a customer account page.  Furthermore, included in the Hugo theme are different theme options where you can make any design changes to your site, .po and .mo translation files, optimized site pages, and a retina-ready responsive design.  You can create a website that is easily modified with the use of the drag and drop page builder. It allows you to see the changes you made on your site right away.  The Hugo theme is also SEO optimized and includes a built-in option to edit your site's and any post's on-page SEO descriptions.
---
Foxy
Foxy is a WooCommerce theme from Elegant Themes, it's a simple but highly stylistic theme that could be just what you're looking for.  This is a theme with an opinion, if you know what I mean.  It's not a neutral, minimal style template, it's got a bold style that's not incredibly flexible.  But if the style fits your brand, it's a great way to go, because it's well crafted and it works fast.  I think Foxy could be great for software sales, SEO companies, apps and stuff like that.  If you want to sell products or services, you'll need a great shopping cart and for many, WooCommerce is that shopping cart of choice.  Check out the links below for more information.
---
Ad-Sense
Ever asked yourself, what's the best AdSense friendly WordPress magazine theme with WooCommerce?  I believe I've found a strong candidate, created by MyThemeShop.  It's called Ad-Sense, and it's got a fantastic looking boxed layout with user-friendly layout, navigation and customzation options.  you're going to love it.  Ad-Sense makes it simple to monetize your website, whether it's advertising your own products or products from someplace like Amazon or other online retailers.  With Ad-Sense, you'll have several layouts from which to choose, multiple page and post layouts, a gorgeous custom carousel and more.  Of course, it wouldn't be on this list if Ad-Sense wasn't great with eCommerce and it is, the shopping cart page is particularly dynamic.  Fast loading, great SEO, AdSense optimization, great documentaion and fast, friendly support, this theme really has it all.
---
Suisen
Suisen is a simple, minimalist WordPress theme that also gives you the option of creating an online shop using the free plugin WooCommerce.  Suisen's content is featured in a single column style that provides a lot of attention for each post.  Suisen is ideally suited for business sites or even portfolios and if you want to take advantage of the WooCommerce capability, there's really no type of shop you can't set up.  Suisen requires no coding skills, so it's great for beginners, and the drag and drop page builder is really intuitive to use, giving you a ton of choices but making them very clear-cut.  Suisen is a fine looking theme and I think it's one that could be great for any kind of online shop.
---
Studio 8
Studio 8 is a blog theme with a stylish portfolio and WooCommerce support, so it's a very nice solution for designers, shops and companies who want to offer a full website without breaking the bank.  Studio 8 is ideal for creative professionals, for photographers, advertising and design agencies, web designers and more.  The ability to showcase your products and sell them is a really nice touch and since WooCommerce is completely free, you won't have to spend an arm and a leg purchasing an expensive license or paying a monthly subscription fee to set up a shop.  Pretty sweet!
---
Beatrix
Got the entrepreneurial spirit?  Well, that's half the battle, now all you need is a fantastic website to help you get the job done, earn some money and grow your business.  Beatrix was built specifically for self employed folks who make their own products to sell.  It's sort of a 'one person Etsy' shop and it can really help you to build a reputation for quality.  Beatrix helps you pursue your passion of creating cool stuff while earning a little bit of money at the same time.  Even if you didn't hand make your products, Beatrix is a great fit for watch shops, jewelry stores, antique stores and more, because it's simple enough and sleek enough to work for nearly any style of product.  You can even use Beatrix as an awesome multi-vendor marketplace site, where users can create their own accounts and sell products on your site whil you take a small commission from every sale.  (Find more multi vendor themes in our collection, which can be found here.)
---
Shop Isle Pro
This is Shop Isle Pro, another great WooCommerce ready WP theme from Theme Isle.  Shop Isle Pro is responsive, it's multipurpose and it's perfect for all sorts of online shops, no matter what kind of product you're selling.  You can create an awesome front page for your online webstore in just minutes, customizing any setting you want to customize.  While WooCommerce is powerful right out of the box, you can also add on some great functionality with extensions like product addons, affiliate programs, PayPal by Braintree, Stripe or Amazon Pay gateways, WooSubscriptions, coupons, dynamic pricing, shipment tracing and a whole lot more.
---
Jessica
Jessica is a feminine styled WordPress WooCommerce theme that could be a wonderful fit for an online clothing boutique, for shoes, watches…I guess I could just keep naming products all day, it's just a strong option all around. Jessica is a Genesis child theme, so it requires the Genesis Framework to work, but that's a small price to pay for a theme with this style, this kind of stability and all the features you get.  Jessica is pre-styled for WooCommerce, but it works just as well for WP e-Commerce and iThemes exchange too, so you have the flexibility to use whatever shopping cart you're most comfortable with.  Responsive design, multiple widget areas, a custom header, landing page included…Jessica has it all.
---
Create
Create is a powerful, premium WordPress theme that was created by ThemeTrust and I really recommend this theme if you're building an online shop using WordPress.  Create is packed with features that make it a solid choice and ThemeTrust keeps adding features every month.  Create utilizes a drag and drop page builder, made by Site Origin, to allow the admin to craft a site with a unique and powerful layout and all of the features your site needs to be a smashing success.  This theme does it all, with either a boxed or a full width layout, parallax scrolling, video backgrounds, single page navigation, slick looking portfolios, professional blog templates, contact forms…the list goes on and on.  All of that in a beautiful, responsive and retina ready display.  This is truly a premium template.
---
Weston
WooCommerce is what makes Weston such a great theme for building an online shopping experience that's unrivaled.  Weston uses Visual Composer to allow you to build a flexible and incredibly specific layout to suit any purpose.  Also, Weston includes the top slider plugin, Slider Revolution.  Weston is dynamic and powerful, it's pretty simple to customize this site any way you want to, it's well documented and well supported by ThemeTrust, it's responsive to look fine on all size screens, there are optional video backgrounds, loads of portfolios and more.  For WordPress WooCommerce themes to work well, they need to be responsive and Weston is that, so it looks great on all devices.
---
Brittany
Brittany is a minimalist WooCommerce ready theme from CSSIgniter and I think it's a well rounded, professional and simple solution if you're looking to set up an online shop.  CSSIgniter is among the most well known theme-shops out there, their support is top notch and they really take pride in creating themes that are code-bloat free and easy to manage.
For fashion bloggers, lifestyle blogs and personal blogs, this theme is designed to work great on every device and with the bonus of supporting eCommerce, it's no wonder this theme is so popular.  There are tons of premade layouts and with the drag and drop page builder that's included, you can create a site that has every bit of content you could possibly need.  Social media integration is strong with Brittany too, just what you'd expect from a full featured blog template.
---
TechStore

This attractive WooCommerce enabled WordPress design, called TechStore, is a fantastic and smart way for you to get started with a web business, even if maybe you're not a skilled professional in coding, since it can be very easily changed to fit your needs. And at a very reasonable price, you won't break the bank getting your site online.  This streamlined style looks incredible on each and every kind of computer since it's designed to be responsive. When you are creating a web business, clients are plainly vitally important so permitting them to gain access to your web site at any place at any time is essential.
WooCommerce provides all the tools you will need to set up a venture swiftly and well and this lovely, well put together and cool eCommerce template is the 1st step on a route to setting up your own company. If you're promoting boots and shoes, garments, devices, downloadable goods like films, videos, mp3s or software, this great looking theme is a good option because it is so versatile.
With a great WooCommerce template you may make a site to market clothing, shoes or boots or anything else. High tech goods and gadgets will work especially well, though the choice is obviously yours.  There are lots of advantages that will assist you market your merchandise in incredible style, such as galleries, menus and a range of templates to choose from that offer your website a wonderful appearance. The assistance offered with this template is second to none, so you can feel confident when you come across problems you are going to have assistance as needed.
---
Neto
Neto is one of those flexible WordPress WooCommerce Themes that are specially designed to support e-commerce functions for any kind of business. The theme is compatible with various WordPress business plugins like WooCommerce. It can also be used alongside theme builders to help create comprehensive product layouts and descriptions.
The Neto WordPress Theme is also highly customizable. It allows the use of shortcodes, widgets, and the ability to create unlimited templates. The theme boasts of access to appearance settings that allows changes to the overall color scheme without altering codes. It also allows users to personalize background images, logos, and even add a favicon.
Another business-friendly feature of the Neto theme is its easy integration with social media. With this, guests can easily share content on their profiles which, in effect, helps the business reach a wider audience. The theme is also specially optimized for optimum performance and to obtain higher ranks in search engines. It is also translation ready for the benefit of foreign guests.  The theme's responsive design also allows access to different devices without sacrificing its functionality. It is both mobile friendly and retina ready to ensure quality display. Finally, Neto promises to deliver constant updates to ensure the theme's compatibility with the latest versions of WordPress.
---
Eram
This is Eram, it's creative, it's unique, it's a great solution for those of you looking for a well made, feature filled, user friendly grid layout for your WordPress portfolio.  You can set up a modern, artistic portfolio with just a few clicks and Eram makes that process effortless, which means you'll make a great first impression fast.  Eram is well made, well built, incredibly easy to use, spectacular looking in it's design and functionality, it's filled with easy to use and creative features.  Eram is solidly coded, dynamic and flexible visually, perfectly responsive, ideal for wedding photographers, big and small advertising companies, boutique-shop design firms, online marketing companies (no matter the product) or any sort of designers. Everyone knows, to show off your portfolio well, you need a theme that's superlative in design, has a graceful style and one that delivers a lot of helpful support and documentation.  Eram is all of that and more.  Eram is responsive so that the grid portfolio page looks amazing on virtually any device.
---
Webmarket
Webmarket is, not shockingly, an online WooPowered theme for WordPress.  It's retina ready, so your products will look great with high-resolution images.  Also, it's responsive, had wide and boxed layout versions, loads of color combinations and more.  WooCommerce sales page themes really need to be responsive.  Demo data is included to get your website working right out of the box and from customer reviews, their support is unrivaled.  We think WooCommerce is the best selection for starting an online shop on the cheap, because it's free and free is a great value.  We think a sweet looking, easy to set-up WordPress WooCommerce theme with outstanding features is a wonderful way to go, especially if it's 100% responsive, retina display ready and offers the level of support that Webmarket does.
---
Room 09
Great WordPress WooCommerce themes boast of highly customizable interface, one that can serve several purposes aside from the standard e-commerce shop, and Room 09 meets that standard. Turn off the cart, and it becomes a portfolio or an attractive blog that can support graphics without cluttering the layout. There's even support for a testimonials page!
The default font selections are sleek and easily decipherable whether on a mobile screen or a full-sized display. The theme tends to favor medium-toned blocks of color accented by much lighter colored blocks to support texts and other objects. Even the black and white skin tends to keep its modern/romantic feel with the menu bar kept just barely opaque.
Unlike some WordPress WooCommerce themes, Room 09's structure itself is meant to highlight images, so displaying products is simple and easy. The results look effortless, clean, and expensive, whether products float in plain white backgrounds or colors slightly lighter or darker than the site background. (Pro-tip: Use colors in the same palette as the theme, as the thin fonts rely heavily on the relationships of tone and contrast.)
As for functionality, the theme is packed with features that make a site so easy to navigate. Perhaps most notable is the FAQ filtering, which is sure to make any text-heavy page much easier to digest.
JustShop
Blaszok
Shop-ready and packed with features, Blaszok is a well-rounded addition to a library of WordPress WooCommerce themes. With twenty-five demos to choose from, it's hard to fail at finding one that works for whatever purpose.
There's a grid interface for displaying visual art (photographs, illustrations, etc.). It has more than one layout that features a screen-utilizing background for those who want to evoke a feeling of magnificence with simplicity (a design paradox, yes). Features another image-heavy spread that's popular with e-magazines for its use of headlines and the simple technique of drawing the eye to featured articles with bigger pictures up top. Furthermore, there are traditional layouts with full-width banners and texts strategically placed for maximum predictability.
Specifically marketed as "the most advanced shopping theme," WordPress WooCommerce themes such as Blaszok boasts of over a hundred features and improvements that their users requested. Thus, ensuring that the needs of e-commerce dependents are met. It's easy to categorize the inventory in the back-end, but more importantly, customers will find it easy to navigate those categories as well.
Frames for images are designed to serve the hierarchy of attention—bigger images go to the cover, and only when a viewer is hooked is more text introduced. With smooth animation and video-ready banners, the Blaszok theme makes a website difficult to ignore.
Mommerce
Mill (aka Mommerce) may have a really dumb name, but it also may be the best solution if you want to sell products aimed toward mothers (the theme used to be called Mommerce by the way).  It's lovely in design and powerful in functionality, with the features you need to run an successful store online at your fingertips.  Just like the best WordPress WooCommerce themes should be, it's easy enough to get started with right away, but offers enough features that will make it a powerful theme for the future as you grow your business.  You know what we think?  We think a well made WordPress WooCommerce theme with tons of options is a must have.  Mill has several skins it comes with, to give your site a new look fast, it's responsive, offers three blog layout options and six post format styles too.
Shopster
Shopster is a retina enabled, WooCommerce responsive theme with a simple looking design that hides the heart of a full service online WooCommerce shop.  Multiple page templates make it a breeze to get the look and feel you want from your website.  If you're looking for a simple, but functional WordPress WooCommerce theme, this is a great bargain.  We think a well made WordPress WooCommerce theme with good features is a picture perfect option for your site.
Bonanza
Bonanza is a multi-purpose WordPress WooCommerce theme that allows you to build a personal blog and portfolio, an online eCommerce retail store, a corporate informational page or any combination. Maybe even all of those things?  Why not, Bonanza just wants to make you happy.  Bonanza has all the presets and layout options you need to do whatever you want.  This fresh, user friendly, flexible, attractive and well made WooCommerce theme helps you build your online business, communicate with potential customers, supervise delivery and inventory, sell existing items and market fresh items and a lot more. This incredible WooCommerce theme is user-friendly, reliable, filled with creative features, adaptable and lovely, it's immaculately coded, purely responsive and adaptable, great for either small or large businesses, sports equipment vendors, promotion firms, perfume shops or electronics stores. You can deliver a big first impression with a beautiful WooCommerce theme.  If a dazzling WordPress WooCommerce theme with superb features is what you need, that's Bonanza.  A dozen page templates, three attractive portfolio layouts, multiple sliders, infinite color options and custom homepage layouts make Bonanza a great pick for you.
RokoPhoto Pro
RokoPhoto Pro is a photography WordPress theme first and foremost, but it's also a Woocommerce ready theme so you can sell your photos or prints online.  Pretty neat combination.  The RokoPhoto Pro WordPress theme is responsive, like all good themes are these days, it's a real multipurpose theme too.  With RokoPhoto, I've seen some pretty amazing demo sites for wedding photographers, filmmakers, video bloggers and plenty more.  So, maybe you can use the WooCommerce functionality, maybe you can't, but I thought I'd share this one either way, because it is such a high quality theme.
---
Nitro
Nitro is a WooCommerce theme that's made with niche sites in mind.  The demo site you see above is all about tea shops and coffee houses.  It does a nice job of framing your images and making your website look professional and attractive.  Nitro calls itself a 'universal' eCommerce theme from eCommerce experts, which sounds a little like over the top sales talk, but WooRockets is one of the best developers of WooCommerce themes around.  Nitro has sold over 2800 times, so it's pretty popular.  Nitro could be great for jewelry stores, sporting goods shops, eyeglasses, kitchen and house wares, furniture stores, fashion, electronic gadgets, the list goes on and on.  The rating on ThemeForest is really strong, 4.75 overall, so this theme gets great reviews.  I think it's a good looking, well coded theme and the support from WooRockets, you can count on it.
---
Montblanc
That brings us to Montblanc, one of my favorite new themes from Tesla Themes.  This template is perfect for blogs and magazines that need a WooCommerce ready template that loads fast, looks great on all devices and is easy to use.  The Montblanc WP theme is equally at home with corporate and business websites as it is with creative pursuits like food blogs, lifestyle and music blogs, photography portfolios and more.  With Montblanc, you can set up your online store within minutes to get started selling products from the comfort of your home or office.  WooCommerce makes it easy to manage orders, shipping and so much more, it's probably the only eCommerce plugin you'll ever need.
---
Jacqueline
---
Eames
---
WordPress Parallax Themes, Smooth Scrolling, One Page and Creative Portfolios
What does parallax have that static sites don't?  It's easy.  Wow factor.
A great parallax theme is a real attention getter, it can mean the difference between your users simply scrolling through your content and really engaging with it.
We've hand selected some of the finest WordPress parallax themes around and brought them to you in this collection.  Parallax WordPress themes are a fun and popular way to make your website stand out in a crowd of others.  These parallax templates are fantastic for business sites, portfolio pages, personal web-pages, corporate sites and pretty much anything else you can think of.  We've tried to find a really wide assortment of parallax scrollers so that you can get a good idea of the different options out there.
When a website is presented a little differently than some of the others out there, it can help to create a real visual impact that makes your audience take note.  That's what the parallax style offers, the little extra interest of your content appearing to be presented in 3d.  Pretty cool.
Parallax WordPress themes are a fun and interesting way to showcase your content.  That's the concept behind these templates.  Your users have a great experience, you get better rankings from google and the other SERPs.  The smooth scrolling effect is still very popular, since it can help make a static site a little more interesting.  We've gathered up the best WordPress parallax themes we could find in this collection and we're sure you'll find something you love.  These eye-catching themes really do the trick.  So here they are, the best parallax WordPress themes we could find.
Underwood
With a theme like Underwood, you get a whole bunch of functionality and a great looking, smooth parallax design too.  Underwood is clean, minimal and yet it's packed with features that make it a true premium theme.  With WooCommerce, full support for all the major cache and SEO plugins, both free and premium, Underwood scores big in helping you create tons of traffic for your site.  Underwood has a bunch of custom widgets, full width post banner, there are nine awesome post formats, infinite color options and more, all in an effort to increase user engagement while never sacrificing performance.  Underwood is a strong theme for social media too, integrating with your social media accounts with ease.  If you want a modern, well designed blog with parallax pages, Underwood is absolutely worth considering.
---
Parallax Pro
Though it's been around for a while, Parallax Pro is still among the very best WordPress parallax themes and since it was built on the rock-steady Genesis Framework, it's bound to be around for a long, long time.  Parallax Pro offers sweet-scrolling parallax action, showcasing both your written content and images in a professional and artistic way.  If you consider your website as an important tool in telling your story, a parallax theme like Parallax Pro adds a unique, distinct voice to your content.  Parallax themes keep everything in order, building user engagement with ever spin of the mouse wheel, giving your site a wonderful flow.  Parallax themes help to naturally divide your content, turning your page into a story that users can't help but engage with.  Parallax Pro offers tons of customization possibilities, all done in real time with the live page customizer.  Five homepage widget areas add flexibility to your narrative and since this template is responsive, it'll look amazing on any device or browser.
---
Divi
Divi is a fantastic theme for nearly any purpose, one of the most impressive full-featured, multipurpose themes to come along in quite some time and the parallax scrolling design is no exception.  Divi is a wonderful multipurpose theme, parallax scrolling, perfectly suited to build an amazing one-page parallax site with scads of cool layout samples included, or you can build your own.  There are tons of additional features included, free of charge of course, so you can adapt this theme to use as a parallax photography or even a high end design portfolio.  WooCommerce allows you to sell your products online too, so how cool is that?  All in a sweet, one page design.  (Not that you can't use a multipage design too, it's completely possible.)  What do you think of that, pretty cool, huh?  We think you'll fall in love with everything about this premium WordPress theme, the high-quality functionality, the well thought out design, the neverending support from Elegant Themes and best of all, the price is incredibly reasonable for a theme with this many awesome features.
---
Vertex
With Elegant Themes, you get some of the very best support around too, since they're one of the leading theme sellers on the market and have been for quite some time.  That means you get their years of coding experience so your website will be totally bug free and perfectly ready to go right out of the box.  Vertex is easy to tailor-make just for your website and the single page parallax impact is second to none.
Zerif Pro
Zerif Pro is a parallax ready WordPress theme that packs a lot of impressive features into a one page layout.  With Zerif Pro, which is powered by Site Origin's page builder plugin, you'll have the ability to sell products with WooCommerce, highlight your work with a dedicated portfolio area, engage with readers via the built in contact form, keep folks informed of your latest updates with a handy blog area and you can customize just about everything in the user friendly Admin panel.  Pretty neat, huh?
---
Float
This is Float, a clean parallax theme with a ton of features, tons of flexibility and it's a really great choice for a whole lot of types of websites.  Float is WooCommerce ready too, so you can set up an online shop with your products taking center stage.  Float is a theme with tons of design options, header layouts, menu styles, footers and basic layouts can all be swapped out.  With Themeify's page builder, you can change the layout, change the options for each and every page and post, which is a great way to set yourself apart and give your readers what they want.  Included are multiple pre-made demo sites that help showcase your creative work or products.  There are masonry tiles for portfolios, filterable portfolio pages, infinite scrolling to allow access to multiple posts without even having to click a button.  The parallax blog is very attractive, the social sharing features help keep your readers in the know about what's the latest news from your site.  It all works to give a great user experience for any kind of business.
---
Unik
Tesla Themes presents Unik, a beautifully well designed WordPress theme with parallax scrolling effect.  Unik is a well constructed theme in terms of code, so it loads fast and the animations are incredibly smooth.  There are many short codes included to help you create a custom look with lots of features like accordion sections, tabs, buttons, progress bars, typography settings and an image slider.  With multiple blog and page layouts, you can use the parallax effect to really highlight all of your most important content.  One page or multipage, Unik is a great looking theme for any sort of content.
---
Hestia Pro
With ultra smooth scrolling parallax, WooCommerce integration, a bold and stylish material design layout and tons more features, Hestia Pro is a one page theme for the ages.  I really think it's one of the best themes around and I've even used it on a couple of my own projects.  Hestia Pro is multipurpose, it's responsive and while it's made for startup companies and app developers, it's a great site option for anyone who wants to share their content in just one page.  That's almost always the case with parallax themes, but you can't always count on that being the case, so it's worth noting.  We mentioned that it's an eCommerce theme, it's completely responsive, but the front page is actually created with a drag and drop page builder, which really allows for design flexibility.  All in all, a pretty good value for the money.
For more awesome single page themes, check out our collection of the best right here.
---
The Flavour
ThemeFuse's theme called "The Flavour" is a delightfully crisp parallax WordPress theme with an incredibly clean, straightforward layout, along with a subtle, smooth and very effective parallax scroll feature.  All of that combines to give The Flavour a well-earned place among the very best WordPress themes for restaurants, cafés, food carts or food trucks, delis, catering companies or any other type of food and beverage business you could name.  With the right images, there's no reason you need to use this theme for just a restaurant, it's an all around solid theme for anyone who wants a creative, fun and unique way to present their content to the world.  The Flavour WordPress theme is flexible, it's very customizable and it's not at all difficult to make those little adjustments to your site that every webmaster wants to do.  The Flavout is also responsive and retina ready, meaning your site's display won't be compromised on any kind of viewing screen, from a traditional desktop display to a handheld device like a smart phone.  That's why we recommend this theme to anybody who needs a great parallax theme.
---
Materialism
Sometimes, a parallax design is what you need to make a great impression on your visitors.  Materialism uses clean code, a really modern design and stylish, smooth scrolling parallax layout to make your visitors really pay attention to your content.  Parallax is trendy right now and that trend has been going on for a few years, so it's not slowing down at all.  Materialism is responsive too, as well as Retina ready.  That makes this template look great on all sizes and shapes of screens.  This powerful one page, multi-purpose theme has a lot of things to offer any type of business.  With a parallax theme like Materialism, it's important to have flexibility in layouts.  Well, that's why they've bundled Visual Composer with Materialism, you can add features and content blocks, move them where you want them and if you think your site is getting stale, you can switch those options up.  It really does make for a flexible website.
---
Altitude Pro
Altitude Pro is a cool looking, parallax scrolling fullscreen WordPress theme that's going to knock your socks off.  With smooth scrolling parallax design, the impact of this site is incredible, it's eye catching and memorable, it frames all your posts, images and products with style and graceful functionality.  Grab your reader's attention and never let go with Altitude.  Great for showcasing images, products and more, this Genesis framework theme loads up fast and right every time.  Altitude Pro was built with precisely one purpose in mind, to show off your content in a very professional way that makes your content practically jump off the page.  Your online business will really benefit from this kind of parallax theme.  For those familiar with Genesis Framework child themes, you know that they make updates to WordPress incredibly pain-free, since there's no chance of your site breaking when you update.  Genesis is also completely and utterly responsive, making for a great user experience on all kinds of devices, large and small.  Altitude Pro wouldn't be complete without an online shop solution so the theme-makers have included a great looking shop powered by WooCommerce or the WordPress shopping cart of your choice.
---
Capella
Capella is a delicious and well crafted parallax scrolling food blogger theme with a fun but professional design, flexible features and well over 10,000 satisfied customers.  If you're crafting a website that's all about food, recipes and restaurants, then have a look at the features.  Gorgeous layouts for your menu, a reservation form so folks can contact you via your website to reserve a table, events pages with share features and they're even filterable.  Then, you've got the responsive design, searchable documentation, clean design, 20 gallery styles, custom background and header images, lovely sliders, Google web fonts, a drag and drop content builder and more.
---
Baylie
A creative agency theme, Baylie is a very easy to use theme that was created by ThemeTrust.  The Baylie theme is a real multipurpose template with full-screen parallax slideshows, great for making a huge impact with bold images or videos alike.  Baylie is completely responsive, it supports localization for translating the theme into any language, there are a bunch of handy short codes for making buttons, slideshows, columns, toggles and tabs too.  Portfolios have hover effects that you can add to help make your projects look really cool.  Google handles the fonts and Contact Form 7 handles the contact information.  The result of all of Theme Trust's hard work is a really successful one page creative theme that is a wonderful choice for your new website template.
Phoenix
Minimal and bold, Phoenix is a flexible single page theme with smooth scrolling parallax design, ideal for creative sites that only need a single page to get their information out there.  This multi-purpose portfolio theme uses Visual Composer to let you compose your own layout and you're even able to sell digital or tangible goods with WooCommerce and the user friendly theme options panel uses the Redux Framework to allow for a massive amount of flexibility in features and functions.  Not sure where to start?  Well, Phoenix provides 10+ premade demo sites, showing what's possible with this awesome looking theme, from portfolios to agencies, video and incredibly interactive sites.
Parallax
Themify.me is back with a new theme called 'Parallax'.  Well, that kind of narrows down what this one does, doesn't it?  Parallax is trendy right now and this is a one page theme that will really grab the attention of your visitors.  You can build any number of parallax pages to showcase your work and impress folks with the sweet animations that go along with it.  For businesses or portfolios, a parallax theme is a wonderful way to highlight your content.  Sometimes, one page is plenty and with a smooth scrolling theme like Parallax, your content will look fantastic.  Themify is great with theme support, with documentation and those sorts of things, so I do recommend this theme even for beginners.
---
Jarvis
Jarvis is a full featured video parallax theme for WordPress with creative layouts, stunning typography and loads of amazing features.  There are a lot of WordPress video themes on the market, so it's important you select a good one like Jarvis, a well designed one page template for showcasing your video content.  WordPress video themes come in all shapes and sizes, parallax being new of the newer and most unique choices.  If you are looking for a parallax video theme, Jarvis may be the one you've been searching for.
---
Ronneby
Compatible with every WordPress from 3.5 and up, the highly versatile Ronneby WordPress theme offers inexperienced webmasters the ability to build and design a stunning portfolio site with the included Visual Composer premium plug-in. All of the code the developers used to create this theme is absolutely clean and up-to-date. This means a Ronneby website will load lightning fast and can be viewed on any Internet browser, on any operating system and loaded onto any device from a powerful desktop computer to last year's smartphone. This WP theme offers retina-ready graphics and full responsiveness so every element of every page can be viewed no matter what. All of these features and the incredible availability can be handled with ease using the page builder add-on mentioned above and other backend panels that eschew complexity and invite experimentation.
Anyone can use the Ronneby WordPress theme to create websites of various configurations. Use no, one or both sidebars, change the header styles, include the latest parallax scrolling on all content sections or simply upload one of the 20+ premade demo pages and fill it with your text and graphics. These one-click insta-pages allow you to launch a website in mere minutes. Check out the live preview of the Ronneby WordPress theme to learn even more about its vast capabilities. One of the greatest benefits is that the development team has not abandoned this project but updates it regularly to expand the options for building stunning portfolios and other types of websites with ease.
---
Create
Parallax themes don't have to be simple, one page themes.  There are lots of themes out there that offer different parallax options for each and every post or page.  One of those themes is Create, by Theme Trust. Create is a powerful multi-purpose theme, combining eCommerce, portfolio and blog capabilities with an equally powerful drag and drop page builder from Site Origin.  Create is made for any sort of creative from freelancer to small digital agency, web designers, graphic designers and more.  It'll even make your company website look better than ever before.  There are multiple responsive layout possibilities with Create, boxed and full-screen being the two main ones.  Five pre-made home page styles can get you started quickly, but if you find something is missing, you can simply drag and drop new content areas wherever you'd like them to be.  Simple, flexible and user friendly, that's why Create is Theme Trust's best selling WordPress theme and why I recommend it for a full featured, flexible and dynamic website.
---
Szia
Szia is an easily customized, well made and well designed parallax WordPress theme that you can use to make a really stunning WordPress page.  Great support helps set this one apart, but it's tough for any level of support to overshadow the beautiful design, the light and simple layout and the smooth scrolling animations.  This efficient, reliable, stunning, functional and modern theme permits you to promote existing goods, communicate with customers, supervise delivery and inventory, advertise new products and develop your company and a lot more.
---
Burst
Unleash your creative side with Burst, a parallax theme that's got just what it takes to make an amazing website from scratch.  Power Elite developer Mikado Themes has created another absolute gem with this Burst theme.  It's powerful and stylish, yet incredibly simple to get started.  Burst offers several premade templates to help you get your site set up quickly and get it looking just like the demo sites you see in the links below.  Burst is WooCommerce ready, it's great for creative agencies, blogs, businesses, portfolios and other sites.  If you want a great looking theme with parallax style, that's Burst.
---
Scrollex
Scrollex is a fun, stylish and cool way to build a single-page WordPress site that still has enough form and functionality to look like a big, professional website. Sometimes, all you need is one page. Scrollex has a bunch of pre-set design styles, each offering slight variations of the basic site in terms of colors, fonts and layouts. I think there are quite a few of them that look great, so you can poke around and see what you like. Each one may be only subtly different than the one before, but those little differences can add up to a completely different feel and look to the site after a while. Scrollex is a one page parallax template with a built in page builder and it's fully responsive to boot. Scrollex supports embedded video backgrounds from Vimeo or YouTube and you can even use local video backgrounds that you upload to your website. One page themes need great navigation and Scrollex definitely has that. The responsive design means Scrollex looks incredible on a wide variety of screen sizes and devices. Unlimited color schemes, ultra-easy font selection to great stunning typography. Lastly, fantastic code and fantastic support from the theme makers.
Hatch
This is Hatch, and it's a parallax style portfolio template that's been built with an astonishing gathering of elements and functionalities to invest your sites with all the power and dynamic qualities only found in the best of WordPress themes on the market.  That's a fact.  You'll see these advancements in action as you peruse the demo site, and you don't even have to learn a single line of code.  That isn't to say that a coding background isn't helpful in making a fantastic end product, but it really isn't necessary with Hatch, you can still get clean and proficient results right off the bat. Hatch is an entirely great and graphically staggering and beautiful, imaginative and inventive, effectively safe and fantastically client friendly, advanced and innovative, capable, exquisite and in vogue, distinctly cleaned and versatile and responsive, inviting and responsive WordPress business and corporate multipurpose site theme with amazing parallax functionality.  Hatch is, to a great degree, a top of the line and stunningly skilled multipurpose WordPress template, created and fine tuned for adaptability, speed and instinctive navigation and customization.
Hatch was constructed with clean, crisp HTML5 code.  The time spend crafting this theme shows through with line perfect coding, that makes the webpage load quickly.  The CSS is minimal in size, which really helps that load time, giving top-end speed that's impressively efficient.  Hatch offers up a well designed interface on both the front and back ends, stylish and crafty, fun and easy to navigate, this one page parallax theme has smooth scrolling and it's got a ton of animated effects that create a wonderful user experience.  Hatch has a clean, crisp, modern approach to presenting your content, no matter what kind of content you have to offer your readers.  Essential Grid and Revolution slider plugins make sure the latest WordPress technology is in the forefront of your website.  I live the intuitive way you can create animated transitions, seamlessly integrating your content.  Some parallax themes could learn a lot from Hatch.  Give it a shot, today.
---
Consilium
Consilium is a very versatile and cooly styled parallax WordPress theme with a lot of different style options.  Consilium was designed using valid and clean HTML5 and CSS3 coding to allow you to stay informed about the most recent internet standards, which is a very important factor when picking a new theme. It includes a completely responisve layout design that adapt to all sorts of modern apparatus like tablet computers, deskstops and smartphones. This theme is super easy and correctly coded to customize. You can place it into fullwidth or boxed layout, depending on blogging demands or your company. This theme offers endless color and font choices to allow you to create a site that is inimitable. It's endless and moveable sidebars to help your visitors easily see what they may be seeking in your site and enhance user experience. Website layouts contained in this theme and the endless portfolio additionally let you determine on how you need to present your market with your content. Also, this includes a parallax scrolling section which will make your site more appealing.
This theme contains all the attributes you will want in building a retro-design web site. Additionally it is bundled with Vital Grid that screens WooCommerce, websites, galleries, portfolios and cost tables in a grid that was highly customizable. It's totally integrated with Visual Composer to help both beginner and experienced web site programmers set up a professional web site in an instant. If you want your own site to be interpreted in different language, you don't need to stress because this theme is fully prepared to be interpreted into your language that is preferred.
---
Bizone
Bizone is a simple one page parallax scrolling theme that could be the ideal solution for your business website's needs.  With a style that works for almsot any creative pursuit, Bizone even pulls off a portfolio site with style.  For business startups, the single page design can be an eye catching and simple way to engage with your audience and potential customers.  Bizone could also be a good solution for most varieties of creative agencies.
On the technical side, Bizone looks to be very well coded, the documentation is considerable and it can be adjusted to fit your brand with just a few clicks.  I think sometimes, parallax themes aren't that flexible but Bizone is, which is a rarity.  Bizone also offers a video version, an animated layers design, you can add sidebars and so much more.  22
---
One Click
As the name implies, the One Click WordPress theme offers simple setup and customization options for website owners with any degree of development knowledge at all. Coders will appreciate the clean and up-to-date HTML5 and CSS3 used to construct the theme. Non-developers will appreciate how quickly it makes the site pages load and how much versatility it programs into the theme. With just one click, you can add any of the pre-made demo templates to get up and running quickly. One Click comes fully integrated with the premium Visual Composer plug-in. This allows you to select various elements and content blocks and drag them into position on any page. Although extremely simple to use, this option facilitates more exploration of all the amazing opportunities for a unique design that the One Click WP theme offers.
You can choose between eight versions of the theme to create an instant aesthetic plan to add content and various elements to: dark, light, effect, moving image, full screen video, full screen sliders or parallax images. Complete control over font choices and color schemes can be had with just the click of a mouse. Bloggers will appreciate the various post formats. Also included is a Premium Pre-loader plug-in, attention-getting animations and the popular Contact Form 7 to establish communication between the webmaster and site visitors. Add any element you believe suits your purposes and ignore the ones you do not want to use. At any time, the One Click WordPress theme customer service team is there to help you answer questions or walk you through any phase of site design.
---
Panels
Panels is a brand new responsive one pager parallax theme that's powered by AJAX, with a unique twist in keeping this a one page layout.  Check out the demo below to see what I mean.  Some of it's many features include a couple different skins, both light and dark.  Parallax scrolling effects, a full width page template, WordPress theme customizer support and a whole bunch more.  This attractive, flexible, contemporary, reliable and convenient to use WooCommerce ready theme helps you administer delivery and inventory, promote old goods, launch new products, communicate with shoppers and grow your company and a lot more.   Panels is a real winner.  For more great single page themes, check out this collection.
---
Upshot
If you've been searching for a beautiful, perfectly responsive parallax WordPress theme with a vibrant flat design and WooCommerce shop to boot, this may be the theme you've been looking for.  It's really loaded with features that help make it easy to generate a great looking website at a fraction of the cost of going to a professional web designer and having them spend weeks crafting a custom website.  With Upshot, you can be up and running within a few minutes and the results speak for themselves, this theme makes websites look incredible.
Upshot is flexible, dynamic and designed for professionals with small or large businesses, creative people who demand a custom looking theme and folks who really want their content to practically leap off the page.  The parallax effect is part of what makes this theme look so great and it's also got Visual Composer included, so there's no end to the designs and styles you can create with this theme.  Using Revolution Slider and Essential Grid, along with VC, there's not a single look you can't achieve.  There are 10 flexible, beautiful homepage demo sites included, but if none of them are precisely what you had in mind, you can always create your own.  There are 6 header styles and over 80 drag and drop elements to add even more flexibility and functionality.  This theme is bound to be a top seller on ThemeForest.
---
Evolve
Evolve, from Dynamic Press, is a flexible Multipurpose WordPress Theme with an excellent use of parallax scrolling to boot.  That is dynamic if I do say so myself.  Use Evolve for a corporate website, a simple blog page, eCommerce sales pages or portfolio galleries.  Coding standards were high with this theme, they used only the freshest CSS3 and HTML5 code, picked at the peak of ripeness.   Responsive design means this theme looks great on all devices too!  This convenient to use, adaptable, modern, stunning and well made WooCommerce theme will allow you to market old merchandise, get in touch with customers, manage delivery and your stock, develop your small business and advertise new merchandise and a lot more.
---
Blade
This is Blade, is a fantastic looking one page Parallax business theme that was built with the latest HTML5 and CSS3 code, providing a stable base for making a great looking, well designed website.  Blade has a cool and modern flat color scheme, clean content placement zones, beginner-friendly customization options and professional coding are at the heart of this theme, so it's perfect for those who want a fantastic looking parallax theme without having to be an expert at web design.  The Blade WordPress theme includes the Visual Composer plugin, which is the most popular and powerful drag and drop layout builder for the WordPress CMS. The Blade theme has powerful section editor, Responsive grid portfolio plugin, plenty of great shortcodes, a handy Pricing Table manager and Sonnet even supports Automated Plugin management. There's a demo content importer which will allow you to populate your website with dummy content in just a few clicks. You can use it for corporate, product showcase, company profile, business portfolio, personal portfolio, blog, product and photo galleries and many, many more.   The only limit is your imagination.
For themes similar to Blade, check out this fullscreen theme collection we created.
---
Jay
The Jay WordPress theme offers multiple customization options that allow non-developers to tweak every page and post until they get the precise look and feel they want for their site. Combine this flexibility with powerful plug-ins and other attributes included to boost the professionalism, style and personalization options and you have a truly amazing solution for creating an online platform that will get and keep attention no matter what the purpose of the site is. Jay uses the Redux Framework to give it structural strength and pure flexibility. Every change and edit happens with ease on the user-friendly admin control panel.
Instead of simply offering demo pages with some customization features, the Jay WP theme gives you multiple methods for changing the look and feel of each page. Start with page layouts: boxed, full-width, right or left sidebar, masonry or grid style blocks. All of these can be augmented with parallax styling for an added extraordinarily modern boost. Choose your favorite color scheme too. No matter what design you end up with, every element will enjoy full responsive viewing on any size screen.
The Jay WordPress theme integrates with WooCommerce if you wish to run an online shop and make some money online. It also offers media feeds for Dribbble pictures and Instagram photos. Add in any number of other plug-ins during the customization process to create a totally original and effective website visitors will love.
---
Dalton
Dalton is a WordPress theme that's clean and simple to look at, but that also has a ton of options under the hood.  Dalton is WooCommerce ready, so online stores can take advantage of the simple, fast loading times, the clean and beautiful sales funnel and the amazing styles of the product pages and shopping cart pages.  Creative companies who don't need to sell products are going to love Dalton WordPress theme too.  It's got a cool, beautiful and well designed portfolio page.  Multiple portfolio styles to be exact.  For restaurants, for app launch pages, portfolios, stores and businesses alike, Dalton has the kind of style and look that a lot of webmasters crave.
---
SCRN
Scrn is a single page, parallax WordPress theme that has taken ThemeForest by storm.  With over 6000 sales and counting this theme has great support and a lot of features that have made it a really popular choice with web developers and WordPress beginners alike.  I guess there's something to SCRN's smooth scrolling parallax pages and the amazing looking portfolios you can build with ease.  promote your work.  Win friends and influence clients.  This one pager parallax theme is just what you've been looking for.