WordPress Retro Themes, Old School, Vintage, Fun and Quirky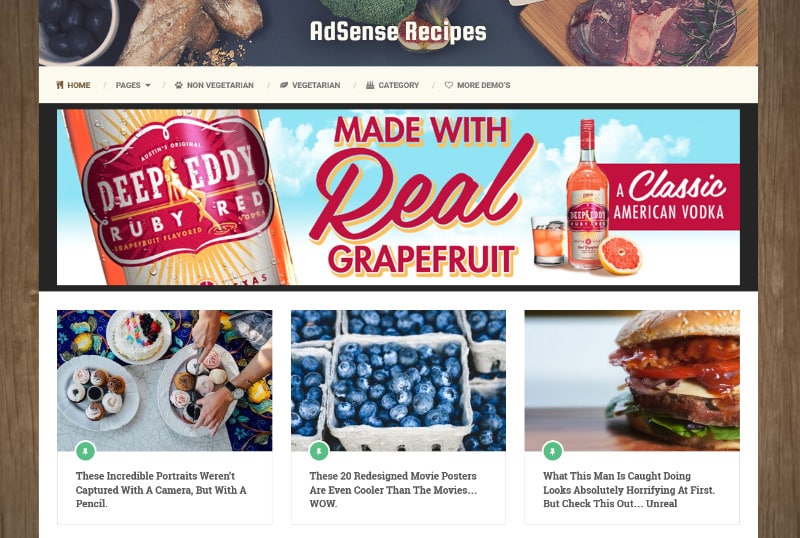 Here they are, a great collection of amazing retro WordPress themes in an old-school, vintage style.  Retro themes are as popular as ever, because sometimes, you just want to have a look and feel of a bygone era.  These themes have all the cool style and layouts that really remind you of a different era.  These themes are good for any sort of website that needs a retro style look and each one is both affordable and flexible.  If you've got a magazine that needs a really cool vintage look, these themes are pretty great.  hey, speaking of vintage, maybe you've got a brick-and-mortar antique shop of vintage clothing store?  We've got eCommerce enabled themes to, so you can get your online presence out there with ease.  Aw yeah!
Gray Lady Gray
Gray Lady Gray is a completely responsive, retro or vintage inspired WordPress theme that is modern, simple, monochromatic, minimalist and beautiful.  Gray Lady Gray offers a fully loaded back-end dashboard to make customizations incredibly simple to execute.  This template allows you to use images in the background, switch colors with a few clicks and even adjust the header to a custom look.  Gray Lady Gray is a full featured theme, but it isn't bogged down by a lot of extraneous information that takes away from the content, putting it squarely in the forefront of your website.   The template is completely responsive, so it will look incredible on every kind of mobile device, resizing itself on the fly to fit whatever screen your readers use to view it.  Supports a wide variety of browsers, like Firefox, Safari, Chrome and Opera.  The blog can display excerpts or full content and your typography will look stunning, because of the hundreds of Google fonts that work well to create a vintage, retro, even antique feel.  Page layout options include full width, left or right sidebar and more.  Gray Lady Gray could be a fine addition to your website, eince it's so flexible and attractive.
Boutique
Boutique is a retro style theme that gives you the ability to run your own WordPress based online storefront. Boutique was designed to use some of the most popular eCommerce plugins available,  like WooCommerce, and it allows you to use your favorite system without any conflicts.  The shop sets up quickly and easily, allowing you to sell just about anything you can imagine.  handbags, clothes, shoes, electronic gadgets, make-up…you name it.  If you have an antique store, this would be perfect too!  If you have a brick and mortar store, Boutique could be a perfect complement to your retro oriented business.
Sky
Sky floats above the pack in evocative, old-world style and its sense of whimsy is sure to leave your visitors surprised and refreshed. Sky is unique in the way it's homepage operates, loading all of your content seamlessly using ajax. This means that no matter how many pages you have in the "slider," your initial page load speed will be lightning fast as each page is only loaded when it is displayed.
Baylie
Baylie is a fantastic theme from ThemeTrust, a once page design with style and a simple to customize interface that has enough options to keep you happy.  I've personally used some of ThemeTrust's templates and they're simple enough to understand, straightforward to get the site set up looking like the demo and they're responsive and fast too, so SEO workd pretty well with these themes.  ThemTrust offers filterable portfolios, a WPML compatible design, so you can translate this template into any language.  Theme options, as we mentioned, are straightforward.  There's localization support, column shortcodes, video support and you can use one of the hundreds of google webfonts.
---
Blogo
Blogo is a stylish WordPress Theme designed for creative bloggers. It's also suitable for Portfolio, Multimedia or Personal websites.  I really love the fun layout and design in this template.  This is absolutely perfect it you're running a craft shop and it's got loads of social networking tools built right in.  Could be a great parental blog too.
Pure Retro
Pure Retro is a portfolio theme for WordPress with a little bit of hipster, country charm and a whole bunch of amazing features.  This web template was built with photographers and videographers in mind, but web design companies and, frankly, anyone who wants a fun portfolio with a retro style, will benefit greatly from a well thought out design like this one.  This theme is fully responsive, looks amazing and loads true on every browser and every screen size.  That's what responsiveness is all about.  You'll have this template up and loaded quickly, because it's got well documented help files and the process of installation and creating a custom look is intuitive and well thought out.  Pure Retro might be the only retro portfolio you need.  Typography can be changed out too and the color scheme is currently based in Earth tones, but that can also be swapped out to fit your design concept and branding.
Extinct
Extinct is a retro style WordPress Portfolio theme, handcrafted with delicate care to live up to the expectations of a descerning crowd, whether you're a creative agency, a graphic designer, an ad agency or a toymaker.  This theme will work for a wide variety of businesses, really.  Extinct incorporates a lot of stylish design elements that give it a retro or vintage feel that give it a homey feel and a really DIY or handcrafted vibe.  The makers of this theme, LiveMesh, studied a lot of retro designs to come up with this one, blending a lot of wonderful elements together.
The unique and attractive blog is designed to power any sort of business venture and it can be used as a portfolio too, or other content generation ideas you have can work.  Extinct offers up several unique post types, this theme is completely responsive, and the vintage design will be ideal for any website that wants to create a feel of time past.  There are plenty of shortcodes that will allow you to embed a multiple column portfolio or a blog archive summary on any page or post.  There are also advanced WordPress widgets here to list recent blog posts or posts of a certain category.
---
Color Room
Color Room is a fun, spectacular looking parallax WordPress template for a design studio or a personal portfolio website.  This theme has a distinct looking, throwback feel to it, making your content the star of the show.  Color room has slick, showy CSS3 animation and nice looking jQuery effects too.  The retro style is unique and the valid, completely debugged HTML5 code helps the site load in a flash, which helps with SEO.  If you're tired of having a boring, completely pedestrian WordPress theme and you're looking for something that is ground breaking, maybe Color Room is the proper choice for your next website?  PSD files, extensive documentation and demo content…they're all included.  Plus, this theme offers amazing support to help you out of any jams you might find yourself in during the process of installing and customizing your website.  Color Room supports multiple languages too.
Tensor
Powerful site template designed in a clean and minimalistic style. This template is very flexible, easy for customizing and well documented, approaches for personal and professional use. Tensor has been coded in HTML5 & CSS3 and jQuery. It has a solid flexible responsive layout that scales from 320px to 1170px width all Bootstrap features. This very easy to use, adaptable, beautiful, well-built and fresh WooCommerce ready WordPress theme permits you to contact buyers, grow your small business, administer delivery and product stock, promote brand new merchandise and market old goods and more.
Old Car
Old Car is a retro inspired blog theme with a nice looking 'Pinterest style' grid layout.  If you intend to create an on-line newspaper, you might seek a delightful and professional grid-layout theme like Old Car, because these themes are created to permit you to publish a wide selection of subject material in a suitably organized way and a manner that is very, very easy to navigate. I mean look at this thing, the information is all right there, highly visual and simple to navigate.  And it's all got a cool looking retro style, which a lot of people really seem to enjoy.
With Old Car, you are given an excellent, very well ordered method to show your content.  That's what WordPress grid themes are all about.  What kind of content would look best with Old Car?  Well, that's up to you, because it's going to look great no matter what on any device, since this theme is perfectly responsive.  For a relatively new theme, Old Car is a great way to achieve that retro look that's so popular and trendy today.
---
Fox
The Fox WordPress theme has a great, funky retro style perfect for creatives looking to showcase their work. The theme focuses on featuring your portfolio and connects to Dribble to display your latest shots.  HTML5 and CSS3 mean that this theme has the newest and best coding for a fast and responsive site that is also incredibly customizable.  This attractive, convenient to use, well-built, versatile and trendy WordPress theme helps you manage shipping and your stock, expand your small business, market fresh products, contact potential customers and sell existing goods and a lot more.
Retro
Retro Premium WordPress Theme is a combination of a strong period-style design and powerful admin panel. Retro offers full control over site color scheme as well as 5 predefined skins, the fancy Revolution Slider, custom portfolio & testimonials post types, various shortcodes, custom widgets…
Hipster
Introducing Hipster WordPress, the perfect responsive WordPress theme for any personal or business website brought to you by ThemeForest authors Beantown Design and Fialovy. Hipster's fully responsive design looks great no matter what device you're viewing it on, desktop, tablet, mobile phone, etc. Customize your site with the extensive options panel using over 30 backgrounds patterns, full screen rotating background images, and 2 page layout styles (stretched or boxed). Check out the custom mobile menu that was created for small screens! Hipster is full of premium plugins to build your dream website, tons of page layouts, and oh ya.. did we mention the awesome retro style design?!
---
The Artist
The Artist is a clean, well made and visually stunning retro inspired WordPress portfolio theme that has been around for a while, but remains a very popular choice on ThemeForest.  This awesome vintage or retro portfolio theme that really avoids the trap of being boring or passe. The Artist is very clean, sleek and modern, despite having an overall retro inspired design. It's a fine balancing act, but The Artist pulls it off with ease.  With the admin panel and page builder in this theme, you can discover unlimited possibilities of what the theme can do. Moreover, responsive feature is applied as well. Now, you or your clients can explore your amazing works through phone or tablet easily.
WordPress Hotel Themes, Resorts, Vacation Homes, Hospitality
For holiday rentals, for hotels and motels, for creating an AirBnB style site, travel agencies and other travel, accomodations and destinations sites, you have the best collection online. With one of these well crafted resort or resort themes, you will have the ability to present your house in a really professional way, perfect for a number of properties.
Paradise Cove
Paradise Cove is a Hotel and travel theme from ThemeFuse, it's built to provide an all inclusive web presence for any sort of hotel or resort.  Paradise Cove is responsive, it's retina ready and the design looks incredible on all kinds of devices.  Specifically made for hotels, you'll have access to specialized features like room types, a reservations system and with demo content included, you can have this theme set up really quickly.  Paradise Cove also offers a lot of documentation to help get you started, so you'll be able to solve a lot of issues before they arise.  And if you do happen to run into problems, ThemeFuse is great in terms of support.
The flexible Palermo WordPress Theme features a unique professional design. The theme allows each page to contain a full-page background, which is highly recommended for businesses like hotels and resorts. It may also be used for professional portfolios. Designers are also given the option to use various multimedia content for these backgrounds such as images, slideshows, or videos.  Aside from background images, designers also have access to the theme's appearance editor with over 30 combinations and appearance settings. Color schemes, logos, and favicons may also be added for brand personalization. Several drag and drop page builders are also compatible with the theme to assist with style editing.
The Palermo WordPress theme is compatible with plugins to ensure top performance. It boasts of being optimized for speed to ensure fast webpage browsing which, in turn, also helps it gain top ranks in search engine. The theme is also compatible with social media widgets to boost promotion.  Updates are also made easy. Palermo offers version updates that are constantly compatible with the latest versions of WordPress. It is also highly responsive, so guests enjoy hassle-free browsing through various devices and platforms. Other notable features of the Palermo WordPress Theme include its translation ready option and retina ready display.
---
Oikia
With a smooth user experience and a very user friendly design, Oikia is an ideal WordPress real estate theme.  From single property rentals to massive developments, Oikia is a great theme to help you get the word out about what you're trying to rent.  Oikia is definitely one of the best real estate themes around, whether it's for independent agents or big real estate agencies.  For resorts, RV campgrounds, condominiums and other real estate and attraction based sites, Oikia is a wonderful choice.
Oikia offers a unique layout that helps you promote your business and if you want to add more unqiue features, the drag and drop page builder makes that possible.  It's super user friendly, powerful and fun too.  There's dynamic map filtering for filtering properties by any number of criteria.  Custom widgets add more functionality, including social media integration for Twitter, Instagram, Facebook and more.  Multiple color schemes are available and this responsive, SEO friendly theme comes with tons of documentation and it's backed up with fantastic support from CSS Igniter.
---
Palermo
For hotels and resorts, Palermo is a fantastic WordPress theme.  Palermo allows each and every page to show off a fullscreen background image, which could make the difference for somebody who is considering booking your property for a day, a weekend or a week.  It's sort of the best way to give out all the information you have with a simple, clean-cut layout.  palermo has a unique design, it's simple to navigate because the entire setup is so visual in nature.  With extremely simple but robust custom settings available, your site can look amazing and load up rapidly too because it's SEO optimized from the inside out.  If you want to show off your resort property or hotel in style, this is definitely a good option.
---
Zermatt
Zermatt has it all.  A booking form, built right into your website, flexible layout that's responsive and looks amazing on all devices.  A drag & drop page builder so you can create a site that looks precisely like you want it to look, right out of the box.  A beautiful weather module that plugs into any widgetized area, letting guests know what the weather is like at your resort or holiday destination.  Full color control, multiple custom widgets and more are what make Zermatt one of the finest 'next generation' hotel and resort themes on the market.
---
Hotelia
As a hotel owner or any kind of entrepreneur in the hospitality industry, you'll need a website theme that will represent the level of service that you provide in your hotel. Therefore, it has to be hospitable, easy to navigate, and undoubtedly stylish. At the same time, you'll want something functional, something that will help cut your job in half. Hotelia is an elegant WordPress theme that has everything you need to make your virtual visitors want to be your hotel's guests. Hotelia comes complete with a fully functional booking system. Reserving a room is as easy as selecting dates in the calendar, entering check-in and check-out dates, and typing in the number of rooms and guests. Because this theme is WooCommerce-compatible, soon-to-be clients can book and pay all in one place. Meanwhile, you can monitor your incoming and outgoing transactions all without having to leave your WordPress Admin.
The Virtual Composer and the Slider Revolution are premium plugins which come free when you use Hotelia as a theme. When purchased separately, they amount to almost $50. With Hotelia, you can enjoy the easy drag-and-drop technology to create a customized site for your business even without web development background and in no time at all. Hotelia's other tasteful features include the sticky menu, smooth sliders, graceful transitions, and the remarkable parallax and hover effects. Hotelia also enables you to create video backgrounds and virtual tours to make your site completely interactive. Since your business's target clients are tourists, people should be able to use your site even while they're on the go. This is why Hotelia's web design is fully responsive, meaning it fits itself to all types of screen sizes. What's more, people these days rarely book a hotel room or a tour without a strong recommendation from their peers. It's for this reason that Hotelia allows you to add a Guestbook page where guests can share their feedbacks and testimonials.
---
Milos
The Milos WordPress theme is a excellent selection for building a web site for your hotel, resort or holiday property. From the layout to the attributes, Milos is designed to provide a professional look to your property. You may embed the reservation service of your choice in any page or post, as a result of shortcodes. Booking.com, Expedia and AirBNB are all supported and you just copy, paste and you are on your way to earning money! There is a restaurant menu manager also, assuming your hotel has a restaurant or room service, so you won't need to get another theme or cobble together a page that does not look quite perfect. Video and slider support means that you can embed or self host great looking video clips or use bold, beautiful pictures to highlight features of your hotel or hotel.
---
Santorini
Santorini is an all around winner for your hotel, resort or other rental property, it even works as a great single property real estate theme.  Santorini has it all, it showcases your property with grace, beautiful images and lots of features that make your property stand out.  With a unique design, promoting your property is a breeze.  The booking form is a very nice touch, customers can request a reservation at your hotel or resort with just a few clicks and it's easy to use on the back end too.  Santorini works even when you're asleep.  It's like the best employee in the world.
Santorini has a flexible homepage too, either full width or fixed.  Both are great choices since they're completely responsive, but one of them may be more attractive to you depending on your site's style and your personal taste.  Show off important content with a slider and place content in one of three widgetized areas of the homepage.  Use those custom widgets to create a memorable and unique layout.  One more thing, Santorini is SEO friendly too, it integrates with All in One SEO as well as Yoast, which means you can manage your SEO easily, ensuring your posts and pages are perfectly optimized for high rankings.
---
Vega
Vega has the capability to bring your hotel or youth hostel business into a new era, if you've been thinking about rebranding your website, this theme may be a good choice.  eCommerce is not a problem with Vega.  Here is an effectively constructed, eye-catching, crisp and ground-breaking Bootstrap built template that can help you put together the site of your dreams. This Bootstrap theme is high-powered, it's been carefully created with all types of end user at heart, from rookie to experienced professional. With the latest Bootstrap CSS and HTML, this template is amazing for weblogs and businesses of any kind, given that this template is an incredible powerful and fun multi-use website template, suitable for absolutely everyone. Even if are a new comer to WordPress, you may use this theme to produce a cool and fantastic web site almost instantly, since basically every thing in this design may be edited, even by neophyte WP consumers. It doesn't make a difference exactly what material you may have, from graphics to blog articles, products as well as anything else, this WordPress theme will help you to create a wonderful looking design on any electronic device, given that it is wholly responsive too. There is a lot of other functions that will assist you keep building an audience and genuinely engage with them.
Vega is simple to get started with, it installs promptly and there are various plugins that you might employ to offer brand new functions for your site. A beautiful responsive theme is vital, which is the reason this beautiful, functional template has been created to be completely responsive, so it appears impressive on each and every smart device, every time. You can rapidly put together your own one of a kind design variations utilizing this beautiful theme, because it's so modifiable as well as dynamic, skillfully designed and designed in each and every way. This is certainly an undoubtedly terrific WordPress theme you need to absolutely consider.
WordPress Parallax Themes, Smooth Scrolling, One Page and Creative Portfolios
What does parallax have that static sites don't?  It's easy.  Wow factor.
A great parallax theme is a real attention getter, it can mean the difference between your users simply scrolling through your content and really engaging with it.
We've hand selected some of the finest WordPress parallax themes around and brought them to you in this collection.  Parallax WordPress themes are a fun and popular way to make your website stand out in a crowd of others.  These parallax templates are fantastic for business sites, portfolio pages, personal web-pages, corporate sites and pretty much anything else you can think of.  We've tried to find a really wide assortment of parallax scrollers so that you can get a good idea of the different options out there.
When a website is presented a little differently than some of the others out there, it can help to create a real visual impact that makes your audience take note.  That's what the parallax style offers, the little extra interest of your content appearing to be presented in 3d.  Pretty cool.
Parallax WordPress themes are a fun and interesting way to showcase your content.  That's the concept behind these templates.  Your users have a great experience, you get better rankings from google and the other SERPs.  The smooth scrolling effect is still very popular, since it can help make a static site a little more interesting.  We've gathered up the best WordPress parallax themes we could find in this collection and we're sure you'll find something you love.  These eye-catching themes really do the trick.  So here they are, the best parallax WordPress themes we could find.
Underwood
With a theme like Underwood, you get a whole bunch of functionality and a great looking, smooth parallax design too.  Underwood is clean, minimal and yet it's packed with features that make it a true premium theme.  With WooCommerce, full support for all the major cache and SEO plugins, both free and premium, Underwood scores big in helping you create tons of traffic for your site.  Underwood has a bunch of custom widgets, full width post banner, there are nine awesome post formats, infinite color options and more, all in an effort to increase user engagement while never sacrificing performance.  Underwood is a strong theme for social media too, integrating with your social media accounts with ease.  If you want a modern, well designed blog with parallax pages, Underwood is absolutely worth considering.
---
Parallax Pro
Though it's been around for a while, Parallax Pro is still among the very best WordPress parallax themes and since it was built on the rock-steady Genesis Framework, it's bound to be around for a long, long time.  Parallax Pro offers sweet-scrolling parallax action, showcasing both your written content and images in a professional and artistic way.  If you consider your website as an important tool in telling your story, a parallax theme like Parallax Pro adds a unique, distinct voice to your content.  Parallax themes keep everything in order, building user engagement with ever spin of the mouse wheel, giving your site a wonderful flow.  Parallax themes help to naturally divide your content, turning your page into a story that users can't help but engage with.  Parallax Pro offers tons of customization possibilities, all done in real time with the live page customizer.  Five homepage widget areas add flexibility to your narrative and since this template is responsive, it'll look amazing on any device or browser.
---
Divi
Divi is a fantastic theme for nearly any purpose, one of the most impressive full-featured, multipurpose themes to come along in quite some time and the parallax scrolling design is no exception.  Divi is a wonderful multipurpose theme, parallax scrolling, perfectly suited to build an amazing one-page parallax site with scads of cool layout samples included, or you can build your own.  There are tons of additional features included, free of charge of course, so you can adapt this theme to use as a parallax photography or even a high end design portfolio.  WooCommerce allows you to sell your products online too, so how cool is that?  All in a sweet, one page design.  (Not that you can't use a multipage design too, it's completely possible.)  What do you think of that, pretty cool, huh?  We think you'll fall in love with everything about this premium WordPress theme, the high-quality functionality, the well thought out design, the neverending support from Elegant Themes and best of all, the price is incredibly reasonable for a theme with this many awesome features.
---
Vertex
With Elegant Themes, you get some of the very best support around too, since they're one of the leading theme sellers on the market and have been for quite some time.  That means you get their years of coding experience so your website will be totally bug free and perfectly ready to go right out of the box.  Vertex is easy to tailor-make just for your website and the single page parallax impact is second to none.
Zerif Pro
Zerif Pro is a parallax ready WordPress theme that packs a lot of impressive features into a one page layout.  With Zerif Pro, which is powered by Site Origin's page builder plugin, you'll have the ability to sell products with WooCommerce, highlight your work with a dedicated portfolio area, engage with readers via the built in contact form, keep folks informed of your latest updates with a handy blog area and you can customize just about everything in the user friendly Admin panel.  Pretty neat, huh?
---
Float
This is Float, a clean parallax theme with a ton of features, tons of flexibility and it's a really great choice for a whole lot of types of websites.  Float is WooCommerce ready too, so you can set up an online shop with your products taking center stage.  Float is a theme with tons of design options, header layouts, menu styles, footers and basic layouts can all be swapped out.  With Themeify's page builder, you can change the layout, change the options for each and every page and post, which is a great way to set yourself apart and give your readers what they want.  Included are multiple pre-made demo sites that help showcase your creative work or products.  There are masonry tiles for portfolios, filterable portfolio pages, infinite scrolling to allow access to multiple posts without even having to click a button.  The parallax blog is very attractive, the social sharing features help keep your readers in the know about what's the latest news from your site.  It all works to give a great user experience for any kind of business.
---
Unik
Tesla Themes presents Unik, a beautifully well designed WordPress theme with parallax scrolling effect.  Unik is a well constructed theme in terms of code, so it loads fast and the animations are incredibly smooth.  There are many short codes included to help you create a custom look with lots of features like accordion sections, tabs, buttons, progress bars, typography settings and an image slider.  With multiple blog and page layouts, you can use the parallax effect to really highlight all of your most important content.  One page or multipage, Unik is a great looking theme for any sort of content.
---
Hestia Pro
With ultra smooth scrolling parallax, WooCommerce integration, a bold and stylish material design layout and tons more features, Hestia Pro is a one page theme for the ages.  I really think it's one of the best themes around and I've even used it on a couple of my own projects.  Hestia Pro is multipurpose, it's responsive and while it's made for startup companies and app developers, it's a great site option for anyone who wants to share their content in just one page.  That's almost always the case with parallax themes, but you can't always count on that being the case, so it's worth noting.  We mentioned that it's an eCommerce theme, it's completely responsive, but the front page is actually created with a drag and drop page builder, which really allows for design flexibility.  All in all, a pretty good value for the money.
For more awesome single page themes, check out our collection of the best right here.
---
The Flavour
ThemeFuse's theme called "The Flavour" is a delightfully crisp parallax WordPress theme with an incredibly clean, straightforward layout, along with a subtle, smooth and very effective parallax scroll feature.  All of that combines to give The Flavour a well-earned place among the very best WordPress themes for restaurants, cafés, food carts or food trucks, delis, catering companies or any other type of food and beverage business you could name.  With the right images, there's no reason you need to use this theme for just a restaurant, it's an all around solid theme for anyone who wants a creative, fun and unique way to present their content to the world.  The Flavour WordPress theme is flexible, it's very customizable and it's not at all difficult to make those little adjustments to your site that every webmaster wants to do.  The Flavout is also responsive and retina ready, meaning your site's display won't be compromised on any kind of viewing screen, from a traditional desktop display to a handheld device like a smart phone.  That's why we recommend this theme to anybody who needs a great parallax theme.
---
Materialism
Sometimes, a parallax design is what you need to make a great impression on your visitors.  Materialism uses clean code, a really modern design and stylish, smooth scrolling parallax layout to make your visitors really pay attention to your content.  Parallax is trendy right now and that trend has been going on for a few years, so it's not slowing down at all.  Materialism is responsive too, as well as Retina ready.  That makes this template look great on all sizes and shapes of screens.  This powerful one page, multi-purpose theme has a lot of things to offer any type of business.  With a parallax theme like Materialism, it's important to have flexibility in layouts.  Well, that's why they've bundled Visual Composer with Materialism, you can add features and content blocks, move them where you want them and if you think your site is getting stale, you can switch those options up.  It really does make for a flexible website.
---
Altitude Pro
Altitude Pro is a cool looking, parallax scrolling fullscreen WordPress theme that's going to knock your socks off.  With smooth scrolling parallax design, the impact of this site is incredible, it's eye catching and memorable, it frames all your posts, images and products with style and graceful functionality.  Grab your reader's attention and never let go with Altitude.  Great for showcasing images, products and more, this Genesis framework theme loads up fast and right every time.  Altitude Pro was built with precisely one purpose in mind, to show off your content in a very professional way that makes your content practically jump off the page.  Your online business will really benefit from this kind of parallax theme.  For those familiar with Genesis Framework child themes, you know that they make updates to WordPress incredibly pain-free, since there's no chance of your site breaking when you update.  Genesis is also completely and utterly responsive, making for a great user experience on all kinds of devices, large and small.  Altitude Pro wouldn't be complete without an online shop solution so the theme-makers have included a great looking shop powered by WooCommerce or the WordPress shopping cart of your choice.
---
Capella
Capella is a delicious and well crafted parallax scrolling food blogger theme with a fun but professional design, flexible features and well over 10,000 satisfied customers.  If you're crafting a website that's all about food, recipes and restaurants, then have a look at the features.  Gorgeous layouts for your menu, a reservation form so folks can contact you via your website to reserve a table, events pages with share features and they're even filterable.  Then, you've got the responsive design, searchable documentation, clean design, 20 gallery styles, custom background and header images, lovely sliders, Google web fonts, a drag and drop content builder and more.
---
Baylie
A creative agency theme, Baylie is a very easy to use theme that was created by ThemeTrust.  The Baylie theme is a real multipurpose template with full-screen parallax slideshows, great for making a huge impact with bold images or videos alike.  Baylie is completely responsive, it supports localization for translating the theme into any language, there are a bunch of handy short codes for making buttons, slideshows, columns, toggles and tabs too.  Portfolios have hover effects that you can add to help make your projects look really cool.  Google handles the fonts and Contact Form 7 handles the contact information.  The result of all of Theme Trust's hard work is a really successful one page creative theme that is a wonderful choice for your new website template.
Phoenix
Minimal and bold, Phoenix is a flexible single page theme with smooth scrolling parallax design, ideal for creative sites that only need a single page to get their information out there.  This multi-purpose portfolio theme uses Visual Composer to let you compose your own layout and you're even able to sell digital or tangible goods with WooCommerce and the user friendly theme options panel uses the Redux Framework to allow for a massive amount of flexibility in features and functions.  Not sure where to start?  Well, Phoenix provides 10+ premade demo sites, showing what's possible with this awesome looking theme, from portfolios to agencies, video and incredibly interactive sites.
Parallax
Themify.me is back with a new theme called 'Parallax'.  Well, that kind of narrows down what this one does, doesn't it?  Parallax is trendy right now and this is a one page theme that will really grab the attention of your visitors.  You can build any number of parallax pages to showcase your work and impress folks with the sweet animations that go along with it.  For businesses or portfolios, a parallax theme is a wonderful way to highlight your content.  Sometimes, one page is plenty and with a smooth scrolling theme like Parallax, your content will look fantastic.  Themify is great with theme support, with documentation and those sorts of things, so I do recommend this theme even for beginners.
---
Jarvis
Jarvis is a full featured video parallax theme for WordPress with creative layouts, stunning typography and loads of amazing features.  There are a lot of WordPress video themes on the market, so it's important you select a good one like Jarvis, a well designed one page template for showcasing your video content.  WordPress video themes come in all shapes and sizes, parallax being new of the newer and most unique choices.  If you are looking for a parallax video theme, Jarvis may be the one you've been searching for.
---
Ronneby
Compatible with every WordPress from 3.5 and up, the highly versatile Ronneby WordPress theme offers inexperienced webmasters the ability to build and design a stunning portfolio site with the included Visual Composer premium plug-in. All of the code the developers used to create this theme is absolutely clean and up-to-date. This means a Ronneby website will load lightning fast and can be viewed on any Internet browser, on any operating system and loaded onto any device from a powerful desktop computer to last year's smartphone. This WP theme offers retina-ready graphics and full responsiveness so every element of every page can be viewed no matter what. All of these features and the incredible availability can be handled with ease using the page builder add-on mentioned above and other backend panels that eschew complexity and invite experimentation.
Anyone can use the Ronneby WordPress theme to create websites of various configurations. Use no, one or both sidebars, change the header styles, include the latest parallax scrolling on all content sections or simply upload one of the 20+ premade demo pages and fill it with your text and graphics. These one-click insta-pages allow you to launch a website in mere minutes. Check out the live preview of the Ronneby WordPress theme to learn even more about its vast capabilities. One of the greatest benefits is that the development team has not abandoned this project but updates it regularly to expand the options for building stunning portfolios and other types of websites with ease.
---
SCRN
Scrn is a single page, parallax WordPress theme that has taken ThemeForest by storm.  With over 6000 sales and counting this theme has great support and a lot of features that have made it a really popular choice with web developers and WordPress beginners alike.  I guess there's something to SCRN's smooth scrolling parallax pages and the amazing looking portfolios you can build with ease.  promote your work.  Win friends and influence clients.  This one pager parallax theme is just what you've been looking for.
Create
Parallax themes don't have to be simple, one page themes.  There are lots of themes out there that offer different parallax options for each and every post or page.  One of those themes is Create, by Theme Trust. Create is a powerful multi-purpose theme, combining eCommerce, portfolio and blog capabilities with an equally powerful drag and drop page builder from Site Origin.  Create is made for any sort of creative from freelancer to small digital agency, web designers, graphic designers and more.  It'll even make your company website look better than ever before.  There are multiple responsive layout possibilities with Create, boxed and full-screen being the two main ones.  Five pre-made home page styles can get you started quickly, but if you find something is missing, you can simply drag and drop new content areas wherever you'd like them to be.  Simple, flexible and user friendly, that's why Create is Theme Trust's best selling WordPress theme and why I recommend it for a full featured, flexible and dynamic website.
---
Brooklyn
Brooklyn is a multi-purpose full screen WordPress theme with a ton of possibilities to really add some punch and pizazz to your website.  It's video background enabled with 3 pre-set layout variations to choose from, or create your own.  This was the most popular single page theme for three straight years on Theme Forest and it's still going strong.  A one page parallax theme that's great for design companies, ad agencies, graphic designers, travel agencies and more.  It's even great as a personal website, so you can get to blogging in style.  I've seen some pretty cool vCard sites that use Brooklyn too.
---
Burst
Unleash your creative side with Burst, a parallax theme that's got just what it takes to make an amazing website from scratch.  Power Elite developer Mikado Themes has created another absolute gem with this Burst theme.  It's powerful and stylish, yet incredibly simple to get started.  Burst offers several premade templates to help you get your site set up quickly and get it looking just like the demo sites you see in the links below.  Burst is WooCommerce ready, it's great for creative agencies, blogs, businesses, portfolios and other sites.  If you want a great looking theme with parallax style, that's Burst.
---
Scrollex
Scrollex is a fun, stylish and cool way to build a single-page WordPress site that still has enough form and functionality to look like a big, professional website. Sometimes, all you need is one page. Scrollex has a bunch of pre-set design styles, each offering slight variations of the basic site in terms of colors, fonts and layouts. I think there are quite a few of them that look great, so you can poke around and see what you like. Each one may be only subtly different than the one before, but those little differences can add up to a completely different feel and look to the site after a while. Scrollex is a one page parallax template with a built in page builder and it's fully responsive to boot. Scrollex supports embedded video backgrounds from Vimeo or YouTube and you can even use local video backgrounds that you upload to your website. One page themes need great navigation and Scrollex definitely has that. The responsive design means Scrollex looks incredible on a wide variety of screen sizes and devices. Unlimited color schemes, ultra-easy font selection to great stunning typography. Lastly, fantastic code and fantastic support from the theme makers.
Szia
Szia is an easily customized, well made and well designed parallax WordPress theme that you can use to make a really stunning WordPress page.  Great support helps set this one apart, but it's tough for any level of support to overshadow the beautiful design, the light and simple layout and the smooth scrolling animations.  This efficient, reliable, stunning, functional and modern theme permits you to promote existing goods, communicate with customers, supervise delivery and inventory, advertise new products and develop your company and a lot more.
---
Hatch
This is Hatch, and it's a parallax style portfolio template that's been built with an astonishing gathering of elements and functionalities to invest your sites with all the power and dynamic qualities only found in the best of WordPress themes on the market.  That's a fact.  You'll see these advancements in action as you peruse the demo site, and you don't even have to learn a single line of code.  That isn't to say that a coding background isn't helpful in making a fantastic end product, but it really isn't necessary with Hatch, you can still get clean and proficient results right off the bat. Hatch is an entirely great and graphically staggering and beautiful, imaginative and inventive, effectively safe and fantastically client friendly, advanced and innovative, capable, exquisite and in vogue, distinctly cleaned and versatile and responsive, inviting and responsive WordPress business and corporate multipurpose site theme with amazing parallax functionality.  Hatch is, to a great degree, a top of the line and stunningly skilled multipurpose WordPress template, created and fine tuned for adaptability, speed and instinctive navigation and customization.
Hatch was constructed with clean, crisp HTML5 code.  The time spend crafting this theme shows through with line perfect coding, that makes the webpage load quickly.  The CSS is minimal in size, which really helps that load time, giving top-end speed that's impressively efficient.  Hatch offers up a well designed interface on both the front and back ends, stylish and crafty, fun and easy to navigate, this one page parallax theme has smooth scrolling and it's got a ton of animated effects that create a wonderful user experience.  Hatch has a clean, crisp, modern approach to presenting your content, no matter what kind of content you have to offer your readers.  Essential Grid and Revolution slider plugins make sure the latest WordPress technology is in the forefront of your website.  I live the intuitive way you can create animated transitions, seamlessly integrating your content.  Some parallax themes could learn a lot from Hatch.  Give it a shot, today.
---
Bizone
Bizone is a simple one page parallax scrolling theme that could be the ideal solution for your business website's needs.  With a style that works for almsot any creative pursuit, Bizone even pulls off a portfolio site with style.  For business startups, the single page design can be an eye catching and simple way to engage with your audience and potential customers.  Bizone could also be a good solution for most varieties of creative agencies.
On the technical side, Bizone looks to be very well coded, the documentation is considerable and it can be adjusted to fit your brand with just a few clicks.  I think sometimes, parallax themes aren't that flexible but Bizone is, which is a rarity.  Bizone also offers a video version, an animated layers design, you can add sidebars and so much more.  22
---
One Click
As the name implies, the One Click WordPress theme offers simple setup and customization options for website owners with any degree of development knowledge at all. Coders will appreciate the clean and up-to-date HTML5 and CSS3 used to construct the theme. Non-developers will appreciate how quickly it makes the site pages load and how much versatility it programs into the theme. With just one click, you can add any of the pre-made demo templates to get up and running quickly. One Click comes fully integrated with the premium Visual Composer plug-in. This allows you to select various elements and content blocks and drag them into position on any page. Although extremely simple to use, this option facilitates more exploration of all the amazing opportunities for a unique design that the One Click WP theme offers.
You can choose between eight versions of the theme to create an instant aesthetic plan to add content and various elements to: dark, light, effect, moving image, full screen video, full screen sliders or parallax images. Complete control over font choices and color schemes can be had with just the click of a mouse. Bloggers will appreciate the various post formats. Also included is a Premium Pre-loader plug-in, attention-getting animations and the popular Contact Form 7 to establish communication between the webmaster and site visitors. Add any element you believe suits your purposes and ignore the ones you do not want to use. At any time, the One Click WordPress theme customer service team is there to help you answer questions or walk you through any phase of site design.
---
Panels
Panels is a brand new responsive one pager parallax theme that's powered by AJAX, with a unique twist in keeping this a one page layout.  Check out the demo below to see what I mean.  Some of it's many features include a couple different skins, both light and dark.  Parallax scrolling effects, a full width page template, WordPress theme customizer support and a whole bunch more.  This attractive, flexible, contemporary, reliable and convenient to use WooCommerce ready theme helps you administer delivery and inventory, promote old goods, launch new products, communicate with shoppers and grow your company and a lot more.   Panels is a real winner.  For more great single page themes, check out this collection.
---
Consilium
Consilium is a very versatile and cooly styled parallax WordPress theme with a lot of different style options.  Consilium was designed using valid and clean HTML5 and CSS3 coding to allow you to stay informed about the most recent internet standards, which is a very important factor when picking a new theme. It includes a completely responisve layout design that adapt to all sorts of modern apparatus like tablet computers, deskstops and smartphones. This theme is super easy and correctly coded to customize. You can place it into fullwidth or boxed layout, depending on blogging demands or your company. This theme offers endless color and font choices to allow you to create a site that is inimitable. It's endless and moveable sidebars to help your visitors easily see what they may be seeking in your site and enhance user experience. Website layouts contained in this theme and the endless portfolio additionally let you determine on how you need to present your market with your content. Also, this includes a parallax scrolling section which will make your site more appealing.
This theme contains all the attributes you will want in building a retro-design web site. Additionally it is bundled with Vital Grid that screens WooCommerce, websites, galleries, portfolios and cost tables in a grid that was highly customizable. It's totally integrated with Visual Composer to help both beginner and experienced web site programmers set up a professional web site in an instant. If you want your own site to be interpreted in different language, you don't need to stress because this theme is fully prepared to be interpreted into your language that is preferred.
---
Upshot
If you've been searching for a beautiful, perfectly responsive parallax WordPress theme with a vibrant flat design and WooCommerce shop to boot, this may be the theme you've been looking for.  It's really loaded with features that help make it easy to generate a great looking website at a fraction of the cost of going to a professional web designer and having them spend weeks crafting a custom website.  With Upshot, you can be up and running within a few minutes and the results speak for themselves, this theme makes websites look incredible.
Upshot is flexible, dynamic and designed for professionals with small or large businesses, creative people who demand a custom looking theme and folks who really want their content to practically leap off the page.  The parallax effect is part of what makes this theme look so great and it's also got Visual Composer included, so there's no end to the designs and styles you can create with this theme.  Using Revolution Slider and Essential Grid, along with VC, there's not a single look you can't achieve.  There are 10 flexible, beautiful homepage demo sites included, but if none of them are precisely what you had in mind, you can always create your own.  There are 6 header styles and over 80 drag and drop elements to add even more flexibility and functionality.  This theme is bound to be a top seller on ThemeForest.
---
Blade
This is Blade, is a fantastic looking one page Parallax business theme that was built with the latest HTML5 and CSS3 code, providing a stable base for making a great looking, well designed website.  Blade has a cool and modern flat color scheme, clean content placement zones, beginner-friendly customization options and professional coding are at the heart of this theme, so it's perfect for those who want a fantastic looking parallax theme without having to be an expert at web design.  The Blade WordPress theme includes the Visual Composer plugin, which is the most popular and powerful drag and drop layout builder for the WordPress CMS. The Blade theme has powerful section editor, Responsive grid portfolio plugin, plenty of great shortcodes, a handy Pricing Table manager and Sonnet even supports Automated Plugin management. There's a demo content importer which will allow you to populate your website with dummy content in just a few clicks. You can use it for corporate, product showcase, company profile, business portfolio, personal portfolio, blog, product and photo galleries and many, many more.   The only limit is your imagination.
For themes similar to Blade, check out this fullscreen theme collection we created.
---
Jay
The Jay WordPress theme offers multiple customization options that allow non-developers to tweak every page and post until they get the precise look and feel they want for their site. Combine this flexibility with powerful plug-ins and other attributes included to boost the professionalism, style and personalization options and you have a truly amazing solution for creating an online platform that will get and keep attention no matter what the purpose of the site is. Jay uses the Redux Framework to give it structural strength and pure flexibility. Every change and edit happens with ease on the user-friendly admin control panel.
Instead of simply offering demo pages with some customization features, the Jay WP theme gives you multiple methods for changing the look and feel of each page. Start with page layouts: boxed, full-width, right or left sidebar, masonry or grid style blocks. All of these can be augmented with parallax styling for an added extraordinarily modern boost. Choose your favorite color scheme too. No matter what design you end up with, every element will enjoy full responsive viewing on any size screen.
The Jay WordPress theme integrates with WooCommerce if you wish to run an online shop and make some money online. It also offers media feeds for Dribbble pictures and Instagram photos. Add in any number of other plug-ins during the customization process to create a totally original and effective website visitors will love.
---
Dalton
Dalton is a WordPress theme that's clean and simple to look at, but that also has a ton of options under the hood.  Dalton is WooCommerce ready, so online stores can take advantage of the simple, fast loading times, the clean and beautiful sales funnel and the amazing styles of the product pages and shopping cart pages.  Creative companies who don't need to sell products are going to love Dalton WordPress theme too.  It's got a cool, beautiful and well designed portfolio page.  Multiple portfolio styles to be exact.  For restaurants, for app launch pages, portfolios, stores and businesses alike, Dalton has the kind of style and look that a lot of webmasters crave.
---
Evolve
Evolve, from Dynamic Press, is a flexible Multipurpose WordPress Theme with an excellent use of parallax scrolling to boot.  That is dynamic if I do say so myself.  Use Evolve for a corporate website, a simple blog page, eCommerce sales pages or portfolio galleries.  Coding standards were high with this theme, they used only the freshest CSS3 and HTML5 code, picked at the peak of ripeness.   Responsive design means this theme looks great on all devices too!  This convenient to use, adaptable, modern, stunning and well made WooCommerce theme will allow you to market old merchandise, get in touch with customers, manage delivery and your stock, develop your small business and advertise new merchandise and a lot more.
---
WordPress Viral Magazine Themes, Gossip Sites for BuzzWorthy Content
Finding an ideal WordPress Viral Magazine theme can be a bigtime challenge, but that's why we've made this collection to help you out!
But does it have to be so difficult?  That's the question we asked ourselves before creating this collection of viral magazine themes.  We've gone out and found the absolute best best 'buzz-worthy' WordPress themes, reviewed each and every one of them to ensure they're of the highest quality in design, features and of course, support too.
These are the best of the best.
Each one of these viral content marketing themes will help you get shares, pull in huge traffic and get your content to the front of the SERPs.  Fantastic designs, features that help make blogging easier and a lot of flexibility to get the job done.
No matter what type of content, the following WordPress viral magazine themes are the best we've found, but if we've left one out, please leave us a not at the bottom.  Thanks!
Doberman
When it comes to viral content, you want a theme that's built to maximize user engagement, which is what Doberman is all about.  This theme uses the latest in social media research, virality algorithms and it's absolutely off the charts in terms of user engagement.  Doberman offers an infinite variety of style possibilities, has a drag and drop homepage, allows you to edit your content in real time, seeing the effects of any changes you're considering before the page or post goes live and it's got a huge amount of widgets and other cool features.
---
Bimber
Bimber is a great looking magazine theme for viral content and Adsense.  This is really probably the most well known and popular viral magazine theme, the 'undisputed champion' of viral marketing themes, giving you a load of features, stylish and sticky design that's built to convert your traffic into income using Adsense.  For buzz-worthy content, this template is the perfect way to highlight and showcase your posts, pages, images and videos.  Bimber is fast to set up, they advertise that it shouldn't take more than a day of work to get your site up and running, starting to draw in traffic.  Visual Composer is the page builder behind this theme and it's a powerful way to build unique layouts and styles.  There are over a dozen page templates, multiple header and footer deigns, plenty of social integration and more.
---
BoomBox
BoomBox is a viral magazine and marketing theme that's great for affiliate marketers who collect awesome content to share with the world.  BoomBox is an all purpose magazine theme with flexible layout, responsive design and you can use it to create news stories, listicles, polls and even quizzes.  Using the built in social networking capabilities of BoomBox, you can show off trending articles, the highest rated articles and monetize it all with Adsense or your advertising network of choice and if you want to sell products, BoomBox is WooCommerce ready too.  There's the Froala text editor for WYSIWYG text editing and one really cool new feature are complex stories, where you can combine quizzes, polls and other post types in one article, giving even more flexibility.
---
Pinstagram
What does it take to create an amazing WordPress viral content site?  Well, one thing is for sure, you need the right  theme.  Pinstagram has a familiar feel to it, since it was inspired by Pinterest's layout.  Pinterest is so incredibly popular, you've got to hope that familiarity rubs off on your site and I think that it will.  That's why Pinstagram is a good choice, it's flexible, makes social marketing simple and it's very easy to use.  The navigation is clear-cut, you're able to add tons of functionality with widgetized areas and it's even pretty nice to look at.  With any great Pinterest inspired theme, you'll get that classic grid layout with multiple image sizes and post shapes and complete integration with your social media.  For any viral site, that's a key component.
---
ViralFeed
ViralFeed is built for one thing, maximizing user experience.  On top of that, it's Adsense optimized, great for making the most of all the traffic you get.  ViralFeed's all about building buzz, and with the simple, cool looking design, if your content is worthy of traffic, it's going to get it.  There are tons of features that make this theme a real winner.  Several different blog layouts, parallax effects for single posts, single post reactions, popular posts for trending posts over the last week or month and plenty more.
ViralFeed offers single click demo data import, emoji based 'post reactions', four blog layouts, tons of Advertising areas like the responsive leaderboard ad, three post layouts and more.  Lots of themes use a page builder and ViralFeed does that too, but it uses a page builder some may not be familiar with: Different Themes Page Builder.  Don't worry, it's pretty straightforward.  Siz hom post blocks, multiple builder layout types, post blocks, sliders, banners and more, there's an infinite amount of variety you can create on your website.
---
Flymag
People who want to run an online magazine website should give the Flymag Pro theme for WordPress a try. It is a highly-responsive and premium magazine theme that will ensure maximum readership each time.
With its grid-like display, you can highlight your most recent content on the first fold alone. Use striking images to entice people to click through article after article. Highlight valuable content all throughout the page by having different sections and categories. Include an on-page blog, contact form, and other details if you wish.
Clean-coded, you do not have to know HTML or PHP to fully take advantage of the Flymag Pro theme for WordPress. There are customization tools that you'll gain full access of, which will allow you to change design elements from colors to display containers (you can make your edits using the drag and drop component).
Enjoy its multiple browser compatibility and provide all potential readers with unobstructed access to your site. Benefit from the localization feature as well and have your content ready to be translated to your readers' native tongue.
For easier navigation, you can add custom widgets when you use the Flymag Pro theme for WordPress. Use these to link your homepage to important addresses including your social media assets.
DizzyMag
---
Buzzed
Buzzed has a super cool grid layout so getting your readers to find and explore your newest and hottest content will be absolutely no problem at all, since the visual grid helps guide users to the content you want them to see.  That's ideal for creating a popular website full of buzzworthy content.  It takes a lot of work to create a viral web magazine, but with Buzzed, you're already a step ahead of the game, because this theme is so simple and well crafted, the user experience will help allow your website to handle the massive crush of traffic you're likely to get with every incredible post.  Publishers, bloggers and any sort of niche content producers will absolutely adore Buzzed, since it's a well packaged way to highlight the content your readers want to see and engage with.  Add in the handy ratings system and you've got a theme that really helps drive user interaction, which is a huge boost for your website's traffic.
Buzzed installs very quickly, it's even got demo content that may be installed with one click, which helps you get your site online quickly and efficiently.  Therea re nearly a dozen custom widgets, it's fully responsive, offers live preview of any changes you make before you commit them to the site and more.  There's even a cool TV page for showing off video content, whether it's self hosted or embedded, which is a great touch, especially if you're in the viral video game like Buzzfeed or other similar websites.  Advanced typography, multiple layouts and more make this site look perfectly unique and the SEO and speed optimization ensure your site will rank incredibly high in the SERPs.  BobiFox, the theme's creator, offers fantastic help files and documentation and if you should run into issues, their help-desk is top notch.
---
ViralWP
If you want to make some more cash with your blogging, you may need a viral content marketing theme like ViralWP.  ViralWP is a viral marketing theme similar to sites like ViralNova or Zergnet and it's built with the functionality you need to help take your content to the highest levels of the SERPs.  ViralWP has all of the features and attractive, easy to use design that you'd expect from a premium viral news theme and if you want to compete with the big-time sites, you'll really appreciate the wide range of tools that help you acheive your goals.  For bloggers, a gorgeous, ultra powerful and robust WordPress blog theme is a superb technique to help you build an audience on the net.
---
Maggz
Let's start with the style, it's modern and classic at the same time.  Familiar, yet unique.  That's a pretty good start.  You need a great looking site to build the best viral content site you possibly can build, which is what this Maggz theme is all about.  You also need a well coded theme that's simple to use, which Maggz is as well.  SEO friendly, simple to use and customize, an intuitive admin panel with all sorts of theme options at your fingertips, Maggz makes it easy to craft a winning website.  Then there's the support, which is very solid.  The net result is a stunning, powerful and user-friendly template perfect for any viral magazine website.
---
Gem
Gem is a simple and attractive magazine theme for viral content, it's design is modern and alluring, it's features perfectly lend itself to helping you market your content to the widest array of people possible, with social sharing buttons taking center stage to help your readers market your posts, videos, images and viral news stories.  That's what a viral magazine is all about and viral websites can be a fun way to create massive amounts of traffic, if that's your goal.  Not everybody is in it for the money though, so your results may vary.
This 'Gem' is very easy to use with lots of great documentation, well designed with an amazing style, totally responsive so that it works great on virtually any screen, incredibly adaptable so that you can utilize it on virtually any website and one that gives a lot of helpful, popular options.  You have to locate a well crafted, user friendly blog theme so that you can create the very best online experience possible.
---
BuzzMag
This incredible Adsense ready viral marketing magazine template provides the absolute best customization choices in a very nicely crafted design that's destined to help you create cool viral posts every time out. If you're searching for a brand spanking new WordPress Adsense template to market your posts, images, or design work, the large variety of top quality themes makes WordPress an excellent option. Although you will find lots of high-quality portfolio themes designed for WordPress for a number of years, recently there has been a big increase in the selection of responsive portfolio themes and it's easy to understand why. If you need visitors to be in a position to effortlessly view your portfolio page on a mobile phone or tablet, along with a PC, a responsive WordPress portfolio theme is a great choice.
WordPress is considered the most widespread blog solution around, given that it is very easy to utilize, it's wonderfully adaptable and it has loads of powerful capabilities. You will discover a whole lot you can individualize with any theme or template, so it really is crucial to go for a good-looking blog theme which offers the functions you need. A well designed blog theme lets you catch the attention of viewers and with a quality theme, the code is clear so your site loads up quickly and that will let you rank higher on Google or Yahoo. This top quality weblog theme offers everything you'd need create a spectacular, authority blog on almost any subject matter such as travel, restaurants, software, corporate business, your personal blog, design and much more.
---
ViralFeed
This appealing AdSense ready Viral/Buzzfeed style WordPress magazine theme works extremely well for every kind of blogging site you need, since the design is simple and well suited to creating a really viral effect for all of your content. With a first class design and a large array of functions, it would look perfect as a stylish fashion site, a magazine blog as well as a personal blog page. With a first class, effective layout and a wide array of abilities to make writing a blog trouble-free. In case you're not a code expert, it's possible to alter this amazing theme to give it the options you wish your blog to offer. Your subscribers will like the stylish way your blog looks, the straightforward navigation, the advanced and professionally coded design, the thoroughly clean scripts, the general structure and a great deal more.  More WordPress viral magazine themes should offer such incredible features.
WordPress is the most popular blogging solution there is, since it's so easy to use and the list of features is practically endless.  WordPress is highly adaptive and it offers limitless ability to expand to fit the needs of your website or business model.
---
Diginex
Are you getting into the viral content creation game?  Well, Diginex can help you make a real impact with your readers and subscribers, with social sharing and a delightful layout that will help take your content to a wider audience.  Social sharing is a huge part of online marketing and a theme like Diginex can make your magazine's content really take off.  For writers who want to make a big following, a beautiful blogging theme is the very first thing you will need, so it's essential you select a theme that has the style you want, with the features you need.  Nothing beats a great set of tools, a wonderful layout and the modern, clean style you've been searching for.
This WordPress viral magazine template is incredibly adaptive so it's possible to use it on virtually any web site, professional and responsive so that it works well on virtually any screen, simple to operate with lots of awesome documentation and help, designed to look beautiful and one that delivers countless helpful, popular abilities.  Creating massive amounts of traffic can be a fun way to make money blogging and Diginex delivers on the promise to help you create traffic and generate income.
---
Click Mag
ClickMag is an adsense optimized theme for viral news and blog content, not unlike a site like Cracked or Buzzfeed, perfect for helping generate traffic from your content, through the power of user interaction.  Your readers will find it easy to like and share your posts, images, videos and news stories, which makes it a breeze to build a massive online following, no matter your niche, from breaking political news to the latest memes or fail videos.  For web publishers who wish to generate a huge following, a well crafted blogging theme is the very first thing you absolutely need.  Whatever you're looking to makret, ClickMag is a great fit.
You will need to obtain a beautiful, user friendly WordPress blog theme in order to generate the very best online experience possible.  This theme is responsive so that it works great on any kind of device, built with a beautiful, graceful style, incredibly versatile so it's possible to use it on any kind of website, simple to operate with lots of wonderful documentation and help and one that offers numerous useful, popular functions.
---