Flatsome, Responsive and Professional WordPress WooCommerce Theme
Flatsome is a WooComerce-only company that is inspired by modern eCommerce designs to create an amazingly beautiful responsive WooCommerce Theme. With Faltsome, your shop will not only look amazing but will be loved and appreciated by your customers. This irresistible theme is built out of love for WordPress and eCommerce.
No other theme can provide an amazing User Experience as much as this beautiful WooCommerce theme. Whether your site is viewed on phones and tablet, it will always look beautiful and attractive as long as it is designed by Flatsome.
Additionally, Flatsome Responsive WooCommerce Theme is built with the best SEO practices in mind. This implies that you are sure to get higher SEO ranking. It also provides it users with the awesome opportunity to use the Pinterest-style shortcode to create cool landing pages for their products. Hardly will you find a theme with such a beautifully enhanced responsive design.
Using a simple Theme Option Panel, there are quite a number of things you can create with Flatsome. Almost every feature on Flatsome is entirely customizable including footer layouts, header, fonts, colors etc. To get it looking great or simply the way you want it, just mix and match the options.
Currently, there are over 26k satisfied Flatsome users worldwide which also ranks Flatsome as the #1 bestselling WooCommerce theme ever. Pretty impressive stuff.  This amazingly looking theme is compatible with the most recent version of WooCommerce and WordPress, as well as other earlier versions.  The theme builder updates incessantly too, so you'll always be up with the very latest version of this theme, no matter what.  Minimalist WordPress eCommerce Themes, Simple, Modern Shopping Themes
You do not need to worry about updating your Flatsome theme after installation as it comes with free lifetime updates for everyone. Apart from having a responsive design and a mobile friendly user interface, Flatsome comes very handy with beautiful CSS animated banners, parallax banners, video banners and sliders which are aimed at showcasing the best out of your products.  WordPress FullScreen Themes, Wide Screen for Full Width Images
Flatsome Responsive WooCommerce Theme is very easy to use. It has over 500 Web fonts support that comes with a preview option in addition to its built-in Google fonts. That allows for a flexibility seen in relatively few themes, giving you themost options for your typography.  In today's market, there are so many websites clamoring for the attention of a few buyers, that can really help you stand apart and make people take note of what you have to offer.  This gorgeous theme has an optional plug-in should you choose to create unlimited forms. Both its look and feel can be easily customized with unlimited sidebars and widget areas.
For quick navigation, get along with the sticky header and check out its built-in Quick View feature. Whether you want to have a boxed or wide layout, this option is highly obtainable with Flatsome. It features multiple product grid styles and other multiple sale bubble styles. You can choose to design a cool product page with Accordion, Tabs, Sections-style or Vertical Tabs.
With Flatsome, everything is highly flexible and easy to change. Enhance your product pages with left and right sidebar, Quick Zoom product images, multiple product grid styles and CSS animated banner effects such as glow, sliding-glass, snow, and confetti. Use short code to create nice product Flip Book, Google Maps, and Beautiful Pinterest style pages.  WordPress Magazine Themes, Online Journals and Newspapers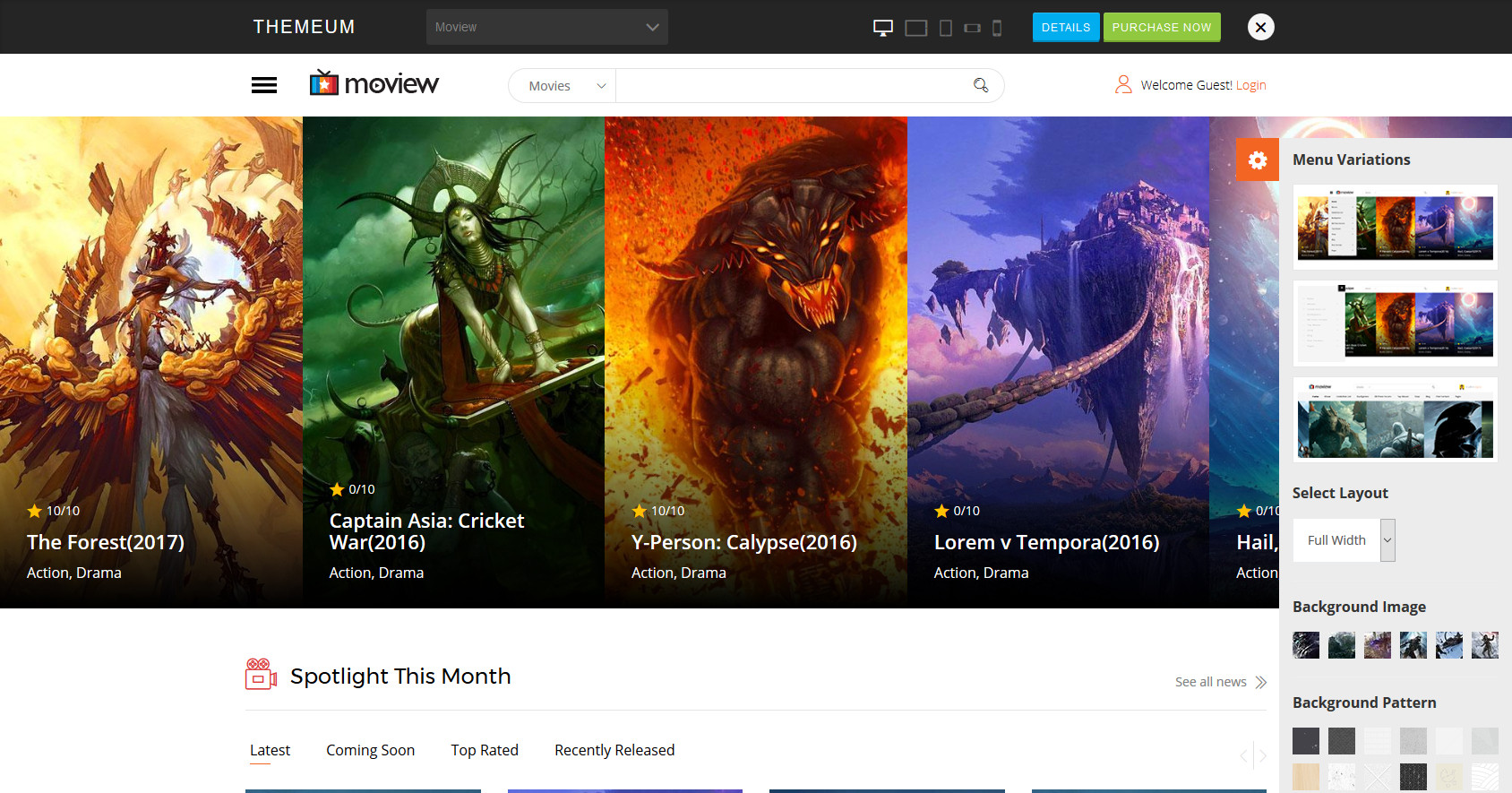 A new, attractive and easy to use movie theme for WordPress, this is called MovieW, by Themeum.
Moview Theme for WordPress 4.5+. Have you ever wanted to create a website similar to IMDb, Rolling Stone, CinemaBlend, TMDB, Rotten Tomatoes or NDTV Movies. Using Moview theme with suggested extensions allows you build movie database with reviews for new and recent movies in theaters, DVD and Blu-ray releases, and film classics. Your site can be a place where everyone goes to discover new movies, video games, television shows and music albums.
MovieW is responsive, it's BuddyPress ready, it's lovely and talented, it's award winning, it's walking the red carpet in style.  Custom backgrounds, Google fonts, boxed or full width layouts, whatever you want, MovieW could help you achieve it.
---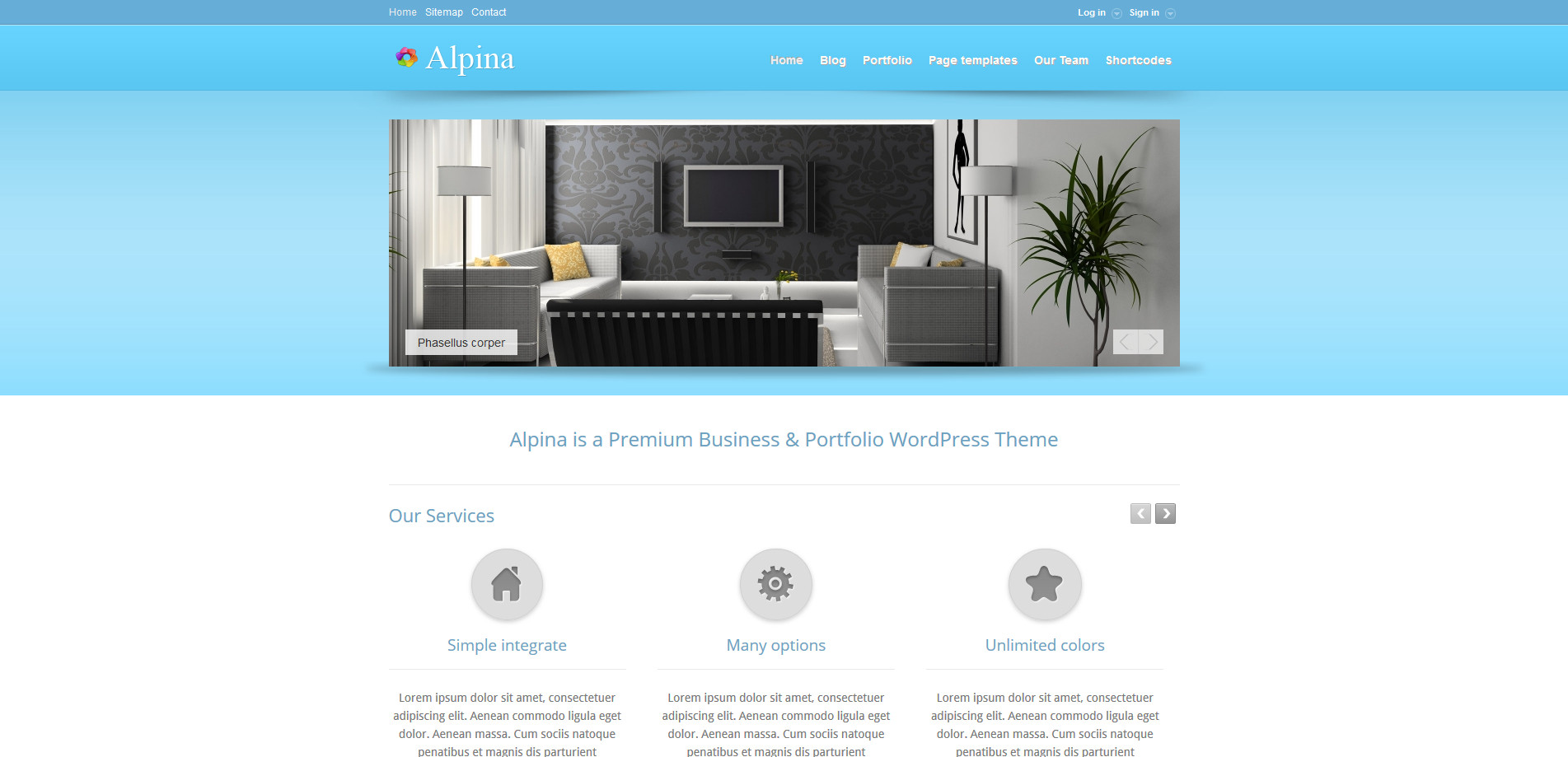 Simple and sort of dated looking, this theme is called Alpina.  I've removed it from all collections because I really don't recommend it anymore, but I'm leaving this review here so I don't get dinged by Google.  Looking for an actually nice looking corporate style theme?  Check out this collection.
The main advantage of this theme is fully customizable theme colors, from theme options panel!  Also, the content of the main page is a custom, and is formed using large amount of theme shortcodes (examples of the main pages in the documentation) that allows you to adapt the theme for yourself and make it completely unique!  In the theme a lot of settings, which you can easily customize the theme, as you need, also documentation and support attached!
Welp, we'll be back again soon for more good stuff.  Until then, so long.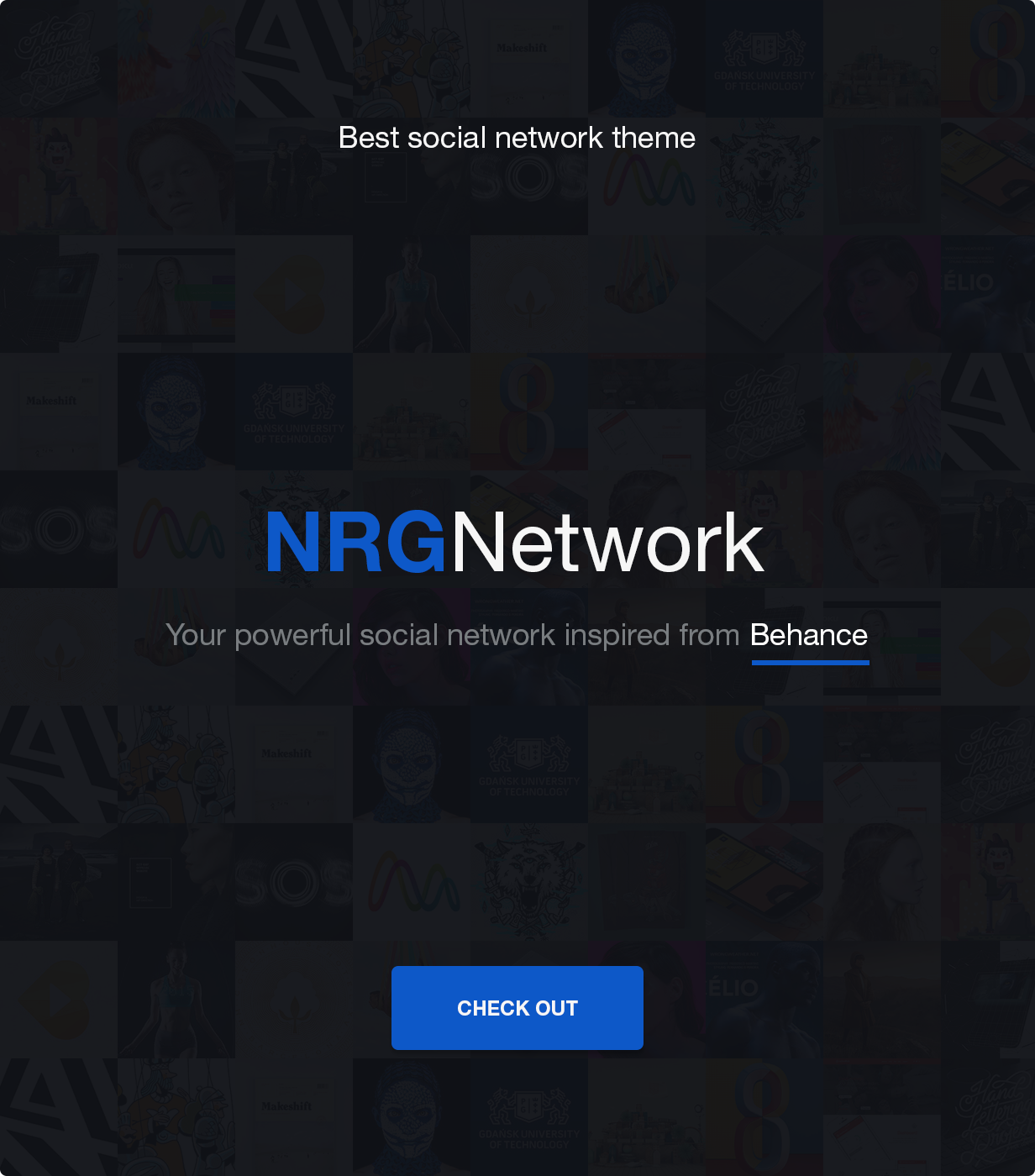 Social networking sites only work if they are user-friendly, attractively designed, and have plenty of positive traits that people want. When you choose the NRG Network theme in conjunction with the powerful WordPress plugins BuddyPress and bbPress, you can deliver on every promise. Site visitors can sign up easily with a new user name and password or by using their Facebook account. BuddyPress offers many specific addons so you can customize your website to be the perfect solution for either a diverse group of socializers or a unique niche group.
Packaged with NRG Network theme is Visual Composer, the ultimate drag and drop page builder plugin that usually comes with a premium cost. Revolution Slider is another premium option that allows you to create dynamic slideshows with attention-grabbing graphics or videos. If you do not wish to build site pages from scratch, NRG comes complete with a collection of pre-made templates to help you launch your new social network more quickly.
For additional bbPress and BuddyPress themes, try this collection.