Wright Minimalist Video Portfolio and Blog Theme
This is Wright, a minimalist multipurpose theme from Made by Minimal, it's a strong choice when you need a solid minimalist style, with bold typography, WooCommerce support and a simple frame for your images.  Design, features, ease of use.  It's all there.
Wright does all of that and more.
One think I wondered though, whats with the name 'Wright'?  Well, it turns out, this WordPress theme is named for Frank Lloyd Wright, famous architect.  (His most famous work was probably the Falling Water house, built in Pennsylvania, about an hour's drive from Pittsburgh.
For additional minimalist themes, here's our collection of the best.
Bold, creative and dynamic, Wright is a fantastic creative theme for any purpose.  See what's possible with this outstanding theme.
See that awesome grid layout?  Perfect for photography portfolios.  And if you'd like to see more awesome photography portfolio themes, check this out!
Your videos will look outstanding, whether you're hosting them yourself or embedding from Vimeo or YouTube.  Looking for more video themes for WordPress, why not have a look at this collection?
I love a great video theme.
What's so awesome about video and multimedia friendly themes, they really make your site 'sticky' which is an indicator to Google that your site is valuable and worth sending traffic to.  With Wright, your content is beautifully presented, which definitely leads to that 'stickiness' factor.
Video is King!
And of course, Wright is a full-featured eCommerce solution using WooCommerce to allow you to sell any type of product you want to sell.  Great looking sales funnel.
Wright is a beautiful, minimalist blog too.  I absolutely love this theme, but I understand it might not be for everyone.  If not, maybe you'd be more interested in some of these personal, professional blog themes?  We keep adding to that collection so check back often for something new and exciting.
Lightbox Galleries
Retina Screen Ready
Dynamic Image Scaling
Inline Header Layout
Basic Google Fonts Integration
Cascading Sub-Menu
Social Media Icons
Embedded or Self Hosted Video
WooCommerce Compatible
HiDPI Site Logo
HTML/Font Site Title
Color Scheme Management
Sidebar Widget Area
WordPress Blogging
Image Captions
Responsive Page Layouts
So, that's the basic rundown of Made by Minimal's Wright theme.  I think you're going to love it, no matter what kind of site you're setting up.
If you decide to use Wright on one of your WordPress projects, let us know, we'd love to see what you've done with this delightful, minimalist masterpiece.
I adore the responsive layout and the grid style design of this theme, Wright, by MadeMyMinimal. Wright is airy, it's delicate, but at the same time, it's bold and sassy.  It's a minimalist theme with a real balance, so it's great for a wide range of styles and purposes.  There's not a pixel out of place and definitely nothing will get between your content and your readers, so for blogging, it could be really nice. This unique WordPress photography theme is solid for any picture portfolio, video journal or blog.  If you want a truly simple, serene website, Wright could be a fine choice. If you've got to have a wonderful, sleek and durable theme with awesome SEO and a massive amount of clear features, easy navigation and more, this fantastic one is perfect to satisfy your needs.  If your enterprise wants to present fashionable photographs, stylish posts and incredible imagery, you may like this WordPress theme more than the others on this site. This stripped down theme is pure and clean, plenty of white space to lend the design an airy quality, the typography is bold and well crafted. While it's not complex, it's not simplistic. Made By Minimal has given lots of thought into this theme's layout and it reveals a bold, dynamic final product that you'll live.  The built in blog makes it perfect for a personal blogging site as well as a photography portfolio.
The Wright theme features top navigation, image captions, menu font size options, cascading menu style, scale-able images, typography color choices, unlimited pages and portfolios and this theme is even WooCommerce ready, so you can sell any sorts of products you'd like to with the free and powerful WooCommerce plugin.  Add some extensions to increase WooCommerce's capabilities.  It's possible to sell both digital products like apps, software or digital photos, as well as tangible goods that you have to ship.  You can add functionality through a wide range of WooCommerce extensions to add functionality like Amazon payments, WooSubscriptions, Affiliate marketing products, WooBookings for setting up a house rental or appointments or other time based sales.  The amount of functionality you can add to WooCommerce is pretty amazing, so feel free to check out the extensions here.
There are columns shortcodes and the mobile, responsive design looks fantastic on any size and shape of device.  I can't overstate the importance of a well designed responsive theme.  A really high percentage of people are looking at your website on a mobile device, so it's incredibly important to offer an experience that adapts and adjusts on the fly to fit everybody's preferred choice of device.  Whether it's an iPhone or Android smart phone, a tablet or a laptop or desktop, the experience will be the same, just as the designer wanted it to be.  And with a lot of great typography and your fascinating, alluring images, you'll provide a wonderful user experience from the ground up.
So, that's that for the amazing Wright WordPress theme.  What do you think?  If you love it, drop us a line and let us know how it works out for you.  As always, we'll be back soon with more great WordPress themes.
---
Hey, you know how this theme was crafted by Made by Minimal?  Well, they've got half a dozen themes total, you may be interested in some of them as well.  Here are our reviews of those awesome minimal WordPress themes.  Eero.  Dorsey.  Eames.  Made.  Milo.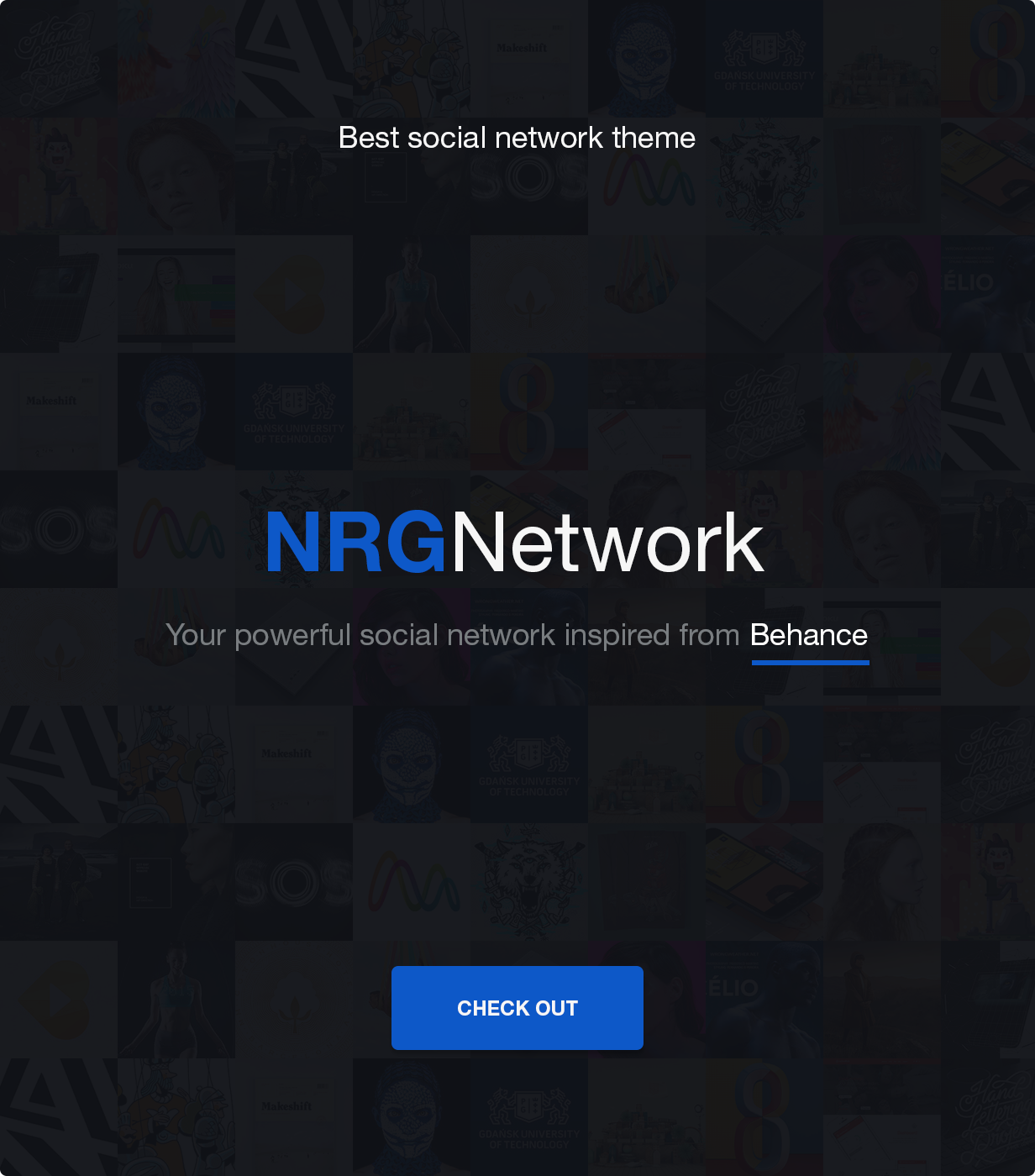 Social networking sites only work if they are user-friendly, attractively designed, and have plenty of positive traits that people want. When you choose the NRG Network theme in conjunction with the powerful WordPress plugins BuddyPress and bbPress, you can deliver on every promise. Site visitors can sign up easily with a new user name and password or by using their Facebook account. BuddyPress offers many specific addons so you can customize your website to be the perfect solution for either a diverse group of socializers or a unique niche group.
Packaged with NRG Network theme is Visual Composer, the ultimate drag and drop page builder plugin that usually comes with a premium cost. Revolution Slider is another premium option that allows you to create dynamic slideshows with attention-grabbing graphics or videos. If you do not wish to build site pages from scratch, NRG comes complete with a collection of pre-made templates to help you launch your new social network more quickly.
For additional bbPress and BuddyPress themes, try this collection.
Companies, freelancers, and other professional who want to create a social community or network for their industry or niche should consider the Bounce theme. It integrates smoothly with both bbPress and BuddyPress on any WordPress site. Every bit of the backend power is handled by these plugins, but the design elements and features come from Bounce. Customize the home page to suit your particular needs. Copy and paste shortcodes to add unique content blocks or capabilities. Choose from one of the seven attractive color schemes included with this theme.
For flexibility and professional style, the Bounce WordPress theme offers everything you need for bbPress and BuddyPress social platform creation. It offers truly flexible and completely responsive styling.  This unique design focuses on helping people make new friends and send messages, the notifications look good and sending out messages has never been easier.  If you want to take full advantage of BuddyPress, it's best to select a theme that is specifically designed to take advantage of all of the wonderful features that this free plugin has to offer.
---
Many BuddyPress-specific themes do not integrate well with WordPress Multisite, but Plexus was developed to do just that. Even if your goal is not a website network, the Plexus theme still provides everything you could want. Its unique design will push your site to the forefront of visitors' minds as they appreciate the clean, stylish, and user-friendly look and feel. Although it appeals straight out of the box, site owners can also do a huge number of customizations and edits to build a unique style. Any site built with the Plexus Buddypress theme offers retina-ready graphics and responsive layout options.
Other premium plugins packaged with the Plexus WP theme include the user-friendly Visual Composer drag and drop page builder and Layer Slider, which helps you create stunning slideshows on any page. A ton of eye-catching elements and content blocks can be arranged however you like to properly display your information and graphics. All of these features and the seamless integration with BuddyPress social networking and bbPress message board community addons make the Plexus theme a grand solution for anyone with an ambitious project to complete.
Well, Plexus has been removed from the ThemeForest marketplace, but more BuddyPress themes can be found here.
---