VideoMag, WordPress Video News Magazine Theme
VideoMag is here and it  aims to please.  This WordPress video blog, periodical, newspaper, magazine or journal theme is modern, easy to use, engaging, beautiful and well designed as it is fresh, clean, feature filled, strong and well made. The design is simple to use, cool, refreshing, easy to navigate and trendy and it has many powerful features.  With this theme you'll get numerous exceptional options you'll enjoy, like powerful theme options, front end user posting, fantastic support, a great responsive design and multiple layout variations. This video theme is dynamic, powerful, simple to use, flexible and modern for any variety of video tutorial site, entertainment blog, video sharing page, magazine or video blog. You can absolutely embed videos from video sites like Youtube, Hulu, Vimeo or Daily Motion or host your own videos.
Features:
Banner System – VideoMag has it's own Banner system, in which you can add images, text, videos or any other type of HTML code. You can add/edit all effects ( how often banners will show up, after how much seconds it will disap06pear, effects, fly in time e.c.).
Homepage – Unlimited homepages styles. You will be able to create your own homepage by dragging and dropping blocks.
Contact – Template with google maps and styled contact form.
Sidebar – Unlimited sidebars and you can assign them to each page or post.
Blog – This theme offers 4 blog/category styles and everything else that you need for blogging.
Widgets – This theme is offered together with 9 widgets adjusted for the theme.
Language – This theme includes language (POT) files – now you can browse them easier and faster. This theme is easily adjustable to other languages by using PoEdit programme which is available free.
Shortcodes – This theme contains shortcodes which can be inserted both by adding shortcode in the post field or by using specific shortcode insertion buttons which make using the shortcode much easier.
Sidebar Generator – You can create unlimited sidebars and add new sidebar for each post or page.
Video Posts You can easy create a video post from Vimeo, Vine, Youtube DailyMotion, Twitch or a self-hosted video.
Mega Menu – VideoMag includes mega menu in which you can insert latest category posts.
---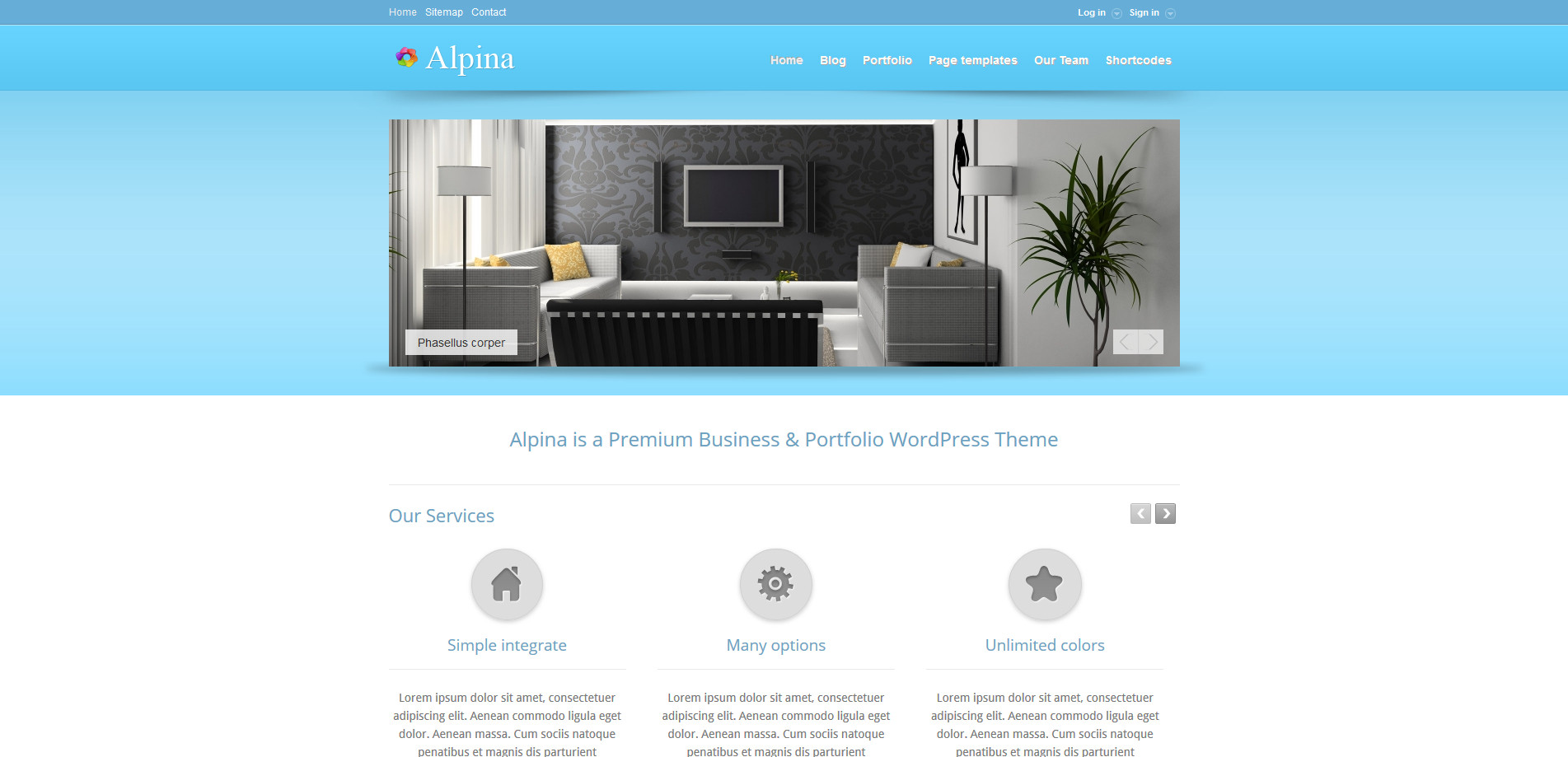 Simple and sort of dated looking, this theme is called Alpina.  I've removed it from all collections because I really don't recommend it anymore, but I'm leaving this review here so I don't get dinged by Google.  Looking for an actually nice looking corporate style theme?  Check out this collection.
The main advantage of this theme is fully customizable theme colors, from theme options panel!  Also, the content of the main page is a custom, and is formed using large amount of theme shortcodes (examples of the main pages in the documentation) that allows you to adapt the theme for yourself and make it completely unique!  In the theme a lot of settings, which you can easily customize the theme, as you need, also documentation and support attached!
Welp, we'll be back again soon for more good stuff.  Until then, so long.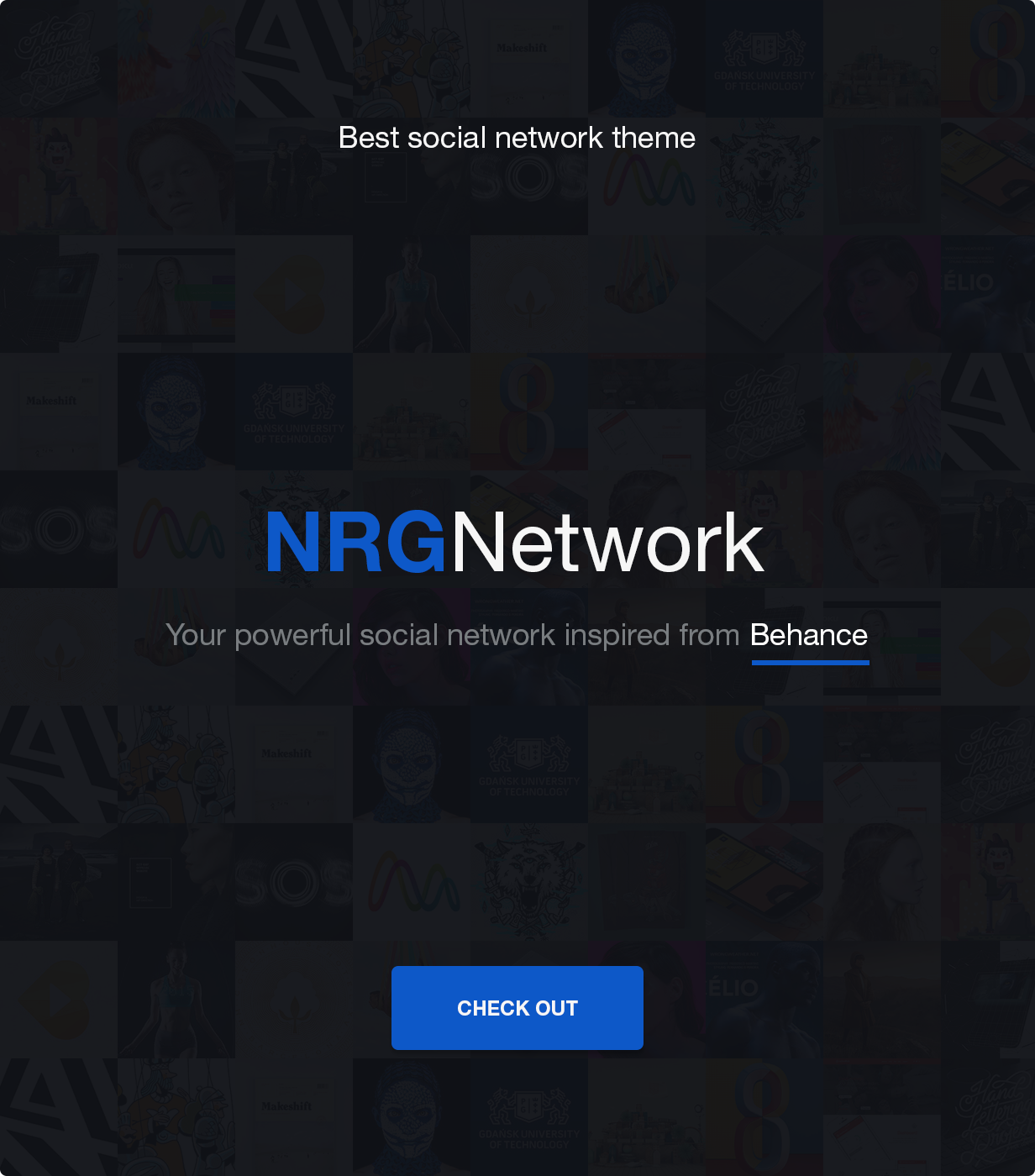 Social networking sites only work if they are user-friendly, attractively designed, and have plenty of positive traits that people want. When you choose the NRG Network theme in conjunction with the powerful WordPress plugins BuddyPress and bbPress, you can deliver on every promise. Site visitors can sign up easily with a new user name and password or by using their Facebook account. BuddyPress offers many specific addons so you can customize your website to be the perfect solution for either a diverse group of socializers or a unique niche group.
Packaged with NRG Network theme is Visual Composer, the ultimate drag and drop page builder plugin that usually comes with a premium cost. Revolution Slider is another premium option that allows you to create dynamic slideshows with attention-grabbing graphics or videos. If you do not wish to build site pages from scratch, NRG comes complete with a collection of pre-made templates to help you launch your new social network more quickly.
For additional bbPress and BuddyPress themes, try this collection.
Companies, freelancers, and other professional who want to create a social community or network for their industry or niche should consider the Bounce theme. It integrates smoothly with both bbPress and BuddyPress on any WordPress site. Every bit of the backend power is handled by these plugins, but the design elements and features come from Bounce. Customize the home page to suit your particular needs. Copy and paste shortcodes to add unique content blocks or capabilities. Choose from one of the seven attractive color schemes included with this theme.
For flexibility and professional style, the Bounce WordPress theme offers everything you need for bbPress and BuddyPress social platform creation. It offers truly flexible and completely responsive styling.  This unique design focuses on helping people make new friends and send messages, the notifications look good and sending out messages has never been easier.  If you want to take full advantage of BuddyPress, it's best to select a theme that is specifically designed to take advantage of all of the wonderful features that this free plugin has to offer.
---