Steady Income, WordPress Search Engine Marketing and Affiliate Theme
This theme is ideal if you intend running marketing or business site. It comes with a wide array of features that makes your webpages very flexible and adaptable. The support team behind SteadyIncome is very supportive. All you need do whenever you encounter a challenge is to send them a mail. If you still wish to know more about SteadyIncome, you can checkup its demo. Being simple in design, all that is needed for the installation of SteadyIncome, is a click of the button. You are also offered unlimited domain usage, in depth installation, regular updates, excellently designed option panel, 12 months of support, and tutorial videos that will get you up and running once you buy SteadyIncome theme.  Gon, Multi Vendor eCommerce Theme for WordPress Shops
It is your right to use the theme on whatever site you desire to matter who it belongs to. If you want to implement the support plan on your website, you will have to sign up for membership. You can customize your webpages as you like using the option panel. If you so wish, you can conveniently change the code or design of SteadyIncome. The theme also allows you integrate third party plugins though such plugins won't be covered by the support system. SteadyIncome is optimized in such a way that your pages loads very fast. It is also well optimized using SEO technology.
The Curator, WordPress Timeline Theme for Artists
Anyone who wishes to monetize a website or put the focus on professional business or marketing should try the SteadyIncome WordPress theme. The vast selection of features and different elements mean that it supports many different industries and niches with its flexible structure. Install the WP theme with a single click to get started. Customization options are accessible from the user-friendly interface. Add third-party plugins, such as search engine optimization helpers, contact forms, social media integrators, and switch around page elements to suit your needs.
The SteadyIncome WP theme creators offer ongoing support for the people who use their theme. Help is always available through email and can even be extended to the owners of websites you may build for them. This theme package comes with unlimited domain usage, regularly scheduled updates, tutorial videos to help with each feature, and the right to install it on any site you wish.
WordPress Landing Page Themes, Pre-Launch, Squeeze and Capture Pages
WordPress Agency Themes for Studios, Freelancers and Creative Designers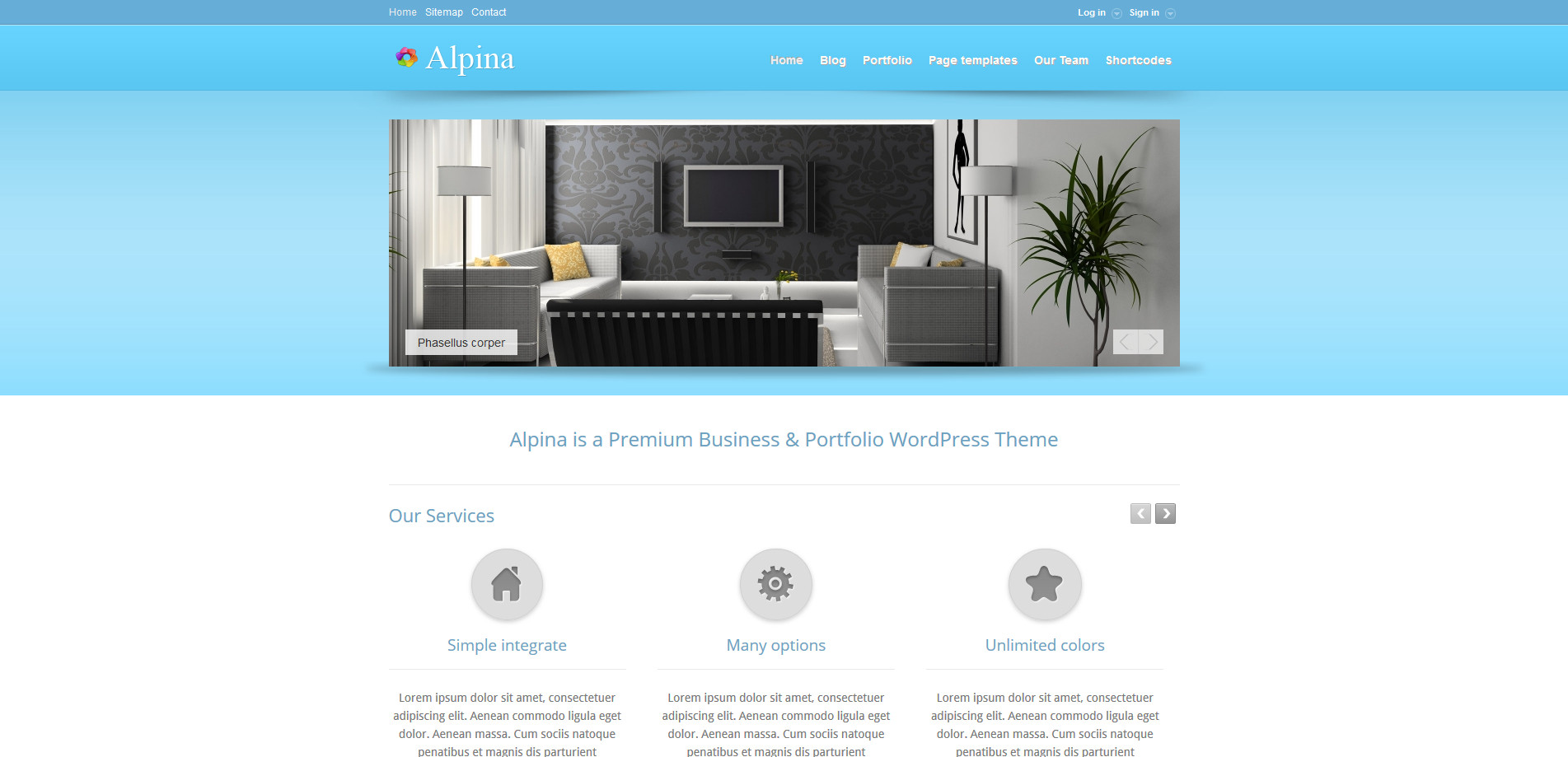 Simple and sort of dated looking, this theme is called Alpina.  I've removed it from all collections because I really don't recommend it anymore, but I'm leaving this review here so I don't get dinged by Google.  Looking for an actually nice looking corporate style theme?  Check out this collection.
The main advantage of this theme is fully customizable theme colors, from theme options panel!  Also, the content of the main page is a custom, and is formed using large amount of theme shortcodes (examples of the main pages in the documentation) that allows you to adapt the theme for yourself and make it completely unique!  In the theme a lot of settings, which you can easily customize the theme, as you need, also documentation and support attached!
Welp, we'll be back again soon for more good stuff.  Until then, so long.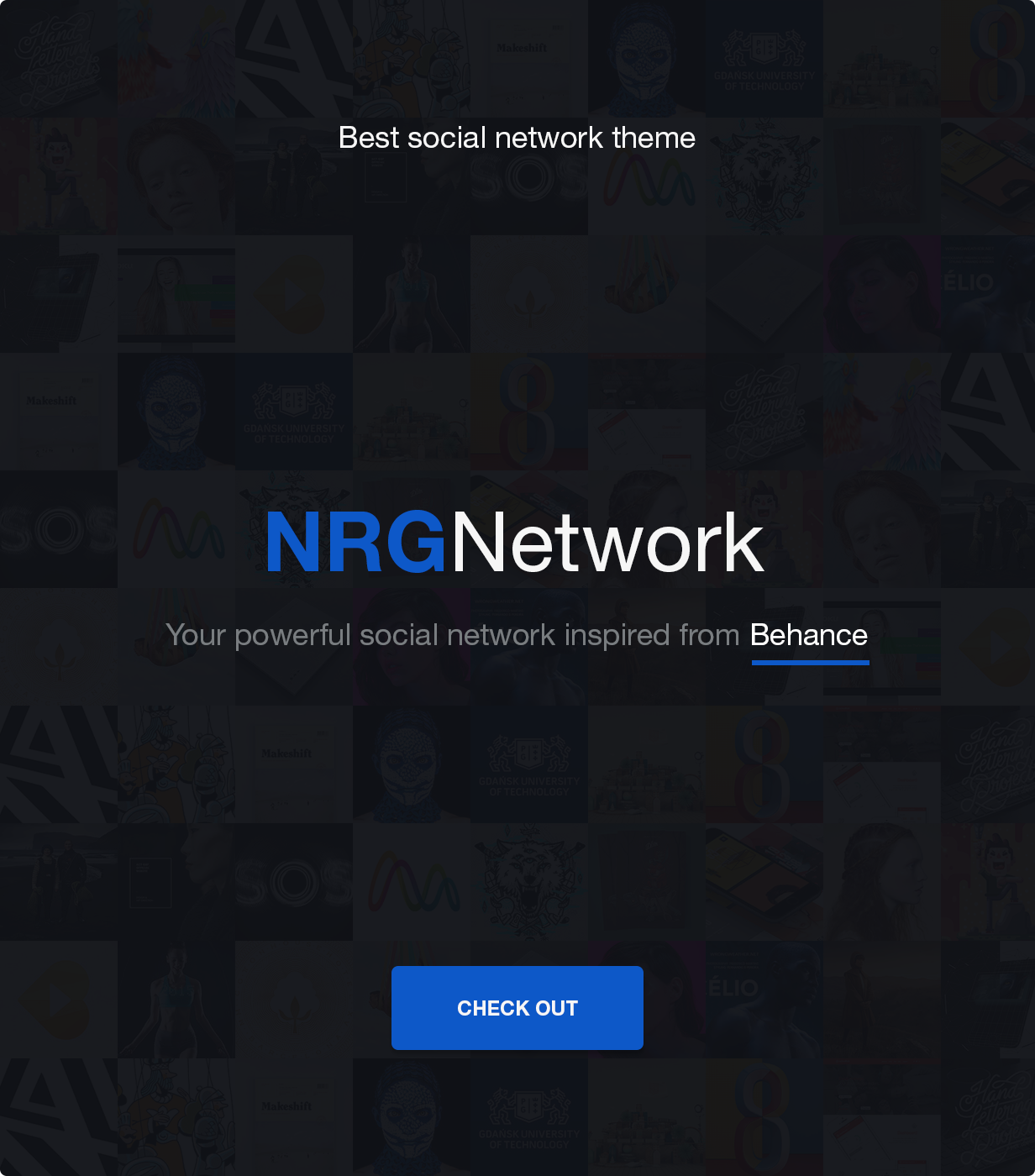 Social networking sites only work if they are user-friendly, attractively designed, and have plenty of positive traits that people want. When you choose the NRG Network theme in conjunction with the powerful WordPress plugins BuddyPress and bbPress, you can deliver on every promise. Site visitors can sign up easily with a new user name and password or by using their Facebook account. BuddyPress offers many specific addons so you can customize your website to be the perfect solution for either a diverse group of socializers or a unique niche group.
Packaged with NRG Network theme is Visual Composer, the ultimate drag and drop page builder plugin that usually comes with a premium cost. Revolution Slider is another premium option that allows you to create dynamic slideshows with attention-grabbing graphics or videos. If you do not wish to build site pages from scratch, NRG comes complete with a collection of pre-made templates to help you launch your new social network more quickly.
For additional bbPress and BuddyPress themes, try this collection.
Companies, freelancers, and other professional who want to create a social community or network for their industry or niche should consider the Bounce theme. It integrates smoothly with both bbPress and BuddyPress on any WordPress site. Every bit of the backend power is handled by these plugins, but the design elements and features come from Bounce. Customize the home page to suit your particular needs. Copy and paste shortcodes to add unique content blocks or capabilities. Choose from one of the seven attractive color schemes included with this theme.
For flexibility and professional style, the Bounce WordPress theme offers everything you need for bbPress and BuddyPress social platform creation. It offers truly flexible and completely responsive styling.  This unique design focuses on helping people make new friends and send messages, the notifications look good and sending out messages has never been easier.  If you want to take full advantage of BuddyPress, it's best to select a theme that is specifically designed to take advantage of all of the wonderful features that this free plugin has to offer.
---