Start Your Own Affiliate Website With WordPress And Affiliate WP
How To Get Started With A WordPress Affiliate Website
So you've got your next business website idea all ready to go or perhaps you already have your business website set up. You have an amazing product or service but there's one BIG problem – you don't have enough traffic coming through to your website to sell your product or service and make the business profitable.
Now there are a number of solutions to this problem but they are all pretty costly.
You could pay for offline advertising such as print media – COSTLY!
You could pay for online advertising such as Facebook/Google Adwords – COSTLY!
You could pay for someone to work on the search engine optimization of your website – COSTLY
Luckily, there is one cost effective solution that not only saves you money on all of the above, it delivers instant traffic and actually provides the benefits that all of the above methods provide. The answer to your needs is affiliate marketing.
What is affiliate marketing?
Affiliate marketing is not new. In fact it has been around since almost the dawn of the Internet. However, the ease of setting up affiliate marketing for yourself has never been easier – but what is it?
In a nutshell, affiliate marketing is the process of paying someone else a commission as a reward for them directing traffic to your website. The most attractive form of affiliate marketing from a affiliate marketer's point of view is one that pays out on converted sales – in other words, you as the business owner would only ever pay out a commission based on what is sold and not just purely based on a lead or on traffic to your website.
Paying a percentage of a sale is a popular method of affiliate marketing and is the most common as it doesn't benefit those who promote it to try and scam the system by using unscrupulous methods such as sending fake or automated traffic to your website.
So if we use the revenue share method of affiliate marketing it might look something like this. An affiliate of your product might have an agreement with you that they will earn 30% of your sales. They will send a customer through a unique link that is linked to their affiliate account and your website then tracks this customer as coming from the affiliate. The affiliate is then rewarded with commission payments once the sale is confirmed and after a period of time set by you to ensure there are not returns or refunds.
This method works so well because you gain a customer that you probably wouldn't otherwise of had and the affiliate gains commission by selling a product or service that they don't have.
The benefits of affiliate marketing
Let's take a look at our other options that we already highlighted earlier:
Paying for offline advertising such as print media – Now we said that this is costly and it also very difficult to measure the impact of a campaign. It might create brand awareness but how often does that convert to a sale directly? Affiliate marketing can still create brand awareness and can in fact do a better job as it can place your brand across a number of online locations. What's more, each and every click and sale can be measured.
Paying for online advertising such as Facebook/Google AdWords – Pay per click (PPC) advertising can be an effective advertising tool as can cost per impressions (CPM) but this can be a vacuum for your money if your website is not well optimized for conversion. Digital advertising like this can be effectively tracked and can be used particularly well when using retargeting but it can be tricky to set up and costly if not set up in the right way. Affiliate marketing is a lot less risky.
Paying for search engine optimization of your website – SEO is not cheap if done in the right way. Forget these fly by the night companies that offer SEO for pennies as it will quite simply not be effective and you will just end up spending money for nothing. SEO can be very effective but it will cost you in excess of $1000 per month for a good service and will take time to start to show a positive return on investment. Affiliate marketing can really boost your website's SEO in a natural way as you will have a number of highly relevant websites linking back to your website through the use of the affiliate links. Affiliate marketing wins again!
AffiliateWP – Affiliate Marketing Made Easy
Until recently, you would need to have hired a very good (and costly) developer to set up your own affiliate marketing campaigns but luckily there is now a very cost effective and easy to manage solution. The AffiliateWP WordPress plugin allows anyone to completely set up and manage their own affiliate marketing website.
Allowing you to increase your website visibility, have higher levels of brand awareness through a heightened web presence, increase traffic to your website and ultimately gain more sales and make more profit – the AffiliateWP plugin is a 'must have' resource for anyone serious about using affiliate marketing to boost their sales.
AffiliateWP Plugin Review
There is quite simply nothing else on the market that comes close to offering what AffiliateWP offers unless you are prepared to spend tens of thousands on a top quality developer for your website. The feature list is packed to the rafters and no stone has been left unturned when it comes to offering a fully integrated system that just works – and it looks pretty nice too!
The fact that the AffiliateWP integrates seamlessly in to your WordPress dashboard is it's first plus point. It looks great and looks like it is part of the furniture. Add to this it's easy of use and it's simplicity becomes its brilliance. You have complete control of everything from affiliate user management, real time reporting, registration and complete integration with a number of other platforms to make the user interface a dream to use.
Full Integration
No matter what plugins and systems you use on your wordpress website, the chances are that AffiliateWP will integrate with it easily. The following software packages fully integrate with this system:
Easy Digital Downloads
WooCommerce
WP e-Commerce
iThemes Exchange
Paid Mameberships Pr
Restrict Content Pro
Shopp
MemberPress
MemberMouse
Gravity Forms
Ninja Forms
WP EasyCart
Jigoshop
Formidable Pro
Sprout Invoices
S2Member
MarketPress
Zippy Course
LifterLMS
Wishlist Member
Event Espresso
The developers are constantly adding new integrations and it is highly likely that the systems you use will be fully supported by AffiliateWP – with world class support you are never on your own if you do encounter a problem so there really is nothing to fear.
Feature Packed Software Makes It Simple
AffiliateWP is easy enough to use for a beginner and feature packed enough for someone wanting more depth. The biggest concern for most affiliate marketers is that they have worries over the reliability of tracking. AffiliateWP offers completely reliable tracking on servers that employ very aggressive caching and when we tested the tracking it was 100% reliable based on a number of different IP addresses from different locations.
No matter which package you opt for, you will have unlimited affiliate accounts available meaning you can literally have millions of people promoting your product or service from the moment you launch.
The registration of affiliates is another feature that we particularly like with AffiliateWP. It offers an easy affiliate registration option that allows potential affiliates the opportunity to easily register to become an affiliate on the spot. Further to this though is the moderated registration option – this allows registration to be moderated by you so you can have more control over the types of websites that are promoting your product or service. You can also manually create accounts if you prefer to open new registrations with absolute control. If you are purely after numbers and want to make it as easy as possible for your affiliates then you can enable automatic account creation which will allow affiliates to be automatically set up from the moment they register.
Coupons Code Tracking
This is one of our favorite features and really showcases the professionalism of the AffiliateWP plugin. Coupon code tracking allows you to give your affiliates their own coupon codes and the referrals track via the coupon code rather than needing to click through a URL. This is ideal for having people promote your website offline or via webinars as they don't require the customer to visit your site using the dedicated URL and your affiliates will love this. The only negative of this for your website is that you will lose the juice of the links pointing to your website from the affiliate website so it is worth using coupon tracking alongside URL tracking for your affiliates.
Migration From Other Systems
If you already use a competitor system (and none of them match up to AffiliateWP in our opinion) then it couldn't be easier. With one-click migration for Affiliates Pro and WP Affiliate if you use either of these systems then you can easily migrate all of your referral data to AffiliateWP.
Unlimited Options
With the official Pro Add-ons that come packaged with the ultimate and professional license versions of AffiliateWP there really are an almost limitless amount of customizable options you can create.
Gravity and Ninja forms offer real flexibility for your sign up process and will allow you to create truly professional looking onboarding. Stripe and PayPal payouts can be set up to automatically pay affiliates on mass and you can create tiered referral commissions as well as lifetime commissions to really push your affiliates to incentivize.
Reporting
The options for reporting are excellent in AffiliateWP and there are real time reporting options as well as individual reporting options. You can track your affiliate sales at the touch of a button and you can either export this important data or view it in the easy to use dashboard with some great visualization options such as graphs that are excellent for spotting trends or peak times that can help with conversion optimization and planning of future marketing campaigns.
You can track via your creatives so you can easily spot which banners are converting best and you can easily add new creative and edit them as and when required. This will make it easier than ever for your affiliates to promote your products and the creative tracking will allow you to increase conversion rates and ultimately, your profits.
Pricing
With a variety of pricing options, AffiliateWP should be accessible no matter what your budget. The flexible pricing options start from just $49 per year which also includes full email support and 15 official free add-ons. If you have a number of websites that you want to install the AffiliateWP plugin on then you can take the professional package which is very reasonably priced at just $199 per year and allows the plugin to be installed on an unlimited number of websites and also includes the 15 official free add-ons PLUS the 11 pro add-ons.
With a 30 day money back guarantee for anyone who is not happy with the product there really is no risk to taking a look. A company that stands by their product with this sort of guarantee shows confidence in what they have created and we have to agree that it is highly unlikely you will look back once you use this.
The Verdict
There are other options available in terms of WordPress plugins when setting up an affiliate website but nothing comes close to AffiliateWP. A truly world class product that is affordable on almost any budget. The high levels of support that come with this feature rich product make it the market leader and the integrations with other software and services make it a no-brainer for even those internet marketers with the highest of standards.
If you are thinking of setting up an affiliate website (and we have already covered the reasons why you should) then there is simply no other option that you need to consider.
The Layers WordPress Theme: A Comprehensive Review
With the current popularity that WordPress enjoys, it is inevitable that a lot of builder tools for the free website hosting platform have come out, and the number continues to grow by the day, and one of them is Layers. However, Layers claims to be different from the rest of its competitors. In what ways, you ask? The following review of the Layers WordPress Theme will attempt to answer that question. It will also help you decide if it is indeed the website builder you have long been waiting for.
What Is Layers?
An open source WordPress website builder developed from Obox Themes, Layers is among the many WordPress builder tools available today. It attempts to distinguish itself from the rest by being both:
The easiest website builder to use (try looking around for an easier to use too), and

Available at absolutely no cost; it's free.
With Layers, you can create multiple custom page layouts that will help you come up with the kind of website you have in mind. The best part is you will be able to do it without having to edit codes. The builder tool is equipped with built-in layouts, as well as custom widgets that you can use to add more content to your webpages.
For some people, the word "free" is enough reason to use the product. However, what good will it bring if it does not provide what you need? A product may come with a price tag, but if it is more convenient to use and allows you to save a lot of time, and it comes with a lot of superior features to boot, then price tags wouldn't, and shouldn't matter.
It is an entirely different story, though, if a free product comes a long that can approximate the benefits you will get from a premium product. This Layers review intends to help you uncover and learn everything there is that you need to know about the product.
Product Features: What Layers Can Do for You
The intention of the creators of Layers is to provide a tool that can help users build their custom websites specifically for WordPress. To give you an idea on what the builder tool can accomplish for you, have a glimpse of a few layouts built using Layers. These layouts are called Coffee, Weather, and Bakery, respectively. There are many other layouts available which you can later explore should you decide that this is the perfect tool for your website building project.
One good thing about Layers is that the entire process of creation is done within the Theme Customizer in WordPress itself. This way, you can immediately have a blow by blow account on the progress of your custom design project. You can view your work in progress as you continue to work. Likewise, instant feedback will be available for any change you effect on the appearance settings.
Because the entire design process is done within the confines of the WordPress Theme customizer, it simply means that the result will be a lot more efficient, interactive and intuitive. All you have to do is point and click, and go right back to work.
While you need to refresh pages, switch browser tabs, continuously save your work in progress, and then open preview windows when working with other backend WordPress builder tools, these are not necessary when you are using Layers.
Building Your Pages with Content Blocks and Widgets
When using layers, your new website design's foundation is created using horizontal rows. You can then populate each of the rows with a widget. The widgets act as your website's content blocks and each one can accommodate practically any type of content.
The builder tool comes with a variety of content blocks or widgets. These include:
A content widget

A slider widget

A maps and contact details widget

A widget for a displaying list of posts
This does not mean, however, that Layers cannot work with widgets provided by third parties. Layers is, in fact, compatible with 3rd party widgets, including ones that you may have created yourself, as well as widgets that are built in to other WordPress plugins.
Thus, if you find the need to feature or include a widget for an ecommerce product, a content slider widget, or a social sharing widget in the custom website layout you are working on, you can heave a sigh of relief because Layers will allow you to do that. This ability to integrate with 3rd party widgets is another advantage of using Layers. This allows you absolute freedom on how to create the various pages of your website.
Options for Widget Configuration
You can configure all third party and core WordPress widgets as they are incorporated into your layouts, but these may not be as easy to configure as the widgets that are built into Layers. These widgets are a lot easier to configure, for obvious reasons.
A very good example of this ease of configuration would be the posts widget. You are allowed to set the number of posts to display using the settings. You can also set the category that the posts must come from, as well as the list style and column layout, among many other options.
Aside from the post display widget, Layers also allows you to select the particular post content that you want to be displayed on the page, including the post titles, featured images, author info, post excerpts, and many others.
Because of the superior level of control that it provides users, Layers can be considered as the ideal tool to use when you need to build a custom page with which to display your most recent blog posts. If you are a blogger like a great majority of WordPress website owners, this is an important feature.
Options for Content and Widget Customization
As you work on the various pages of your website, the WordPress site building tool provides you with access to the Layers design bar. Here, you can customize the appearance and design of all the widgets that you wish to include in the layout. Again, everything happens without you having to directly edit any existing code.
Although the available design settings are specifically tailored to the kind of widget you are currently working on or customizing, these may include fonts, colors, text formatting, columns, list style, image ratio, and layout, among many others.
Pre-Built Page Layouts
While Layers allows you to make your own page designs from the ground up, it thankfully throws in a small collection of page layout templates that include:
A homepage layout

A video page

A contact page

A portfolio page

A landing page
The pre-built layouts are easy to customize. You can remove or add the widgets that will comprise the layout in a convenient and straightforward manner. Customizing how they appear can likewise be done with the same convenience.
Layouts for Mobile Users
Your website will not only be mobile-friendly and completely responsive, it will also be easy for you to target and cater to your visitors who come to your website via their mobile gadgets.
By using the website customizer, you can designate a specific area in the sidebar exclusively for mobile users. You can then populate this particular area with content that tablet and smartphone users will find relevant.
Now, because of the steady growth of people who access the web through mobile devices, this feature can be considered as an essential feature to have, and not just a "nice to have feature." It would not be surprising that in the near future, your website visitors will be comprised mostly of users from the mobile demographic.
WordPress Plugins versus Theme Builder Tools
There are WordPress builder tools that are delivered as a plugin like the Themify Builder. When in plugin form, the tool will typically allow you customize your current theme design. You can do this as you retain the ability to make custom page layouts. The standard WordPress post editor is not equipped with the same features.
Because Layers is delivered in theme form, it can take over the entire feel and look of your website. With the tool, you have the ability to customize and personalize each and every aspect of your website, and not merely the page layouts. Now, to settle the issue on which between a theme-based builder and a plugin is better, both options are good at what they do. Neither of the two can be considered as better than the other. They just offer different ways of doing things.
In the same manner, since Layers is a theme, it will not be easy to change your theme in the future. All your custom designs will be lost in the process. Likewise, all the content you have added to your site over time using the Layers widgets will be gone. This isn't true for Layers alone, however, as this will most likely happen when using practically any other WordPress website builder tool as well.
A User's Layers Experience
Because Layers is a relatively new WordPress theme, the developers mad sure that first-time users would be treated to a pleasant user experience by featuring a Getting Started Guide that is quite useful and handy. As soon as you activate the theme, the guide is immediately displayed on the screen. This review suggests that you take the opportunity to walk through the guide.
Each of the guide's sections include brief text descriptions and a quick walkthrough video. Thus, you will find all the information presented quite easy to absorb. The screenshot below will give you an idea on how the Getting Started Guide looks like.
The guide is not only designed to help you understand everything you need to do to get started in using the tool. For one, it is not entirely passive as you can input your website's name, your tagline, as well as upload the logo to use for your website as you walk through the steps provided in the guide.
The final step in the walkthrough will ask you to select one from among the pre-built layouts that come with the tool. However, if you prefer to begin with a blank page, you can do so as well. Regardless of your preferred option, the next display you will see on the screen will be the WordPress Theme Customizer's upgraded version.
There are several groups that the main customization options fall under. More options will appear once you click on a particular group. The process will go on until you reach the actual settings level. The screenshot below provides an idea on what to expect while in the customization settings screen.
You can customize practically all the aspects of your website via the settings menu. These include:
The navigation menus to display, and where to display them

The sidebars to display, and where to display them

The layouts for the headers and footers

Whether or not your header is sticky

Widgets

Fonts

And many other options
All the changes made through the customizer are applied to your project in real time. There is a live preview that will allow you to see the effects of the options you selected for your page, as well as how they will appear. It is obvious that this is one important feature that you need to have access to. You will definitely have a lot of use for it.
When the time comes that you need to see your page from the point of view of your intended site visitors, sans the customizer options on the screen, you can just press the preview button. The page, as how your visitors will experience your site, will be opened in a new tab on your browser. Having said that, however, even just using the customizer view will already provide you with a more or less accurate display of your page, and thus, you need not resort to using the preview icon too often.
The process of creating a custom layout for your site involves adding a widget first into a page. You then customize the widget to suit your particular needs. To do this, just go to the customizer's Edit Layout section, then choose the widget you want to use from among the active widgets on your site. These include that come built-in with Layers, the core WordPress Widgets, as well as other widgets that may have come from 3rd party plugins that may be active on your site.
After you have selected the widget to include in your website, you can now proceed to customizing it. The controls may vary, depending on which particular widget you have selected. In general, however, you will find a lot of detailed settings that you can take advantage of.
The entire Layers interface is well thought-out and designed in a functional way. Thus, it is quite easy to use and get used to. Whatever icon you select is guaranteed to work as intended. You will feel like, you already know what will happen once you click on a particular icon, and the tool usually does not disappoint.
If you need to add content to your page or set up a widget, you can count on the design bar to provide you with more control on how your widget will appear. You can alter the layout, change the formatting of the text, set up a background image, as well as include your own customized CSS, if necessary. However, these all depends on the particular widget you are using.
Once you are done adding content to your webpage, and you have sufficiently customized how it looks, your work is now ready to be published. If you are making a static website homepage, you may first want to take a look at the customizer settings to select which among your designs is to have the distinction of becoming your website's front page.
The rest of the pages you have created using the Layers tool may then be included and designated to serve as the navigation menus for the site. You can do this through the core menu editor of WordPress itself. This way, your site visitors will be able to access the various pages on your site, just like how they would do it on a regular WordPress website.
Just like when working on any other project, you may need to review or go back to any of the other pages you created using Layers for some minor edits or modifications. You can do this easily. Just access the page manager screen of WordPress, then open the page that you want to review or edit.
Recommendations and Conclusion
This review finds the Layers WordPress website building tool to be among the most user-friendly and most intuitive interfaces around. A good idea that we strongly recommend is to use the WordPress Theme Customizer to help you build your site layouts.
Layers made the right decision in choosing the interface to offer. This is because it allowed Layers to assume the look and feel of being a part of your WordPress website's admin area, instead of being just the added-on extra that it really is. If you have been using WordPress for some time now, or have gotten used to the platform, then it is highly recommended that you soon include Layers in your projects.
Meanwhile, if you are just a recent WordPress user, and is still in the process of familiarizing yourself with the website hosting platform, getting Layers now would also bring you a lot of benefits. For one, you can quickly get started on your website building project simply because you only have a single new interface to learn and work with.
The extra controls that come with layers provide to the core controls already included in the customizer tool. More importantly, these controls are very convenient to use such as the controls that allow you to modify the content and appearance of the widgets.
On the other hand, you can easily make sense of what the icons and other visual controls are for just with a single glance. The addition of the Getting Started Guide – complete with walkthrough videos and descriptive text – is a brilliant idea. It is very useful, especially for first time users of Layers.
Layers is not perfect, however. While it obviously has a lot of advantages, just like most other products on the market, it also comes with a few downsides. To allow you to decide whether Layers is really the right tool for your website building projects, you need to know the product's downsides as well.
Compared to other builder tools in its class, Layers doesn't have as many superior custom-built widgets and pre-built page templates. While there is no question that the page templates included in the tool are impressive enough, there simply is not enough of them to select from. Likewise, some of the templates do not have the "wow" factor that you see from other templates from time to time.
As for the widgets, the current lineup offered by Layers is no doubt impressive, but it definitely would not hurt if some more are added. This will no doubt make the tool's feature list more competitive and more formidable.
Having said that, it is also worth mentioning that being a new entrant to the WordPress site builder tool niche, you can reasonably expect Layers to include a lot of improvements in the future.
Overall, Layers offers users an intuitive interface to use for creating custom website designs for WordPress. You do not need to be equipped with a good amount of design skills to make your website work, although it would be an advantage. However, with Layers, you can turn all the ideas in your head into actual pages – in a relatively easy manner. After all, that is what really matters.
So, is Layers the ideal WordPress website builder for you? After learning about all its features and weighing them against the few downsides, the answer should be quite obvious.
If you'd like to see a few more options for your website, we've got themes for all occasions.  Video portfolios, personal blogs, WooCommerce shops and magazine templates too.
ReachWord SEO Techniques for WordPress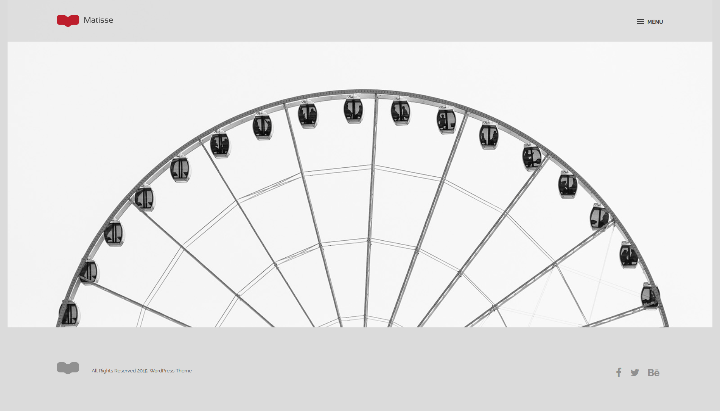 This is some awesome stuff from a buddy of mine who started a company called Reach SEO.  They're all about SEO for WordPress and I've asked him to give us a little rundown on what it takes to get rankings that are rock solid and reliable.  This is what he has to say.
If you want to reach the most folks who want to access the content you've created, there are a few things you can do to reach the most people possible.
So, I've been at this SEO game for some time now and trying to reach the most people possible with creative, effective SEO.  I've looked for the most effective, most consistent techniques you can utilize to drive traffic to your website.  For some niche markets, just having the right WordPress magazine theme is enough, but for some, it isn't.  I've worked hard at this for a few years now and What I've found is this.
Content.
That's it, that's easily the most important thing on the internet.  Creating posts of high quality, posts that people will want to see, posts that people react well to and that give good value for your time clicking on them, that's what drives traffic.
Sure, internal links are important too, links to similar content can also help you reach the most amount of people you can.  SEO is an ever changing game but making sure you keep your content fresh is simply put, the best thing you can do to ensure you get the rankings you want to get.
If you're looking for some amazing themes to help you get the content you need to get, the content your site deserves, another thing you can do is select the right theme.  We're in the business of finding amazing WordPress themes and reviewing them for quality.  SO whether you're looking for a WordPress minimalist theme or a personal blog WordPress theme, we've got you covered.  These themes are the best of the best.
There are a lot of things you can do to make sure your site is ready for the bigtime.  Fast load times are critical.  A theme that makes visitors want to stay for an extended period of time is equally important.  If you're selling products in your own online shop, a WordPress WooCommerce theme with the right set of features, a user-friendly design and great SEO optimization, that's also important.
It's also smart to check out sites like Ahrefs or SEOMoz to help make sure your site is optimized as well as it can be.  That kind of stuff is often overlooked, but it's really, really important.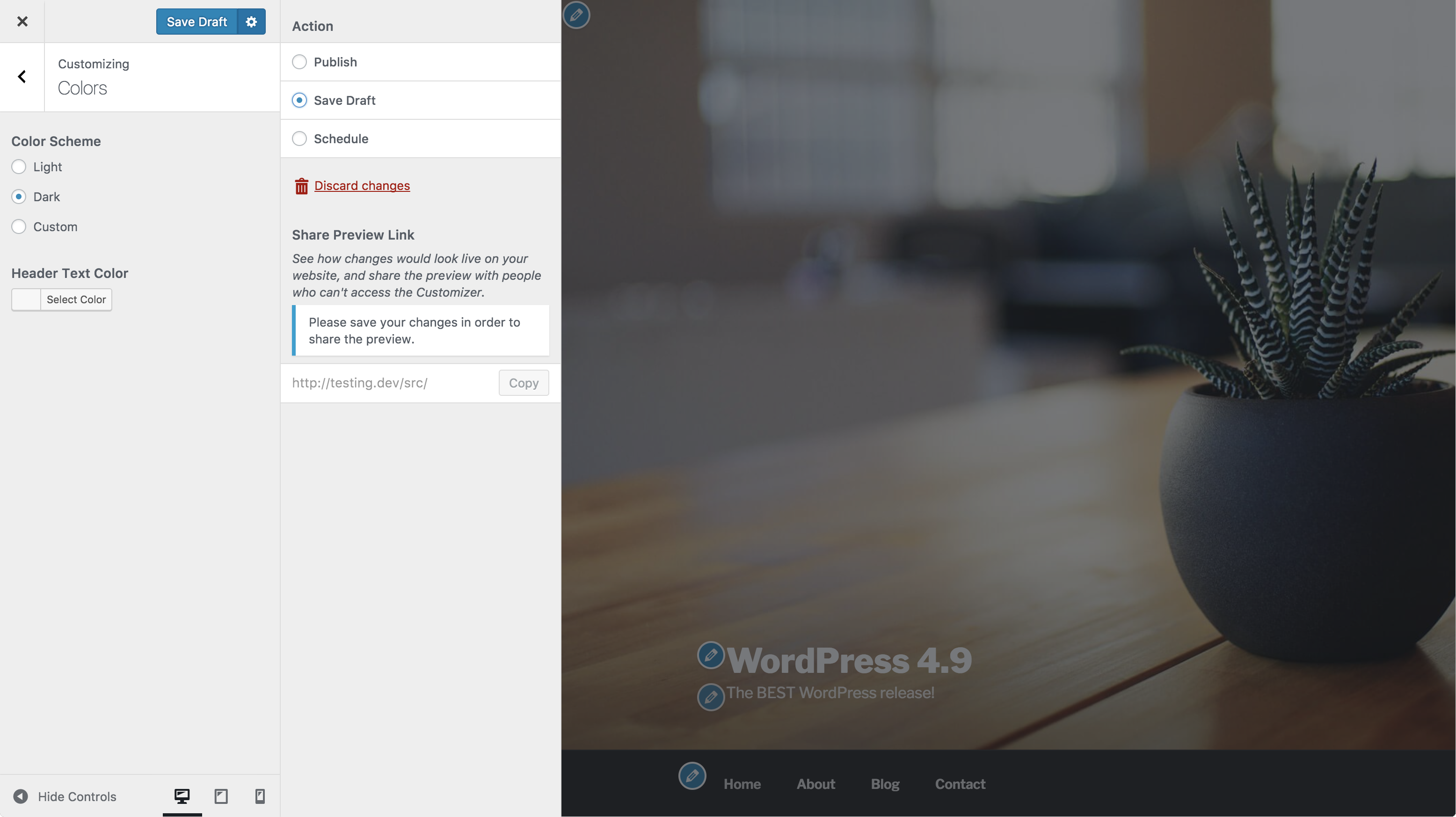 Well, the time has come to say hello to WordPress v4.9, so I thought I'd check in to see what you can expect to see with this new version.  I did some scouring of the internet to see what people are saying and the word is, it's a big improvement over previous versions.
WordPress 4.9 is named Tipton, after jazz musician Billy Tipton.  All the major updates are named for jazz musicians and singers, if you didn't already know that.  There are tons of features to help smooth work flow and make for a better user experience overall, particularly in terms of coding errors.
There are design drafts, scheduling, preview links and locking, the theme customizer workflow is greatly improved for collaboration between different bloggers or content creators.  Also, there's code syntax highlighting and error checking.  That's meant to make for a smooth site building experience.  Oh yeah, there's also a slick looking gallery widget now too, which is very nice and it's a great way to lay out your images.
Customizer Workflow Improvements
Draft and Schedule Site Design Customizations – Yes, you read that right. Just like you can draft and revise posts and schedule them to go live on the date and time you choose, you can now tinker with your site's design and schedule those design changes to go live as you please.

Collaborate with Design Preview Links – Need to get some feedback on proposed site design changes? WordPress 4.9 gives you a preview link you can send to colleagues and customers so that you can collect and integrate feedback before you schedule the changes to go live. Can we say collaboration++?

Design Locking Guards Your Changes – Ever encounter a scenario where two designers walk into a project and designer A overrides designer B's beautiful changes? WordPress 4.9's design lock feature (similar to post locking) secures your draft design so that no one can make changes to it or erase all your hard work.

A Prompt to Protect Your Work – Were you lured away from your desk before you saved your new draft design? Fear not, when you return, WordPress 4.9 will politely ask whether or not you'd like to save your unsaved changes.
Coding Experience Enhancements
Syntax Highlighting and Error Checking? Yes, Please! – You've got a display problem but can't quite figure out exactly what went wrong in the CSS you lovingly wrote. With syntax highlighting and error checking for CSS editing and the Custom HTML widget introduced in WordPress 4.8.1, you'll pinpoint coding errors quickly. Practically guaranteed to help you scan code more easily, and suss out & fix code errors quickly.

Sandbox for Safety – The dreaded white screen. You'll avoid it when working on themes and plugin code because WordPress 4.9 will warn you about saving an error. You'll sleep better at night.

Warning: Potential Danger Ahead! – When you edit themes and plugins directly, WordPress 4.9 will politely warn you that this is a dangerous practice and will recommend that you draft and test changes before updating your file. Take the safe route: You'll thank you. Your team and customers will thank you.
Tons of Widget Updates
The New Gallery Widget – An incremental improvement to the media changes hatched in WordPress 4.8, you can now add a gallery via this new widget. Yes!

Press a Button, Add Media – Want to add media to your text widget? Embed images, video, and audio directly into the widget along with your text, with our simple but useful Add Media button. Woo!
Enhance Your Site Building
More Reliable Theme Switching – When you switch themes, widgets sometimes think they can just move location. Improvements in WordPress 4.9 offer more persistent menu and widget placement when you decide it's time for a new theme.

Find and Preview the Perfect Theme – Looking for a new theme for your site? Now, from within the Customizer, you can search, browse, and preview over 2600 themes before deploying changes to your site. What's more, you can speed your search with filters for subject, features, and layout.

Better Menu Instructions = Less Confusion – Were you confused by the steps to create a new menu? Perhaps no longer! We've ironed out the UX for a smoother menu creation process. Newly updated copy will guide you.
Just for the Developers
Customizer JS API Improvements – We've made numerous improvements to the Customizer JS API in WordPress 4.9, eliminating many pain points. (Hello, default parameters for constructs! Goodbye repeated ID for constructs!) There are also new base control templates, a date/time control, and section/panel/global notifications to name a few. Check out the full list.

CodeMirror available for use in your themes and plugins – We've introduced a new code editing library, CodeMirror, for use within core. CodeMirror allows for syntax highlighting, error checking, and validation when creating code writing or editing experiences within your plugins, like CSS or JavaScript include fields.

MediaElement.js upgraded to 4.2.6 – WordPress 4.9 includes an upgraded version of MediaElement.js, which removes dependencies on jQuery, improves accessibility, modernizes the UI, and fixes many bugs.

Roles and Capabilities Improvements – New capabilities have been introduced that allow granular management of plugins and translation files. In addition, the site switching process in multisite has been fine-tuned to update the available roles and capabilities in a more reliable and coherent way.
And probably a ton more.  but that's enough of a list for now.  What do you think, have you updated yet?  I have and love the experience so far.
If you'd like a great looking WordPress theme to install on your fresh update of WordPress 4.9, check out our WordPress video themes, WordPress personal blog themes or WordPress minimalist themes, which are three of our most popular posts.  Or, check out a free theme like Silverbow or Quartz.