Salient, Premium WordPress Theme Based On Visual Composer
Salient
The Salient Responsive Multipurpose Theme was created with a stunning design and a classic, stylish presentation.  They clearly put a ton of thought into this theme and it shows, it's one of the most popular WordPress themes around, consistently near the top in weekly sales on Themeforest.  WordPress websites and blogs have long been seen as a ready-made a way to get a website online fast, with the options you need for creating a custom experience, but at times, it's required a little bit of coding knowledge.  Those days are gone.  Now, WordPress requires little or even no skills as a web designer and developer to get around the back-end, making a custom site that is pleasing to look at and feature-rich is well within the grasp of beginners.  That's because of the already customized codes made into templates, which is where Salient comes in.  If what you are looking is a theme that gives you a feel of strong corporate power while being casual at the same time, for as low as $60, the Salient – Responsive multipurpose theme is all yours for the taking.
Technical Features
The responsive and retina ready feature built into the theme means your users will enjoy your WordPress website on any and every kind of platform.  No matter what device they are viewing your website on, it's going to look fantastic. You need not worry about the layout either.  Whether it's portrait, landscape, mobile, desktop or any other interface imaginable, it's simply going to look stunning. But we've come to expect Retina displays and responsiveness.  Those were groundbreaking features when Salient came on the scene, but buyers expect more now.  Fortunately, there's a lot more that went into making Salient the highest selling creative theme ever on Themeforest.
Custom Features
You'd expect Salient to be highly customizable and you'd be correct, it's got unlimited color schemes and a bold, daring selection of fonts to make a wonderful presentation for your text.  People may not notice typography that often, but they know what they like.  A well integrated font choice will go a long way to creating a feel on your website that gets the message you want to get across.  There's also a cool icon collection for those who want a little bit of visual stimulation on the page.
Theme options are plentiful and easy to manage with a dedicated theme options panel.  Upload your logo, change the header opacity, color scheme, choose from a boxed layout or wide screen and manage tons of other options from a single area that's easy to understand.  You really don't need to be a programmer to get started with Salient.
You can add a WooCommerce store too, since this WooCommerce compatible theme is perfectly well suited to business, since it's attractive, stylish, polished and calm.  This theme can look so many different ways, whether you're running a jewelry store, an electronics store, clothing shop or something else, the style of the website will fit your business, not the other way around like some themes.
Visual Composer
There's a highly tailored version of Visual Composer included, so you can create the layout you desire by dragging and dropping content modules where you want them.  Testimonials, portfolios, text blocks, blog posts, image galleries, pricing tables and a lot more content options are available for your selection.  There's no reason to settle for somebody else's design when you can customize this theme perfectly to fit your website and your specific needs.  Then again, sometimes Visual Composer is used as a designer's crutch.  I don't think so in this case, but I just thought Id mention it.
Blogging
If blogging's your thing, choose one of several awesome post types for your content.  There's a bunch of portfolio options too.  Salient is SEO friendly, works great with Yoast or other popular WordPress SEO plugins, since it's fast and slimmed down, it really will help your rank higher in the SERPs.
Support
Concerned about getting started?  Don't be.  This theme has an extensive amount of documentation to help get you started.  There's even an extensive library of video narration tutorials included, which will walk you through every aspect of getting started with and customizing your website.  There's one click demo installation to get the site online and looking exactly like it does in the demo, which is helpful if you've never set up a truly premium theme before.
One thing that does concern me, check this out.
I mean, that's sluggish.  Of course, who has a page with that many images, but still.  Wow, 108 requests is a ton.  This theme isn't bloated, so I'll chalk it up to the demo just having tons and tons of content, some of it not properly optimized for load times.  I guess they figure if you're interested in buying the theme, you'll stick around to watch it load up.
Here are a couple of different looks that can be created with Salient.  Have a look at the blog demo.
And here's the portfolio demo.
So, I'm going through all of my old reviews to make sure themes are still relevant and to make sure I'd still recommend them.  I definitely stand behind Salient.  The support is still strong, the theme is updated very consistently and they keep adding features.  Salient, still a winner.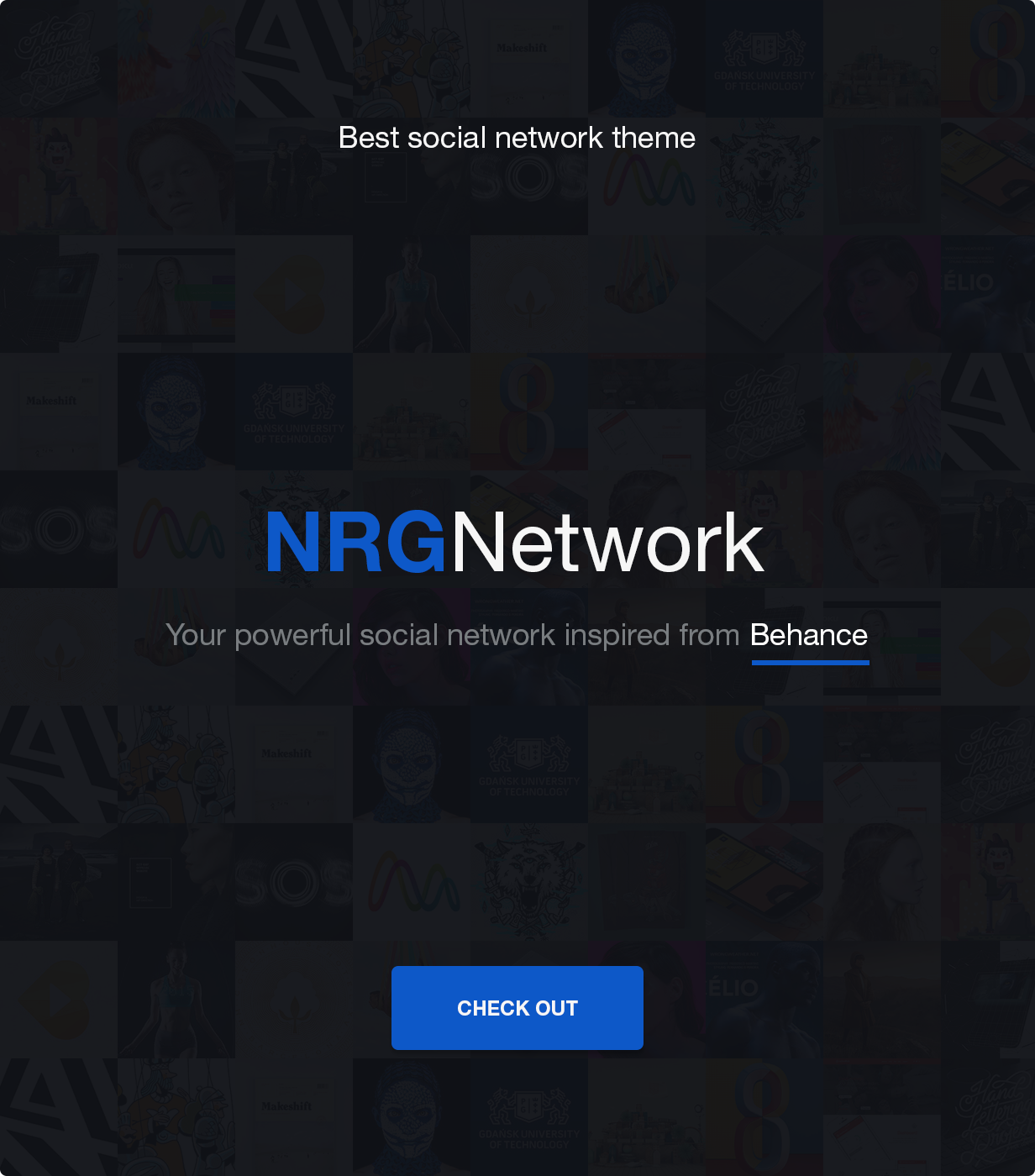 Social networking sites only work if they are user-friendly, attractively designed, and have plenty of positive traits that people want. When you choose the NRG Network theme in conjunction with the powerful WordPress plugins BuddyPress and bbPress, you can deliver on every promise. Site visitors can sign up easily with a new user name and password or by using their Facebook account. BuddyPress offers many specific addons so you can customize your website to be the perfect solution for either a diverse group of socializers or a unique niche group.
Packaged with NRG Network theme is Visual Composer, the ultimate drag and drop page builder plugin that usually comes with a premium cost. Revolution Slider is another premium option that allows you to create dynamic slideshows with attention-grabbing graphics or videos. If you do not wish to build site pages from scratch, NRG comes complete with a collection of pre-made templates to help you launch your new social network more quickly.
For additional bbPress and BuddyPress themes, try this collection.
Companies, freelancers, and other professional who want to create a social community or network for their industry or niche should consider the Bounce theme. It integrates smoothly with both bbPress and BuddyPress on any WordPress site. Every bit of the backend power is handled by these plugins, but the design elements and features come from Bounce. Customize the home page to suit your particular needs. Copy and paste shortcodes to add unique content blocks or capabilities. Choose from one of the seven attractive color schemes included with this theme.
For flexibility and professional style, the Bounce WordPress theme offers everything you need for bbPress and BuddyPress social platform creation. It offers truly flexible and completely responsive styling.  This unique design focuses on helping people make new friends and send messages, the notifications look good and sending out messages has never been easier.  If you want to take full advantage of BuddyPress, it's best to select a theme that is specifically designed to take advantage of all of the wonderful features that this free plugin has to offer.
---
Many BuddyPress-specific themes do not integrate well with WordPress Multisite, but Plexus was developed to do just that. Even if your goal is not a website network, the Plexus theme still provides everything you could want. Its unique design will push your site to the forefront of visitors' minds as they appreciate the clean, stylish, and user-friendly look and feel. Although it appeals straight out of the box, site owners can also do a huge number of customizations and edits to build a unique style. Any site built with the Plexus Buddypress theme offers retina-ready graphics and responsive layout options.
Other premium plugins packaged with the Plexus WP theme include the user-friendly Visual Composer drag and drop page builder and Layer Slider, which helps you create stunning slideshows on any page. A ton of eye-catching elements and content blocks can be arranged however you like to properly display your information and graphics. All of these features and the seamless integration with BuddyPress social networking and bbPress message board community addons make the Plexus theme a grand solution for anyone with an ambitious project to complete.
Well, Plexus has been removed from the ThemeForest marketplace, but more BuddyPress themes can be found here.
---