RokoPhoto Pro, Parallax WordPress Photography Portfolio

RokoPhoto Pro is a powerful and beautiful WordPress photography theme by ThemeIsle, it's great for nearly any sort of photo portfolio from photojournalism to sports photography, landscapes to wedding photographers to gorgeous portraits.  RokoPhoto simply has a great looking design that makes your readers focus on your images at all times.  With a great looking parallax scrolling option, RokoPhoto even has a little style to go along with it's professional and bold layout and typography.
Just add images!
Hey, don't believe us though, check out what these two end users have to say about RokoPhoto
Pretty good stuff, you can tell they find it as simple to use as can be, easy to customize and powerful enough to handle anything you could possibly want to throw it's way.
Like all ThemeIsle themes, RokoPhoto features high-class WooCommerce functionality so you can create a wonderful looking online store in minutes, all from the comfort of your home or office, all without having to learn a single bit of code.  That's pretty sweet, if you ask me.  Now, what if RokoPhoto is a little too specific in it's photography style but you still want to use WooCommerce?  That's where this list comes in.  The absolute best WooCommerce themes around.  WooCommerce works every time.
For photographers who want a professional way to frame their work, RokoPhoto is clearly among the very best options around.  Other great photo themes can be found here.  I love the layout of this theme, the bold grid design, the typography.  It's really a wonderful all around theme for any type of photograph.  I've seen examples of folks who have done some incredible stuff with RokoPhoto.
Check these out.
madisonmah.com – Gorgeous WordPress Portfolio Theme
costen.me – WordPress Portfolio Theme for Cosplayers
revers.in – RokoPhoto Based WordPress Fitness Club Theme
The list goes on and on, I could do this all day, but I won't.  I'll save you from me blathering on and on.  Anyway the bottom line is this, RokoPhoto is a great theme if you want to create a memorable portfolio that showcases your images, your design work or your projects in a professional but elegant way.  I think you're going to be satisfied if you download this awesome template.
RokoPhoto is a fantastic WordPress portfolio and photography theme from Theme Isle, and it unites the visual aesthetic with the modern and professional functionality needed to showcase your pictures to turn them into transcendent works of art from the simple pixels that they are to start out. It's a multipurpose theme that functions flawlessly for illustrators and photographers who desire to present their works in a refined and professional manner.  Palette and the layout is kept to a minimum to enable the pictures to take centerstage. The light typography set against a dark backdrop of RokoPhoto helps to paint a minimal however professional style to your portfolio, raising the opportunities that prospective customers would take notice of your work.
You can post links to Dribble page, or your Instagram, Behance and let your audience see your works-in progress, in addition to your other content.  Making use of the layout design that is 100% responsive, RokoPhoto places your photos on the front and makes sure they fit attractively whether seen on a high-resolution or a miniature smartphone display office computer monitor. RokoPhoto mechanically fixes rows and the columns to prevent illustrations and your pictures from being distorted so they could be seen in pixel-perfect quality.  Got a gorgeous picture that sums up your unique view? You can take advantage of ribbon-style rows between segments to additionally describe yourself, or you can add buttons that link to other material that is fascinating that you simply create. RokoPhoto lets you customize your website looks to your crowds, so you could deliver the best experience for your artwork.
---
Interested in other themes by ThemeIsle?  Check out Zerif Pro here.   Or, try Hestia Pro here.  Both are great ways to get an incredible WooCommerce ready site online quickly and easily.  You're going to love the way these amazing little one page business and portfolio themes look.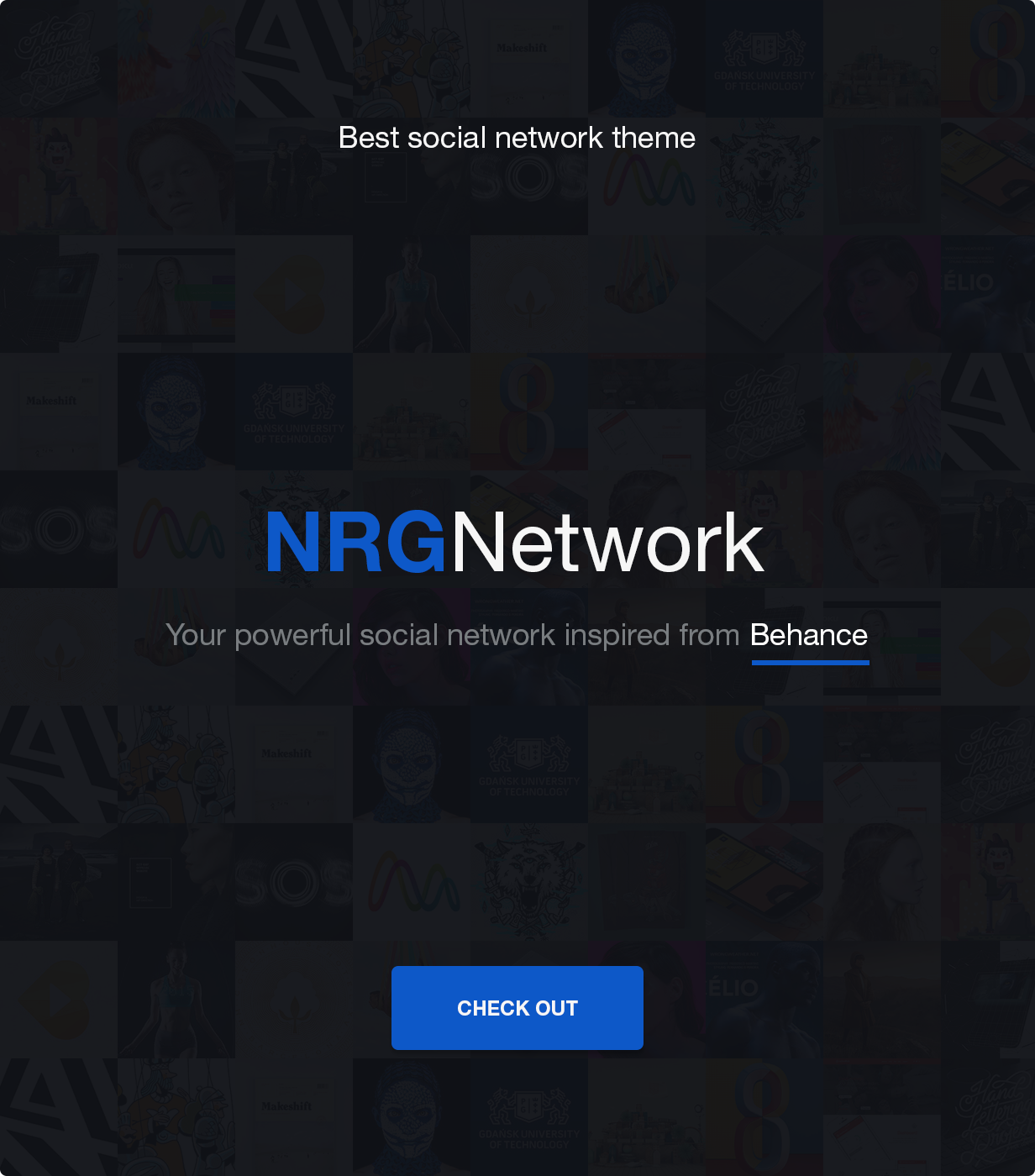 Social networking sites only work if they are user-friendly, attractively designed, and have plenty of positive traits that people want. When you choose the NRG Network theme in conjunction with the powerful WordPress plugins BuddyPress and bbPress, you can deliver on every promise. Site visitors can sign up easily with a new user name and password or by using their Facebook account. BuddyPress offers many specific addons so you can customize your website to be the perfect solution for either a diverse group of socializers or a unique niche group.
Packaged with NRG Network theme is Visual Composer, the ultimate drag and drop page builder plugin that usually comes with a premium cost. Revolution Slider is another premium option that allows you to create dynamic slideshows with attention-grabbing graphics or videos. If you do not wish to build site pages from scratch, NRG comes complete with a collection of pre-made templates to help you launch your new social network more quickly.
For additional bbPress and BuddyPress themes, try this collection.
Companies, freelancers, and other professional who want to create a social community or network for their industry or niche should consider the Bounce theme. It integrates smoothly with both bbPress and BuddyPress on any WordPress site. Every bit of the backend power is handled by these plugins, but the design elements and features come from Bounce. Customize the home page to suit your particular needs. Copy and paste shortcodes to add unique content blocks or capabilities. Choose from one of the seven attractive color schemes included with this theme.
For flexibility and professional style, the Bounce WordPress theme offers everything you need for bbPress and BuddyPress social platform creation. It offers truly flexible and completely responsive styling.  This unique design focuses on helping people make new friends and send messages, the notifications look good and sending out messages has never been easier.  If you want to take full advantage of BuddyPress, it's best to select a theme that is specifically designed to take advantage of all of the wonderful features that this free plugin has to offer.
---
Many BuddyPress-specific themes do not integrate well with WordPress Multisite, but Plexus was developed to do just that. Even if your goal is not a website network, the Plexus theme still provides everything you could want. Its unique design will push your site to the forefront of visitors' minds as they appreciate the clean, stylish, and user-friendly look and feel. Although it appeals straight out of the box, site owners can also do a huge number of customizations and edits to build a unique style. Any site built with the Plexus Buddypress theme offers retina-ready graphics and responsive layout options.
Other premium plugins packaged with the Plexus WP theme include the user-friendly Visual Composer drag and drop page builder and Layer Slider, which helps you create stunning slideshows on any page. A ton of eye-catching elements and content blocks can be arranged however you like to properly display your information and graphics. All of these features and the seamless integration with BuddyPress social networking and bbPress message board community addons make the Plexus theme a grand solution for anyone with an ambitious project to complete.
Well, Plexus has been removed from the ThemeForest marketplace, but more BuddyPress themes can be found here.
---