This is Pharos, a wonderful WordPress theme for building simple online shops.  This theme is a dream come true if you want to get your business online quickly and efficiently.
Pharos is highly customizable, sales focused and purely simple WooCommerce theme for WordPress online shop. The design of this awesome theme is highly aesthetic and optimized for boosting conversion rate. It means investing one time in Pharos, you can not only get access to purely crafted responsive and mobile friendly eCommerce website, but also get help to helps to climb on the mountain of online entrepreneurial success.
With this incredible Pharos, anyone having no experience of coding and programming knowledge can create website for clothing store, fashion kid store, t-shirt store, women's store, makeup store, perfumes store, wedding store, bag store, beauty shop, lingeries store and more.
For more WooCommerce themes, check out this collection.  But if it's minimalist themes you're looking for, maybe this collection is more your style?
Pharos is well-equipped all to allow you quickstart with your online store. It offers well-documentation and top-notch technical support. On top of that, it comes bundled with a powerful page builder, responsive sliders, client testimonial showcase, image and color switcher, and a lot more.
To make your online store successfully, we the team of ThemeHippo, spent more 6 months to group up a theme that allows you unlimited flexibility to customize your store look endlessly. Take a look at the major feature of Pharos
Responsive and Mobile Device Friendly: Phroas is the credibly wonderful theme, has been crafted with modern equipment that allows you to create responsive eCommerce store which can easily tailored with iPhone, iPad, tablet and other mobile devices.
Powerful Page Builder: ThemeHippo baked page builder called Ultimate Page Builder allows you to create stunning WordPress pages on the fly. It's easy to use and help you to fulfill your site design requirement with ease.
Unlimited Typography: Typography defines the smartness of an eCommerce store. So, we have packed over 600 free Google fonts with Pharos so that you can get control over site typography comprehensively.
Stylish MegaMenu: Want to go beyond the simple menu to display many of store content? Easy to configure MegaMenu helps you to present those content with engaging style.
Search Engine Optimized: When it comes to online, its goal of every eCommerce store takes high position in Search Engine result page. Our experience developer has grounded up the stylish eCommerce theme following the best practices of major search engines so that your valuable product can be easily crawled by search Engine bots.
Packed With Child Theme: Child Theme is the awesome feature of the frequently updated WooCommerce theme. It allows you to customize and update your parent theme without any data lose.
Cross Browser Compatibility: Customers may browse your site any of the browsers. To cover them and offer uniformed experience over the browser they browse in. We have added compatibility for IE11, Firefox, Safari, Opera, Chrome, Edge
---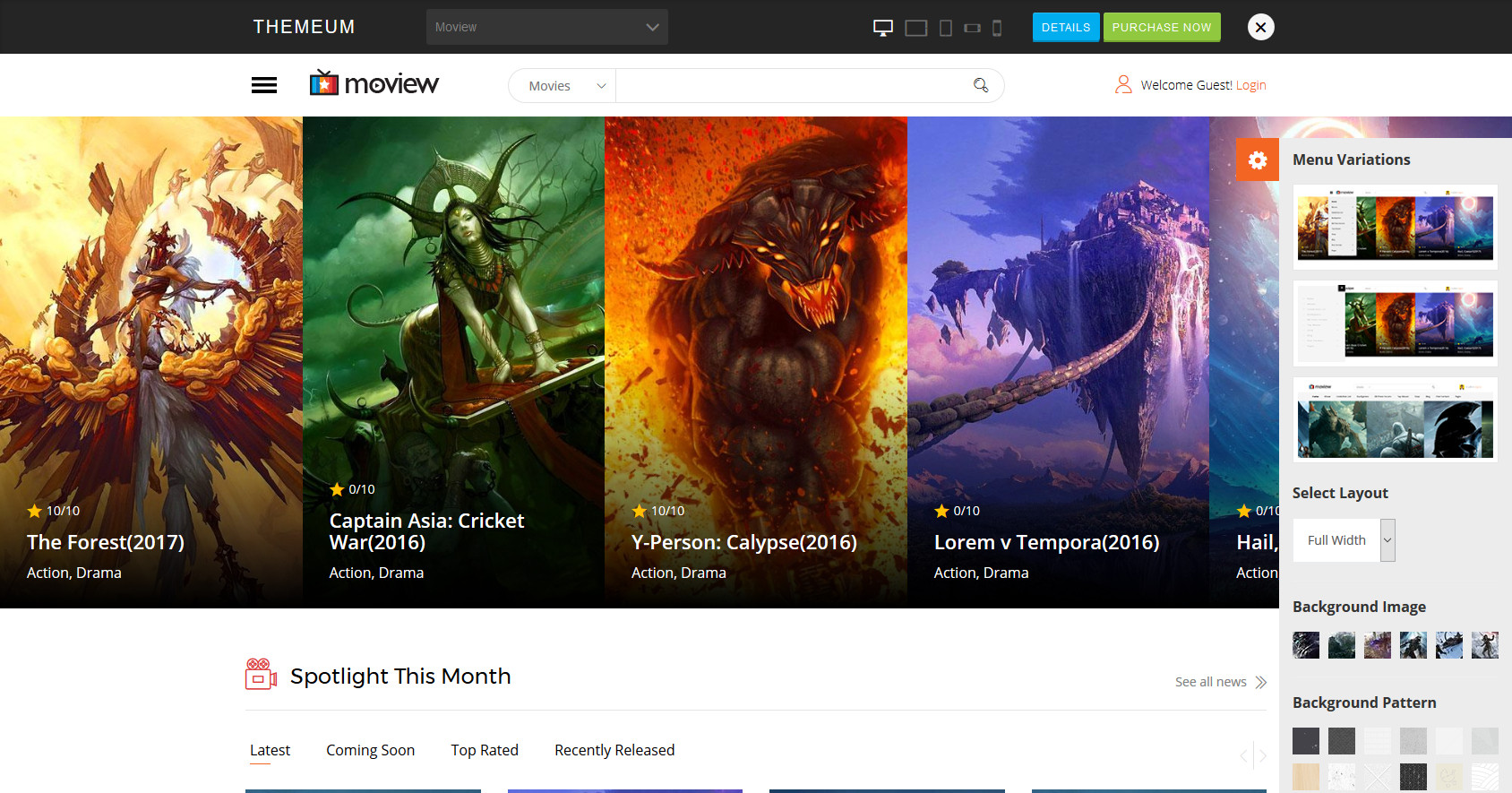 A new, attractive and easy to use movie theme for WordPress, this is called MovieW, by Themeum.
Moview Theme for WordPress 4.5+. Have you ever wanted to create a website similar to IMDb, Rolling Stone, CinemaBlend, TMDB, Rotten Tomatoes or NDTV Movies. Using Moview theme with suggested extensions allows you build movie database with reviews for new and recent movies in theaters, DVD and Blu-ray releases, and film classics. Your site can be a place where everyone goes to discover new movies, video games, television shows and music albums.
MovieW is responsive, it's BuddyPress ready, it's lovely and talented, it's award winning, it's walking the red carpet in style.  Custom backgrounds, Google fonts, boxed or full width layouts, whatever you want, MovieW could help you achieve it.
---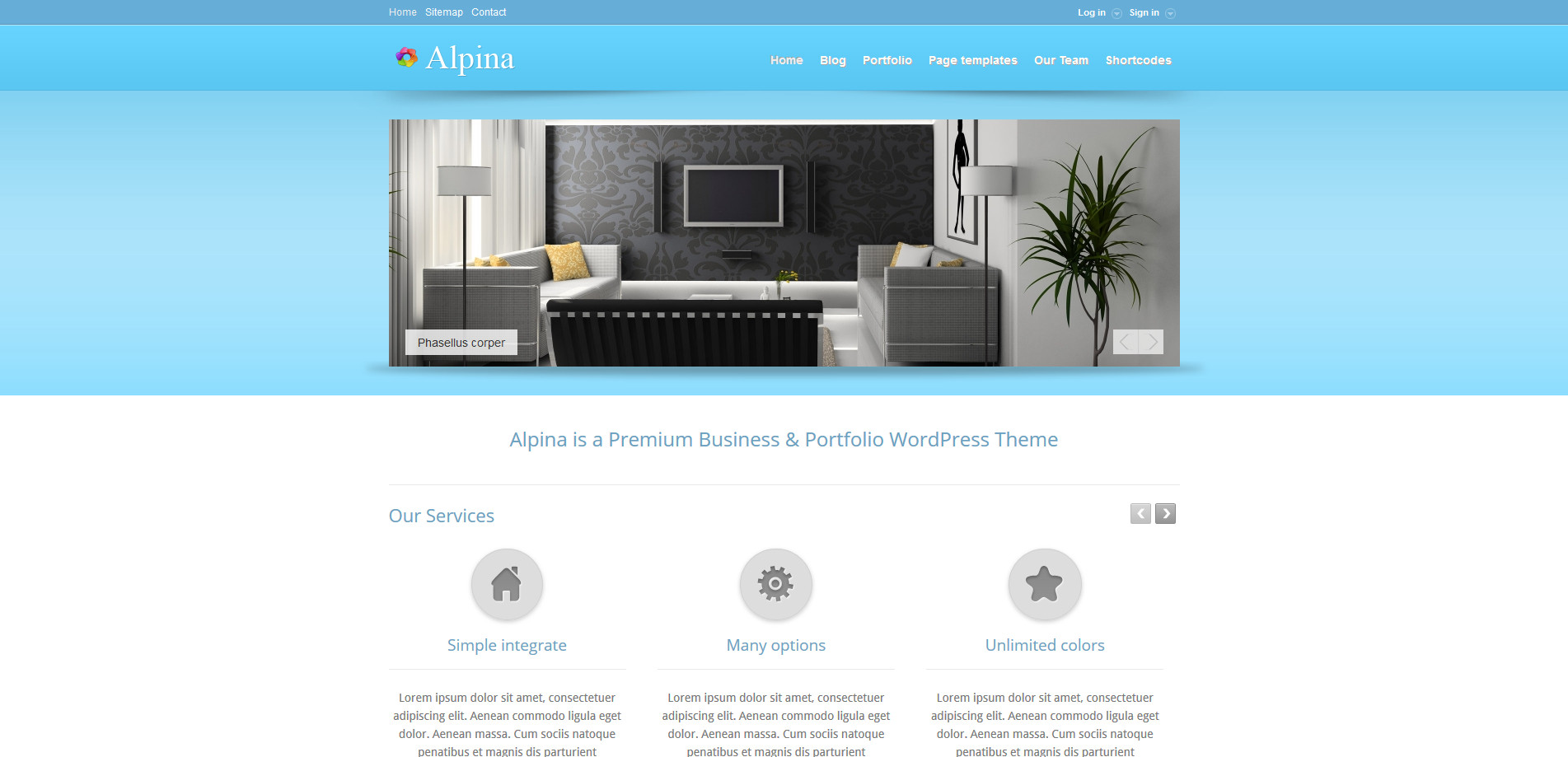 Simple and sort of dated looking, this theme is called Alpina.  I've removed it from all collections because I really don't recommend it anymore, but I'm leaving this review here so I don't get dinged by Google.  Looking for an actually nice looking corporate style theme?  Check out this collection.
The main advantage of this theme is fully customizable theme colors, from theme options panel!  Also, the content of the main page is a custom, and is formed using large amount of theme shortcodes (examples of the main pages in the documentation) that allows you to adapt the theme for yourself and make it completely unique!  In the theme a lot of settings, which you can easily customize the theme, as you need, also documentation and support attached!
Welp, we'll be back again soon for more good stuff.  Until then, so long.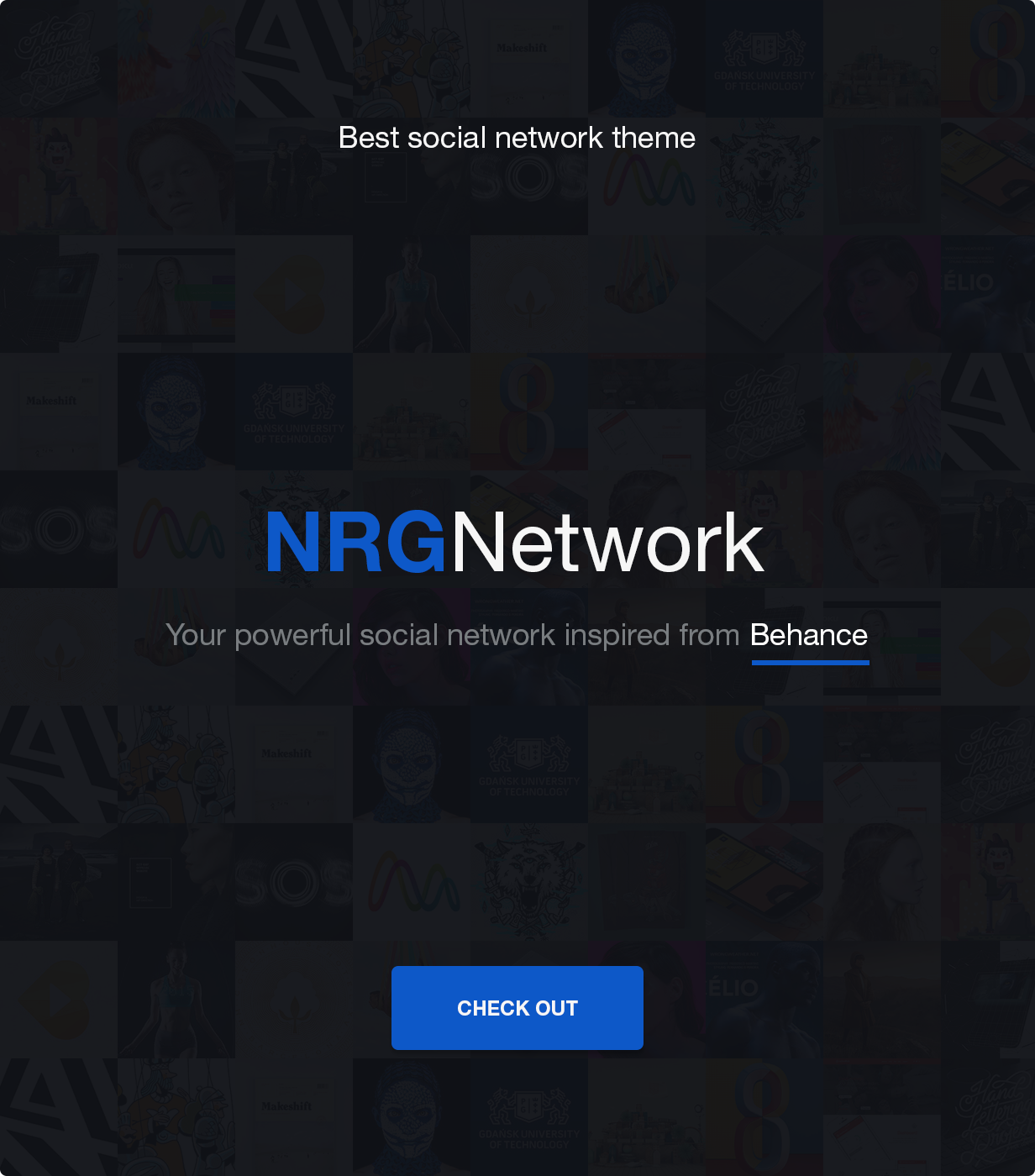 Social networking sites only work if they are user-friendly, attractively designed, and have plenty of positive traits that people want. When you choose the NRG Network theme in conjunction with the powerful WordPress plugins BuddyPress and bbPress, you can deliver on every promise. Site visitors can sign up easily with a new user name and password or by using their Facebook account. BuddyPress offers many specific addons so you can customize your website to be the perfect solution for either a diverse group of socializers or a unique niche group.
Packaged with NRG Network theme is Visual Composer, the ultimate drag and drop page builder plugin that usually comes with a premium cost. Revolution Slider is another premium option that allows you to create dynamic slideshows with attention-grabbing graphics or videos. If you do not wish to build site pages from scratch, NRG comes complete with a collection of pre-made templates to help you launch your new social network more quickly.
For additional bbPress and BuddyPress themes, try this collection.