Are you seeking out a delicious, nutritious, creative and ingenious food blogging theme for WordPress?  A novel looking WordPress theme with a sparkling layout – simple to navigate, with detailed help files and outstanding technical support, offering you a surprisingly simple, intelligent and classical design, astonishing, expertly crafted, clean code that is razor sharp and countless functional, strong customization choices?  Then MasakMak could be what you're looking for, a wonderful food blog theme that will really attract attention to your food and recipes.  With a simple, modern design and a highly functional layout, your recipes take center stage for all the world to see.
Masak Mak was created by a theme developer named widhy980 and this is part of their description of Masak Mak.
MasakMak is a WordPress theme that can be used for food bloggers or Food Recipe, MasakMak designed for recipe web template to presentation how to cook and the ingredient of the food. this theme has design modern and minimalist and easy to customized. you can change color scheme or change your own color.
Okay, that's fine.  One question though, why is this theme so wildly unpopular?  It's been downloaded only seven times in the last year or so.  That's poor.
Well, I looked into the comments section on ThemeForest and found this, from one of the rare confirmed purchasers.  There are (almost) dozens of us!  (Almost) dozens!
Hello! Thanks for your template. I notice some translation issues. For exemple, I post a recipe, and those words are not translated (from top to bottom) : "by" author name …. XX "views" XX "servings" "prev post"

I attempt to update the masamak.pot with poeditor without any success. For exemple, the key "&s servings" in "featured_post.php" is not find. But the key "&s serving" (without s) is ok.
Now, the developer fixed this issue, but it shouldn't have been an issue to begin with.  The purchaser shouldn't be bug checking your theme for you, that should be fixed from the very first download.
Looking at their other themes, it's more of the same, low amounts of sales, spotty support.  Bottom line is this, I'm not going to recommend this theme.  I doubt it's around much longer and there are better looking themes around anyway.
This is usually where I show a couple sites that use Masak Mak and let you see the template in the wild, but I couldn't find any of the seven poor, lost souls who purchased wasted their money on this theme.  Kind of sad.  So, that's all there is to Masak Mak.  We'll be back before you know it with more actually good themes.  Stay tuned.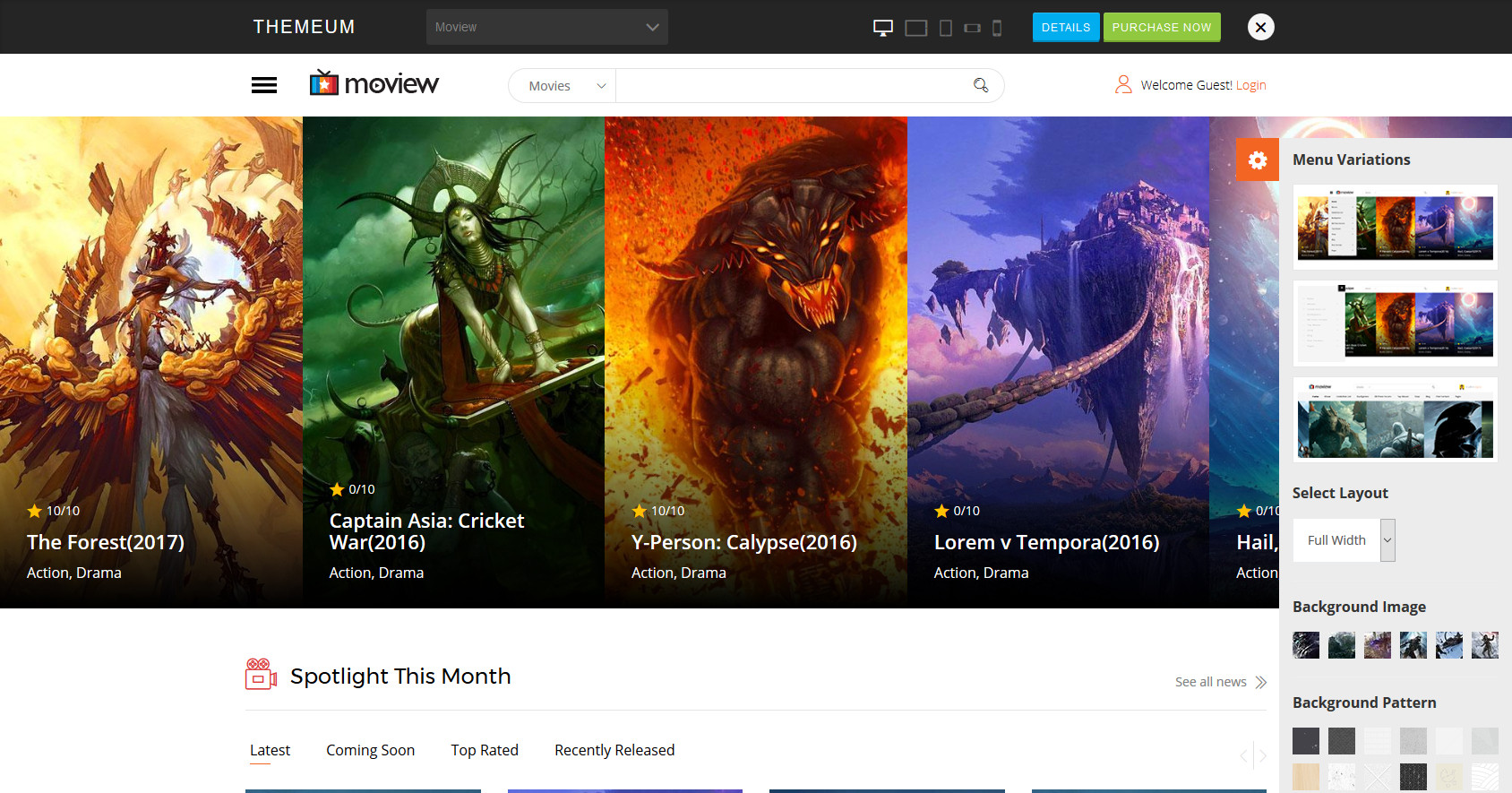 A new, attractive and easy to use movie theme for WordPress, this is called MovieW, by Themeum.
Moview Theme for WordPress 4.5+. Have you ever wanted to create a website similar to IMDb, Rolling Stone, CinemaBlend, TMDB, Rotten Tomatoes or NDTV Movies. Using Moview theme with suggested extensions allows you build movie database with reviews for new and recent movies in theaters, DVD and Blu-ray releases, and film classics. Your site can be a place where everyone goes to discover new movies, video games, television shows and music albums.
MovieW is responsive, it's BuddyPress ready, it's lovely and talented, it's award winning, it's walking the red carpet in style.  Custom backgrounds, Google fonts, boxed or full width layouts, whatever you want, MovieW could help you achieve it.
---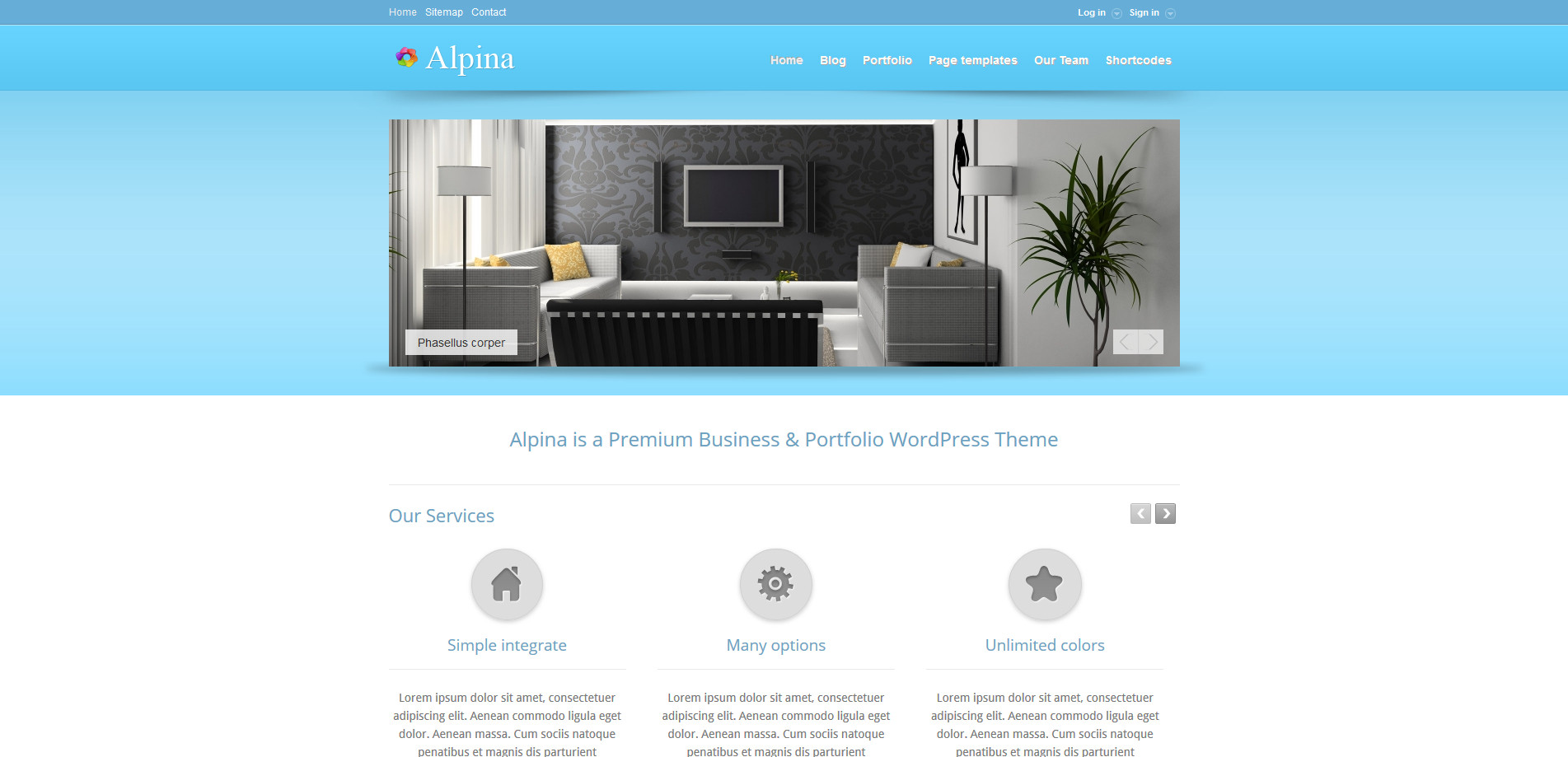 Simple and sort of dated looking, this theme is called Alpina.  I've removed it from all collections because I really don't recommend it anymore, but I'm leaving this review here so I don't get dinged by Google.  Looking for an actually nice looking corporate style theme?  Check out this collection.
The main advantage of this theme is fully customizable theme colors, from theme options panel!  Also, the content of the main page is a custom, and is formed using large amount of theme shortcodes (examples of the main pages in the documentation) that allows you to adapt the theme for yourself and make it completely unique!  In the theme a lot of settings, which you can easily customize the theme, as you need, also documentation and support attached!
Welp, we'll be back again soon for more good stuff.  Until then, so long.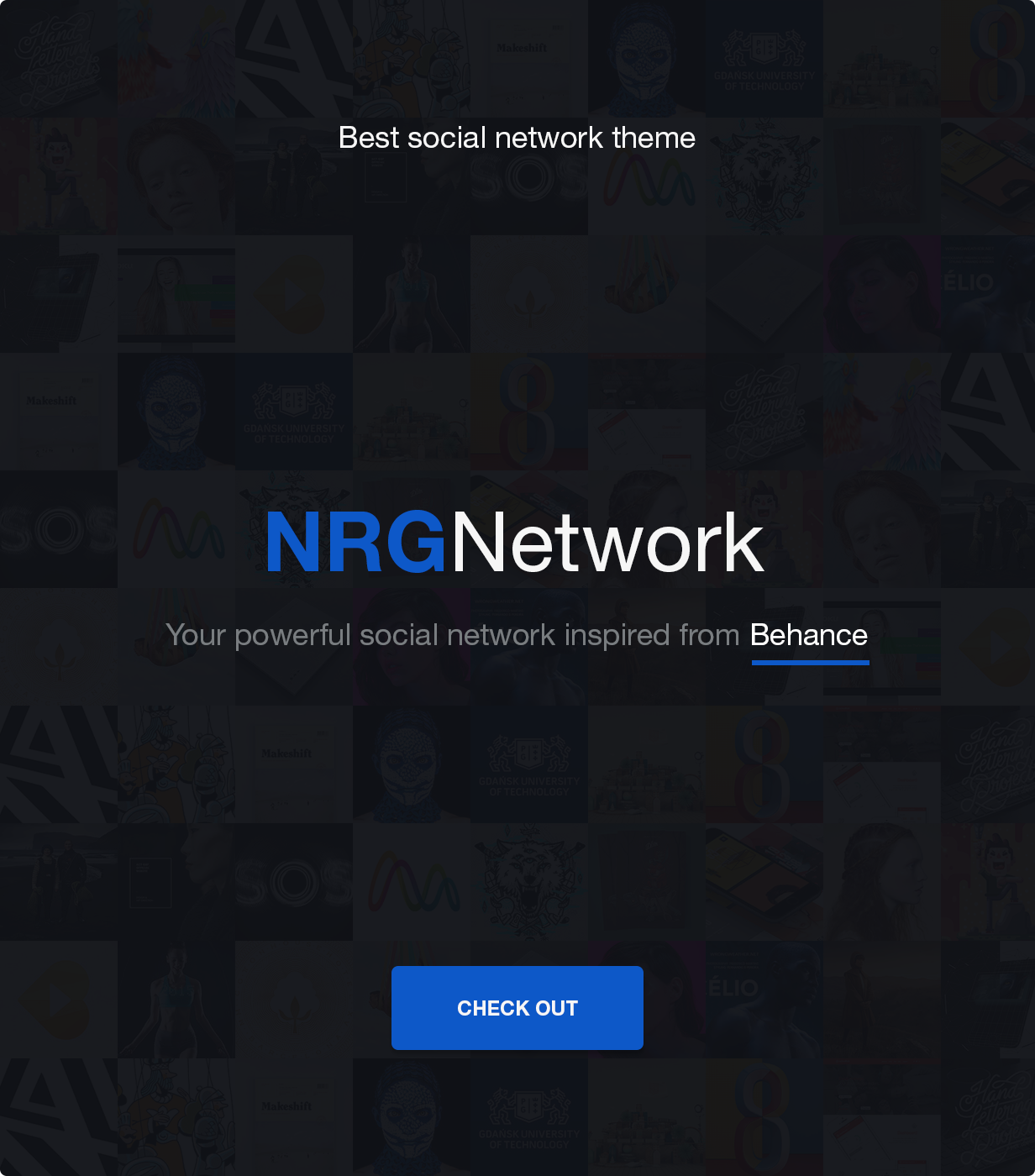 Social networking sites only work if they are user-friendly, attractively designed, and have plenty of positive traits that people want. When you choose the NRG Network theme in conjunction with the powerful WordPress plugins BuddyPress and bbPress, you can deliver on every promise. Site visitors can sign up easily with a new user name and password or by using their Facebook account. BuddyPress offers many specific addons so you can customize your website to be the perfect solution for either a diverse group of socializers or a unique niche group.
Packaged with NRG Network theme is Visual Composer, the ultimate drag and drop page builder plugin that usually comes with a premium cost. Revolution Slider is another premium option that allows you to create dynamic slideshows with attention-grabbing graphics or videos. If you do not wish to build site pages from scratch, NRG comes complete with a collection of pre-made templates to help you launch your new social network more quickly.
For additional bbPress and BuddyPress themes, try this collection.