Loom is a great looking theme from one of my favorite theme developers, Tommus Rhodus.  This theme has a lot going for it, so I'll let them introduce it for us.  Check this out.
Loom is a flat and responsive WordPress Theme with a clean and professional design which will be a great solution for your business, portfolio, blog or any other purpose website. Loom was built with awesome Twitter Bootstrap v3 and it loads of page builder elements pages with unlimited color options. Since it is responsive, the layout will adapt to different screen sizes which will make your website be compatible with any device such as smart phones, tablets or desktop computers.
Over 1000 sales and counting, Tommus Rhodus really knows how to create a big hit!  That's right, it seems like all of their themes are massive hits.  This one has almost a 4.9 rating too, which is really, really good.  It seems you can't please everybody, so it's gotten a handful of 4 star reviews to bring it back down to just that level.
Loom even allows you to make a single page site, with all menu scrolling and highlighting functions included. Build it out into a multipage site, or stick with single page if you like things simple, the choice is yours!  Choose from a basic header, or get some social icons, your business phone number and contact email right up there in your visitors face. Each header also has a centered version as well!  Sick of not being able to choose the crop area of your featured images? Not in Loom, you have total control of where your featured images crop.
Love Aqua Page builder, but feel it's missing some features? My custom build adds them. Markup buttons, template duplication, quick view list for templates and loads more. It's Aqua Page Builder on steroids.  The page builder in Loom comes packed full of features that are totally customizable, to extend that we've hand designed and coded another 30+ element for the page builder, just for Loom! Full blog feeds, portfolio feeds, carousels, you name it! Best of all, each element is totally customizable, show only certain categories in a page, define background images, everything!
You can set parallax background images on a section by section basis when building your pages. Anything is possible.  Revolution slider is included with your download, and it even integrates with the page builder! Full demo data of our demo slider is also included.  Loom lets you set a custom logo, retina logo, and even a logo for the WP Login screen, all with a few clicks in our beautiful live preview theme options. Even our theme options let you see your theme changes in real time!
Loom gives you full control over the theme colors, using our live preview theme options you can change all the colors in the theme, you're given total control over the theme fonts, sizes, paddings, margins, you name it! Add to that 18 beautiful background textures ready right there in the theme, and another 300 ready with a simple plugin install.  With my custom WordPress data importer, your site can be up and running like my demo site in seconds.  Full multilingual support is baked right into Loom! Full .po file available for more simple translations also.
Loom is totally ready for Gravity Forms straight out of the box, start building the forms you need straight away. If you'd prefer a free contact form builder, we also support Contact Form 7 in Loom!  It's all up to you! the theme will respond to how you're using the footer widgets areas and build the columns with no extra work from you!
Our included Mailchimp newsletter widget lets your users sign right up to your mail chimp lists. Integrates with the Mailchimp API so that you can magically have users sign up directly to your chosen list, no extra effort needed!  Our posts use post formats to produce beautiful layouts depending on what you're showing. Each with beautiful, easy to use controls to make your content shine!  We've built beautifully styled sharing buttons right into the theme, share your content with style.
Beautiful, retina ready icons at your disposal, use them all over the theme, they look beautiful on mobile devices too!
Grid Blog, Classic Blog and all again with a sidebar. You've got 4 different blog layouts to choose from, and with the included page builder, you can even change this on a page by page basis! Want one layout for one category, and other layout for another category, no problem!  Pick a post format, pick a post layout, mix and match to make a portfolio post that truly suits your content. Feature images, gallery, sound cloud, video, anything you need! then let your users share it with our beautiful sharing buttons.
There you go, that's Loom in a nutshell.  What do you think?  Let us know in the comments.
---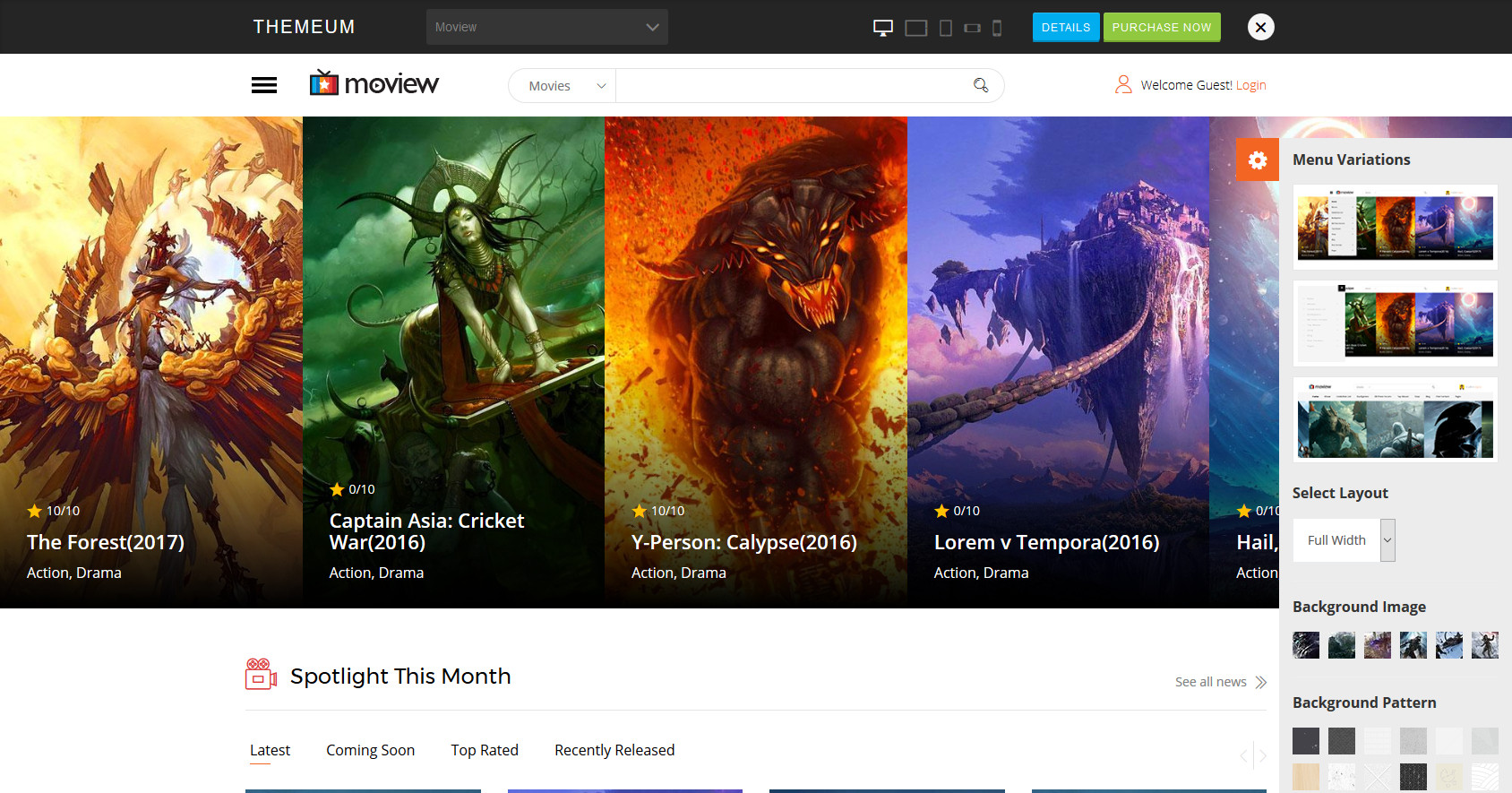 A new, attractive and easy to use movie theme for WordPress, this is called MovieW, by Themeum.
Moview Theme for WordPress 4.5+. Have you ever wanted to create a website similar to IMDb, Rolling Stone, CinemaBlend, TMDB, Rotten Tomatoes or NDTV Movies. Using Moview theme with suggested extensions allows you build movie database with reviews for new and recent movies in theaters, DVD and Blu-ray releases, and film classics. Your site can be a place where everyone goes to discover new movies, video games, television shows and music albums.
MovieW is responsive, it's BuddyPress ready, it's lovely and talented, it's award winning, it's walking the red carpet in style.  Custom backgrounds, Google fonts, boxed or full width layouts, whatever you want, MovieW could help you achieve it.
---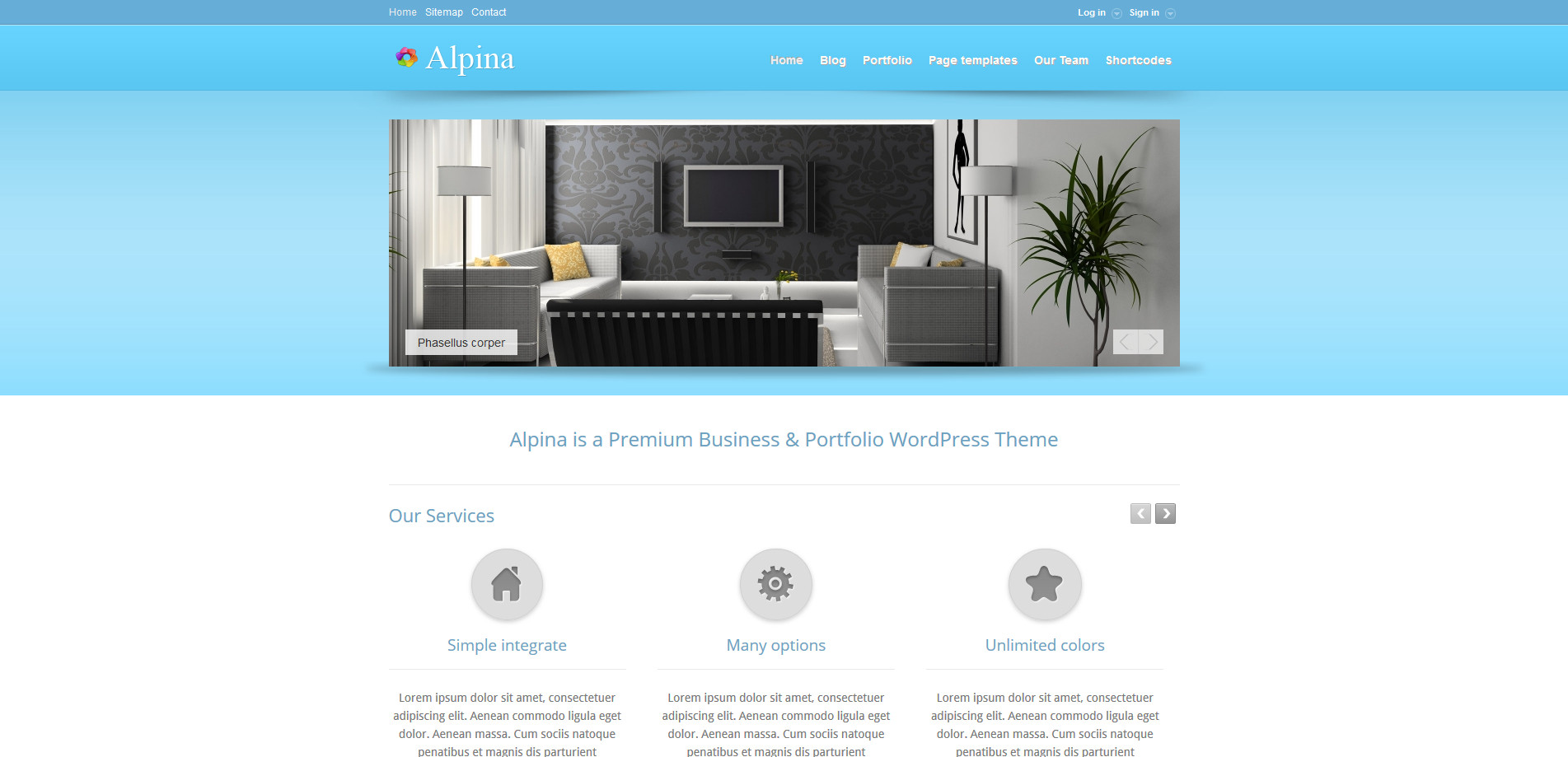 Simple and sort of dated looking, this theme is called Alpina.  I've removed it from all collections because I really don't recommend it anymore, but I'm leaving this review here so I don't get dinged by Google.  Looking for an actually nice looking corporate style theme?  Check out this collection.
The main advantage of this theme is fully customizable theme colors, from theme options panel!  Also, the content of the main page is a custom, and is formed using large amount of theme shortcodes (examples of the main pages in the documentation) that allows you to adapt the theme for yourself and make it completely unique!  In the theme a lot of settings, which you can easily customize the theme, as you need, also documentation and support attached!
Welp, we'll be back again soon for more good stuff.  Until then, so long.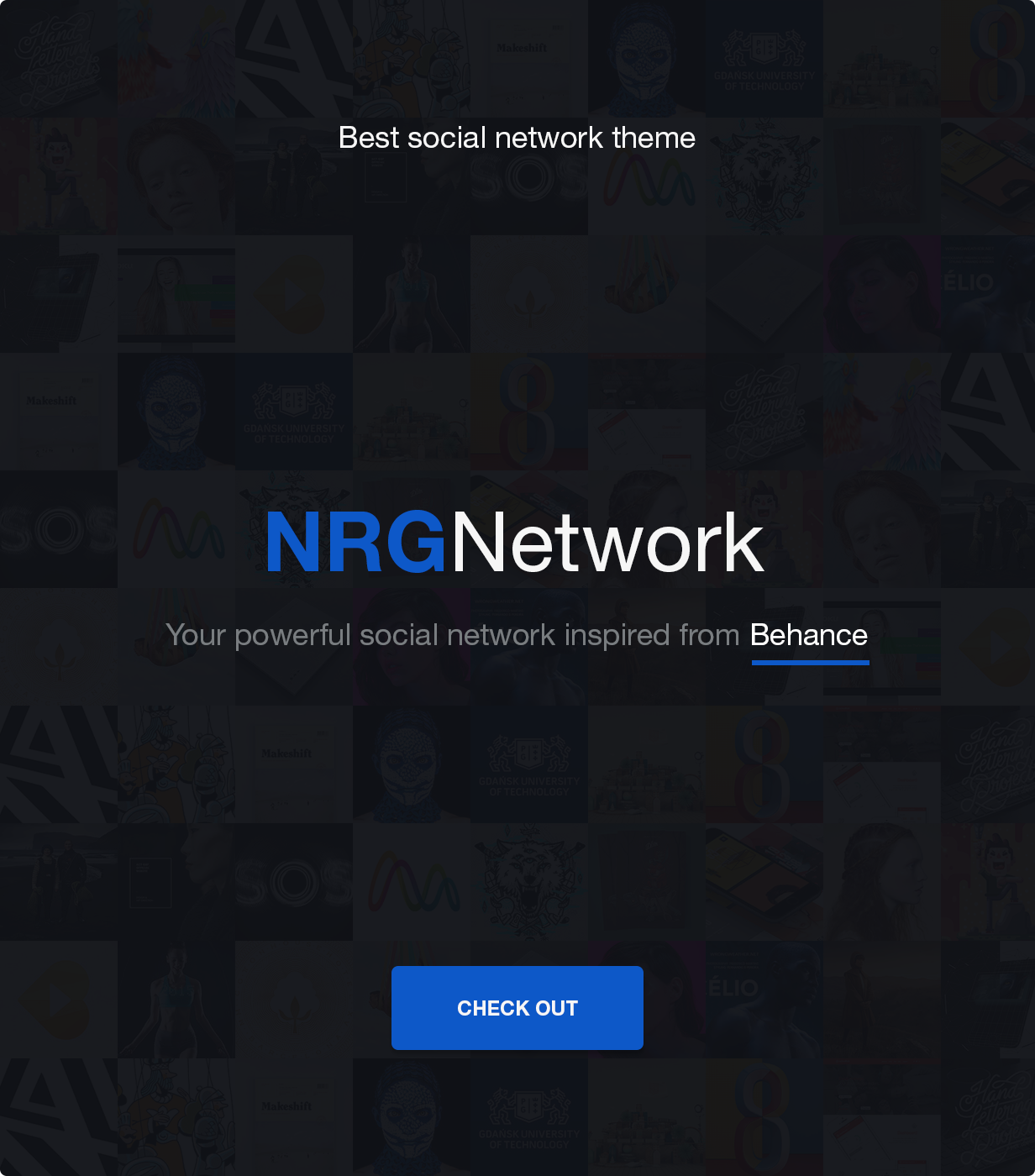 Social networking sites only work if they are user-friendly, attractively designed, and have plenty of positive traits that people want. When you choose the NRG Network theme in conjunction with the powerful WordPress plugins BuddyPress and bbPress, you can deliver on every promise. Site visitors can sign up easily with a new user name and password or by using their Facebook account. BuddyPress offers many specific addons so you can customize your website to be the perfect solution for either a diverse group of socializers or a unique niche group.
Packaged with NRG Network theme is Visual Composer, the ultimate drag and drop page builder plugin that usually comes with a premium cost. Revolution Slider is another premium option that allows you to create dynamic slideshows with attention-grabbing graphics or videos. If you do not wish to build site pages from scratch, NRG comes complete with a collection of pre-made templates to help you launch your new social network more quickly.
For additional bbPress and BuddyPress themes, try this collection.