Kon/Cept Video, Masonry and Traditional Grid Portfolio
Kon/Cept is a WordPress portfolio theme that is as uncomplicated as it is clean and modern, perfect for a wide variety of uses.  KON/CEPT WordPress theme offers a modern and very creative style to help you show off your video content, regardless of what sort of video you are into. It is an engaging design, giving an excellent first impression and a fantastic user experience, assisting you to develop the finest video portfolio you can. This theme tghough will be loved by any form of creative professional, it's not alone for movement, cinematographers or videographers graphic designers. Advertising agencies, creative professionals of any discipline and freelancers also, will adore the way this theme absolutely frames their work. That is because KON/CEPT is a straightforward, almost minimalist theme, that can look fantastic regardless of what your branding is loke. The masonry portfolio makes for an excellent way to get your endeavors detected. The most up-to-date code helps this theme load quickly, so even videos or large pictures will load up quick. Since viewers and readers are increasingly impatient when it comes to load times, that is important. KON/CEPT is absolutely responsive in every way also, resulting in an excellent user experience on any kind of device.
Here's a detailed look at that front page.  Nice looking layout, great grid design.  Similar to a lot of themes in our WordPress grid theme collection.
Here's a blog post.  Simple, clean, nice to look at, easy to navigate.  It's a solid blog, very simple but not a lot of flash to it.  It might not be for everybody.  If you want to see some more minimalist themes, try this collection.
And here we have the eCommerce page.  Great with WooCommerce, Easy Digital Downloads or your eCommerce cart plugin of choice.
You are an artist, not necessarily a web designer or a coder. That's why KON/CEPT is ideal for setting up a portfolio. It makes you more hours to create your artistic vision, and you'll spend less time trying to find out how exactly to code your website. And if you desire to set up an online shop, KON/CEPT has you covered with support that is perfect for WooCommerce, the top free shopping cart plugin for WordPress.  If Kon/Cept isn't quite what you had in mind, for more amazing WordPress video themes, we've got an entire collection of some of the very best.
As for the features, let's take a look at the rundown.
A few of the features:
Unique design
Fully responsive
Retina ready
Masonry portfolio
Custom layout types & animation styles
Modular grid
Support for WooCommerce
Creative blog style
Interactive contact maps
Page builder
Translatable and RTL ready
37 pages manual
Valid HTML5 code
Blazing fast
So, what do you think.  Simple, easy to use but flexible enough for a lot of different sites.  The blog isn't probably robust enough to use as a standard, traditional blog site though, I guess that's the only drawback for this theme.  If you are looking for a blog, like a personal blog template, try this collection.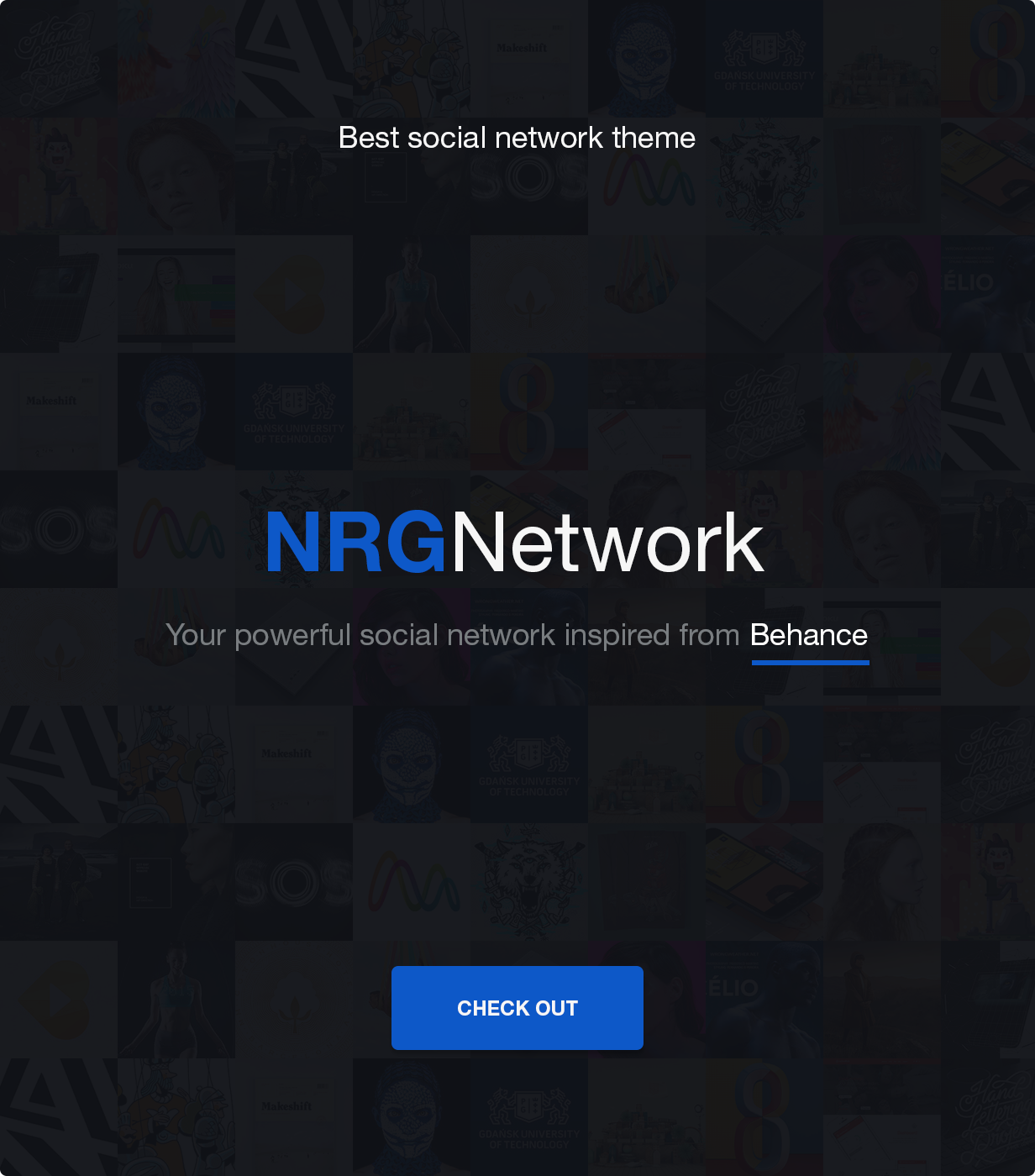 Social networking sites only work if they are user-friendly, attractively designed, and have plenty of positive traits that people want. When you choose the NRG Network theme in conjunction with the powerful WordPress plugins BuddyPress and bbPress, you can deliver on every promise. Site visitors can sign up easily with a new user name and password or by using their Facebook account. BuddyPress offers many specific addons so you can customize your website to be the perfect solution for either a diverse group of socializers or a unique niche group.
Packaged with NRG Network theme is Visual Composer, the ultimate drag and drop page builder plugin that usually comes with a premium cost. Revolution Slider is another premium option that allows you to create dynamic slideshows with attention-grabbing graphics or videos. If you do not wish to build site pages from scratch, NRG comes complete with a collection of pre-made templates to help you launch your new social network more quickly.
For additional bbPress and BuddyPress themes, try this collection.
Companies, freelancers, and other professional who want to create a social community or network for their industry or niche should consider the Bounce theme. It integrates smoothly with both bbPress and BuddyPress on any WordPress site. Every bit of the backend power is handled by these plugins, but the design elements and features come from Bounce. Customize the home page to suit your particular needs. Copy and paste shortcodes to add unique content blocks or capabilities. Choose from one of the seven attractive color schemes included with this theme.
For flexibility and professional style, the Bounce WordPress theme offers everything you need for bbPress and BuddyPress social platform creation. It offers truly flexible and completely responsive styling.  This unique design focuses on helping people make new friends and send messages, the notifications look good and sending out messages has never been easier.  If you want to take full advantage of BuddyPress, it's best to select a theme that is specifically designed to take advantage of all of the wonderful features that this free plugin has to offer.
---
Many BuddyPress-specific themes do not integrate well with WordPress Multisite, but Plexus was developed to do just that. Even if your goal is not a website network, the Plexus theme still provides everything you could want. Its unique design will push your site to the forefront of visitors' minds as they appreciate the clean, stylish, and user-friendly look and feel. Although it appeals straight out of the box, site owners can also do a huge number of customizations and edits to build a unique style. Any site built with the Plexus Buddypress theme offers retina-ready graphics and responsive layout options.
Other premium plugins packaged with the Plexus WP theme include the user-friendly Visual Composer drag and drop page builder and Layer Slider, which helps you create stunning slideshows on any page. A ton of eye-catching elements and content blocks can be arranged however you like to properly display your information and graphics. All of these features and the seamless integration with BuddyPress social networking and bbPress message board community addons make the Plexus theme a grand solution for anyone with an ambitious project to complete.
Well, Plexus has been removed from the ThemeForest marketplace, but more BuddyPress themes can be found here.
---