Eames, Minimal Portfolio and Blog Theme with WooCommerce
Named for Charles and Ray Eames, famous designers of minimal, modern furniture, this WordPress theme is a delightfully simple, highly professional option for blogs, eCommerce sites and portfolios.
There's a lot to like about Eames and if you're on the hunt for a simple, all-purpose minimal WordPress theme, maybe you want to take a deeper look at this one.  It's got a bold, simple design with a left hand menu, sleek and modernist typography, a lot of white space for creating a daring and classy first impression and plenty more.
Eames is a minimalist theme with a real equilibrium between form and function, between simple and complicated, between portfolio and blog, so it is amazing for an extensive variety of purposes and designs. I adore the basic layout and style design of this theme, Eames, as well as the fluid, reactive and responsive layout.  Eames was made by MadeByMinimal and Eames is well crafted, it's simple, it's beautiful, but at exactly the same time, it's incredibly strong, sassy and bold, with just a little funk in it's game. There's not a pixel out of place and definitely nothing will get between your readers and your content, so for blogging, it could be an amazing choice that helps elevate your content and really get a reaction that you'll love. This WordPress photography and minimalist blogging theme could be solid for video journal, any photography portfolio or other sort of creative website. If you want your audience to stand up and take note of your fantastic images and creative work, you want a frame to put it in.  A simple frame like Eames is a wonderful choice; basically, if you desire a breezy, peaceful looking site, Eames could be an excellent option and if your enterprise desires to present hip photos, stylish posts and incredible visuals, you may like this WordPress even more. This stripped down theme is clean and pure, boatloads of white space to lend an airy quality to the design, the typography is well crafted and bold. It's not simplistic while it's not elaborate. Made By Minimal has given an amazing amount of thought into this theme's design layout and it shows a daring, dynamic, bold and beautiful final product that will thrive for any sort of business venture. The built in blog causes it to be perfect for your own blogging website in addition to a photography portfolio.
There are other features like columns shortcodes and the 100% mobile, responsive design that looks incredible on any size and variety of handheld electronic device. A very high percent of people are looking at your web site on a mobile device, so it is incredibly vital that you offer an experience that conforms and adjusts on the fly to meet everybody's favorite choice of apparatus. And with your fascinating, alluring images and lots of great typography, you'll provide a great user experience from the ground upwards.  I can not overstate the relevance of a theme that is responsive, with this level of detail in the design, this level of commitment to providing incredible support and this type of capability to extend the basic design to suit a wide range of purposes.
Want to sell products online?  How about the free and powerful WooCommerce eCommerce shopping cart?  Did I mention it's free?  Then add extensions to increase WooCommerce's native abilities. With WooCommerce, you can sell real goods which you have to send through the mail, as well as both digital products like apps, stock video, stock photos, eBooks and other products you only have to download. It's possible for you to add functionality through a broad variety of WooCommerce extensions to include functionality like Affiliate marketing systems, WooSubscriptions, Amazon payments, WooBookings for setting time based sales. The quantity of functionality it is possible to add to WooCommerce is pretty astonishing.
Eames is a stylish, minimalist portfolio theme for photographers, artists and designers of all kinds too.  Imagine what your images will look like using a simple, professional WordPress theme like Eames.  Amazing!  That's how they'll look.  But not sure about Eames?  How about some of the other photography themes we've reviewed?
For fashion blogs, lifestyle bloggers and personal blogs, Eames is designed with ease of use in mind.  Highly visual, simple and clear navigation, images with great impact.  It's all there to see.  We've gathered up more personal blog themes you may be interested in.  These themes are all responsive, high quality and perfect for any subject matter.  We think you'll find something you like in that collection.
I absolutely love this image, it's god great use of focus on the subject, I think it's perfectly framed too.  If you want to create  portfolio, you really need a theme that makes your content look this good.
Set up shop with WooCommerce and start selling all kinds of products.  From digital downloads to tangible goods, your stuff will look incredible and since this theme's code is so clean, it loads fast and looks great on every kind of device out there.  Responsiveness is key!
Your portfolio will look incredible, no matter what kind of content you have.  I absolutely adore the simple, minimal and professional style this theme has.  I'm sure you'll love it too.
Have a look at the list of features this great looking theme offers:
Thumbnail Galleries
Retina Screen Ready
Dynamic Image Scaling
Left-Aligned Header Layout
Basic Google Fonts Integration
Tree Sub-Menu
Social Media Icons
WooCommerce Compatible
HiDPI Site Logo
HTML/Font Site Title
Color Scheme Management
Sidebar Widget Area
WordPress Blogging
Image Captions
Responsive Page Layouts
Professional Support and Documentation
So, what do you think?  Are you thinking about learning more about Eames?  Click the link below for more information and to see Eames in action yourself.
---
There are a total of six Made by Minimal themes currently.  Eero.  Dorsey.  Made.  Milo.  Wright. Each one may be perfect for somebody and since they're all minimalist, they're all sort of close together in terms of style.  Perhaps one will be a better fit for your project?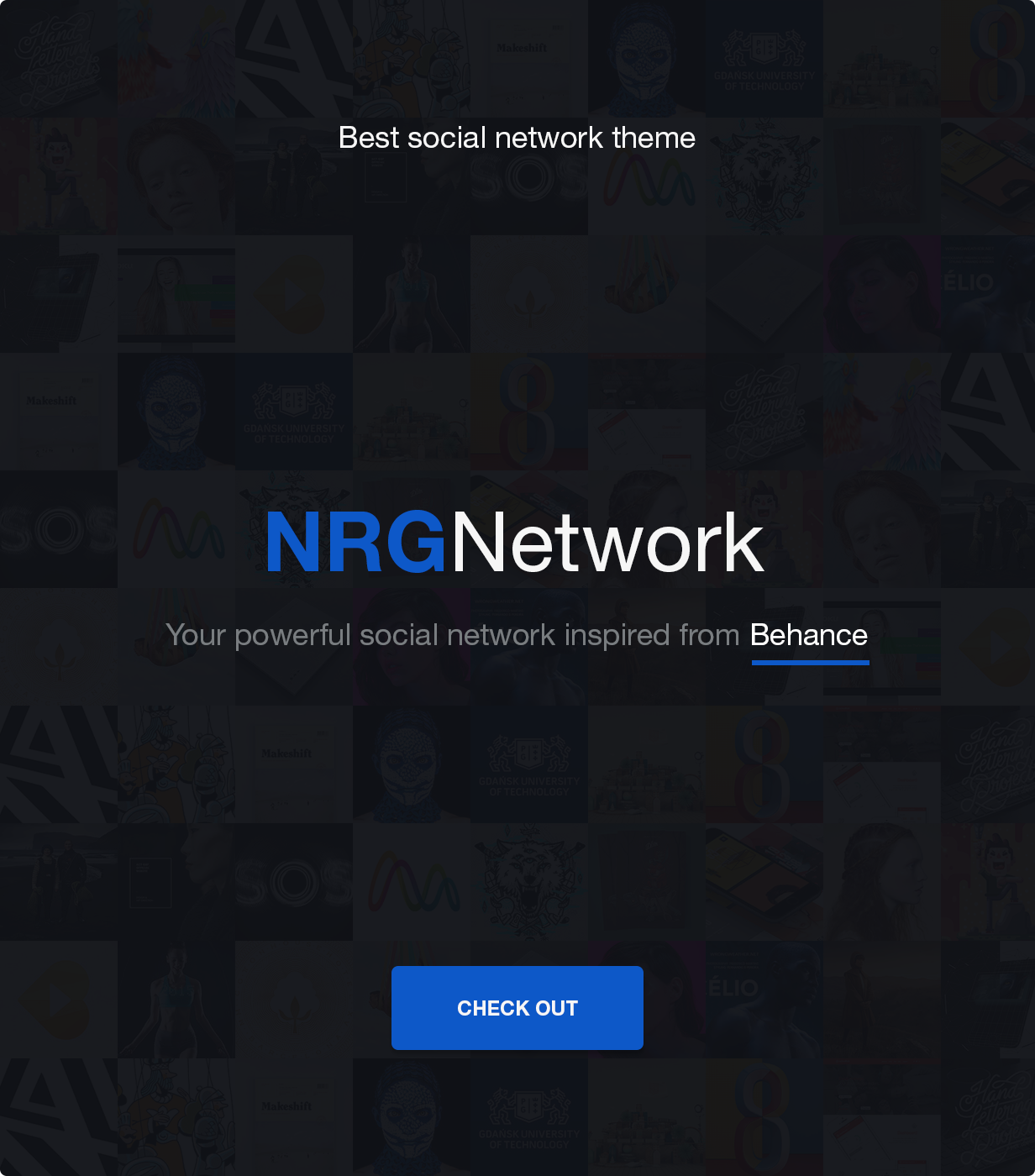 Social networking sites only work if they are user-friendly, attractively designed, and have plenty of positive traits that people want. When you choose the NRG Network theme in conjunction with the powerful WordPress plugins BuddyPress and bbPress, you can deliver on every promise. Site visitors can sign up easily with a new user name and password or by using their Facebook account. BuddyPress offers many specific addons so you can customize your website to be the perfect solution for either a diverse group of socializers or a unique niche group.
Packaged with NRG Network theme is Visual Composer, the ultimate drag and drop page builder plugin that usually comes with a premium cost. Revolution Slider is another premium option that allows you to create dynamic slideshows with attention-grabbing graphics or videos. If you do not wish to build site pages from scratch, NRG comes complete with a collection of pre-made templates to help you launch your new social network more quickly.
For additional bbPress and BuddyPress themes, try this collection.
Companies, freelancers, and other professional who want to create a social community or network for their industry or niche should consider the Bounce theme. It integrates smoothly with both bbPress and BuddyPress on any WordPress site. Every bit of the backend power is handled by these plugins, but the design elements and features come from Bounce. Customize the home page to suit your particular needs. Copy and paste shortcodes to add unique content blocks or capabilities. Choose from one of the seven attractive color schemes included with this theme.
For flexibility and professional style, the Bounce WordPress theme offers everything you need for bbPress and BuddyPress social platform creation. It offers truly flexible and completely responsive styling.  This unique design focuses on helping people make new friends and send messages, the notifications look good and sending out messages has never been easier.  If you want to take full advantage of BuddyPress, it's best to select a theme that is specifically designed to take advantage of all of the wonderful features that this free plugin has to offer.
---
Many BuddyPress-specific themes do not integrate well with WordPress Multisite, but Plexus was developed to do just that. Even if your goal is not a website network, the Plexus theme still provides everything you could want. Its unique design will push your site to the forefront of visitors' minds as they appreciate the clean, stylish, and user-friendly look and feel. Although it appeals straight out of the box, site owners can also do a huge number of customizations and edits to build a unique style. Any site built with the Plexus Buddypress theme offers retina-ready graphics and responsive layout options.
Other premium plugins packaged with the Plexus WP theme include the user-friendly Visual Composer drag and drop page builder and Layer Slider, which helps you create stunning slideshows on any page. A ton of eye-catching elements and content blocks can be arranged however you like to properly display your information and graphics. All of these features and the seamless integration with BuddyPress social networking and bbPress message board community addons make the Plexus theme a grand solution for anyone with an ambitious project to complete.
Well, Plexus has been removed from the ThemeForest marketplace, but more BuddyPress themes can be found here.
---