Dorsey, WooCommerce Ready Lifestyle Blog and Portfolio
Welcome to the world according to Dorsey, a simple looking, minimalist, professionally styled and well designed WordPress theme for blogs, portfolios and it's even got a full-blown WooCommerce shop set up, so you can sell products of all kinds.  This theme is simple, but it's not too simple, you know what I mean?   What I mean is, it's handsome, but quiet.  It's the boy next door.  It's a nice theme that doesn't call attention to itself with brash, outrageous designs.
Dorsey might be best suited as a personal or lifestyle blog theme, perhaps a travel blog or fashion blog?  Anything where bold images and catchy typography are in high demand.  We've assembled a big, comprehensive list of both lifestyle blogs here, and travel blogs here, if you'd like to see more options in that vein.
Great for fashion blogs.  Look how the images pop off the screen.  You're going to get a lot of attention with this theme, if you should choose to use it.
Or maybe a cool looking travel blog theme?  See what we mean?  The attention is all on your content, there's no distractions.  That's what a minimalist theme can do for your site, focusing the reader's attention where you want it to be focused.  Here's another set of minimalist WordPress themes you might enjoy.
And you always need to be able to sell products, right?  WooCommerce to the rescue!
And here's a peek at the blog page. (More blog examples here.)  Simple but stylish, the content is again the main focus of the page, which is where it should be.  There's nothing in Dorsey that isn't well designed and simple, it's a great choice for bloggers.
So, that's a first look at Dorsey, but let's look at some of the features this great looking theme offers.
Thumbnail Galleries
Retina Screen Ready
Dynamic Image Scaling
Left-Aligned Header Layout
Basic Google Fonts Integration
Tree Sub-Menu
Social Media Icons
WooCommerce Compatible
HiDPI Site Logo
HTML/Font Site Title
Color Scheme Management
Sidebar Widget Area
Image Captions
Responsive Page Layouts
There you have it folks, Dorsey, from Made by Minimal.  Let us know what you think and if you ever use this theme, we'd love to see the kinds of things you've done with it.  Hit us up with a comment and we'll link out to you.
---
Here are some more minimalist WordPress themes you may be interested in.  Eero.  Eames.  Made.  Milo.  Wright.
The Dorsey WordPress theme is a minimalist theme that finds a genuine equilibrium between form and function, between uncomplicated and complex, between blog-site and portfolio, so it's amazing for an extensive assortment of layouts and functions.  A one stop shopping center of WordPress goodness. I adore simple style designs, and the fundamentally simple layout of the theme, Dorsey, together with the purely responsive layout, make this template one to keep in mind for a simple blog or portfolio. MadeByMinimal made Dorsey and Dorsey is nicely crafted, it's not complex, it's not ugly, but at the exact same time, it's sassy, very powerful and bold, with a little bit of fun style that makes it one of their best sellers. Minimalist blogging themes are perfect for building a photography portfolio, but Dorsey could be sound for other type of creative site, any photography portfolio or video blog/journal.  You need a strong framework to place your content in if you want your own audience to stand up and be aware of your amazing pictures and creative work. A beautifully, simply crafted theme like Dorsey is an alternative that is wonderful; essentially, if you want a breezy, peaceful looking website, Dorsey could be a fantastic alternative you may enjoy, and if your business wants to present hip pictures, posts that are fashionable and unbelievable visuals, it's absolutely perfect.  This stripped down theme is pure and clean, boatloads of white space to add an airy quality to the layout, the typography is fearless and nicely crafted. The web log, that is integrated right into the website, causes it to be perfect for something like a personal blogging site, as well as any sort of photography portfolio.
Dorsey is the correct blend of simple, modern and clean design with features that really help run a business, blog or portfolio with one well made WordPress theme.  In short, plenty to absolutely love about Dorsey and if you're on the search for a straightforward, all purpose WordPress theme that is minimal, perhaps you need to take a stronger look at this one. It's got a bold, straightforward layout with a left hand glossy, menu and modernist typography, lots of white space for creating lots more and a classy and audacious first impression.
How about the WooCommerce plugin support?  It's free!  And well supported by Dorsey, so you can add WooCommerce's natural skills to raise the level of your website.  Get started with eCommerce and you can create a really strong, powerful business in no time flat. With WooCommerce, you'll be able to sell actual goods that you must send through the post office, in addition to digital products like stock video, computer apps or programs, stock photos, eBooks and other products you just must download. It's potential to add functionality through a wide assortment of WooCommerce extensions, adding cool and professional functionality like online affiliate marketing systems, Amazon payment gateways, WooSubscriptions, Woo-Bookings and more, all help you create a powerful and professional online business.
There are other characteristics like columns shortcodes and the 100% mobile, responsive-in-every-way layout that looks unbelievable on every variety of device, no matter what size of hand-held electronic device you have. A rather high percentage of individuals are looking at your internet site on a mobile device, so it's very critical that you simply offer an online encounter that adapts on the fly to match with everybody's favorite option of computer or device. And with lots of excellent typography and your fascinating, gorgeous pictures, you'll supply a user experience that is great, no matter what part of the world your visitors are from. I can't overstate the relevance of a theme which is purely responsive.  Dorsey offers a perfectly delivered capacity to expand the fundamental layouts that are already included, it was designed to satisfy an extensive variety of functions,  and with this amount of dedication to supplying unbelievable support and the layout, you can't go wrong with Dorsey.  For more amazing WordPress portfolio themes, we've built an entire list.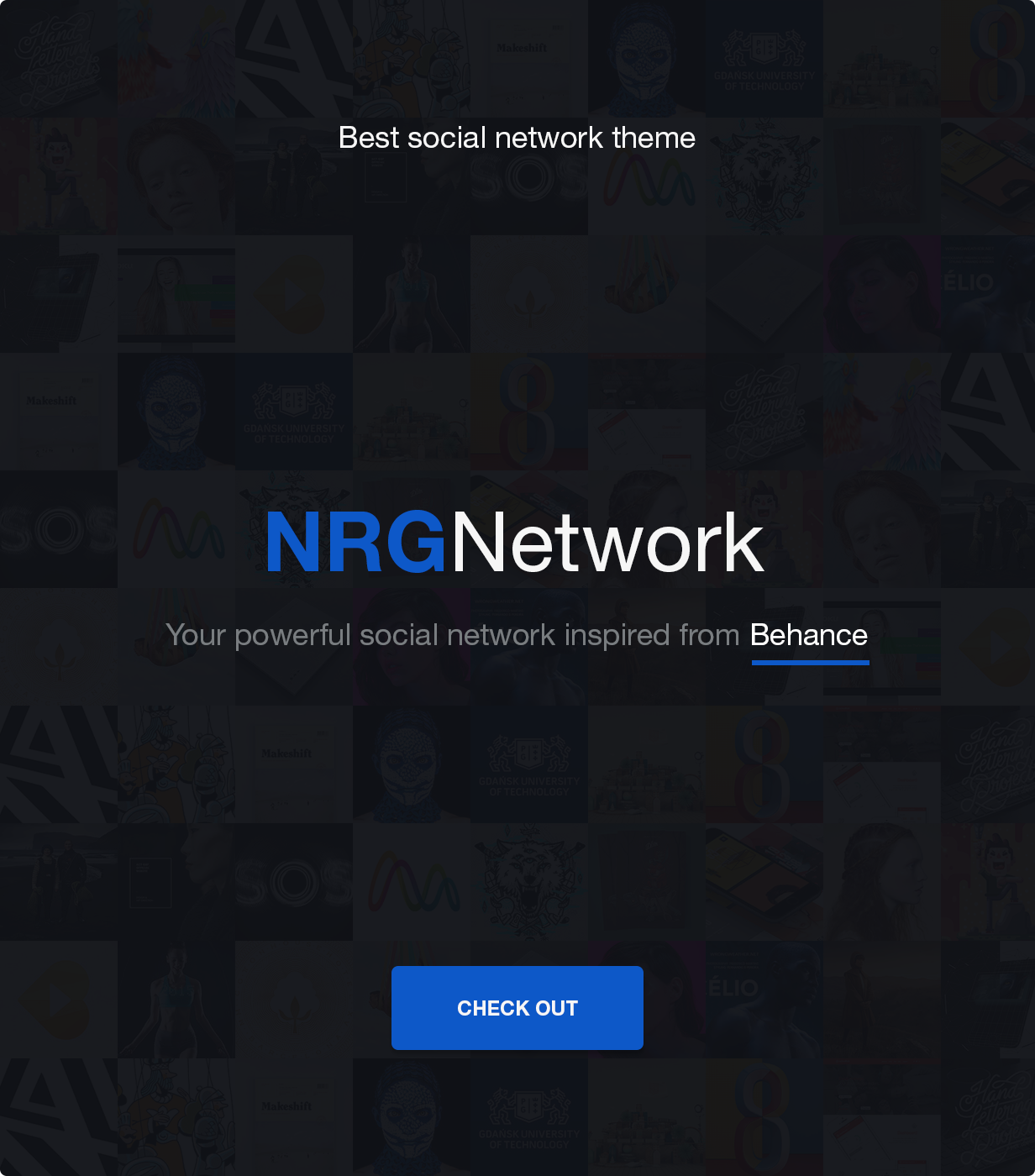 Social networking sites only work if they are user-friendly, attractively designed, and have plenty of positive traits that people want. When you choose the NRG Network theme in conjunction with the powerful WordPress plugins BuddyPress and bbPress, you can deliver on every promise. Site visitors can sign up easily with a new user name and password or by using their Facebook account. BuddyPress offers many specific addons so you can customize your website to be the perfect solution for either a diverse group of socializers or a unique niche group.
Packaged with NRG Network theme is Visual Composer, the ultimate drag and drop page builder plugin that usually comes with a premium cost. Revolution Slider is another premium option that allows you to create dynamic slideshows with attention-grabbing graphics or videos. If you do not wish to build site pages from scratch, NRG comes complete with a collection of pre-made templates to help you launch your new social network more quickly.
For additional bbPress and BuddyPress themes, try this collection.
Companies, freelancers, and other professional who want to create a social community or network for their industry or niche should consider the Bounce theme. It integrates smoothly with both bbPress and BuddyPress on any WordPress site. Every bit of the backend power is handled by these plugins, but the design elements and features come from Bounce. Customize the home page to suit your particular needs. Copy and paste shortcodes to add unique content blocks or capabilities. Choose from one of the seven attractive color schemes included with this theme.
For flexibility and professional style, the Bounce WordPress theme offers everything you need for bbPress and BuddyPress social platform creation. It offers truly flexible and completely responsive styling.  This unique design focuses on helping people make new friends and send messages, the notifications look good and sending out messages has never been easier.  If you want to take full advantage of BuddyPress, it's best to select a theme that is specifically designed to take advantage of all of the wonderful features that this free plugin has to offer.
---
Many BuddyPress-specific themes do not integrate well with WordPress Multisite, but Plexus was developed to do just that. Even if your goal is not a website network, the Plexus theme still provides everything you could want. Its unique design will push your site to the forefront of visitors' minds as they appreciate the clean, stylish, and user-friendly look and feel. Although it appeals straight out of the box, site owners can also do a huge number of customizations and edits to build a unique style. Any site built with the Plexus Buddypress theme offers retina-ready graphics and responsive layout options.
Other premium plugins packaged with the Plexus WP theme include the user-friendly Visual Composer drag and drop page builder and Layer Slider, which helps you create stunning slideshows on any page. A ton of eye-catching elements and content blocks can be arranged however you like to properly display your information and graphics. All of these features and the seamless integration with BuddyPress social networking and bbPress message board community addons make the Plexus theme a grand solution for anyone with an ambitious project to complete.
Well, Plexus has been removed from the ThemeForest marketplace, but more BuddyPress themes can be found here.
---