Divi, Premium, Multipurpose WordPress Theme from Elegant Themes
Divi is absolutely one of the freshest, most powerful and most impressive WordPress themes to come along in the last couple years.  (For more premium WordPress themes, try this collection.)  Divi has really hit it's stride in the latest update, so if you haven't checked it out in a while, it's worth taking a second look at the powerful features it offers you.  Divi is a true-blue, died in the wool multipurpose WordPress theme, with a seemingly eldless array of layout options and strong, flexible features built right in.  I know you'll love everything this template offers, from the dynamic styling and design, the robust and flexible functionality and the dedicated, in-depth documentation and subsequent support offered by Elegant Themes, among the very biggest and best of the theme makers.  They've been around a while, so they know a thing or two about crafting a WordPress theme that can do it all, with grace.  Divi does so much and does it so well, you may never need another theme.
Divi is an exceptional WordPress premium theme, from it's neatly structured design, it's powerful and steady page builder, fantastic support for graphic and font changes, and more, it's one of the few themes that can truly be called a 'multipurpose' theme.  With no prior knowledge of coding or graphic design, you can swiftly create an outstanding looking WordPress site with drag and drop page building.  If you want to try it without a page builder, it's totally possible, but it takes a long time and a lot of energy, learning to code and the debugging every line if something foes awry.  Divi makes is easier, since the ePanel provided allows you to change general settings like the favicon, logo and Analytics code.  The same panel offers you the ability to create various menus for clear navigation, set up your layout and manage advertisements on the site.  SEO settings are also found here, letting you create a website that will stand the test of time, drawing in new readers constantly.
If you're trying to set up an online to sell your products, whether digital downloads like MP3s or digital image files or tangible goods like electronics or , Divi is well suited to help.  This theme is completely WooCommerce ready, the sales and product pages, not to mention cart pages, look fantastic.  But if they're not quite your style, you can always alter the general look and feel of the website with a few clicks.  Pretty cool.  Divi is priced right too.  For $69, which is a few bucks more than a typical premium theme, you get a real multi-purpose theme that's good for any purpose and since Elegant Themes offerings are all GPL, you can install it on as many sites as you wish.
Let's have a look at the front page of a handful of themes that use the Divi WordPress Theme.  This is Pure.
Doers, which is a branding website.
Here's bookinagency.cz
And finally, HupplaApp.
Nice looking stuff.  It really shows you how well the typography pops on that front page.
An Amazing Community

When you use Divi, you become a part of a community of hundreds of thousands of Divi users. It's a wonderfully helpful group of talented and loving people.
A Theme You Can Trust

We have been building the world's most popular WordPress themes for over 8 years and you can rest assured knowing that Divi and it's dev team aren't going anywhere!

A Theme Clients Love

Client's love Divi because it gives them the power to modify their own content without having to learn the in and outs of an often-confusing WordPress interface.
Control Client Access

Divi is one of the only themes to offer a comprehensive roles system. Limit what your clients can do in the Divi Builder to prevent them from messing up your design!

Dedicated Support

We have a huge support team and we are dedicated to helping our customers get the most out of Divi. If you run into any problems, we have your back.
Build Unlimited Sites

Unlike some premium WordPress themes, we don't require you to purchase additional licenses each time you build a new client website.
Okay, so, what do you think?  We'd love to see what you come up with if you decide to purchase the Divi theme.  I love a great looking website and maybe we'll add it to this post?
Well, somebody went and contacted us about a new development with Divi, this attractive child theme called Just Pink.  So, we thought we'd post it to see if anybody might be interested in it.  Simple, clean and feminine, a solid eCommerce theme and blog too.
Just Pink is a Divi custom designed child theme for bloggers and entrepreneurs. It comes with full online instructions on how to install and use the theme. You can change the colours of the theme, but I also offer this theme in both blue and mint.
We'll keep updating this post with more great examples of what Divi can do for your website.  You can learn more about Just Pink here.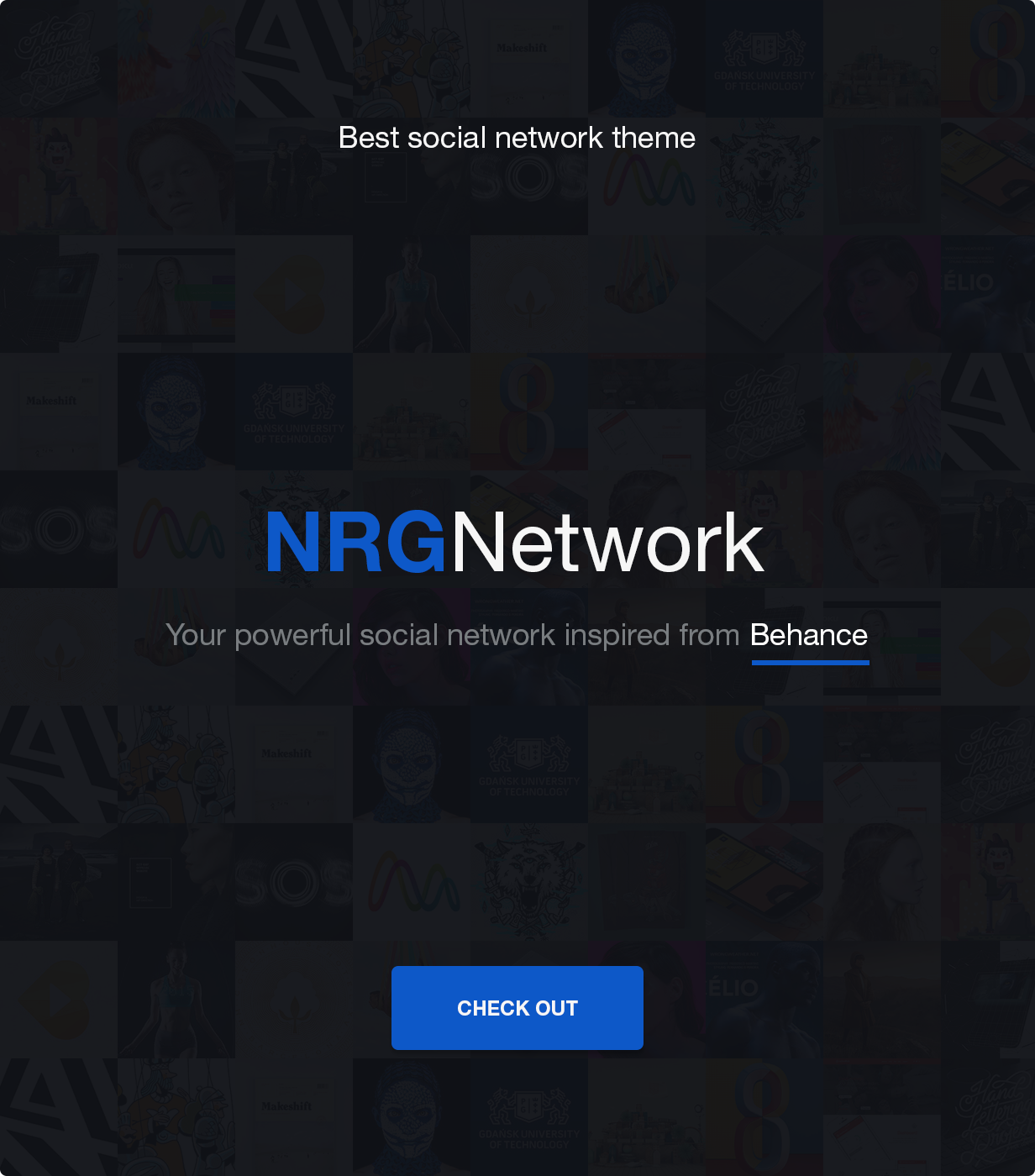 Social networking sites only work if they are user-friendly, attractively designed, and have plenty of positive traits that people want. When you choose the NRG Network theme in conjunction with the powerful WordPress plugins BuddyPress and bbPress, you can deliver on every promise. Site visitors can sign up easily with a new user name and password or by using their Facebook account. BuddyPress offers many specific addons so you can customize your website to be the perfect solution for either a diverse group of socializers or a unique niche group.
Packaged with NRG Network theme is Visual Composer, the ultimate drag and drop page builder plugin that usually comes with a premium cost. Revolution Slider is another premium option that allows you to create dynamic slideshows with attention-grabbing graphics or videos. If you do not wish to build site pages from scratch, NRG comes complete with a collection of pre-made templates to help you launch your new social network more quickly.
For additional bbPress and BuddyPress themes, try this collection.
Companies, freelancers, and other professional who want to create a social community or network for their industry or niche should consider the Bounce theme. It integrates smoothly with both bbPress and BuddyPress on any WordPress site. Every bit of the backend power is handled by these plugins, but the design elements and features come from Bounce. Customize the home page to suit your particular needs. Copy and paste shortcodes to add unique content blocks or capabilities. Choose from one of the seven attractive color schemes included with this theme.
For flexibility and professional style, the Bounce WordPress theme offers everything you need for bbPress and BuddyPress social platform creation. It offers truly flexible and completely responsive styling.  This unique design focuses on helping people make new friends and send messages, the notifications look good and sending out messages has never been easier.  If you want to take full advantage of BuddyPress, it's best to select a theme that is specifically designed to take advantage of all of the wonderful features that this free plugin has to offer.
---
Many BuddyPress-specific themes do not integrate well with WordPress Multisite, but Plexus was developed to do just that. Even if your goal is not a website network, the Plexus theme still provides everything you could want. Its unique design will push your site to the forefront of visitors' minds as they appreciate the clean, stylish, and user-friendly look and feel. Although it appeals straight out of the box, site owners can also do a huge number of customizations and edits to build a unique style. Any site built with the Plexus Buddypress theme offers retina-ready graphics and responsive layout options.
Other premium plugins packaged with the Plexus WP theme include the user-friendly Visual Composer drag and drop page builder and Layer Slider, which helps you create stunning slideshows on any page. A ton of eye-catching elements and content blocks can be arranged however you like to properly display your information and graphics. All of these features and the seamless integration with BuddyPress social networking and bbPress message board community addons make the Plexus theme a grand solution for anyone with an ambitious project to complete.
Well, Plexus has been removed from the ThemeForest marketplace, but more BuddyPress themes can be found here.
---