Coupon, WordPress Couponing Theme With WooCommerce for Businesses
This is Coupon, a great looking WordPress theme for, well, coupons.  Surprise, surprise, right?  What do you think of when you think about the best WordPress coupon themes?  Well, I think of a template that's laid out in a professional, easy to navigate manner.  I think of a theme that's got speed to burn in terms of load time and one that's beautiful to look at.
That's Coupon.
Let's take a look at the demo sites that are included with this fine theme.
Demo One.
Demo Two.
Demo Three.
Demo Four.
Demo Five.
Demo Six.
Demo Seven.
Have you made a purchase over the internet in the last week?  If you're like me, you absolutely have and you probably hunted around for a coupon before you made the purchase.  That's what inspired MyThemeShop to create Coupon, a fine-tuned machine that helps people find the best deals on the internet.
Coupon sites are incredibly popular because they allow you to search for incredible deals and you, as the website owner, can rep the rewards of affiliate sales if you're able to provide that service to your readers.
Coupon is an incredibly fast loading, SEO ready and WooCommerce ready theme too.
Let's have a look at Coupon's features list.
General Settings
– Upload Your Logo
– Add a Favicon
– Touch Icon for Mobile Devices
– Add a Metro Icon
– Field for Twitter Username
– Feedburner URL Option
– Field for Adding Code in Header Section
– Footer Code Option
– Pagination Options
– Activate/Deactivate AJAX Quick Search
– Enable/Disable Responsiveness
– Enable Right to Left Support
– Select No. of Products
Performance Options
– Enable or Disable Prefetching
– Lazy Load Enable/Disable
– Enable Async JavaScript
– Remove ver Parameters
Styling Options
– Primary Color Scheme Selector
– Secondary Color Selection
– Choose ayout Style
– 60 BG Image Options or Add Your Own
– Parallax Effect for BG Images
– Add CSS in Custom CSS Field
– Enable and Disable Lightbox Option
Header
– Top Bar's Background
– Show Header Search Form
– Header Search Placeholder
– Show Header Login and Registration Form
– Navigation Background
– Floating Navigation Menu
– Show or Hide Menu
– Show or Hide the Logo
Footer Settings
– Enable Footer Widgets
– Enable 3 or 4 Widget Layout
– Choose Footer Background
– Enable Parallax on Footer BG
– Extra Footer Text
– Footer Text Title
– Footer Text Content
– Footer Social Icons
– Footer Social Icon Title
– Footer Social Icons
– Section for Copyrights Text
– Copyright's Background
Homepage Settings
– Layout Manager
– Carousel Section Title
– Carousel Itmes
– Show Carousel on Other Pages
– Setup a Custom Slider
– Set The Animation Effect for Slider
– Background for Slider Text
– Enable Parallax Effect for Slider
– Add Coupon Category Tabs
– Choose Number of Posts
– Set Background Color for Tabs
– Enable Parallax Effect for Tabs
– Enable Social Icons for Homepage
– Add Section Title
– Set Section Title Color
– Add Social Media Icons
– Store Section Title
– Add Popular Store Items
– Set Store Background Color
– Set Subscribe Background Color
– Sign Up Section Background
– Sign Up Title
– Sign Up Title Color
– Sign Up Button
– Sign Up Button Background Color
– Sign Up Button Text
– Sign Up Button URL
Coupon Archive
– Set default coupon archive tile
– Set Small Description
– Set Number of Coupons
– Choose Coupon Archive Sidebars
– Exclude Expired Coupons
– Coupon Archive Post Meta Info
– Pagination Type – Coupons Archive
Coupon Single
– Coupon Single Post Layout
– Coupon Single Post Meta Info
– "Show Coupon" Button Action
– Subscribe Box in Popup
Blog Settings
– Featured Categories
– Pagination Type
– Posts on blog pages
– Blog Post Meta Info
– Date Formate Style
– Enable Lightbox
Single Post Settings
– Single Post Layout Builder
– Choose Meta Info to Show
– Enable or Disable Breadcrumbs
– Highlight Author Comment
– Date in Comments
Social Settings
– Social Sharing Buttons Position
– Social Sharing Buttons on Pages
– Organizer Social Media Buttons
Ad Management
– Below Post Title Ad
– Show Ads After XX Days
– Ad Section for Below Post Content
Sidebar Settings
– Create Custom Sidebars
– Choose Sidebar for Homepage
– Create Single Post Sidebar
– Choose Sidebar for Single Pages
– Create "Archive Page" Sidebar
– Tag Archive Sidebar Selection
– Date Archive Sidebar Selection
– Different Sidebar for Author Archive
– Different Sidebar for Search Pages
– Sidebar for 404 Error Page
– Different Sidebar for Shop Pages
– Create a New Sidebar for Single Product Pages
Misc. Options
– Advanced Typography Options
– Choose from 630+ Google Fonts
– Import / Export Options Provided
---
You may be interested in our collection of WordPress business themes, fresh off the press.  Or, maybe our collection of WooCommerce themes for WordPress?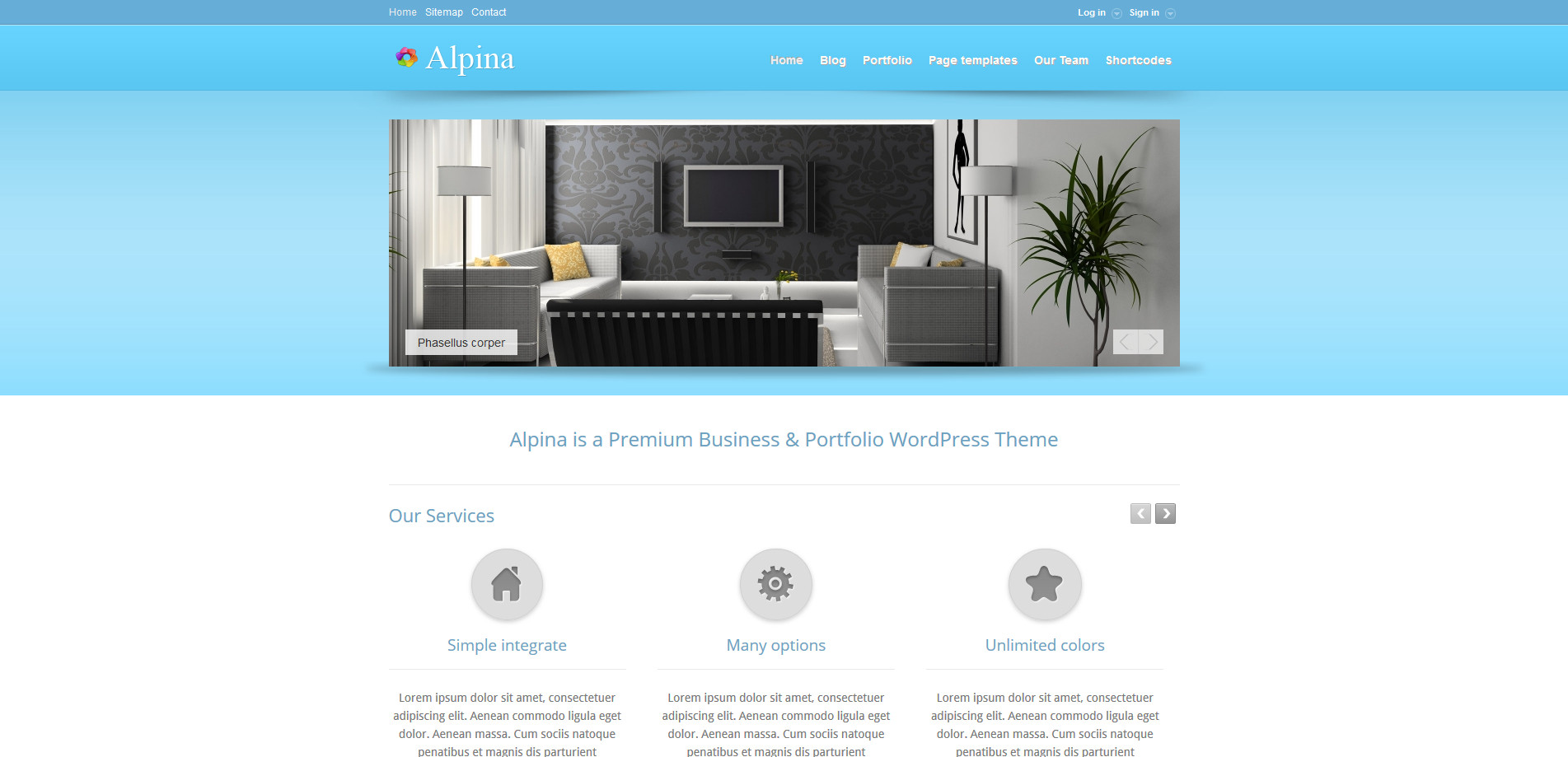 Simple and sort of dated looking, this theme is called Alpina.  I've removed it from all collections because I really don't recommend it anymore, but I'm leaving this review here so I don't get dinged by Google.  Looking for an actually nice looking corporate style theme?  Check out this collection.
The main advantage of this theme is fully customizable theme colors, from theme options panel!  Also, the content of the main page is a custom, and is formed using large amount of theme shortcodes (examples of the main pages in the documentation) that allows you to adapt the theme for yourself and make it completely unique!  In the theme a lot of settings, which you can easily customize the theme, as you need, also documentation and support attached!
Welp, we'll be back again soon for more good stuff.  Until then, so long.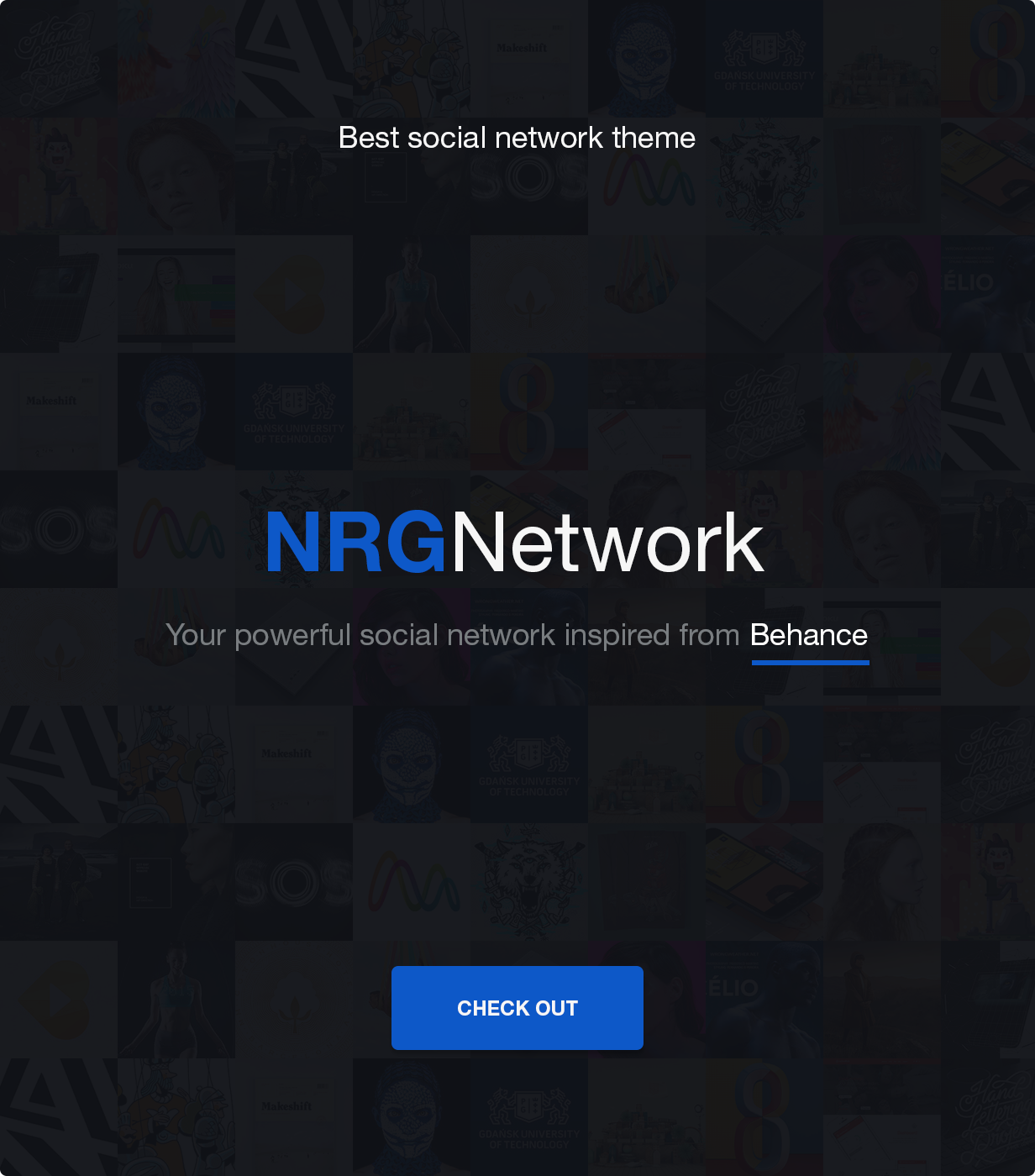 Social networking sites only work if they are user-friendly, attractively designed, and have plenty of positive traits that people want. When you choose the NRG Network theme in conjunction with the powerful WordPress plugins BuddyPress and bbPress, you can deliver on every promise. Site visitors can sign up easily with a new user name and password or by using their Facebook account. BuddyPress offers many specific addons so you can customize your website to be the perfect solution for either a diverse group of socializers or a unique niche group.
Packaged with NRG Network theme is Visual Composer, the ultimate drag and drop page builder plugin that usually comes with a premium cost. Revolution Slider is another premium option that allows you to create dynamic slideshows with attention-grabbing graphics or videos. If you do not wish to build site pages from scratch, NRG comes complete with a collection of pre-made templates to help you launch your new social network more quickly.
For additional bbPress and BuddyPress themes, try this collection.
Companies, freelancers, and other professional who want to create a social community or network for their industry or niche should consider the Bounce theme. It integrates smoothly with both bbPress and BuddyPress on any WordPress site. Every bit of the backend power is handled by these plugins, but the design elements and features come from Bounce. Customize the home page to suit your particular needs. Copy and paste shortcodes to add unique content blocks or capabilities. Choose from one of the seven attractive color schemes included with this theme.
For flexibility and professional style, the Bounce WordPress theme offers everything you need for bbPress and BuddyPress social platform creation. It offers truly flexible and completely responsive styling.  This unique design focuses on helping people make new friends and send messages, the notifications look good and sending out messages has never been easier.  If you want to take full advantage of BuddyPress, it's best to select a theme that is specifically designed to take advantage of all of the wonderful features that this free plugin has to offer.
---