CoPro, MultiPurpose Theme With Dozens of Demos
***Update*** due to repeated issues with their demo site's hosting account, as well as several folks who have contacted me with issues that haven't been addressed.  While previous versions were fast, loaded up properly and all that, the developer just hasn't stuck with the task of updating this theme.  At $39 a crack, that needs to happen but folks have let me know that the support just isn't really up to snuff. Just listen to this…
Guys can we get some feedback on whether or not you are going to support this theme. I find it strange that you wont even comment or say something like… sorry guys… we are not longer supporting this them… or something similar… a few words … gutless… unprofessional… inconsiderate… undeserving… ungrateful… unfair… anyone out there reading this should not buy this theme… ive had to pay other developers to fix issues and cannot upgrade to wordpress 4.6 through fear of everything breaking!!! so annoying
And that's from a confirmed purchaser of this theme.  Yikes.  Okay, I've got to draw the line.  I always hate to do it but, reluctantly, I'm no longer recommending CoPro WordPress theme.
If you'd like something similar but a lot better, maybe Apress is what you want?
You can read the review below, which I'll leave for archival purposes.
For a true multipurpose theme, CoPro may be a great fit, depending on the needs of your business.  Let's take a look at some of the amazing features, shall we?  CoPro's modern and stylish design combines with high-tech and spotless coding, along with features and abilities that are out of this world.  They combine to offer a totally responsive web site that loads quickly and brings attention from around the world.  Your blog will look fantastic and readers will definitely see that quality of this template.
With over 1000 sales to date, the reviews of CoPro are solid, but not spectacular.  It rates at 3.83 out of 5 stars, which really isn't anything to write home about.
In regards to the wide range of customization options, the CoPro WordPress theme produces an impressive group of possibilities, including the aforementioned eatery WordPress theme that looks great and really lends a professional look to your restaurant's website.  But again, it's not just about restaurants.  Business, eCommerce, fashion, medical, any type of website put together with CoPro will be totally responsive, will load up fast as a jackrabbit and it'll look great, thanks to Visual Composer and Bootstrap.
With tons of demo sites that you can peruse, I think you'll find something you like.  There are skins for construction companies, a tech startup skin, fashion shop, restaurant, a personal training or gym demo, medical practitioner style and a lot more.
Let's take a look at some of those skins.
Constructing your exceptional 'internet stage' is not going to be too complex with tons and tons of premade page templates prepared to load with an easy click, allowing you to spend more time making content and making your users happy.  You can pick from footer, header and sidebar alternatives that are infinite in number too, providing great flexibility.  But before you even get to the content-adding stage, CoPro impresses with its structural flexibility.  Some more features include handy Mega Menus, great for easy navigation, Parallax scroll capacities, adding a little bit of flair to your site, as well as practically infinite widget positioning and more.  Sounds overwhelming, doesn't it?
If you want a ton of customization options, CoPro has you covered.  This theme has so many options, bells and whistles and design choices, it's an embarrassment of riches, there's a wide variety of amazing things you can do with this theme.  We've shown the restaurant theme here, but there are a ton of demo sites available to pique your interest, no matter what industry you're in.  Want to add more style?  No problems there, CoPro ads a vast number of options to add style to your finished product.  Mega Menus, Parallax scrolling and so much more.  This is a bootstrap 3 theme too, so you know the code is rock solid and really loads fast, which is beloved in the eyes of Google, Yahoo, Bing and the rest of the search engines.
CoPro offers a cool, contemporary and exceedingly elegant parallax design, with a lot of high-tech functionality and clear, concise code.  That combines to make a fully responsive WorPress parallax theme with delightful visual display on any device.  Best of all, it's an attention getter, meaning your audience will remain engaged with your content and keep coming back for more.  CoPro is built on an elegant framework that is incredibly unique, with three hundred pre-made templates for you to choose from.  They install with just a click, so you won't feel overwhelmed deciding.  Unlimited sidebars, footers and header options mean you'll have a site that loos just like you want it to look.
CoPro continues to impress.
Full list of Features:
Blog Variations
Header Types
3 Portfolio Templates
Amazing Page Builder & Shortcodes Manager & Shortcodes Pack
Easy Installation & Super Easy to Use
Built with HTML5 and CSS3
Unlimited Colors
One-Click Install
Responsive layout
SEO Ready
Built-In Translations on Theme Options Panel
Translation ready
WooCommerce Support
Lots of different premium features and plugins
Sortable Layout
Lots of Custom Pages
Pricing tables
Photo Gallery Variations
Google Fonts support (500+)
Dynamic PHP Contact form
Built-in Prettyphoto Lightbox with autopopup
Built in styles
Lots of Useful Shortcodes
& many others!!
So, that's CoPro.  SEO optimized, multiple layout choices, tons of premade styles, eCommerce, responsive, retina ready.  It's a pretty strong statement.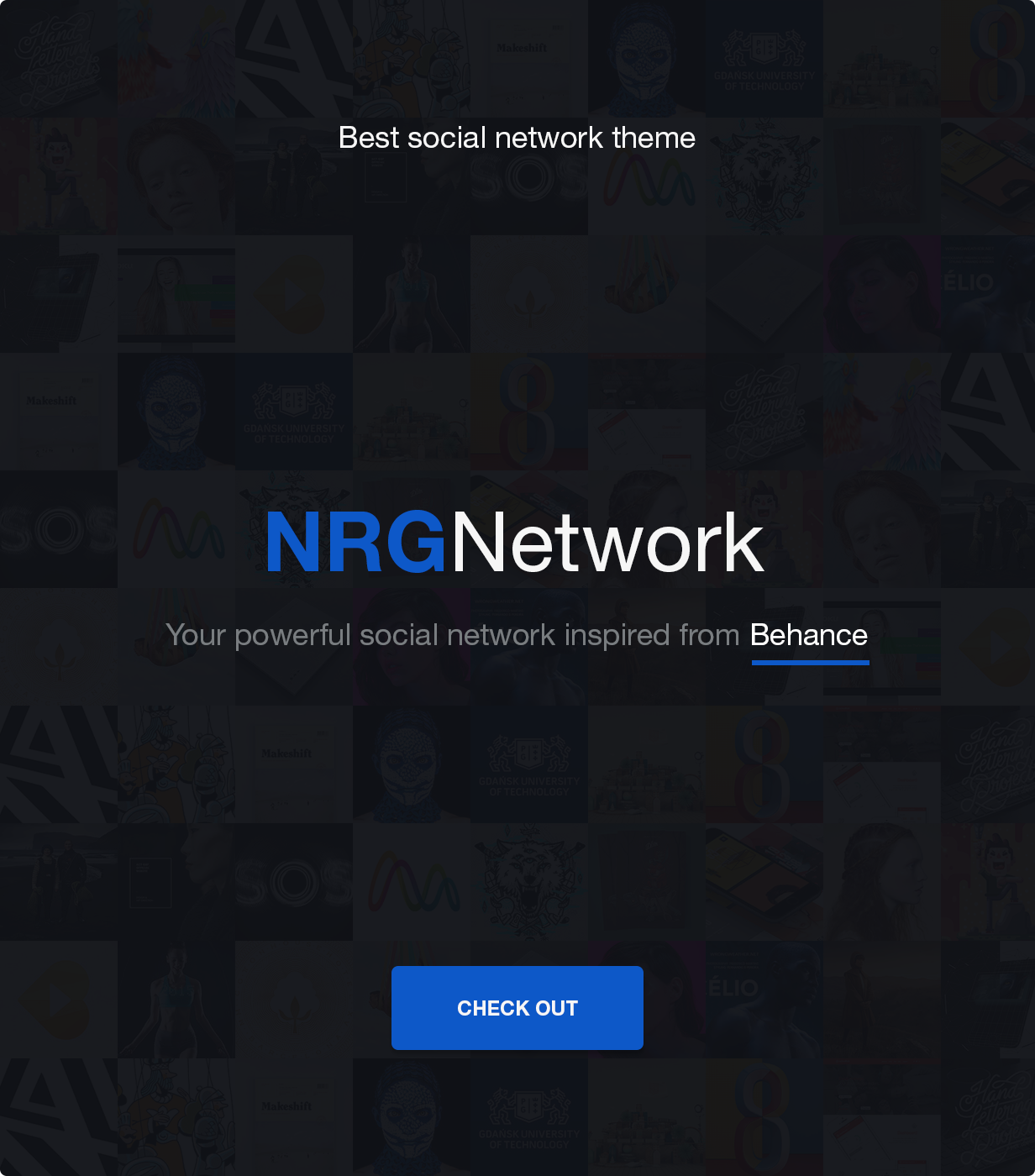 Social networking sites only work if they are user-friendly, attractively designed, and have plenty of positive traits that people want. When you choose the NRG Network theme in conjunction with the powerful WordPress plugins BuddyPress and bbPress, you can deliver on every promise. Site visitors can sign up easily with a new user name and password or by using their Facebook account. BuddyPress offers many specific addons so you can customize your website to be the perfect solution for either a diverse group of socializers or a unique niche group.
Packaged with NRG Network theme is Visual Composer, the ultimate drag and drop page builder plugin that usually comes with a premium cost. Revolution Slider is another premium option that allows you to create dynamic slideshows with attention-grabbing graphics or videos. If you do not wish to build site pages from scratch, NRG comes complete with a collection of pre-made templates to help you launch your new social network more quickly.
For additional bbPress and BuddyPress themes, try this collection.
Companies, freelancers, and other professional who want to create a social community or network for their industry or niche should consider the Bounce theme. It integrates smoothly with both bbPress and BuddyPress on any WordPress site. Every bit of the backend power is handled by these plugins, but the design elements and features come from Bounce. Customize the home page to suit your particular needs. Copy and paste shortcodes to add unique content blocks or capabilities. Choose from one of the seven attractive color schemes included with this theme.
For flexibility and professional style, the Bounce WordPress theme offers everything you need for bbPress and BuddyPress social platform creation. It offers truly flexible and completely responsive styling.  This unique design focuses on helping people make new friends and send messages, the notifications look good and sending out messages has never been easier.  If you want to take full advantage of BuddyPress, it's best to select a theme that is specifically designed to take advantage of all of the wonderful features that this free plugin has to offer.
---
Many BuddyPress-specific themes do not integrate well with WordPress Multisite, but Plexus was developed to do just that. Even if your goal is not a website network, the Plexus theme still provides everything you could want. Its unique design will push your site to the forefront of visitors' minds as they appreciate the clean, stylish, and user-friendly look and feel. Although it appeals straight out of the box, site owners can also do a huge number of customizations and edits to build a unique style. Any site built with the Plexus Buddypress theme offers retina-ready graphics and responsive layout options.
Other premium plugins packaged with the Plexus WP theme include the user-friendly Visual Composer drag and drop page builder and Layer Slider, which helps you create stunning slideshows on any page. A ton of eye-catching elements and content blocks can be arranged however you like to properly display your information and graphics. All of these features and the seamless integration with BuddyPress social networking and bbPress message board community addons make the Plexus theme a grand solution for anyone with an ambitious project to complete.
Well, Plexus has been removed from the ThemeForest marketplace, but more BuddyPress themes can be found here.
---