Cayto, Powerful eCommerce Theme for Fashion Stores
Cayto is an excellent contemporary and clear Woo Commerce WordPress theme that was specifically created to cater to any modern blogger.  If you're all about the latest fashions, Cayto is really a great choice.  Cayto knows this: a contemporary website in conjunction with a well crafted WooCommerce store means you promote your products in a very professional and purposeful way. You can can create a comfortable environment, surrounded by the things you adore.
That's what Cayto is all about.
The theme contains lots of customization choices which are not difficult to use.  In fact, it's downright simple to alter almost any setting you'd like to switch up, from fonts and typography, to colors and even the layout itself. Use integrated color pickers to pick your primary theme color, pick from one of over 600 (and growing) custom Google fonts too, all it takes is just a couple of clicks, then customize the layout in the live 'WordPress Customizer' which lets you really dive deep into controlling the look and feel of your website.
Additional theme attributes to adore include a sweet looking and user-friendly built in InstaGram feed, custom social networking hyperlinks, seven amazing header designs, three fashionable footer designs, integrated full or boxed layout designs, and a glorious looking WooCommerce shopping cart.  It's all built to make your products look incredible and sell like hotcakes.  Cayto includes all of the resources you need to be able to build an online shop that is successful while providing you customer a tremendous sense of luxury and high-fashion out of each and every pixel.
Cayto is that good, trust me.
Cayto also guarantees you will have more time promoting and locating goods and less time managing your web site, which is all important in this workaday world where sometimes you may feel like you don't even have time to eat, sleep, even breathe, let alone work on your website.  WordPress Digital Downloads Themes, Easy Digital, Sell Media  Select Cayto and create your idealized shop, then make it incredibly successful!  It's just that simple!  (haha)
Producing a decent living is as easy as it used to be, maybe even easier, as a result of net. The advanced,and free, WooCommerce plug-in has been completely incorporated by this theme. This device may ease the building of a specialist online store, no matter what genre or what kind of products you're selling. Cayto was tailor made for individuals who need to deliver their products while blogging about trend and stylish things that look great and are incredibly expensive.  Diamonds and pearls, chandeliers and Grey Poupon.  This template has plenty of outstanding design configurations to offer you, and even a rookie WordPress user can use this theme to create the perfect web site that is astounding to look at and even more incredible to use.  WordPress Magazine Themes, Online Journals and Newspapers
Needless to say, InstaGram Integration is natively handled with ease, giving an opportunity to take your blog-fans and turn them into consumers. This product has seven unique headers and a couple of lay-out variations: a full width design and a boxed layout design. Particulars regarding every attribute are available by reading the detailed and dedicated instruction manual document that should have been included in your download, free of course. With just a couple of clicks, consumers choose the order of lay-outs, change the default design, or may choose their theme's color scheme. Cayto requires treatment of the tough specialized facets and essentially decreases the down-time of website ownership, which helps bring in more money, which is a nice thing. This leaves you a lot more time and energy to concentrate on retailing and all the things that really matter when blogging, which is…blogging.  WordPress Grid Themes, Masonry Blog, Image Galleries and Portfolios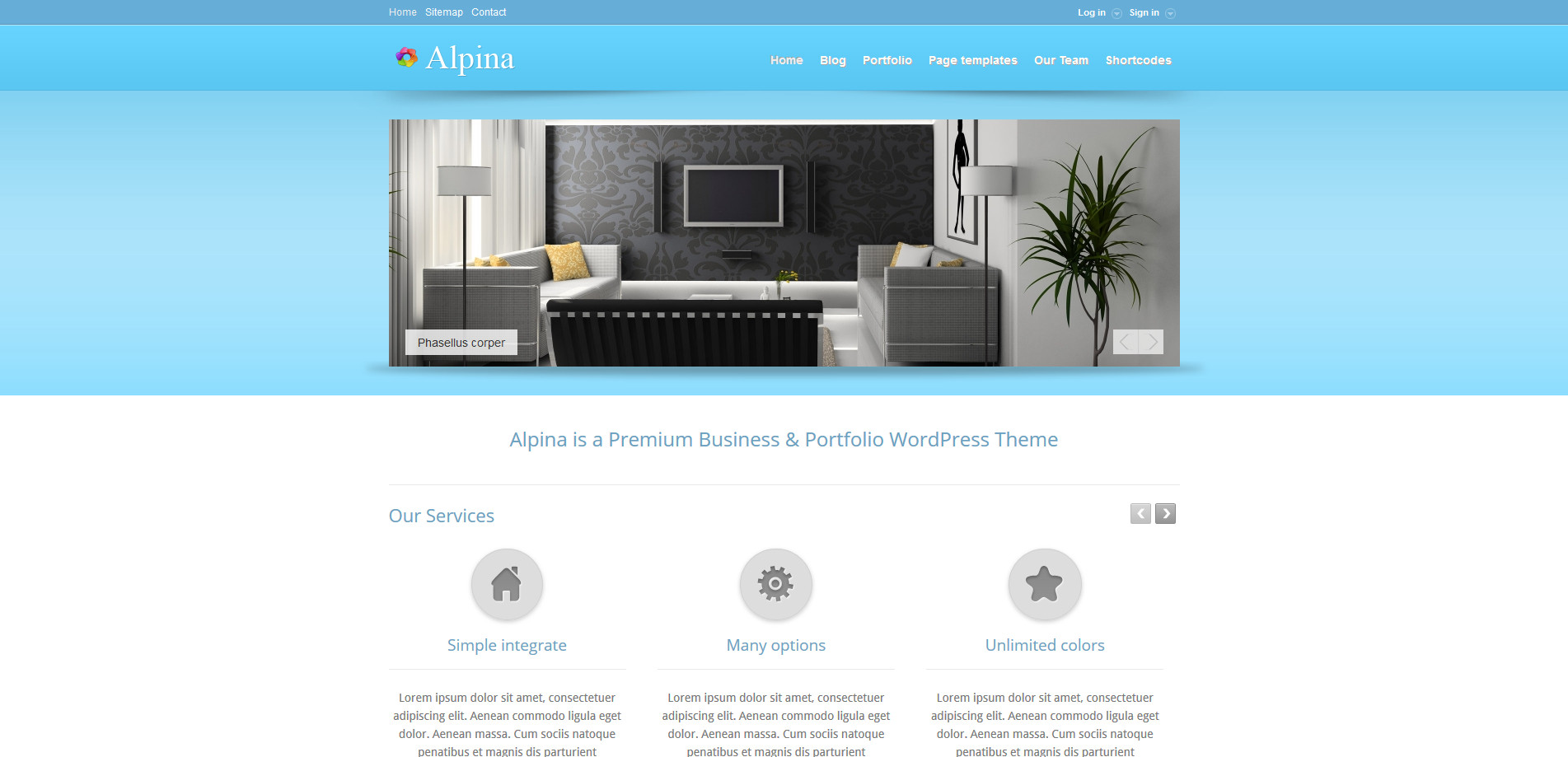 Simple and sort of dated looking, this theme is called Alpina.  I've removed it from all collections because I really don't recommend it anymore, but I'm leaving this review here so I don't get dinged by Google.  Looking for an actually nice looking corporate style theme?  Check out this collection.
The main advantage of this theme is fully customizable theme colors, from theme options panel!  Also, the content of the main page is a custom, and is formed using large amount of theme shortcodes (examples of the main pages in the documentation) that allows you to adapt the theme for yourself and make it completely unique!  In the theme a lot of settings, which you can easily customize the theme, as you need, also documentation and support attached!
Welp, we'll be back again soon for more good stuff.  Until then, so long.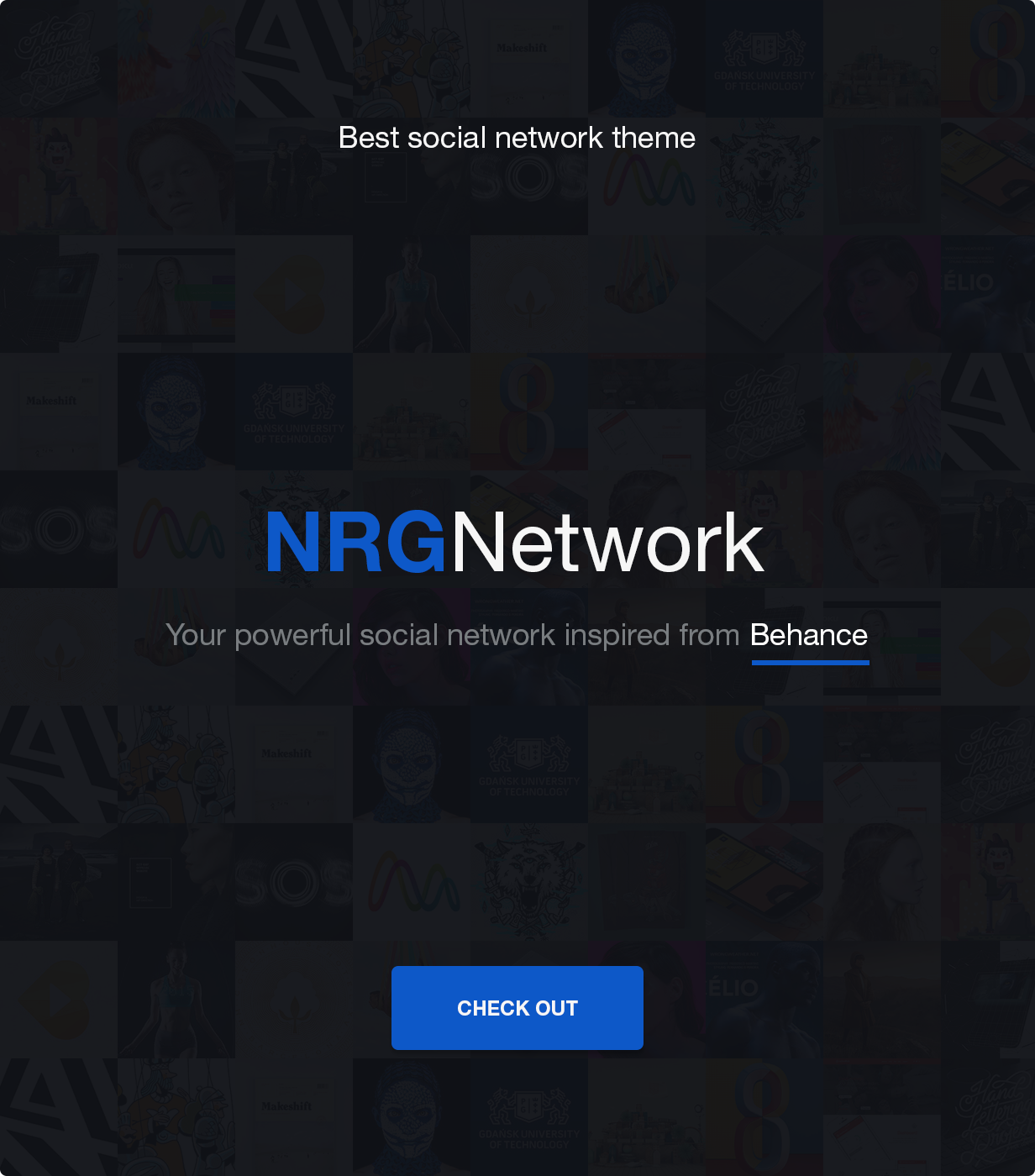 Social networking sites only work if they are user-friendly, attractively designed, and have plenty of positive traits that people want. When you choose the NRG Network theme in conjunction with the powerful WordPress plugins BuddyPress and bbPress, you can deliver on every promise. Site visitors can sign up easily with a new user name and password or by using their Facebook account. BuddyPress offers many specific addons so you can customize your website to be the perfect solution for either a diverse group of socializers or a unique niche group.
Packaged with NRG Network theme is Visual Composer, the ultimate drag and drop page builder plugin that usually comes with a premium cost. Revolution Slider is another premium option that allows you to create dynamic slideshows with attention-grabbing graphics or videos. If you do not wish to build site pages from scratch, NRG comes complete with a collection of pre-made templates to help you launch your new social network more quickly.
For additional bbPress and BuddyPress themes, try this collection.
Companies, freelancers, and other professional who want to create a social community or network for their industry or niche should consider the Bounce theme. It integrates smoothly with both bbPress and BuddyPress on any WordPress site. Every bit of the backend power is handled by these plugins, but the design elements and features come from Bounce. Customize the home page to suit your particular needs. Copy and paste shortcodes to add unique content blocks or capabilities. Choose from one of the seven attractive color schemes included with this theme.
For flexibility and professional style, the Bounce WordPress theme offers everything you need for bbPress and BuddyPress social platform creation. It offers truly flexible and completely responsive styling.  This unique design focuses on helping people make new friends and send messages, the notifications look good and sending out messages has never been easier.  If you want to take full advantage of BuddyPress, it's best to select a theme that is specifically designed to take advantage of all of the wonderful features that this free plugin has to offer.
---