Bunchy, Viral Magazine with Front End Submissions
Bunchy is a new innovation. It is a powerful initiative that can turn the visitors of your site into content creators. It will not only make visitors contribute to your content, it will also make them have fun doing so. It is the first and only WordPress theme that offers an open list.
It allows visitors and regular users to contribute to already published posts by submitting new content to them. It also allows them rate posts by either voting them up or voting them down. It is about the best post sharing platform. With Bunchy, virtually all your posts will go viral.
With its open list feature, visitors and community users can create an open list of posts with its frontend user interface. They can also submit videos, images and other forms of embedment from Instagram and other social media platforms.
This feature also allows users to either upvote (rate high) or downvote (rate low) every published post be it a text, an image or a video clip. Bunchy also has automatic integrated adverts, integrated pagination and integrated sharing buttons for users to be able to share any post on different social media.
This powerful WordPress theme is powered by BuddyPress plugin which gives users custom alerts on any new vote and list items like new image or video. There is a customized profile section available for every user that gives statistics on submitted list items, published posts and votes. What really strikes users most about this tool is its smooth integration with the WordPress Social Login plugin that makes it possible for users to sign in with any of their social media accounts like Twitter, Instagram, Facebook etc.
It makes every post go viral with features listed below.
•It makes visitors and users stay longer on every page with sections like "Don't miss", "More from category" and "You may also like".
•Beautiful badges for hot and trending posts are available
•Share count, view count and comment count visibility thresholds are also available
•There are links for hot and trending posts
•It allows users to create "listicles" with embeds, videos, gifs and embeds
Bunchy offers several dedicated powerful social sharing buttons for sharing posts. Some of these buttons have been listed below.
• It has a virtual share counts to encourage new users
• It has a dedicated button for image sharing
• It also has a separate display share buttons
• It also has big buttons with clear commands
To enhance a friendly user interface, it offers the following features:
•It is very responsive to design
•It is friendly to Retina
•It is cross browser enabled
•It offers optimization for SEO by virtue of being compatible with all SEO plugins.
• It is also optimized for Google PageSpeed
In conclusion, Bunchy is one of its kind. It is a very powerful tool for publicity. It is also noteworthy that Bunchy has many more benefits than the ones mentioned above.
Not shocking, but the makers of Bunch have created another great theme called Bimber.  Have a look.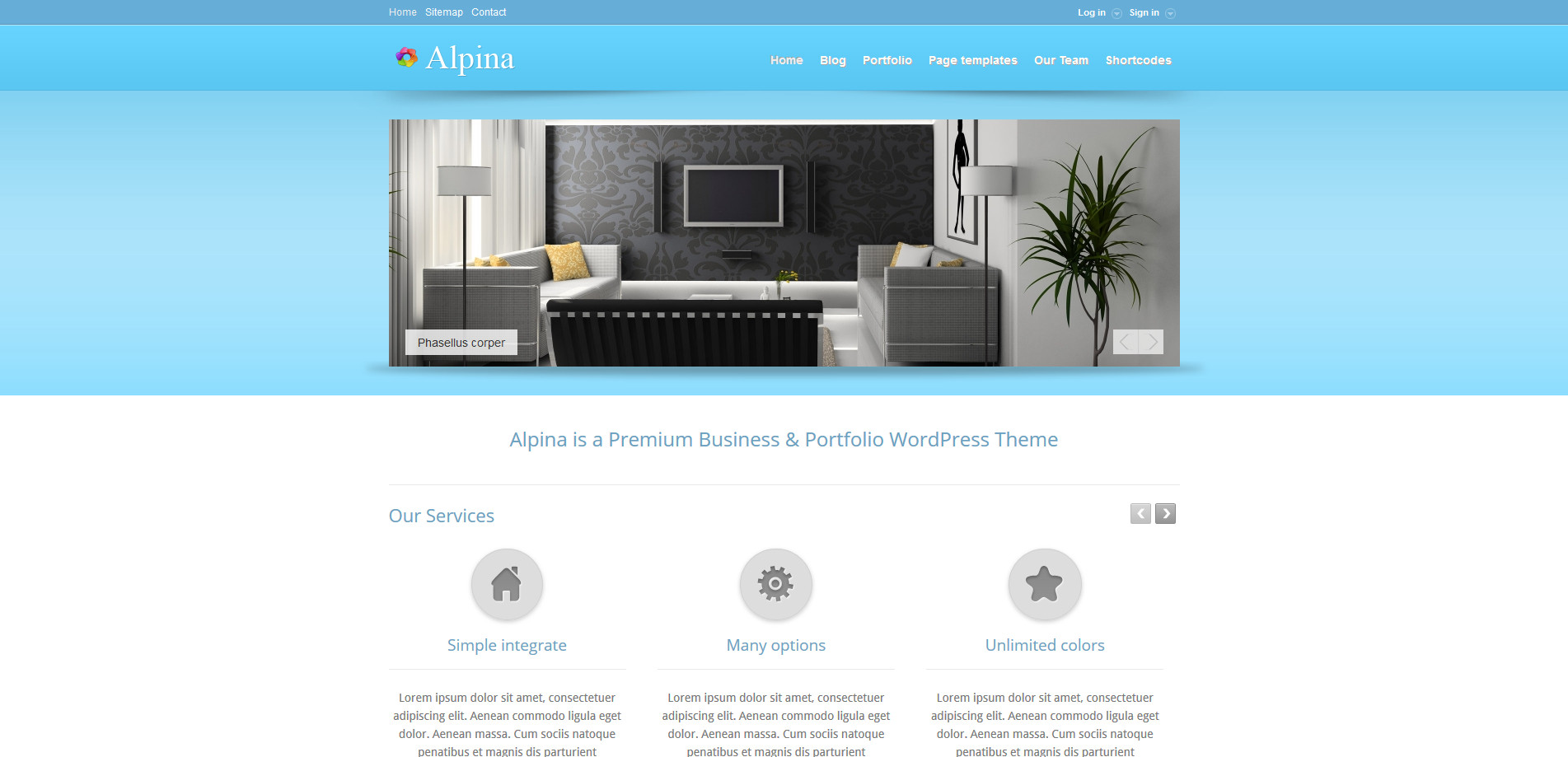 Simple and sort of dated looking, this theme is called Alpina.  I've removed it from all collections because I really don't recommend it anymore, but I'm leaving this review here so I don't get dinged by Google.  Looking for an actually nice looking corporate style theme?  Check out this collection.
The main advantage of this theme is fully customizable theme colors, from theme options panel!  Also, the content of the main page is a custom, and is formed using large amount of theme shortcodes (examples of the main pages in the documentation) that allows you to adapt the theme for yourself and make it completely unique!  In the theme a lot of settings, which you can easily customize the theme, as you need, also documentation and support attached!
Welp, we'll be back again soon for more good stuff.  Until then, so long.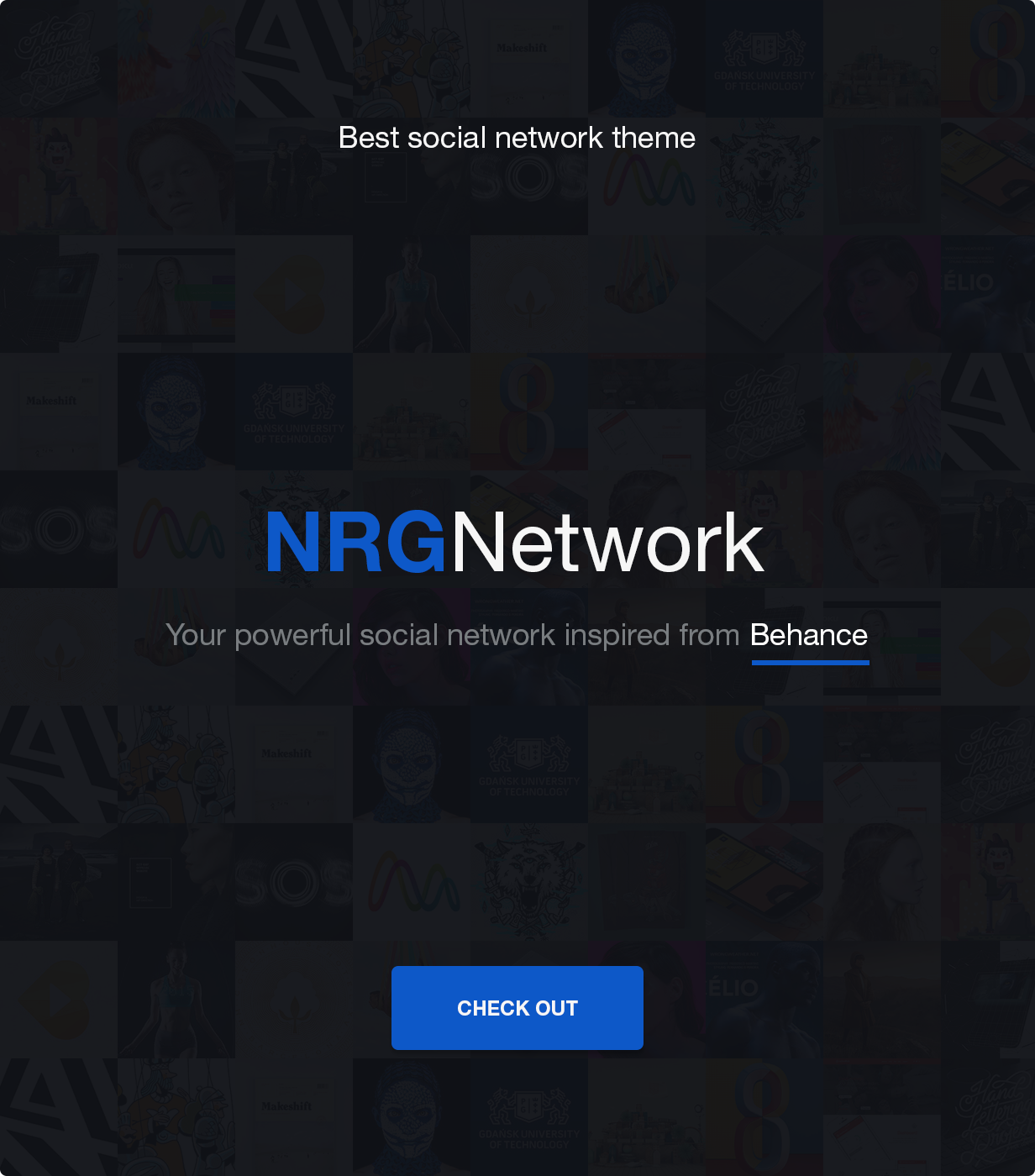 Social networking sites only work if they are user-friendly, attractively designed, and have plenty of positive traits that people want. When you choose the NRG Network theme in conjunction with the powerful WordPress plugins BuddyPress and bbPress, you can deliver on every promise. Site visitors can sign up easily with a new user name and password or by using their Facebook account. BuddyPress offers many specific addons so you can customize your website to be the perfect solution for either a diverse group of socializers or a unique niche group.
Packaged with NRG Network theme is Visual Composer, the ultimate drag and drop page builder plugin that usually comes with a premium cost. Revolution Slider is another premium option that allows you to create dynamic slideshows with attention-grabbing graphics or videos. If you do not wish to build site pages from scratch, NRG comes complete with a collection of pre-made templates to help you launch your new social network more quickly.
For additional bbPress and BuddyPress themes, try this collection.
Companies, freelancers, and other professional who want to create a social community or network for their industry or niche should consider the Bounce theme. It integrates smoothly with both bbPress and BuddyPress on any WordPress site. Every bit of the backend power is handled by these plugins, but the design elements and features come from Bounce. Customize the home page to suit your particular needs. Copy and paste shortcodes to add unique content blocks or capabilities. Choose from one of the seven attractive color schemes included with this theme.
For flexibility and professional style, the Bounce WordPress theme offers everything you need for bbPress and BuddyPress social platform creation. It offers truly flexible and completely responsive styling.  This unique design focuses on helping people make new friends and send messages, the notifications look good and sending out messages has never been easier.  If you want to take full advantage of BuddyPress, it's best to select a theme that is specifically designed to take advantage of all of the wonderful features that this free plugin has to offer.
---