BrightFuture, Simple and User Friendly WordPress Blog Theme
This is BrightFuture, a new WordPress out in the first week of November, 2017.  It's kind of familiar looking to be honest, I just reviewed a theme yesterday that has a very, very similar look.  Penelope.  They're really both similar, but then again, there are a lot of themes that look vaguely like both Penelope and BrightFuture, including some of our free themes like Quartz and Silverbow.  But that's what makes a horse race, little differences.
Since I saw the title, I've been thinking about a song by one of my favorite bands.  Catchy tune.  Anywho.
What's to like about BrightFuture?  Well, I think the design is great.  It's clean, it's professional, trendy right now.  On fleek as the kids say.  Or used to say?  No clue.  I love the Raleway font anyway, I'm a sucker for it and I think the headings being done in Raleway is a nice touch.  This one column with sidebar thing is really popular right now.  The three images at the top, equally popular.  There are pre-made about, contact and archive pages, which can be helpful for some. While it's not a video theme per sé, it does offer the ability to embed or link videos, which can be helpful.
Simple, to the point, familiar but with a touch of new, novel flair.
BrightFuture's creator, Wope Themes, claims that Bright Future it going to be an SEO powerhouse, thanks to their proprietary framework and built in SEO practices.  I'm not sure it's quite up to Genesis level, but it appears that the theme itself is fairly lightweight.
BrightFuture (not sure if it's a camel case title or actually Bright Future?) is responsive, so that should help with ranking, or at least not hurt it.  Google can be fickle, but responsive sites do give a slight bump to rankings, so it's worth noting.  Plus, responsive sites just look better.  Nothing worse than a static site on a mobile device.
Yuck.
Bright Future is compatible with All In One SEO or Yoast, if you prefer that route.  They say the pages load fast but then again, a lot of sites make that claim.  You know who doesn't lie?  GTMetrix.
Let's get to the bottom of this mystery.
Well, obviously the YSlow score is terrible.  Looking into why, they haven't added expires headers, there are too many HTTP requests and they don't use a content delivery network.  So, those problems aren't baked into the theme and they can be solved.  Combining the 16 external javascripts and 11 external style sheets would be a pretty big head start to doing that, I'd say.
PageSpeed isn't incredible either, but that's because they didn't leverage browser caching and they haven't even optimized images.  I get it for a demo site, you might not want to overoptimize your images, but that's going to lead to a pretty bad score.  In the real world, you'd definitely have a browser cache set up and your images would be somewhat optimized.  So, I'll say it's probably fairly fast, but not incredible.  Maybe the next update, we'll learn more.
Okay, so I did their Pingdom score too.  Much better, but they needed to leverage browser caching again.
So, what else is going on with this theme?  Let's have a peek at some of the features BrightFuture offers.
Shortcodes and post types and widgets, Oh my!
Like everybody does, Bright Future has all those things.  But, at least it has them.  That's a good thing.  Look at all the old classics here.
Shortcodes
Button Shortcodes
Custom List Shortcodes
Info Box Shortcodes
Dropcap Shortcodes
Accordion Shortcodes
Tab Shortcodes
Social Icons Shortcodes
Columns Shortcodes
Archive Shortcodes
Nine Post Type Support
Features image
Image Slider
Youtube Video
Vimeo video
Soundcloud
Google Map
Link
Quote
Text
Included many Useful Widgets
Subscribe
Promote box
Popular post
Popular tabs
Hot video
And then there are the options, which are plentiful and appear to be pretty standard and easy to use.
Advance Theme Options

Uploading Logo and Retina Logo easily.
Uploading your site favicon
Adding custom css,javascript without touching any code!
Uploading the footer logo and retina footer logo easily.
Update your copyright
Footer callout options
Uploading your header image on homepage
Call to action box in the header of homepage
8 predefined sidebars and unlimited sidebars for pages.
12 predefined color schemes and unlimited color schemes to fit any brands!
600+ Google font options!
Show/hide Relative posts
show/hide social buttons.
Social header options
So yeah, that's pretty much it.  The design is nice, it does load up fast and it's pretty simple to customize this theme.  I like that it's not one of these themes that uses Visual Composer as a crutch.  Don't get me wrong, there are some great drag and drop themes out there, but you don't need to use VC for literally everything you do, do you?  Some do.  I don't.
So, there it is.  Let us know what you think of Bright Future.  If you use it, we'd love to see what your site looks like so drop us a line.
---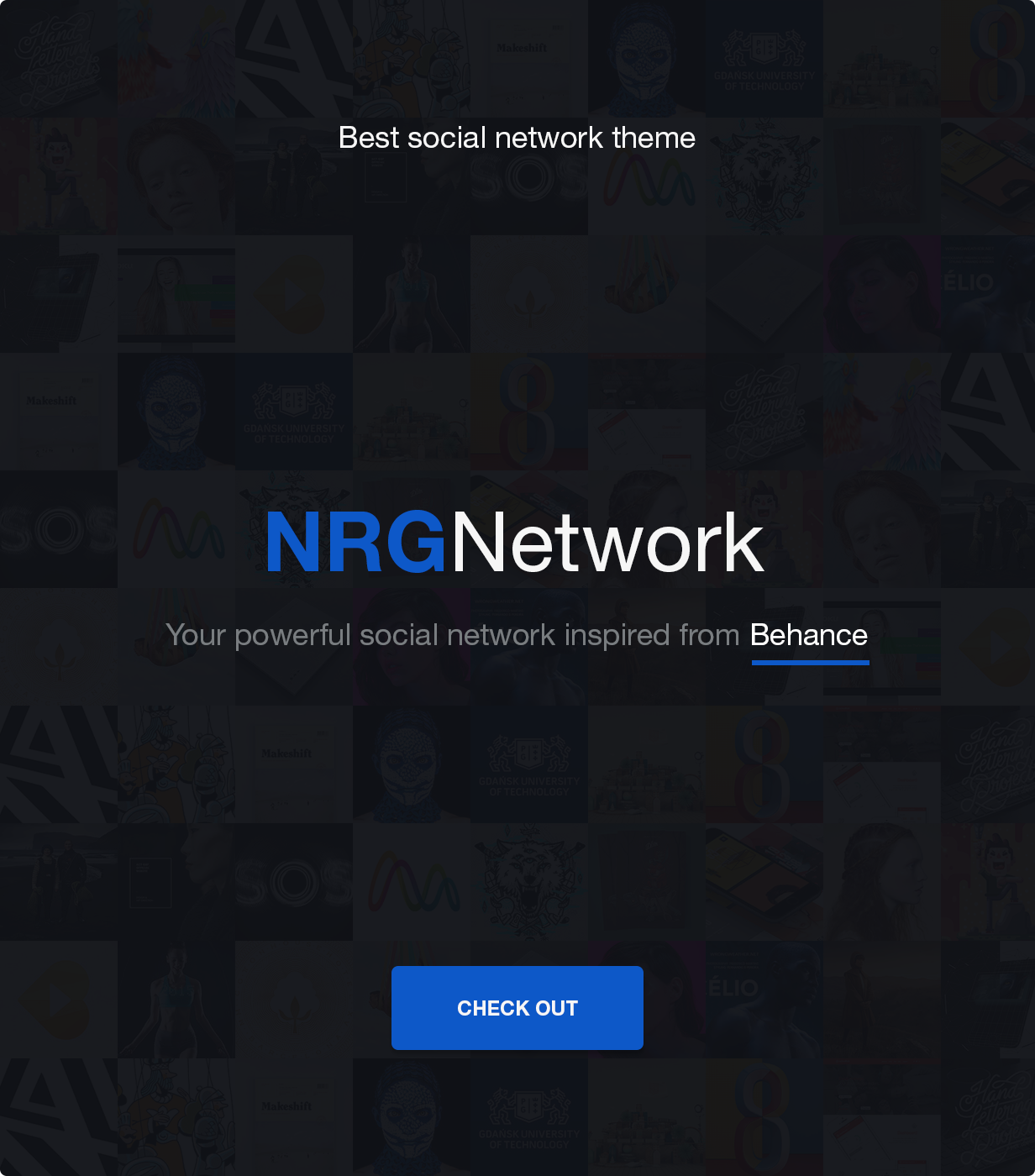 Social networking sites only work if they are user-friendly, attractively designed, and have plenty of positive traits that people want. When you choose the NRG Network theme in conjunction with the powerful WordPress plugins BuddyPress and bbPress, you can deliver on every promise. Site visitors can sign up easily with a new user name and password or by using their Facebook account. BuddyPress offers many specific addons so you can customize your website to be the perfect solution for either a diverse group of socializers or a unique niche group.
Packaged with NRG Network theme is Visual Composer, the ultimate drag and drop page builder plugin that usually comes with a premium cost. Revolution Slider is another premium option that allows you to create dynamic slideshows with attention-grabbing graphics or videos. If you do not wish to build site pages from scratch, NRG comes complete with a collection of pre-made templates to help you launch your new social network more quickly.
For additional bbPress and BuddyPress themes, try this collection.
Companies, freelancers, and other professional who want to create a social community or network for their industry or niche should consider the Bounce theme. It integrates smoothly with both bbPress and BuddyPress on any WordPress site. Every bit of the backend power is handled by these plugins, but the design elements and features come from Bounce. Customize the home page to suit your particular needs. Copy and paste shortcodes to add unique content blocks or capabilities. Choose from one of the seven attractive color schemes included with this theme.
For flexibility and professional style, the Bounce WordPress theme offers everything you need for bbPress and BuddyPress social platform creation. It offers truly flexible and completely responsive styling.  This unique design focuses on helping people make new friends and send messages, the notifications look good and sending out messages has never been easier.  If you want to take full advantage of BuddyPress, it's best to select a theme that is specifically designed to take advantage of all of the wonderful features that this free plugin has to offer.
---
Many BuddyPress-specific themes do not integrate well with WordPress Multisite, but Plexus was developed to do just that. Even if your goal is not a website network, the Plexus theme still provides everything you could want. Its unique design will push your site to the forefront of visitors' minds as they appreciate the clean, stylish, and user-friendly look and feel. Although it appeals straight out of the box, site owners can also do a huge number of customizations and edits to build a unique style. Any site built with the Plexus Buddypress theme offers retina-ready graphics and responsive layout options.
Other premium plugins packaged with the Plexus WP theme include the user-friendly Visual Composer drag and drop page builder and Layer Slider, which helps you create stunning slideshows on any page. A ton of eye-catching elements and content blocks can be arranged however you like to properly display your information and graphics. All of these features and the seamless integration with BuddyPress social networking and bbPress message board community addons make the Plexus theme a grand solution for anyone with an ambitious project to complete.
Well, Plexus has been removed from the ThemeForest marketplace, but more BuddyPress themes can be found here.
---