BoomBox, Viral Marketing Magazine Theme With Front End Submissions
BoomBox is a great looking, well designed and feature filled viral magazine WordPress theme that's got the design chops to make your readers stand up and take notice, with the power of social networking shares and likes, so you can post content and let folks interact and help promote your material.  If you are wanting to get the most attention for your blog content, you will need an appealing and nicely built theme with a wide selection of functions.  Viral marketing is a popular and growing trend among bloggers, so BoomBox was constructed to help seize a huge part of that market for you and your content.
Here are three great looks at what Boom Box can do.  Style baby!
This is a great all around look, highlighting several pieces of viral content.
Here's one with a ton of AdSense content areas.
Here's a look at the Zombify frontend uploader highlighted.
What Can BoomBox Viral Magazine Theme Do For You?
This viral WordPress magazine theme is classically structured and crafted with beautiful style, very simple and easy to use with plenty of fantastic documentation.  BoomBox gives many useful, popular abilities that will help your efforts to create truly 'Buzz Worthy' content, Boom Box is incredibly flexible so that you can use it on virtually any website and it's also completely responsive so it looks incredible on virtually any screen size, from desktop to handheld.  To create the greatest, most enjoyable reader experience around, make sure you pick a powerful, modern WordPress viral blog theme which is exactly what BoomBox has tried to accomplish here and I think it's done a marvelous job.
Extremely Customisable Layout & Design
Enhanced WordPress Customiser options
Full Width or Boxed layouts
Unlimited 2 layer header layout and behaviour variations
2 layer footer with 3 widget area
Shape patterns for header and footer (e.g. rags, clouds, grass, none)
Advanced sidebars management
8 post listing types with infinite scroll, "load more" or numeric pagination
2 size of post strip slider & 3 types of featured posts area
Fully customisable colour scheme, styles & fonts
Hide/Show any element on any page
Create prototype of BuzzFeed, BoredPanda, 9Gag or any other viral magazine
Configurable Posts Ranking System
4 post ranking types: Views, Shares, Upvotes, Comments
Configure trending criteria by one of the 4 ranking types
Trending (24 hours), Hot (last 7 days) & Popular (last 30 days)
Trending, Hot & Popular fancy badges
Generate Most Viewed, Most Shared, Most Voted & Most Discussed post lists
Create pages of best post lists by any criteria within different period of time
Configure all sections of post lists by one of 4 criteria (featured posts, strips, widgets)
Engaging Reaction Voting System
Let visitors vote with reactions just after reading
Highlight 2 most frequent reactions on post
Engage other visitors by showing fancy reaction badges
Custom colour options for reaction badges
24 reaction emojis – 2 hand handcrafted set
Possibility to add custom reaction emojis (svg files)
Create post lists by reaction categories
Set minimal reaction score for classifying post under that reaction
Set maximal reaction types count per vote
Restrict voting by login or just by visitor IP
Attractive Multipurpose Badges
Category badges (e.g. quiz, poll, music, videos etc.)
Create any badge with 600+ icons
Reaction badges with texts or emojis (e.g. lol, omg, wtf, geeky etc.)
24 reaction emojis – 2 hand handcrafted set
Possibility to add custom reaction emojis (svg files)
Trending, Hot and Popular badges
Independently set custom colours to all type of badges
Create badges navigation
Disable any type of badges
Front end uploading, a highly detailed ratings system and a wonderful all around design, BoomBox is one of the very best viral marketing themes around.  BoomBox is even BuddyPress ready, so you can multiply the impact of ever post when it goes viral.
---
There are more amazing WordPress viral magazine themes like BoomBox to come, so stay tuned.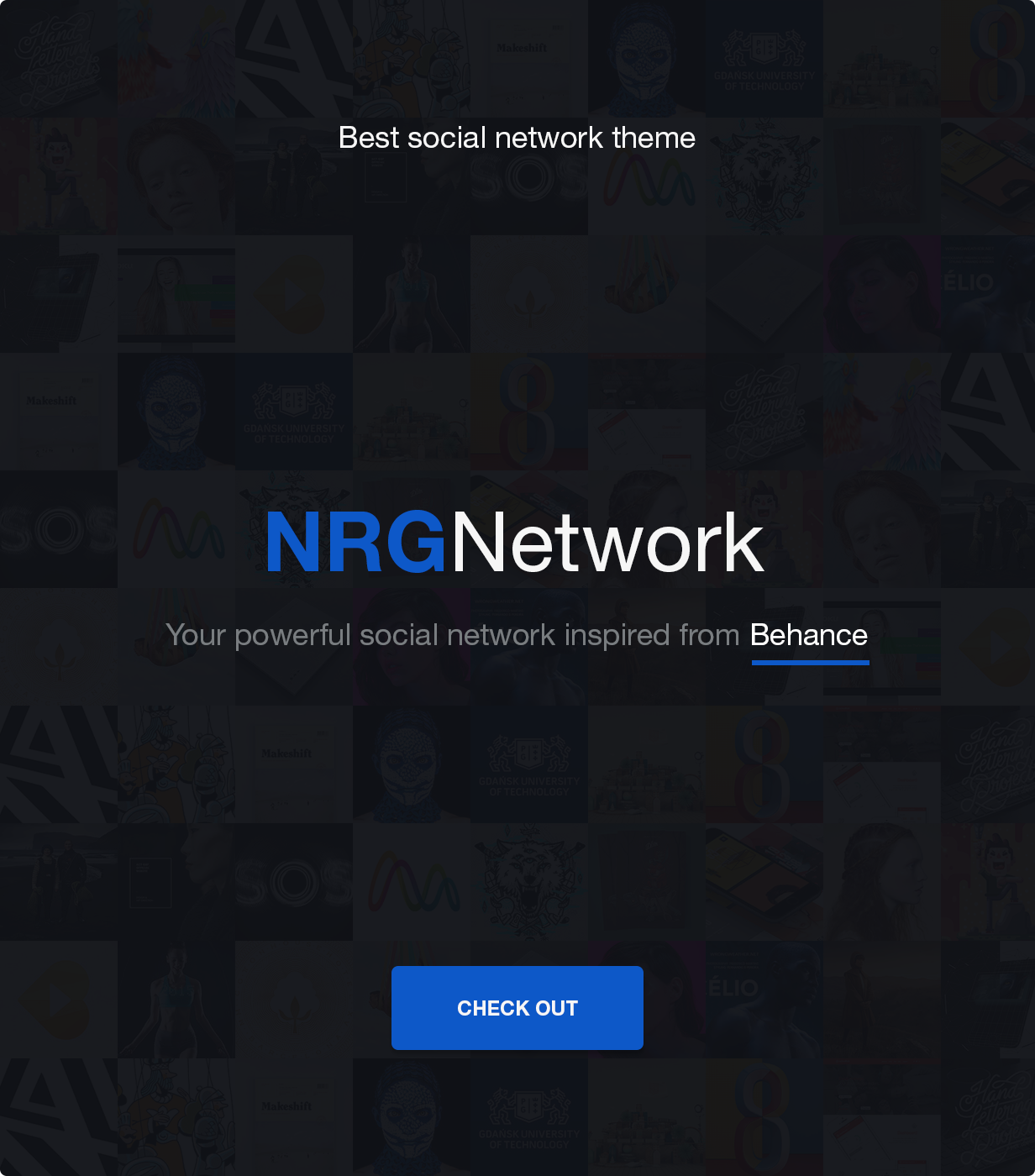 Social networking sites only work if they are user-friendly, attractively designed, and have plenty of positive traits that people want. When you choose the NRG Network theme in conjunction with the powerful WordPress plugins BuddyPress and bbPress, you can deliver on every promise. Site visitors can sign up easily with a new user name and password or by using their Facebook account. BuddyPress offers many specific addons so you can customize your website to be the perfect solution for either a diverse group of socializers or a unique niche group.
Packaged with NRG Network theme is Visual Composer, the ultimate drag and drop page builder plugin that usually comes with a premium cost. Revolution Slider is another premium option that allows you to create dynamic slideshows with attention-grabbing graphics or videos. If you do not wish to build site pages from scratch, NRG comes complete with a collection of pre-made templates to help you launch your new social network more quickly.
For additional bbPress and BuddyPress themes, try this collection.
Companies, freelancers, and other professional who want to create a social community or network for their industry or niche should consider the Bounce theme. It integrates smoothly with both bbPress and BuddyPress on any WordPress site. Every bit of the backend power is handled by these plugins, but the design elements and features come from Bounce. Customize the home page to suit your particular needs. Copy and paste shortcodes to add unique content blocks or capabilities. Choose from one of the seven attractive color schemes included with this theme.
For flexibility and professional style, the Bounce WordPress theme offers everything you need for bbPress and BuddyPress social platform creation. It offers truly flexible and completely responsive styling.  This unique design focuses on helping people make new friends and send messages, the notifications look good and sending out messages has never been easier.  If you want to take full advantage of BuddyPress, it's best to select a theme that is specifically designed to take advantage of all of the wonderful features that this free plugin has to offer.
---
Many BuddyPress-specific themes do not integrate well with WordPress Multisite, but Plexus was developed to do just that. Even if your goal is not a website network, the Plexus theme still provides everything you could want. Its unique design will push your site to the forefront of visitors' minds as they appreciate the clean, stylish, and user-friendly look and feel. Although it appeals straight out of the box, site owners can also do a huge number of customizations and edits to build a unique style. Any site built with the Plexus Buddypress theme offers retina-ready graphics and responsive layout options.
Other premium plugins packaged with the Plexus WP theme include the user-friendly Visual Composer drag and drop page builder and Layer Slider, which helps you create stunning slideshows on any page. A ton of eye-catching elements and content blocks can be arranged however you like to properly display your information and graphics. All of these features and the seamless integration with BuddyPress social networking and bbPress message board community addons make the Plexus theme a grand solution for anyone with an ambitious project to complete.
Well, Plexus has been removed from the ThemeForest marketplace, but more BuddyPress themes can be found here.
---