Bimber, Full Featured Viral Content WordPress Magazine Theme
Bimber is clearly one of the best viral magazine themes on the market, the sheer number of downloads speak for themselves.  This theme gets around 600 to 700 downloads a month and it's closing in on 5000 downloads as I type this.  But I feel like there's more to it than just the popularity that makes Bimber such a popular choice for so many.
Whether you're making listicles with images, gifs or videos, you have the ability to sort posts by hot, trending or popular posts.  There are fancy looking badges you can add too, for any category of 'hotness'.  Share count can be shown and you can add a visibility threshhold so posts that haven't been shared yet will not appear on the front page, same goes for view counts.
Don't worry, you'll be getting tons of shares and views too.
There are optional NSFW tags (not safe for work, but you already knew that) you can apply to posts, you can add powerful sharing buttons with big, attractive calls to action.  Monetize your site with AdSense or something like Outbrain, Taboola or RevContent.  With the multiple advertising slots, you can automatically inject ads into post listings, place ads in sidebar areas or basically anywhere else you want them.
Mailchimp integration means you can rapidly build a mailing list, keeping your users up to date on the newest content.
Bimber even allows for front end submission so your users can create and share dank memes.  The Snax Viral Front-End Uploader is the tool of choice here and it works really well.
With Bimber, you can establish a viral website in just a single day.  It used to be, you'd have to weeks to months with a developer, trying to get all the features and functionality you wanted, spending probably well into four figures to get it done.
Now, for $59 and a fresh copy of WordPress, you can have the same results.
Maybe even better results, there are so many different demo sites included, you could use this one theme in multiple ways, depending on what your site's needs are.
Let's highlight some of the great demo sites that are included with every license purchase.
Gagster, for your viral jokes websites.  Look out 9gag, Bimber is a worthy adversary.
Swagga, which is bold and brash, perfect for highly marketable content where you use Adsense to monetize your content.  For more Adsense ready WordPress themes, check out the collection we've made.  Buzzfeed's got nothing on Bimber.
This one is Smiley, maybe ideal for targeting content that appeals to kids?
The Wall is a little different, it's got a distinct, appealing Pinterest style layout.  Big, bold images are going to be key here, so if you're developing a lot of that kind of content, or popular listicles, this could be the demo site you're most into.
Bad Boy is great for content that's a little more in depth.  This one is ideal for magazine articles that are viral in nature.  For more WordPress magazine themes, check out our collection.
Minimal is probably the simplest layout.  It's not exactly a minimalist theme by any stretch of the imagination, but it is quite simple compared to some of the other designs that are offered.  For minimalist WordPress themes, we've made a big collection of many of the very best.
Here's one called Geeky, it's a slightly different style with two main articles highlighted at a time.  Great for tech news and other fancy, inspiring and cool news.
Affiliate is, not shocklingly, an affiliate WordPress theme that's all about affiliate marketing and it's a tight, high converting theme that looks great too.  To learn more about how to start a money-making affiliate website, check this out.
Bunchy is a general purpose viral theme, cat videos here we come!
And last but not least, Community.  By the name, you might guess it's a BuddyPress WordPress theme and you'd be right.  It's a full featured theme supporting BuddyPress and bbPress, which is the combo you really need to craft a great community based around your viral content.
Okay, so that's what Bimber looks like, but what else can Bimber do for you?
Bimber Features
100% responsive design, the industry standard.
Retina ready, high resolution images.
Cross browser compatibility, works great with every browser.
SEO optimized and Compatible with all Major WordPress SEO plugins
Optimized for Google PageSpeed, which helps rankings.
Microdata, rich snippets support for better click through rates.
Translation ready, works in every single language.
Full RTL support (right-to-left languages like Arabic or Hebrew)
Support for multi page articles, increase those page views!
Compatible with caching plugins (WP Super Cache, WP Rocket and W3 Total Cache)
Custom Facebook Widget, get your social media campaign off to a flying start.
And a whole lot more.  In closing, Bimber is a really great theme for viral marketing.  Definitely worth a your consideration.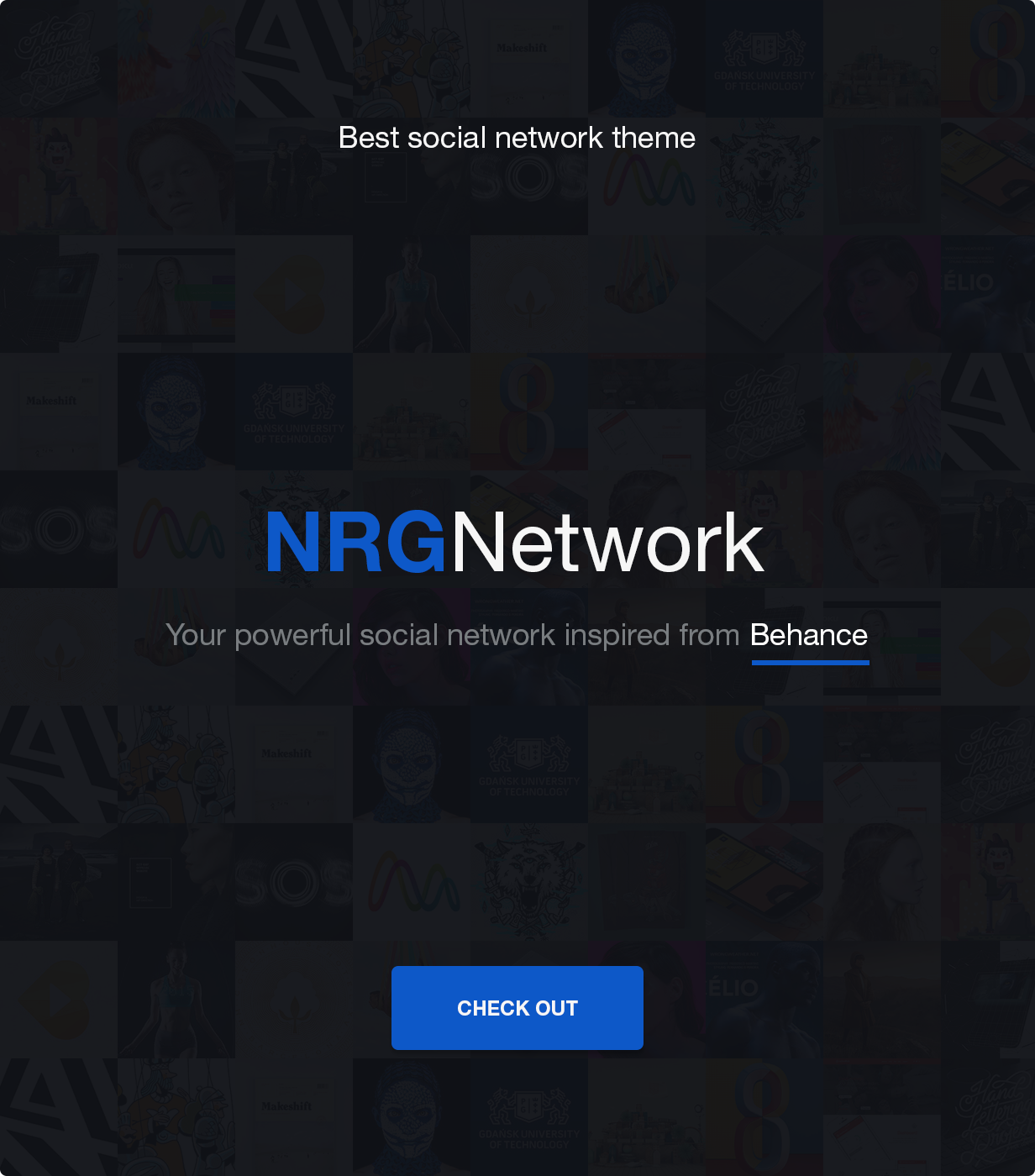 Social networking sites only work if they are user-friendly, attractively designed, and have plenty of positive traits that people want. When you choose the NRG Network theme in conjunction with the powerful WordPress plugins BuddyPress and bbPress, you can deliver on every promise. Site visitors can sign up easily with a new user name and password or by using their Facebook account. BuddyPress offers many specific addons so you can customize your website to be the perfect solution for either a diverse group of socializers or a unique niche group.
Packaged with NRG Network theme is Visual Composer, the ultimate drag and drop page builder plugin that usually comes with a premium cost. Revolution Slider is another premium option that allows you to create dynamic slideshows with attention-grabbing graphics or videos. If you do not wish to build site pages from scratch, NRG comes complete with a collection of pre-made templates to help you launch your new social network more quickly.
For additional bbPress and BuddyPress themes, try this collection.
Companies, freelancers, and other professional who want to create a social community or network for their industry or niche should consider the Bounce theme. It integrates smoothly with both bbPress and BuddyPress on any WordPress site. Every bit of the backend power is handled by these plugins, but the design elements and features come from Bounce. Customize the home page to suit your particular needs. Copy and paste shortcodes to add unique content blocks or capabilities. Choose from one of the seven attractive color schemes included with this theme.
For flexibility and professional style, the Bounce WordPress theme offers everything you need for bbPress and BuddyPress social platform creation. It offers truly flexible and completely responsive styling.  This unique design focuses on helping people make new friends and send messages, the notifications look good and sending out messages has never been easier.  If you want to take full advantage of BuddyPress, it's best to select a theme that is specifically designed to take advantage of all of the wonderful features that this free plugin has to offer.
---
Many BuddyPress-specific themes do not integrate well with WordPress Multisite, but Plexus was developed to do just that. Even if your goal is not a website network, the Plexus theme still provides everything you could want. Its unique design will push your site to the forefront of visitors' minds as they appreciate the clean, stylish, and user-friendly look and feel. Although it appeals straight out of the box, site owners can also do a huge number of customizations and edits to build a unique style. Any site built with the Plexus Buddypress theme offers retina-ready graphics and responsive layout options.
Other premium plugins packaged with the Plexus WP theme include the user-friendly Visual Composer drag and drop page builder and Layer Slider, which helps you create stunning slideshows on any page. A ton of eye-catching elements and content blocks can be arranged however you like to properly display your information and graphics. All of these features and the seamless integration with BuddyPress social networking and bbPress message board community addons make the Plexus theme a grand solution for anyone with an ambitious project to complete.
Well, Plexus has been removed from the ThemeForest marketplace, but more BuddyPress themes can be found here.
---