BeTheme, Premium WordPress Theme With Hundreds of Demos
Some call this the Best Theme Ever made, and I guess I can see an argument for that.
The BeTheme WP theme offers true multipurpose site creation for people who enjoy user-friendly design and sturdy and responsive structure that has been quite popular with website templates buyers. More than 80,000 people have purchased this WordPress theme, but that does not mean there are 80,000 websites that look exactly the same. Far from it, in fact.  BeTheme offers more than 100 different design options, multiple demo pages for different industries such as spas, real estate agents and rock bands among others and also many other customizations that can be combined to create unique online platforms.
Start at the top by choosing one of the 17 different headers that can be customized even further to suit your needs. Explore the advanced options control panel and the powerful shortcode creator that allows non-developers to simply copy and paste short snippets on two different pages to create the look they want. BeTheme WP theme also offers clean code for quick load times, search engine optimization integration and full translation capability.
With a price tag under $60, BeTheme is an affordable way to create powerful portfolio websites without trouble. On the ThemeForest layout shop, this theme offers 44 different demonstrations of just how different each user could make a site. There will be no need to buy multiple themes or hire expensive designers no matter how many websites you wish to create. At its most basic, a quality WordPress theme should always be able to make this claim. BeTheme takes it a step further and offers what could be the ultimate solution to all future WP website design needs.
The design options for this theme now include up to six columns of content. Any configuration can be made, which helps you create a more interesting and attention-grabbing layout. With the powerful Ajax Load More option, all elements, text and graphic will be displayed quickly on any device. This allows people who are using smartphones or tablets to view the web the ability to hit a simple button to load more of your website. If things appear only when asked for, your site visitors get a more customized experience.
BeTheme offers multiple sidebar options for left, right or both sides at once. While including sidebars looks excellent on a box structure, the full-width option is also available. This WP theme also offers the grayscale effect. It is just another powerful feature to speed upload and use times so people who navigate to the website stick around for all the great information. With the intuitive Muffin builder, you can select from a wide variety of icons to highlight different blocks of text. Everything in the BeTheme WordPress theme is very user-friendly and accessible to non-developers. However, if you do have some coding knowledge and want to make additional edits, the package comes complete with a child theme.
Here are just a few of the hundreds (!) of demo sites that are pre-built if you have a niche site you want to get started and you don't have a lot of time to waste.
There's a healthy eating, organic produce theme, which is below.  It's WooCommerce ready and looks great, so you probably don't need to sell fruits and veggies exclusively.  Now, if you want to see some more themes that are set up for WooCommerce, we've made a collection you might be interested in.
They've created a video gaming magazine theme demo, which is here.  Other gaming themes are available in this collection we've built.
There's multiple different demo sites for restaurants or café establishments here.
One more restaurant, sushi this time.  I only picked it because I really think that image is cool.  Haha.  For other smashing restaurant or other dining establishments, we've got this collection for you to check out.  Another restaurant template I recommend to a lot of people is this The Core Gourmet Restaurant Theme.
Here's a look at an attractive and full-featured wedding template.  Congrats Jessica and Bryan.  But if the happy couple should happen to not fall in love with this theme, there are other great wedding theme choices in our collection.
Here's an education or online learning website.  Other education sites are here.
And finally, a winery or wine shop site.  Mmmm, wine.
Let's have a look at what the theme maker has to say about BeTheme.
Be is full of different prebuilt websites so you can easily import any demo website within seconds at 1 click. Constantly we add new demos at users requests. So far we created websites for: electric, veterinarian, loan agency, charity agency, sitter, moving company, barber, health magazine, book writer, plumber, art agency, interior design company, webmaster, application, seo agency, university, event company, developer, car rental, band, gym, designer, marketing agency, hosting company, travel agency, real estate company, photographer, renovator, small business company, hotel, mechanic, lawyer, school, shop and much more. If you have own idea for great homepage, please do not hesitate and tell us about that. We consider all your ideas!
Wow, so, they have over 280 demo sites already built and if you suggest something new, they might just add that to the mix.  Man, they must spend a lot on stock photography.
So, that's a wrap up on BeTheme.  From what I've seen, it's a really full featured theme with tons of demos.  I'm sure if you don't get overwhelmed by all the choices, you're going to be able to find something in there you really love.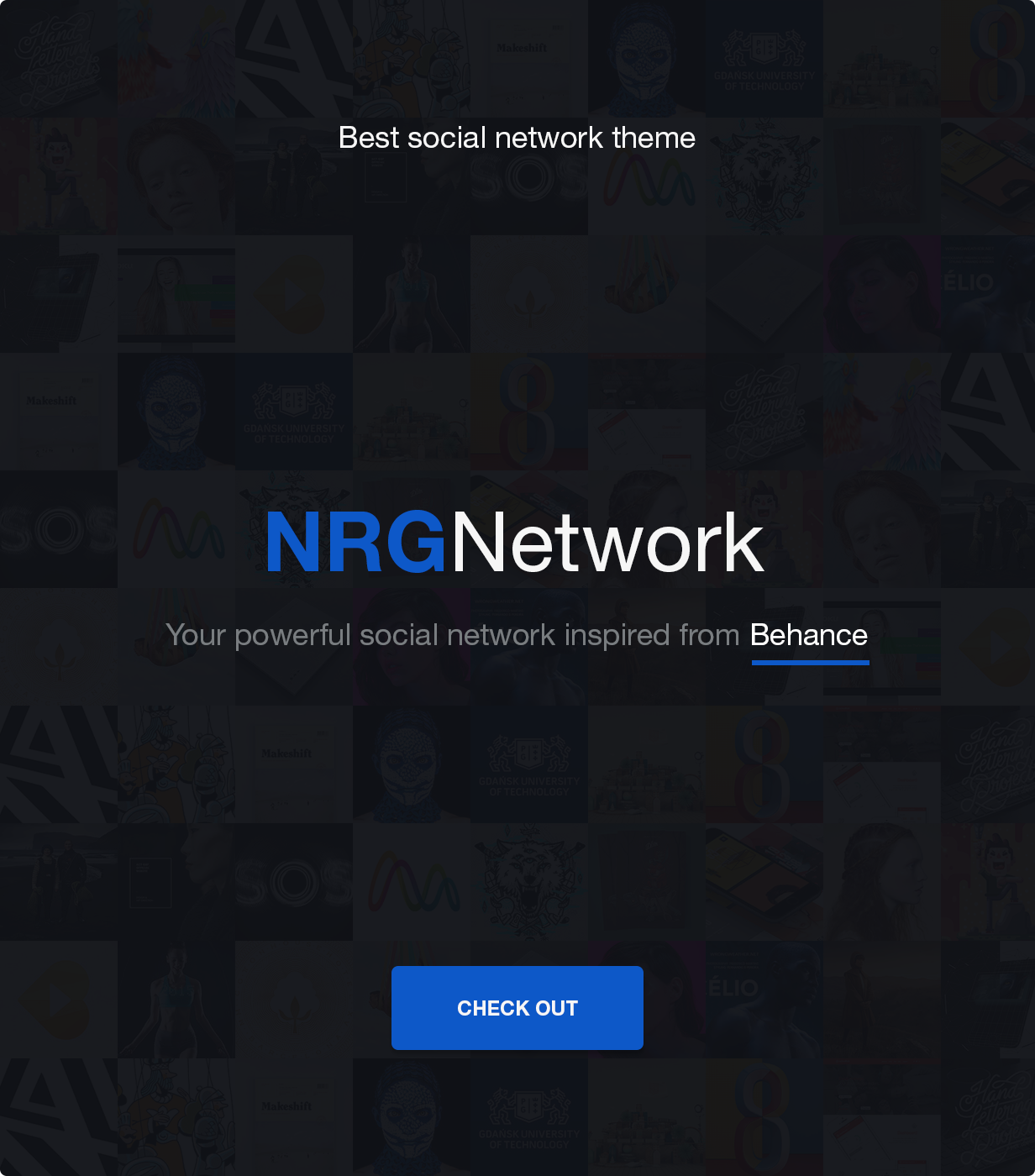 Social networking sites only work if they are user-friendly, attractively designed, and have plenty of positive traits that people want. When you choose the NRG Network theme in conjunction with the powerful WordPress plugins BuddyPress and bbPress, you can deliver on every promise. Site visitors can sign up easily with a new user name and password or by using their Facebook account. BuddyPress offers many specific addons so you can customize your website to be the perfect solution for either a diverse group of socializers or a unique niche group.
Packaged with NRG Network theme is Visual Composer, the ultimate drag and drop page builder plugin that usually comes with a premium cost. Revolution Slider is another premium option that allows you to create dynamic slideshows with attention-grabbing graphics or videos. If you do not wish to build site pages from scratch, NRG comes complete with a collection of pre-made templates to help you launch your new social network more quickly.
For additional bbPress and BuddyPress themes, try this collection.
Companies, freelancers, and other professional who want to create a social community or network for their industry or niche should consider the Bounce theme. It integrates smoothly with both bbPress and BuddyPress on any WordPress site. Every bit of the backend power is handled by these plugins, but the design elements and features come from Bounce. Customize the home page to suit your particular needs. Copy and paste shortcodes to add unique content blocks or capabilities. Choose from one of the seven attractive color schemes included with this theme.
For flexibility and professional style, the Bounce WordPress theme offers everything you need for bbPress and BuddyPress social platform creation. It offers truly flexible and completely responsive styling.  This unique design focuses on helping people make new friends and send messages, the notifications look good and sending out messages has never been easier.  If you want to take full advantage of BuddyPress, it's best to select a theme that is specifically designed to take advantage of all of the wonderful features that this free plugin has to offer.
---
Many BuddyPress-specific themes do not integrate well with WordPress Multisite, but Plexus was developed to do just that. Even if your goal is not a website network, the Plexus theme still provides everything you could want. Its unique design will push your site to the forefront of visitors' minds as they appreciate the clean, stylish, and user-friendly look and feel. Although it appeals straight out of the box, site owners can also do a huge number of customizations and edits to build a unique style. Any site built with the Plexus Buddypress theme offers retina-ready graphics and responsive layout options.
Other premium plugins packaged with the Plexus WP theme include the user-friendly Visual Composer drag and drop page builder and Layer Slider, which helps you create stunning slideshows on any page. A ton of eye-catching elements and content blocks can be arranged however you like to properly display your information and graphics. All of these features and the seamless integration with BuddyPress social networking and bbPress message board community addons make the Plexus theme a grand solution for anyone with an ambitious project to complete.
Well, Plexus has been removed from the ThemeForest marketplace, but more BuddyPress themes can be found here.
---