WordPress Children's Themes, Kids Day Care and Kindergarten
Perhaps you're trying to sell products aimed at kids or their parents and parents? An expert layout directed at children ought to be entertaining, but practical. It does not have to seem boring in any way. We have tried to keep this in mind when making this collection.  WordPress makes it simple to create a site directed at children, parents, daycare centres, kindergartens, toy stores and much more. If you are on a budget, then you might realize that these themes are a fantastic way to avoid spending thousands of bucks on a customized theme, by employing the ability of the WordPress community for several of the plug-ins and attributes you want.
This group of the greatest children's WordPress themes is packed with easy, yet effective templates for a child friendly site up and running quickly. With one of those themes, you will have the frame required to create and customize a site right off the bat. We have kept pricing in your mind also, these are all reasonably priced so that they won't break your bank. We believe you will enjoy the huge array of attributes that these themes offer also! Hope you like and please tell us if we have missed any fantastic themes.
Kids Heaven
If absolutely nothing else, this theme is colorful.  But, it doesn't stop there.  Kid's Heaven is responsive, meaning it looks great on all devices, it offers nine distinct home page options, which you can check out in the demo below.  Kid's Heaven is WooCommerce ready too, so if your business involves selling products, that's easy to accomplish.  Kid's Heaven is also bbPress and BuddyPress ready, as well as including Visual Composer and Revolution Slider, for big, attractive sliders and fun, colorful and flexible layouts.
---
Kid's Play
Kid's Play is a cool, fun and user friendly theme for daycare centers, preschools, after school programs, arts and crafts classes and kindergartens.  Kid's Play features a playful design with fun animations that combine with fun, kid-friendly icons that really set the stage for an all around great website template for kids.  On the technical site, Kid's Play is retina ready as well as responsive, for a great looking user experience and as always with ThemeFuse, you get detailed documentation and strong support with each and every theme.
---
Kidz Store
Kidz Store is one of the finest WordPress ecommerce themes for the niche of children's products like WordPress theme kids party supplies or a children and toys WordPress theme.  Kidz Store is designed to make setting up an online shop quick and easy, not to mention affordable.  A nicely prepared kids blog template requires plenty of functions to ensure it is innovative as well as exciting.  This theme comes crazy cool features for selling kids products like clothing or toys, and here's a great thing: it's compatible with WooCommerce. Because of it's quirky design it's best used to create sites for selling toys, clothes, children's books and other products that kids love.  If you'd like to see more WooCommerce ready themes, check out our collection here.
---
Ad-Sense
You might not think it by reading the title, but Ad-Sense from MyThemeShop is a perfectly crafted, responsive AdSense optimized blog that's perfect for blogging about babies, girls and boys of all ages and motherhood.  What's the best WordPress mommy blog?  In my opinion, at least for a lot of people, it could very well be Ad-Sense.  This theme has it all, a fun, kid friendly design, great layout that puts the focus on your content, a plethora of AdSense ready areas to put any sort of advertising you want and it's all incredibly simple to use.  Ad-Sense has a simple, straightforward boxed-layout that means all your articles are very easy to find, easy to navigate and they're going to get a lot of clicks if you select the right images to go with your killer content.  Lots of widgets help add functionality and  Ad-Sense loads up fast for improved SEO.  If you're not using a fast loading, SEO ready and Ad-Sense optimized theme, you may want to have a look at Ad-Sense.
Kid Quest
Kid Quest, it's all about Kindergartens, play groups, primary schools or daycare centers.  Designed for professionals who want a fun way to highlight their services geared toward kids and schools.  There are several pre-defined layouts and feature lists included, showcasing kids activities and since this theme is part of Theme Fuse's 'Core' theme, it's ultra flexible and versatile.  Kid Quest offers several built in sliders, including premium sliders Layer and Revolution.  The simple design makes this theme easy to navigate and each layout that's included was specifically created to give an air of professionalism to parents can see that their child is in good hands with your company.  With loads of color choices, background images and more, this theme is superbly flexible too.
---
Sky
Sky is a dreamy little kids style WordPress theme that floats above the pack in with a wonderfully whimsical style that will leave your visitors with a sense of wonder and joy.  Sky works in a unique way, loading all of it's content with AJAX, so that the page load speeds are really fast.  A well prepared kids blog template must have plenty of features to cause it to be innovative and even lots of fun.  No matter how many pages you have, the page load speeds are lightning quick.  A lot of the design elements in this theme would be perfect for a blog about kid stuff, a blog aimed at mothers, a page for promoting an app aimed at children or even an educational business.  Youngsters ought to have an entertaining, appealing, incredibly well-designed WordPress kids theme.
---
CaresLand
CaresLand is all about day care centers, child care and kindergarten or preschool programs.  Kindergarten classes are meant as a way for kids to transition from home to going to real school, and there are lots of fun activities like drawing and singing that help make it really enjoyable and CaresLand make it simple for you to promote those activities and show parents how much fun their child will have.  CaresLand has a special events page, a beautiful slider and it's totally responsive, so it looks professional and appealing for kids and parents alike.
---
WordPress Women's Themes, Feminine, Girly, Elegant and Beautiful
These amazing WordPress feminine themes are great for female bloggers, entrepreneurs and business owners, no matter what kind of site you have.  If you want to show off your amazing products and content, you'll need a great WordPress theme like these.  We've gathered up a collection of feminine WordPress themes designed to appeal to women, girls or just female targeted websites in general.  For websites aimed toward a female audience, you may need to find a perfect, feminine WordPress theme.  Sometimes, it's the only thing that will do.
If you want to start a 'mommy blog' or a website geared toward female interests, perhaps you're a woman who wants a personal website for writing, or you're running a business that sells products that ladies want to buy, really any sort of website where females are the target demographic, you're going to need a great template to get started with.  That's why we've collected these themes together.
I'd say it's a good guess that most WordPress theme developers are guys and the designs and layouts, the color schemes and icons, may be aimed more at men.  So it can be a challenge to find a feminine WordPress theme that has the attractive style that will appeal to women.  This collection of feminine premium themes are all designed with women in mind, for female WordPress admins who want a more ladylike theme.
Chamomile
Chamomile is one of my favorite themes by BluChic.  If you don't know about BluChic, you really do need to check out BluChic's entire collection of themes, they've got some fantastic feminine style WordPress themes.  Each one is easy to use, great for blogs.  More than a few also offer eCommerce solutions to get you into the game of selling products.  BluChic calls Chamomile the 'girl next door' theme.  I love that description, but let's get into more of the features.  You can obviously see it's a feminine style blog theme that could be great for a wedding planner or event coordinator, but there's more than meets the eye.
Chamomile includes PSD design files with every download, that allows for full style control of your site.  Chamomile is responsive, so it's optimized for mobile devices.  You want to adjust colors?  Easily done vial the color wheel color picker.  No coding needed.  Upload your header logo and add a featured slider, if you want to.  Social media icons are included, linked to each of your social network accounts via the theme options panel.  Add a stick menu and choose from one of the many layouts that are included with your download package.  A full featured, feminine and stylish theme, that's what Chamomile is all about.
---
Geraldine
Coded to be incredibly SEO friendly, perfectly responsive and packed with more great features, Geraldine is one of the best feminine WordPress themes around.  Made by BluChic, this template packs a unique style with user friendly backend to make it a great option for those of you seeking a feminine styled theme with the flexibility for any occasion.  BluChic makes sure you have all the documentation and support you could possibly need, it's WooCommerce ready for selling products, you can quickly and easily add your logo, change fonts and colors, even choose from several different layouts to maximize your user experience.  Geraldine is a classic beauty, it's ideal for female bloggers, lifestyle blog sites, wedding blogs, event planners and a whole lot more.
---
Elegance Pro
I love the simple, graceful and feminine style of Elegance Pro.  While it's incredibly simple in terms of layout and style, Elegance Pro maintains a very subtle hint of feminine style making it a really strong choice for blogs aimed at or written by women, for selling products that are tailored for women or blogging about women's issues.  With multiple custom page templates, several widgetized areas, customizable headers, total responsive layout, your site is going to look just the way you want it to look.  Refinement, polished appearance…elegance, that's what this theme is all about and for a portfolio, blog or for selling products, Elegance Pro is a fantastic choice.  There are absolutely more feminine photography WordPress themes to come, but we're really excited about this one.
---
Pretty Chic Pro
Pretty Chic Pro is an Adsense optimized, feminine and creative WordPress theme that's great for bloggers who want a simple but elegant styled theme with sleek functions, modern options and a layout that makes your content clearly accessible for everyone.  Pretty Chic Pro's use of widgets gives you a clear advantage in appealing to advertisers because their ads will be squarely in focus of all of your visitors.  When you select a Genesis Framework child theme like Pretty Chic Pro, you'll get a theme that is constantly updated to work perfectly with every update of WordPress.  And if you need a responsive theme, which you absolutely should, you're in luck, because all Genesis child themes are totally responsive and look great on all devices.
---
Lynette
If you want a gorgeous, feminine WordPress blogging template, you definitely need to consider Lynette, one of the best looking, most feature filled feminine themes around.  Lynette was made by BluChic, the leading theme maker for women's themes, feminine themes and you're really going to love this design.  Lynette is made to be a perfect feminine blog and it's proven to be among their most popular offerings.  For a feminine website or one aimed at women and girls, style is incredibly important.  That's the first thing you notice with Lynette, but there's more than meets the eye.  Lynette is incredibly user friendly, you can adjust nearly every setting with ease, customizing your site until it looks just like you want it to look. Or, just use it as is right out of the box and it'll look great too.
---
Feminine
This is Feminine, a gorgeous, elegant, stylish and pretty WordPress theme for women.  What's the best girly WordPress theme around?  Right now, Feminine is definitely among my top picks, because it's well designed, it loads incredibly swiftly, the typography is lovely and with high quality images, the user experience is going to be flat out amazing for any kind of feminine blog or magazine.  Style, fashion, travel and lifestyle, it all will look amazing with Feminine.  With WooCommerce readiness, you can build a great looking online shop and since Feminine is responsive, you can sell those products to women and girls who browse your site on mobile devices.  MyThemeShop, as always, offers high levels of support and with this theme, there's nothing you can't do.
---
Isabelle
This is Isabelle, a feminine blog theme with WooCommerce integration, a lovely responsive layout and loads of great custom options.  While Isabelle was created for women business owners and webmasters, it can work for just about anyone.  I love the simple, elegant style of this theme.  Isabelle uses featured 'promo boxes' to help promote your newest or most popular content, either below the slider or below the footer.  You can add images, type in a call to action and even link to your social media accounts, your online shop or particular products in your shop.  Multiple layout options allow you to set your homepage up to be static or choose a layout you love.  Show excerpts in two columns, show excerpt posts with a thumbnail, full width content, classic full posts and more.
Isabelle has you covered on the technical side too, with amazing looking documentation and fast, friendly support.  Coded to be incredible SEO friendly, this responsive theme has schema.org microdata built in.  What does that do for you?  Well, it makes it so the search engines find your content fast and get it indexed.  That's the first step toward building a massive audience.  Isabelle is WooCommerce ready too, so building your businesses online shop should be a fun challenge.  WooCommerce is great, it's got so many extensions and addons you can add.  Really powerful stuff.
---
The Voux
This theme is called the Voux, and it's a very popular, highly rated, WordPress lifestyle and fashion blog theme that's perfect for women who need a high quality, simple and beautiful WordPress theme.  With the Voux, you can easily create a beautiful and flexible, simple, lovely online blog or magazine website.  The Voux integrates all your various social media accounts and that makes it far, far easier to reach out and connect with your audience.  With the right social media campaign, you can even help build up your readership, since so many people are looking for something new and exciting to read or look at.  The Voux works just as well with travel websites, food and recipe blogs, the latest fashion and other types of lifestyle subjects.  With over 5000 downloads so far, this theme is a definite winner in terms of popularity.  The stylish posts pages are definitely worth checking out, they make your content look completely professional.  The Voux has infinite scrolling, multiple header styles and The Voux was designed with an incredible attention to detail, making it a great choice for bloggers and writers who want the very best theme possible.
---
Jacqueline
Jacqueline is a powerful, professional theme that's idea for any businesswoman.  Jacqueline could be a wonderful solution for consultants and life coaches, it's stylish and full-featured, it makes a wonderful first impression.  With a heavy concentration on list-building, this theme is a great way to craft your business, building it from the ground up.  Jacqueline utilizes a major portion of the 'above the fold' area to help drive new leads, helping you build your email list and help convert leads to sales.  That's just the beginning with this beautiful and feminine WordPress theme.
Jacqueline is perfectly responsive, it's ideal for mobile devices like laptops and handheld devices like smart phones.  The newsletter signup form is prominent and well designed, easy to use both front and backend users.  There's a sticky menu for helping your visitors navigate your website. Jacqueline offers multiple layout options, a featured slider, author biography and it even has a banner ad area for selling advertising space.  There are social media icons included, Jacqueline is coded for SEO performance with fast loading times and clean code.  The documentation and support is top notch too, so if you run into issues, it's simple to get those problems solved.
---
Jessica
Say hey to Jessica.  Jessica is a friend to any webmaster who wants a good looking theme that can be changed up to look any way you want.  Any way you define it, this is a great looking theme and you're going to want it.  As your customers mine the internet for information or to seek out new and cool products, they're watching for quality WordPress themes.  From the morning to the late, late night, folks are looking for amazing websites that  play along with the newest trends, from cute designs with lovely details to simple, clean and modern sites.  Jessica is a friend to anyone who needs a feminine theme with style, grace and full WooCommerce support.
---
Glam Pro
Let's get glam with this cool looking, soft, dainty and distinctly feminine WordPress theme.  Create a glamorous site that attracts the maximum amount of attention possible with this alluring, graceful and bewitching WordPress theme.  With exquisite code, superb support and exhaustive and exact documentation, the Glam theme may be a perfect choice for ladies who need a website that's clean, smooth loading and jam-packed with tons of features.  Blogging with a theme like Glam is completely painless, the enormous level of potential custom options is staggering.  With widgets and addons, you'll be adding nearly infinite functionality at your whim.
---
Refined Pro
Refined Pro is a beautiful, elegant and feminine WordPress theme that's ideal for bloggers who want a subtly feminine, powerfully featured multipurpose blog and eCommerce shop theme.  Refined Pro was built on the Genesis Framework for the ultimate experience in flexibility and stability.  All with a wonderful style that will absolutely appeal to women.  If you're an entrepreneur whose site is geared toward women and girls, a great looking theme like Refined Pro is always a nice choice.  With responsive layout, a dynamic logo that can be aligned wherever you see fit, multiple flexible widget areas, powerful live customizer, support for tons of after market plugins and add-ons as well as WooCommerce, this Refined Pro is a great solution for building your business and really delivering a memorable user experience.
---
Salon
Salon is a feminine WordPress theme, perfect for a Spa or beauty salon, even a stylish and feminine personal blog site.  This theme does a little bit of everything and with the drag and drop page builder, you can construct a theme that is beautiful, feminine and highly functional, not to mention flexible.  Five content types help set this theme apart and a full screen slider is a great way to introduce yourself and highlight your most important content, letting people know about your services and personnel.  The layout is indeed flexible with masonry layouts, columns, filterable portfolios and a lot more.  With WooCommerce perfectly supported, you can craft a stylish online store too.  Unique color schemes, also customizable, and powerful theme options round out the features of this dynamic, feminine WordPress theme.
---
Aesthetic
Aesthetic is a full featured theme that was designed with a slightly feminine touch, making it great for lifestyle blogs that also want to add beautiful portfolios and WooCommerce to sell products.  Aesthetic was built with Visual Composer at it's heart, so you'll have the ability to create a layout that's exactly what you had in mind and with many, many custom addons available, there's almost nothing you can't do with this theme.  Any type of blog these days should really be responsive and Aesthetic is, so it will look fantastic on mobile devices.  The admin interface is robust but still easy to use and as a multi-purpose theme, the entire template is relatively easy to customize, which isn't always the case with real 'premium' templates.
---
Josephine
Josephine is a stylish, attractive and feminine styled WordPress lifestyle blogging theme, ideal for women who want to impress a feminine audience.  I mean, you don't have to be a woman to enjoy this theme, but it does have a certain style that lends itself perfectly to lifestyle blogs geared toward women.  With Josephine, you'll receive a slimmed down theme with a clean but distinctly feminine style, plenty of white space, great looking typography and features that make it perfect for a blog.  The flexible 'Live Composer' page builder plugin is what powers Josephine, so you'll have the ability to create layouts that look amazing, no matter what.  This theme is ultra flexible!
---
Olsen
This is Olsen, a feminine blogging theme that could be just what you need to create a beautiful, feminine blog theme on any subject.  Olsen is modern, has a lot of features that make it a wonderful lifestyle or fashion blog theme, a stylish personal blog or a nice looking travel blog site.  Olsen provides a smooth blogging experience and it's just as easy for readers to read and comprehend your writing.  Olsen gives you several layout styles, nearly endless different styles with colors any typography easily edited, there are post formats to make your blog posts really stand out, live editing feature with dozens and dozens of different settings you can tweak.  Custom widgets and more all make Olsen a wonderful pick for a feminine blog theme.  Almost forgot, Olsen is WooCommerce ready so you can set up a great looking feminine shopping site too.
---
Olivia
Olivia is a beautiful, feminine and well crafted WordPress 'daybook' theme, a sort of blog and magazine combination that might work well for a lifestyle blog, as well as an online shop catering to the needs of women.  Olivia is a great food blog, travel or photography blog or tutorials website.  Anything where the information needs to be well organized with a slightly feminine style, that's where Olivia will shine.  Olivia offers a life WordPress customizer, many various blog layouts, custom theme widgets, post formats support and 3 new and interesting page and post layout styles.  With Olivia, there's nothing you can't accomplish.
---
Boutique
Boutique is a well crafted, feminine eCommerce theme that is also a pretty amazing theme for creating an online shop using the eCommerce plugin of your choice.  A lot of folks love WooCommerce, but you can use JigoShop or whatever you want, to create a gorgeous feminine WordPress site.  What kind of products do women want?  Well, it could be anything from clothing to jewelry, watches, exercise equipment, accessories, stuff for the house or apartment.  The choice is yours and Boutique does make for a really nice looking website in the end.  I've used Elegant Themes before and found their documentation to be great, their support and knowledge base is amazing too.  If you want a theme that has a very specific look, you're in luck, Boutique may be what you want.  If you want a theme that's simple to edit and customize, you may want to look elsewhere.  This theme has such a specific design, you can change the colors and fonts, but that's just about it.
---
Zarja
Zarja comes packed with the kind of features that make it easy to set up your new website effortlessly and with basically no coding skills required.  Great for beginners who love the look and style of a professional, premium blog theme, but who don't want a theme that's overly complicated to learn.  Zarja contains five distinct home page variants in addition to seven custom post templates, an Instagram web feed, SEO optimization and enhanced readability thanks to Google Fonts, an astonishing eye for detail, integrating subtle transitional animations all over Zarja's many elements.  That's a wonderful Material Design philosophy. Zarja is minimalistic in design, clean, crisp, fun and infinitely easy to customize.  The custom headers, the Revolution Slider premium plugin and a natively reactive cross platform design perfectly easy and clear navigation on every browser and every device.
Zarja is a creative, fun, whimsical, classy, simple, feminine WordPress blog and portfolio website theme.  If you're a female webmaster, or you're marketing products aimed at women, this theme is a real attention getter that will make it easy to get your products and other content online.   Zarja is flexible and super accommodating to your needs, while it's feminine, soft, elegant, visually cozy.  That makes your audience comfortable, like they're at home on your site.   The bottom line is, Zarja is a feminine WordPress blog theme for a modern woman.
---
Bridget
Bridget is quite possibly the best looking blog theme this year for sites in the fashion trends category, I think that Bridget would work perfectly for creating a lookbook, highlighting the newest trends in fashion or lifestyles.  Bridget offers you complete control over the layout of your blog too, which is handy.  Match your brand with style and grace.  A great looking, user friendly and robust WordPress blog theme is a great option to allow you to grow followers online.  So if you're into interior design, the latest fashion and accessories, you're a lifestyle blogger or if you're just a personal blogger looking for a fun and stylish theme with plenty of gorgeous design elements, Bridget might be what you're looking for.
---
Applique
This is the fashion blog demo for the multipurpose WordPress theme called Applique.  Applique is a rich looking theme, simple and elegant, classy and stylish, with a simple and clean layout, plenty of white space and it's a wonderful frame for all of your content.  Whether it's the latest fashion trends, makeup tips and recommendations, lookbooks and more, if it's important to the fashion and style industry, it's going to look great with Applique.  Don't have an IT or coding background?  No problem Applique is crafted with beginners in mind too, so you can still achieve a great looking website that has all the features you need to get ahead and stay ahead in the highly competitive fashion blogging world.
With WooCommerce, you can quickly set up shop to sell your products, but if you have no products to sell, that's fine too.  Applique is a fashion blog theme at heart and the design of this blog is wonderfully suited to that purpose.  Applique's simplicity is one of it's greatest strengths, but that's just the design and layout.  Inside are a lot of powerful features to make blogging easy.  Well, easier anyway.  With a simple five minute installation, you'll be off and running in no time.  This cleanly coded theme, with SEO optimization, can really help your blog rank too.  No bloated plugins, no unneeded features.  You can even monetize your blog with an affiliate metabox, multiple advertising spaces and this theme is Adsense ready too.  Connect with readers via social media, add WordPress/Discuss comments and more.
---
Brittany
Brittany is a feminine WordPress blogging theme specifically designed to guarantee a smooth reading experience. Its simple layout not only highlights individual posts, but also ensures that website elements are neatly in place. This theme is best suited for lifestyle and fashion blogs, as well as portfolio websites.
The Brittany WordPress Theme features access to a comprehensive control panel. This control panel allows designers to access over 30 color and typography settings. It also allows changes to theme layouts, columns, post formatting, and page personalization. For designers with limited coding knowledge, Brittany further boasts of a drag and drop homepage builder to ensure hassle-free editing.
Bloggers with businesses can also benefit from the Brittany WordPress Theme. The theme offers WooCommerce support, one of the most powerful e-commerce plugins for WordPress. It also features complete social media integration to add social profile snippets and author information into the blog. Post sharing is also made easier with this feature.
The Brittany WordPress Theme further boasts of access to a variety of custom widgets to add functionality and engaging content to readers. The theme is also translation ready to make the blog accessible in various languages to aid foreign guests. Other notable features of the Brittany theme include search engine optimization and retina ready responsiveness.
Want to see more themes from CSS Igniter?  Check these out.
---
Highfill
Highfill is, simply put, one of the most elegant, graceful and delightful feminine magazine themes on the market and if you want to blog about fashion of lifestyle, food or products marketed toward women, this theme could be a great choice.  I think that Highfill is the perfect fashion blog, lifestyle blog or maybe even a travel blog.  The style is well though-out, with simple and effective typography, a layout that's interesting and simple enough, with clear navigation and plenty of ways for you to highlight the posts and pages you want to call the most attention to.  Highfill didn't scrimp on social networking either, it's very easy to integrate sites like Facebook, Twitter and Pinterest, which is critical to the success of any fashion or lifestyle blog.  Tell your story in a creative, unique and fun way with the responsive, well designed and well supported theme called Highfill.
UPDATE – This theme is now WooCommerce ready, so you can add a shop to your site, if you'd like to sell your own products.  That really makes a big difference since so many fashion bloggers want to offer their own products for sale.
---
Salty
---
Soledad
---
The Mysterious Girl
Marilyn
---
Naomi
---
Olivie
---
Paisley
---
Quinn
---
Rachel
---
Samantha
---
Tiffany
---
Emma
---
Victoria
---
Adelle Pro
---
Adriana
---
WordPress Lifestyle Blog Themes, Fashion, Food and Travel Bloggers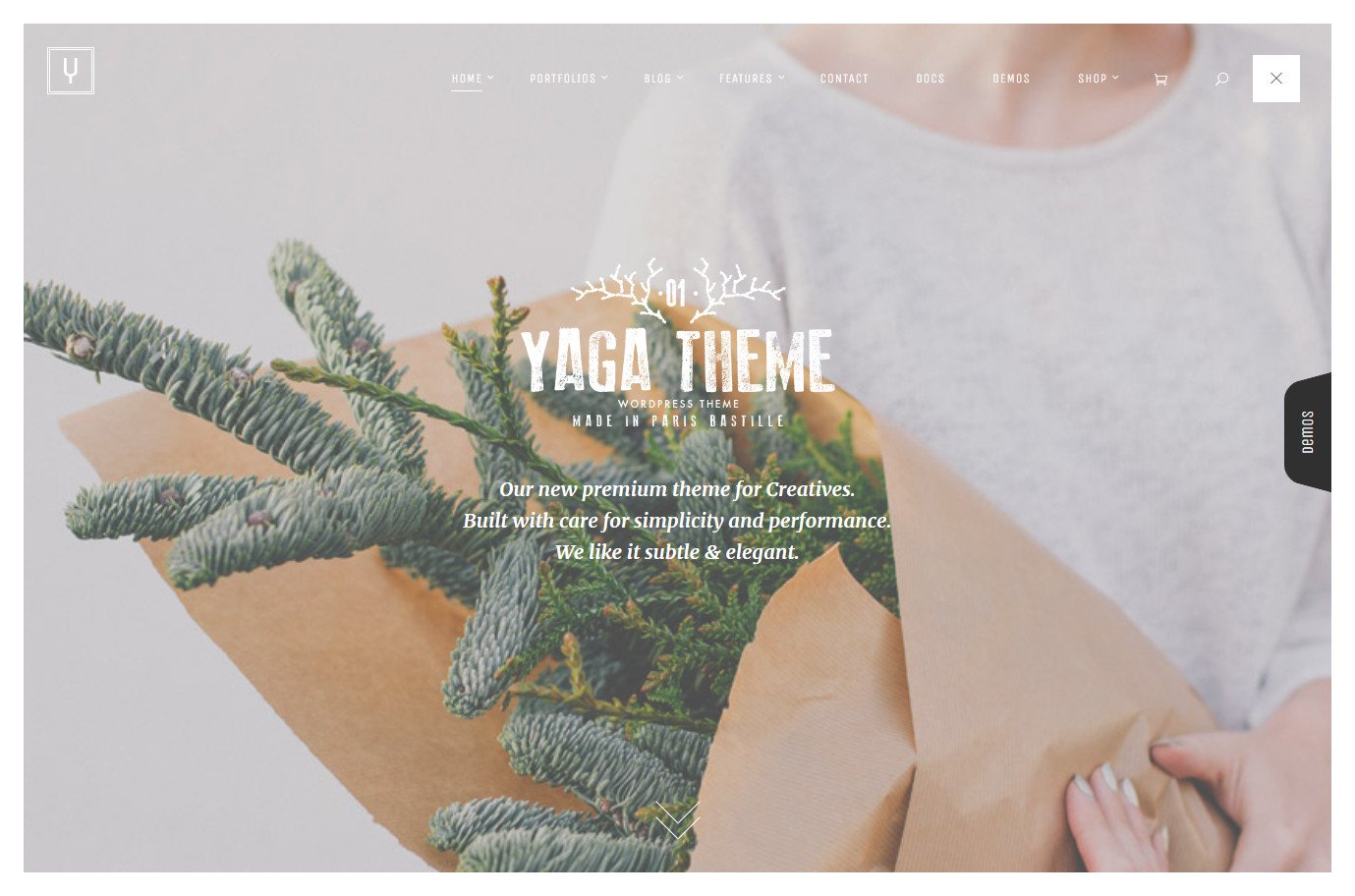 We've gathered up all of the best WordPress lifestyle blog themes around, each one crafted with care, packed with great features, boasting a strong design and each one among the very best lifestyle blogs available.  Lifestyle blogs need to give a great first impression with their fast loading times, excellent and legible typography and their general layout.  We've chosen only the best lifestyle blog themes for this collection and we know you're going to love each and every one of them.
What's a lifestyle blog anyway?  Well, it's a blog about anything you're into.  Travel, home decorating, gardening, food and personal experiences.  That's what a lifestyle blog is for, showing what you love in a beautiful and stylish way.
Underwood
Underwood, which was created by ThemeShift, is one of the best lifestyle type blogs I've seen lately.  I really love this theme.  Widgets are, in my opinion, the best way to add functionality to your website.  Underwood uses widgetized areas to the fullest extent possible.  When you use widgets, instead of hard coding functions into the theme itself, you get a flexible theme that's 'future proof'.  That means, when WordPress updates their code, when some new code standard comes out, when nearly anything else happens, your site won't break.  You simple update the widgets, rather than having to wait for the developer to update the entire theme to work properly again.  Anyway, I love Underwood as a lifestyle blog theme because it loads up very fast, it's responsive, it's easy to manage and customize and it's attractive right out of the box with a simple, clean design and tons of features.
---
The Voux
This is The Voux, an incredibly popular WordPress lifestyle and fashion blog theme.  With the Voux WordPress theme, you can build a flexible, simple and lovely online magazine or blog, all without having to learn a lick of code.  Voux integrates all your social media accounts, which makes it easier to reach out and connect with your audience, even help build up your readership.  The Voux works just as well with travel websites, food blogs, fashion and other types of lifestyle subjects.  The Voux is responsive, works perfectly with WooCommerce.  The stylish posts pages are definitely worth checking out, they make your content look completely professional.  The Voux has infinite scrolling, multiple header styles and The Voux was designed with an incredible attention to detail, making it a great choice for bloggers and writers who want the very best theme possible.
---
StyleLife
StyleLife is elegant, unique & colorful Lifestyle WordPress Magazine Theme that gives a whole new look to your website. It is loaded with backend options panels and functionality that it allows users to use this theme with Fashion, Lifestyle, Food, Travel Blog & Health Websites.  In my opinion, a wonderful feature of WordPress magazine themes like StyleLife are a great option for any online news or magazine portal.  If you need anything else in terms of the best themes for a magazine website, these guys have loads of great options.  Now, StyleLife is far from what I'd call a 'minimalist' style, it's pretty busy to be honest.  That may not be for everyone.  If you're looking for something different, I think you'll find some simpler designs in this collection.
---
Collecto
This theme is called Collecto, I think it could be a really strong choice for any sort of blog site, but lifestyle bloggers will definitely find this theme easy to use, simple to customize and it will get tons of attention, thanks to a professional, minimalist design that was inspired by newspaper layouts.  With sticky posts that take up two columns, Collecto is clearly newspaper inspired, the minimal and modern layout is a perfect platform for all kinds of writing.  Single pages are no less impressive, with featured images and post title up top, the text flows below, just like a glossy magazine.  It's a really nice effect.  The sidebar remains hidden offscreen, which forces even more attention on your writing.  I think that Collecto is a perfect theme for all sorts of blog writers, whether the subject is tech lifestyle trends, posts about beautiful art and architecture, creative inspiration blogs or something else entirely.
---
Paperbag
Here's a theme called Paper Bag, a gorgeous blog theme for any sort of blogger.  WordPress started it's days as a blogging platform.  the blogging platform, really, so a theme like Paper Bag is a great way to start off your blogging career.  For all kinds of sites, from personal blogs to travel and lifestyle blogs, WordPress and Paper bag is a great fit.  This theme does offer a truly smooth reading experience.  Choose from multiple layouts with an infinite variety of styles to choose from, thanks to over a dozen typography and color selections.
With a variety of post formats, you can let your content stand out from the crowd too.  Live editing makes it so you can see any changes you make to your content before you go live with those changes, which increases user experience.  Paper Bag is completely SEO optimized too, so ranking your content should be a relatively simple task.
---
Olsen
Looking for a great lifestyle blog theme?  Well, have a look at Olsen, a clean and crisp, well designed theme for any kind of blogging purpose.  Olsen is flexible enough for nearly any usage, from personal blog to style blog, fashion or travel.  Maybe even a blog about design, art history or architecture.  Anything creative and beautiful will look fantastic with a flexible and dynamic theme like this one.  With Olsen, you can create an infinite variety of styles, changing colors as you wish, typography and layouts too.  There are a bunch of post types, custom built, that help to make a lifestyle blog that appeals to a wide range of readers and works for an even wide variety of subjects.  With custom widgets to allow customization of your blog, each section can have a lot of features, the SEO is perfectly customized and it's constantly being updated by CSSIgniter.
---
Adventure
Looking for an amazing lifestyle blog theme?  How about Adventure, from Organic Themes.  Adventure is everything you need to create a fantastic website blogging about anything you could possibly want to blog about.  It was created specifically as a travel blog, but it works just as well for fashion reviews, product reviews, cooking sites and more.  With WooCommerce support, you can even sell products.  Maybe you're an affiliate marketer?  Well, Adventure is perfectly set up to be AdSense and affiliate friendly.  Built on the stable and fast loading Seed framework, Adventure gives you a huge head start to constructing a fantastic WordPress based website.  Featured videos, tons of shortcodes, retina display, perfect responsive design, it's all there, ready to help you make an incredible, successful and memorable web business.
---
Elegance Pro
A minimal, modern and clean WordPress blog theme like Elegance Pro can help your site get more views and keep your readers coming back for more.  Elegance Pro is built on the Genesis framework, so it loads up quickly and perfectly on all devices.  That's because the code is absolutely pristine and the theme itself is responsive.  Modern websites really need to work on any type of device, from handheld to desktops, so Elegance Pro has you covered there.  Elegance Pro improves the browsing experience for everyone.  Elegance Pro is WooCommerce ready too, so if you'd like to establish an online eCommerce site, you can make that happen.  There are several different styles for the homepage and best of all, you don't have to be an expert at coding to make it happen.  I really like Genesis child themes like Elegance Pro because you can install the theme and never worry about an update breaking your site.  Genesis is updated frequently to keep it up with the newest iterations of WordPress.  Elegance Pro really does give you a simple, clean platform for any type of content too, meaning no matter what you blog about, it's going to look fantastic.
Olivia
Meet Olivia, a lifestyle blog with a great looking feminine style, responsive layout, tons of features and an ultimately flexible set of tools for customization.  Olivia is a delightful lifestyle blogging template but it's also WooCommerce compatible, so you can set up a shop within minutes of installation.  Olivia supports 3 different post and page layouts, gallery, video, audio and quotes post formats, many custom widgets and several basic blog layouts.  The design touches are distinctly feminine, which can often be a great choice for a lifestyle blog, particularly one that is meant for a female audience.
---
Suarez
For lifestyle bloggers, style is incredibly important.  If you want your readers to see what kind of taste you have, you need a great theme to properly frame your posts, images and other content.  That's what Suarez is all about.  The Suarez WordPress theme was crafted with Bloggers firmly in mind.  With incredibly clean, crisp code, fast loading pages, tons of post types, bold images, great typography, Suarez gives the first impression you want to give.  Suarez theme is a modern design with beauty to spare, it's got tons of great features and you don't even need to be an expert at WordPress to set this theme up and get started.  It's really, really user friendly.  That leaves you more time to create content, which is what running a blog is all about.  Suarez includes a drag and drop page builder to help you craft the design and layout you want, you can structure each and every page the way you want.  That's flexibility and your audience is really going to love the way this theme looks.  It's perfectly responsive, bug-free, offers thorough social media integration and extensive documentation.  Suarez really is a premium quality WordPress theme.
---
Weston
Considering a smooth operating theme with powerful features for your blog?  Consider Weston.  No matter what style of living you're showcasing, from posts about entertaining guests to blogs about motherhood, travel, fashion and home decoration.  It doesn't matter what lifestyle topic you choose, a theme like Weston can really help pull it off.  There are tons of options out there, you'll want to make sure you select one that's flexible with a clean and clear layout and all the features that any lifestyle blogger needs.  With Visual Composer on board, Weston makes it easy to get the layout your site needs and Visual Composer makes your site truly flexible for all purposes.  What kind of theme is best for a lifestyle blog?  In my opinion, Weston is certainly high on the list.
---
Grace Under Pressure
Grace Under Pressure is a touch optimized blog theme for lifestyle bloggers who want a really powerful, mobile friendly WordPress theme that has a simple, minimal and modern style, with loads of bigtime features under the hood.  Responsive and really optimized for tablets and smart phones, Grace Under Pressure supports all swipe gestures, allows for gorgeous imagery, which is very important for lifestyle bloggers.  With lovely author profiles and a user friendly customizer, hundreds of people have found Grace Under Pressure to be a great fit for framing their web content.  Grace Under Pressure is also a Bootstrap coded theme, so you know it's reliable and there's absolutely no code bloat in this theme, which makes it great for wellness blogs, travel and fitness blogs, fashion trends and more.
---
Blogue
If you're a lifestyle blogger, I think Blogue could be a wonderful choice to help get your site the attention it deserves.  A lifestyle blog needs a simple but elegant design, one that frames your written content in a beautiful way, which is precisely what Blogue attempts to do.  Any kind of personal blogger can benefit from a theme like Blogue though.  If you're a beginner, Blogue is easy to set up and the simple and classic style is responsive, which means it's going to look good on all devices, irrespective of screen size.  With a flex image gallery, your images will look fantastic too.  No matter the topic of your blog, from healthy living options to travel, interior decorating and entertaining to work fashion blogs, Blogue could be a wonderful choice for your website.
---
Sarraty
Sarraty is finely crafted, well tuned, professionally built multi-purpose responsive and retina ready WordPress theme with tons of features and elements, like unlimited colors and fonts, to help you get a new website on the web in minutes, or even to rebrand your existing site.  Sarraty's built the way you want it to be built, with clean code and pro-style design and we're guessing you'll say "Holy Cow" after purchasing it, the flexibility of the theme will amaze you, with our powerful options panel you can almost turn on or off every feature in the theme and use the features you need to get the most from Sarraty, and the advanced page builder will make you use your creativity to build any page and give it any look you want. You also have unlimited ways to build your website, which is nice.  To top it off, everything on the entire theme, from options to the coding itself, has been optimized to ensure that it loads fast and will not crash.
---
Lynette
Lynette is a beautiful, feminine theme that has every feature you could possibly need to create a stunning website using WordPress, the best free platform for creating an amazing website.  If you want a feminine theme for a lifestyle blog, you definitely have to consider BluChic.  they're considered the top theme maker for websites geared toward women's issues, feminine blogs, products for women and more.  I absolutely love their designs and Lynette is no exception.  Like all of BluChic's themes, Lynette is incredible simple to use, it's easy to customize, it's got a ton of features to help you make a really incredible website.  Lifestyle blogs are often very simple to look at, which is a good thing, since you want your content to really shine through, whether it's images or blog posts.  Lynette makes that happen.
---
Yaga
Yaga is a multi-purpose, responsive WooCommerce WordPress theme, that comes equipped with all the features you need to set up a responsive WordPress site quick, fast and in a hurry.  Yaga offers something unique too, a pair of plug-ins, built by PeHaa themes.  Pehaa Themes Simple Posts types, whoch lets you add any custom post type you want to, such a recipes, portfolio projects, travel destinations or whatever you want.  And the PeHaa Themes Page Builder, which makes it simple to craft your own design layouts using 20+ fancy content elements and text modules. I think that between those two plugins and a bunch more great features, Yaga is a wonderful choice for a lifestyle blog theme.
The design of this theme is fantastic, it's child ready and compliant with the W3C standards for WordPress code.  Instantly preview any customization, thanks to the WordPress customizer.  This theme also loads very quickly and smoothly too, because the number of http requests is relatively low.  That reduces the weight of the theme, causes it to load faster, particularly on mobile devices.  Very important for a responsive WordPress theme.
---
Amadeus
This is Amadeus, a simple and clean lifestyle bloggers template for creating a really nice place for all your content.  Amadeus is from ThemeIsle, one of my favorite theme makers.  It has very strongly built code that's been validated and if you have even a little bit of knowledge in HTML and PHP, you'll be able to see exactly how everything was built.  What is a lifestyle blog anyway?  Well, that's really sort of up to you.  Lifestyle blogs can be about whatever strikes you as important to your life.  From food, travel, family, friends, local culture and more, a lifestyle blog reflects your daily life in every way.  It doesn't have to remain static either, you'll be able to blog about different things as your life and interests evolve.  With Amadeus, no matter what you're blogging about, it's going to look fantastic.
---
Chamomile
Feminine lifestyle blog themes like Chamomile don't come along every day.  This theme, which was created by BluChic, is a great choice.  Aimed squarely at women and for feminine oriented websites, this personal blog has what it takes for making your posts look incredible.  Chamomile bills itself as having a 'girl-next-door' look, which is something I'd agree with.  The style is clear, feminine and attractive.  There's nothing in this theme that calls too much attention to itself, so I think it works for a lot of different types of websites, feminine blogs, lifestyle blogs, wedding planners, events sites, photographers and more.  Responsive and feature filled, Chamomile is absolutely worth considering for your next web project.
---
Geraldine
---
Isabelle
---
Jacqueline
---
Marilyn
---
Naomi
---
Olivie
---
Paisley
---
Quinn
---
Rachel
---
Samantha
---
Tiffany
---
Emma
---
Victoria
---
Adelle Pro
---
Adriana
---
Aperitive
---
Minimalist WordPress Magazine Themes, Simple, Modern, User Friendly
Sometimes, you just want a very simple, minimal WordPress magazine theme to help set your content on the path toward getting the most attention it can possibly get.  When the design is simple, your content will get more attention.  For some kinds of sites, this is really important and if the minimalist style fits with your brand, it's a really great way to go.
Some online news magazines won't look as good with one of these minimalist WordPress magazine themes, but I think the will suit a wide range of online businesses.  Anyway, I've introduced them enough, here's the collection.
Elegance Pro
Elegance Pro is a great looking magazine theme, it's simple, clean and professional, which makes it very flexible for almost any type of subject matter.  What kind of content will look best with Elegance Pro?  I think anything dominated by big, bold images and simple, clean typography.  Perfect for a writer's blog, fashion magazine, travel or lifestyle 'zine or whatever else you want to throw at it.  Elegance Pro is flexible enough for a wide variety of uses and the simple, minimalist style is perfect for almost any type of post.  Elegance Pro is responsive, it's WooCommerce ready, beautiful to look at and since it's a Genesis child theme, it loads up fast, looking great on all devices.  That's so important these days, I can't stress it enough, a responsive theme is a must-have nowadays.
---
Zerif PRO
No matter what type of website you need to build, corporate, small business, creative gallery, landing pages or just a personal blog, the Zerif Pro WordPress theme offers a great chance to develop a truly unique site without any coding knowledge necessary. When you present yourself online, you need to be able to show site visitors how professional and precise you are when it comes to both content and appearance. This WP theme allows you to do this wonderfully and to leave a great impression every time. Zerif Pro combines search engine optimization benefits to increase traffic naturally with a powerful yet very user-friendly control panel for simple customization procedures. The theme comes with dozens of useful widgets, page elements and features that you can move into place effortlessly no matter what type of content you want to include. Zerif Pro even comes complete with popular e-commerce solutions so you can run your own online shop ease.
---
The Voux
The Voux is a simple, avante garde WordPress theme for magazine websites.  With a clean, minimalist look, an appealing typography setups, the lightweight code system.  I think the variety of demo sites is impressive, there are many different setups to create a simple yet powerful online magazine for your content.  If you want a sidebar, you can have one.  Want a big image, that's possible too.  Whatever gives your site the biggest impact and fits your style, that's probably what you're going to choose and that's always a good idea.  This classic, elegant and feminine magazine theme is great for lifestyle blogs, fashion blogs and more.  I think this is all around a great theme for any sort of magazines.
---
Collecto
---