Armonioso, Elegant and Stylish Personal and Lifestyle Blog
When it comes to design, the right word that can only be used in describing Armonioso is outstanding. For women, it's even better.  Its graphics is professionally designed in such a way that it is Retina-ready and highly responsive. Armonioso is designed using cutting edge technology, thus making it ideal for personal WordPress blog and multipurpose sites as well. Armonioso theme has a well-polished layout that defies all status quo in blog design. This is a never before seen theme that breaks every limitation in blog theme design, thanks to its technologically advanced resources which combines elegance and aesthetics. Using Armonioso theme on your blog, provides you with endless possibilities.
Its 7 excellently designed layouts ensure you capture the attention of your visitors in the fastest possible time. As a rule, a catchy blog design will always high viewership. Armonioso theme comes with a mini slider which sticks your post to the screen of your readers no matter how they choose to navigate your blog site.
With Armonioso, your readers are guaranteed of seamless navigation around your website. You don't need to write a single line of code to make Armonioso work exactly the way you want it. If you wish to customize your blog exactly the way you want it, all you need do is to check out Armonioso's plugins which are about ten in number. You will definitely be blown away by what Armonioso theme is capable of doing for your blog.
It's been over a year since I first reviewed Armonioso and it' still going strong.  I still absolutely recommend this one for all kinds of blog sites from personal to professional.
Let's have a look at some of the demo sites.  There's the main demo, the sort of vanilla loo, though it's hardly plain.
And then the news site.
With retina-ready graphics and all the latest website building technology, the Armonioso WordPress theme is nothing short of outstanding. The professional developers who created it understood the importance of having a multipurpose website solution. This theme delivers a polished and attention-getting look to everything from a personal blog to a massive authority site. There is nothing ordinary about its design or capabilities. Armonioso combines an elegant attention to detail with a clean aesthetic and a highly user-friendly experience for both visitors and administrators. With this WP theme as the basis of your website or blog, you have unlimited possibilities at your fingertips.
If launching your website quickly is one of your main goals, the Armonioso WordPress theme comes complete with seven different premade templates you can use on any page. One click of the mouse and your blog can be up and running. Not only will it be utilitarian but also very attractive with everything in place to capture the attention of readers. They will also enjoy easy navigation options with the seamless menu. A mini slider makes posts sticky so your content always gets the attention it deserves as visitors navigate around the different web pages. One of the best things is that there is no need to understand any code or programming languages to make all of these amazing functions work. The WP theme is packaged with 10 professional-quality plug-ins that help you arrange everything the way you want with ease. With these customization options, attention to detail that benefits both administrator and blog readers, the Armonioso WordPress theme becomes an excellent choice for those who wish to present their content with style.
And plenty more are there for the taking, if you choose to download this theme.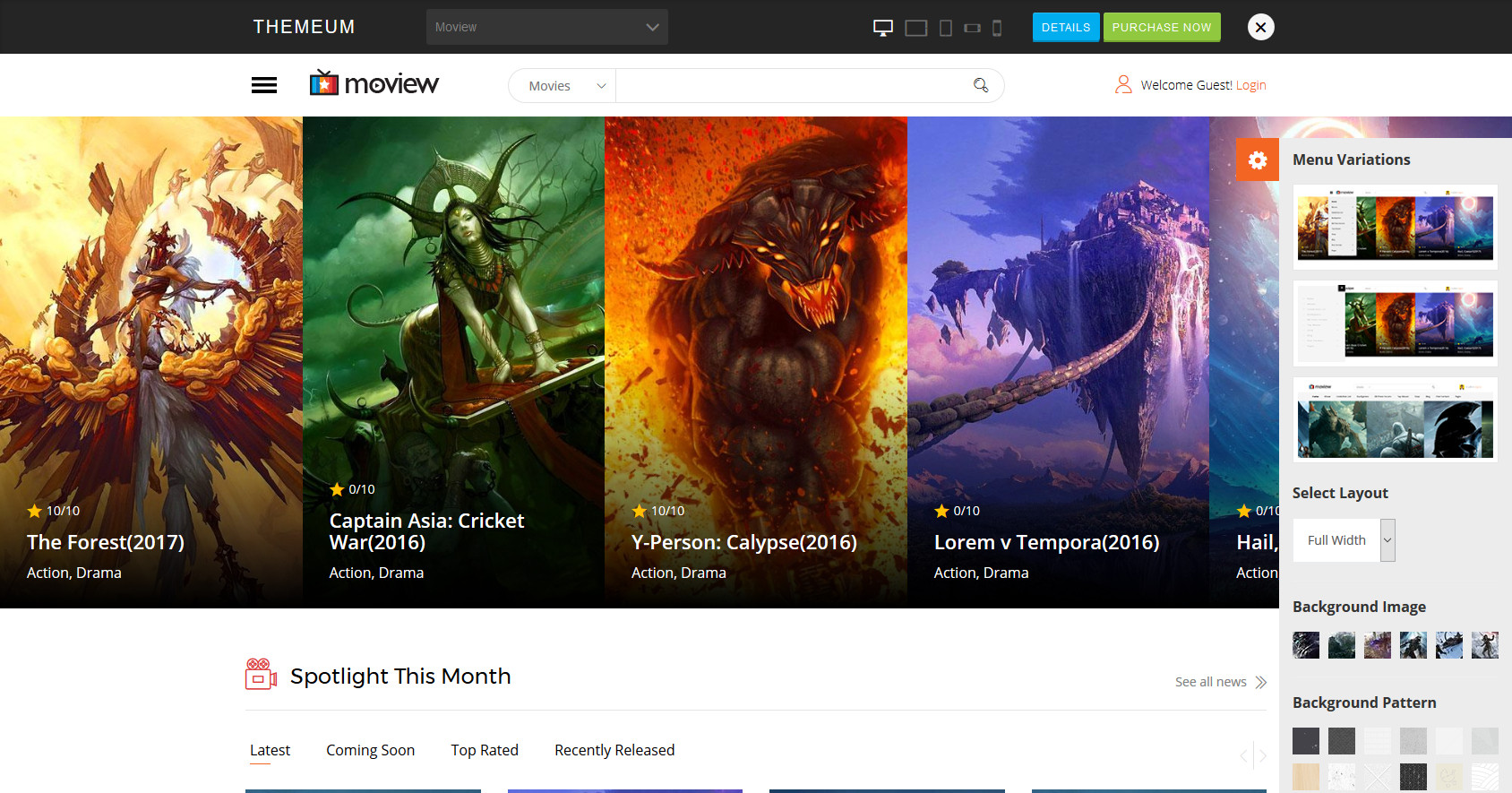 A new, attractive and easy to use movie theme for WordPress, this is called MovieW, by Themeum.
Moview Theme for WordPress 4.5+. Have you ever wanted to create a website similar to IMDb, Rolling Stone, CinemaBlend, TMDB, Rotten Tomatoes or NDTV Movies. Using Moview theme with suggested extensions allows you build movie database with reviews for new and recent movies in theaters, DVD and Blu-ray releases, and film classics. Your site can be a place where everyone goes to discover new movies, video games, television shows and music albums.
MovieW is responsive, it's BuddyPress ready, it's lovely and talented, it's award winning, it's walking the red carpet in style.  Custom backgrounds, Google fonts, boxed or full width layouts, whatever you want, MovieW could help you achieve it.
---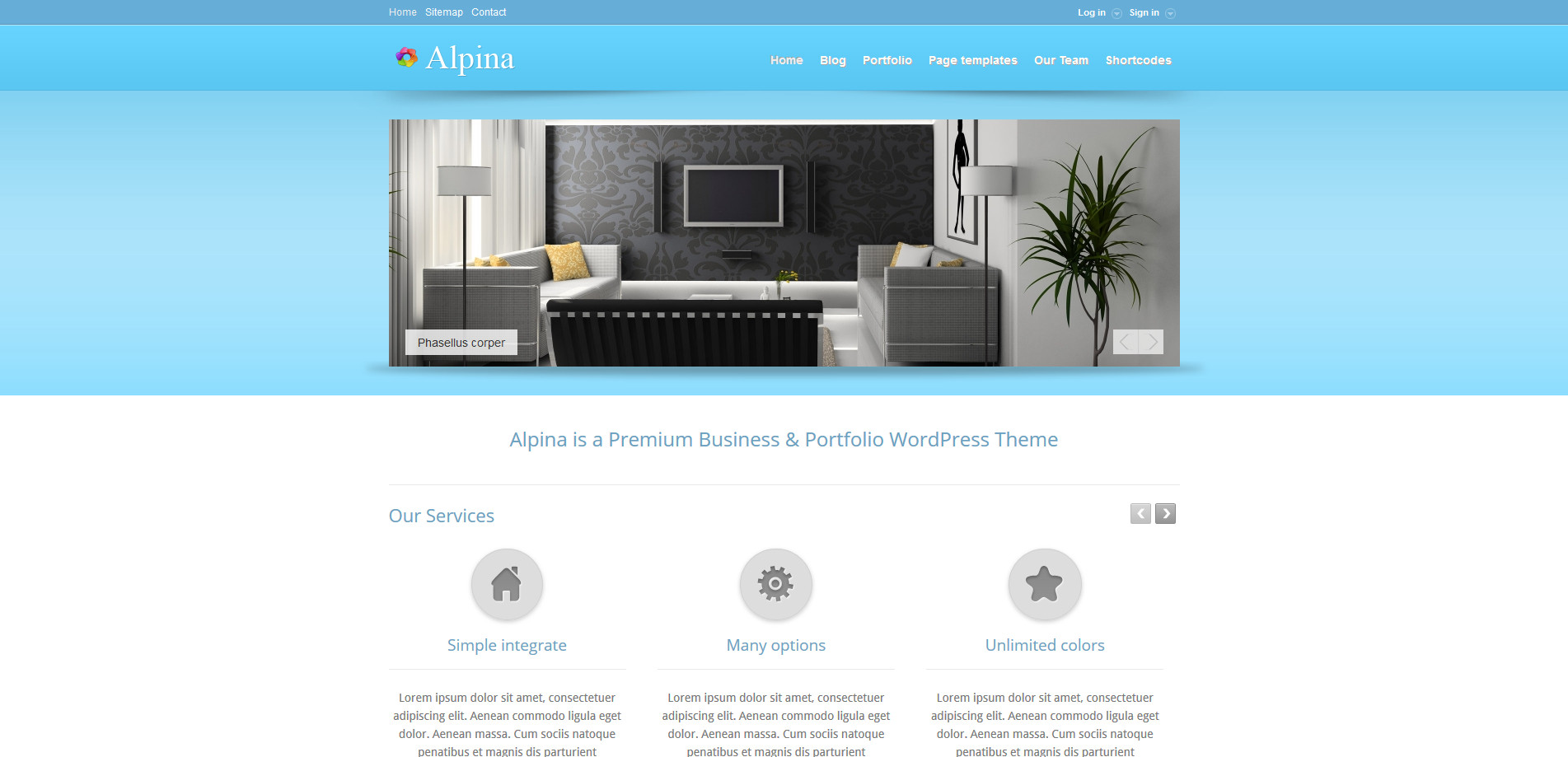 Simple and sort of dated looking, this theme is called Alpina.  I've removed it from all collections because I really don't recommend it anymore, but I'm leaving this review here so I don't get dinged by Google.  Looking for an actually nice looking corporate style theme?  Check out this collection.
The main advantage of this theme is fully customizable theme colors, from theme options panel!  Also, the content of the main page is a custom, and is formed using large amount of theme shortcodes (examples of the main pages in the documentation) that allows you to adapt the theme for yourself and make it completely unique!  In the theme a lot of settings, which you can easily customize the theme, as you need, also documentation and support attached!
Welp, we'll be back again soon for more good stuff.  Until then, so long.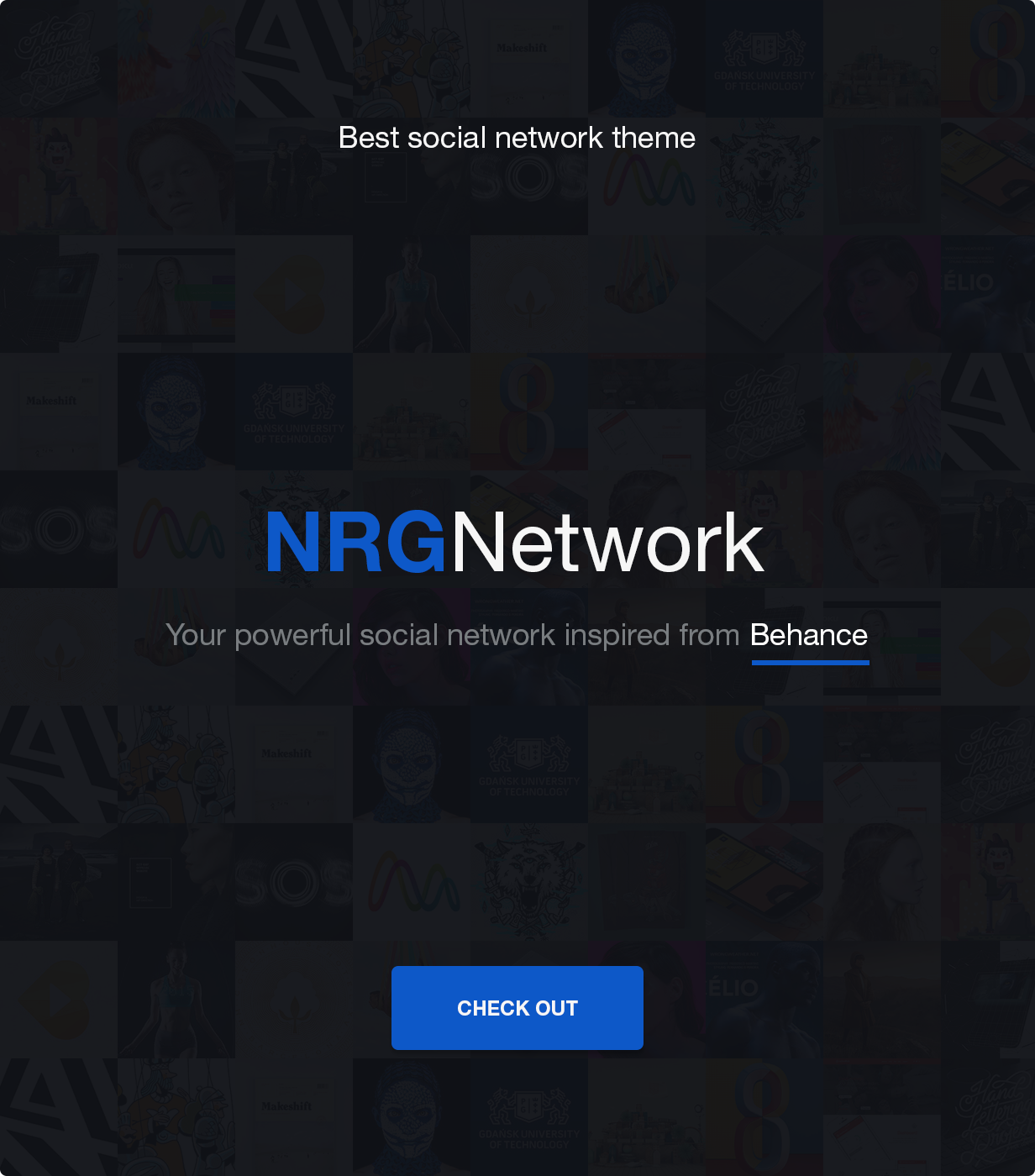 Social networking sites only work if they are user-friendly, attractively designed, and have plenty of positive traits that people want. When you choose the NRG Network theme in conjunction with the powerful WordPress plugins BuddyPress and bbPress, you can deliver on every promise. Site visitors can sign up easily with a new user name and password or by using their Facebook account. BuddyPress offers many specific addons so you can customize your website to be the perfect solution for either a diverse group of socializers or a unique niche group.
Packaged with NRG Network theme is Visual Composer, the ultimate drag and drop page builder plugin that usually comes with a premium cost. Revolution Slider is another premium option that allows you to create dynamic slideshows with attention-grabbing graphics or videos. If you do not wish to build site pages from scratch, NRG comes complete with a collection of pre-made templates to help you launch your new social network more quickly.
For additional bbPress and BuddyPress themes, try this collection.