Amaze Corporate Business Portfolio and Blog WordPress Theme
This theme is called Amaze.  Want to find out why?  Well, I guess the author believes this theme will Amaze you.  Get it?  Honestly, there's not much to get.  They bill this theme as an efficient, gorgeous, convenient to use, user friendly, fun, new and innovative and very flexible WooCommerce ready theme.  It's said that this is a theme that lets you build your business the way you want to.
Let's see if any of that it even close to true.
This WooCommerce theme is fabulous, efficient, functional, filled with features and it's totally user friendly.  That's what they say anyway.  With Amaze's purely responsive design, search engine optimization and flexibility, Amaze is ideal for any type of company, from online marketing companies to electronic distributors, small or large businesses and more.  With a simple, corporate design, Amaze can work pretty well for a wide array of businesses.  It's nice to keep your options open, I guess.
With Amaze, get ready to impress some folks.  With the Amaze theme, you're going to make a big splash, giving off the vibe of success, making a fantastic first impression.  That's because Amaze is a high-powered, high-performance, beautiful business theme for WordPress.  That's Amaze. The WordPress platform is a superb solution for making a web-based business portfolio, because it is simple to do and can be up and running swiftly, leaving you a lot more time to run your business. This premium business portfolio WordPress theme is incredibly efficient, completely simple to use, dynamic and flexible, filled with greta features that help to make running your business less time consuming.  Amaze is also SEO-friendly while remaining versatile and dynamic, ideal for designers, ad businesses, fashion designers, online marketing companies or commercial photographers. You'll want a WordPress theme that's fluid, mobile friendly and totally responsive.  That means it'll work incredibly well on any kind of screen.  You're also going to want a very multi-purpose theme, so it's possible to use it on virtually any genre of website, a theme that's incredibly simple to operate even for beginners and one with a lot of awesome, detailed documentation and fast, responsible support forums, a theme that's been designed to look stunning and one that delivers all the most popular features there are.  That's Amaze.
Main Features of Amaze
Clean, Simple, Modern Design Is Good for All Kinds of Websites
Elegant, Classy, Sassy and Very User Friendly
Wide Screen & Boxed Layout Versions are Available
WordPress 4.8+ compatible
Built with HTML5 and CSS3 Code and the Latest Bootstrap 3 Code
100% Fully Responsive, Mobile Friendly WordPress Theme
800+ Google Fonts included, Custom Fonts Optional and FontAwesome Icons integration
We found our inspiration here, 10 of the very best WordPress portfolio themes for creative portfolios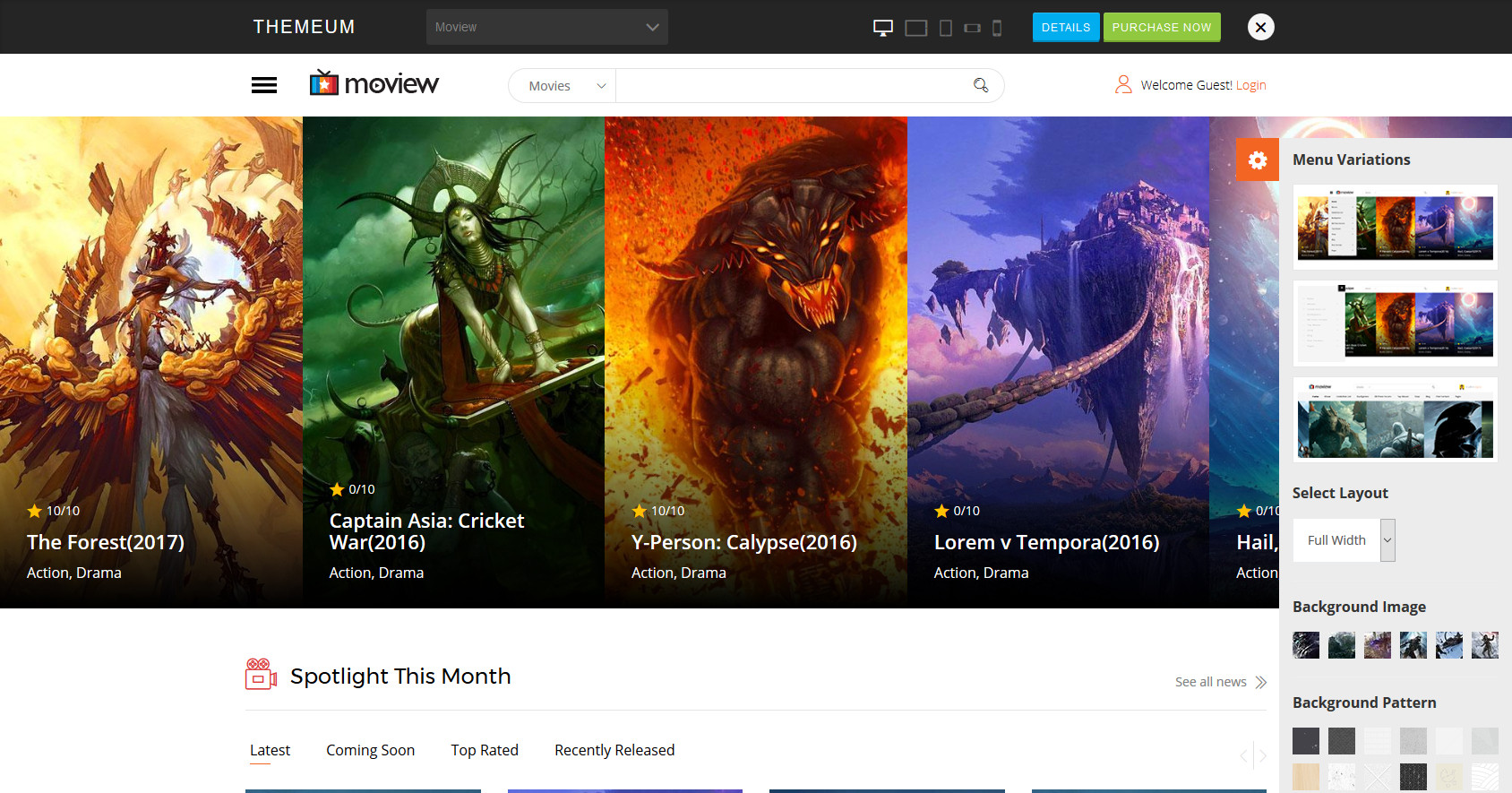 A new, attractive and easy to use movie theme for WordPress, this is called MovieW, by Themeum.
Moview Theme for WordPress 4.5+. Have you ever wanted to create a website similar to IMDb, Rolling Stone, CinemaBlend, TMDB, Rotten Tomatoes or NDTV Movies. Using Moview theme with suggested extensions allows you build movie database with reviews for new and recent movies in theaters, DVD and Blu-ray releases, and film classics. Your site can be a place where everyone goes to discover new movies, video games, television shows and music albums.
MovieW is responsive, it's BuddyPress ready, it's lovely and talented, it's award winning, it's walking the red carpet in style.  Custom backgrounds, Google fonts, boxed or full width layouts, whatever you want, MovieW could help you achieve it.
---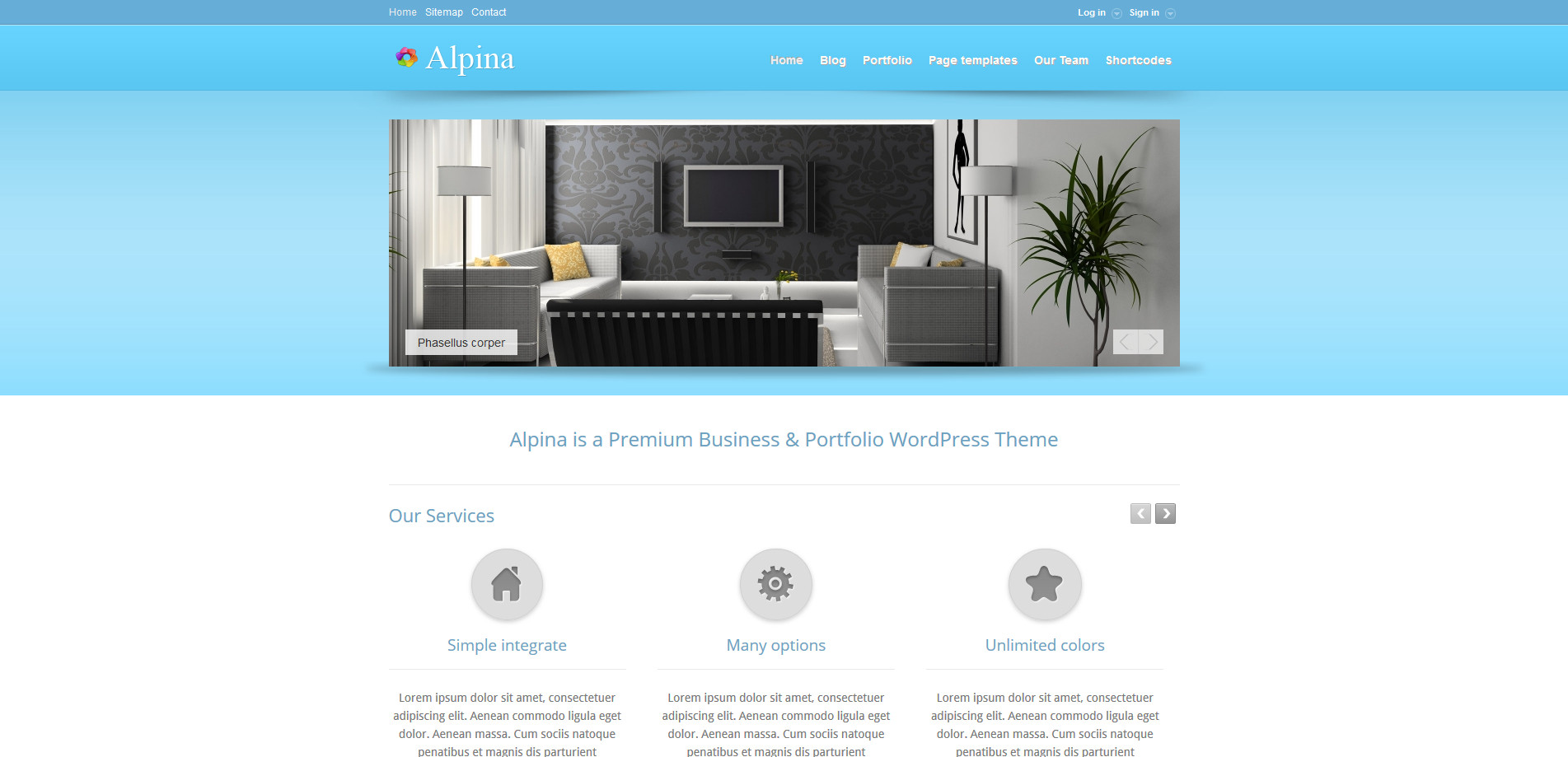 Simple and sort of dated looking, this theme is called Alpina.  I've removed it from all collections because I really don't recommend it anymore, but I'm leaving this review here so I don't get dinged by Google.  Looking for an actually nice looking corporate style theme?  Check out this collection.
The main advantage of this theme is fully customizable theme colors, from theme options panel!  Also, the content of the main page is a custom, and is formed using large amount of theme shortcodes (examples of the main pages in the documentation) that allows you to adapt the theme for yourself and make it completely unique!  In the theme a lot of settings, which you can easily customize the theme, as you need, also documentation and support attached!
Welp, we'll be back again soon for more good stuff.  Until then, so long.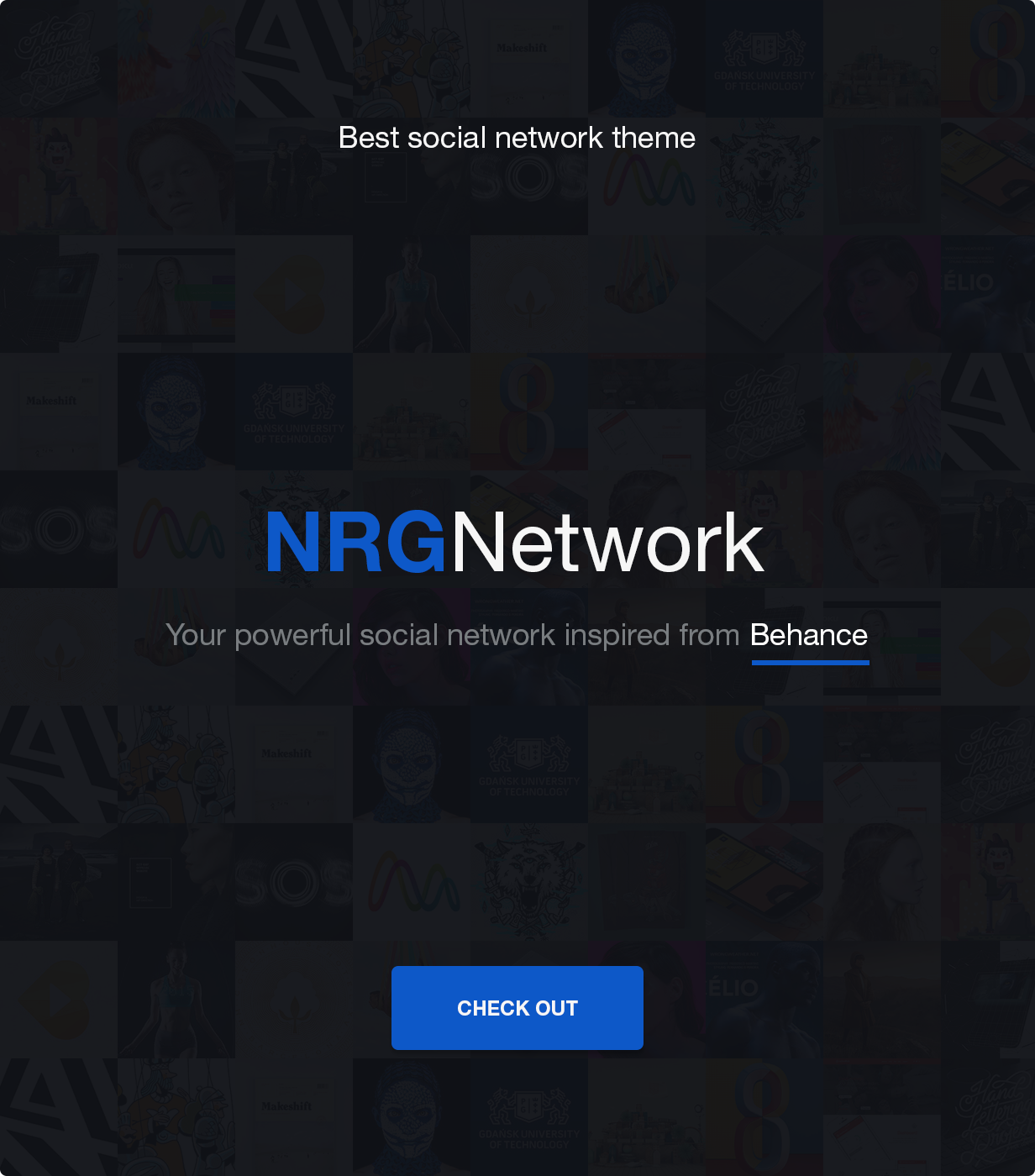 Social networking sites only work if they are user-friendly, attractively designed, and have plenty of positive traits that people want. When you choose the NRG Network theme in conjunction with the powerful WordPress plugins BuddyPress and bbPress, you can deliver on every promise. Site visitors can sign up easily with a new user name and password or by using their Facebook account. BuddyPress offers many specific addons so you can customize your website to be the perfect solution for either a diverse group of socializers or a unique niche group.
Packaged with NRG Network theme is Visual Composer, the ultimate drag and drop page builder plugin that usually comes with a premium cost. Revolution Slider is another premium option that allows you to create dynamic slideshows with attention-grabbing graphics or videos. If you do not wish to build site pages from scratch, NRG comes complete with a collection of pre-made templates to help you launch your new social network more quickly.
For additional bbPress and BuddyPress themes, try this collection.